Winter holidays in the Canary Islands are great – but you can actually enjoy Sweden's beaches in the winter too. Our beautiful cold bathhouses are something of a Swedish specialty that should not be forgotten.
During the pandemic, ice baths have become increasingly popular in Sweden. When restrictions and concerns about the spread of infection closed down the bathhouses, nature remained. But – despite social media's encouragement – how nice is it to step into a cold ice bath? Cold bath houses combine the beautiful view and spiritual experience of winter bathing with the warmth of a sauna and the opportunity to enjoy lite longer.
We've put together a guide to Sweden's best cold bath houses, from simple saunas to gourmet experiences, so you can easily find the right one.
The history of Swedish bathhouses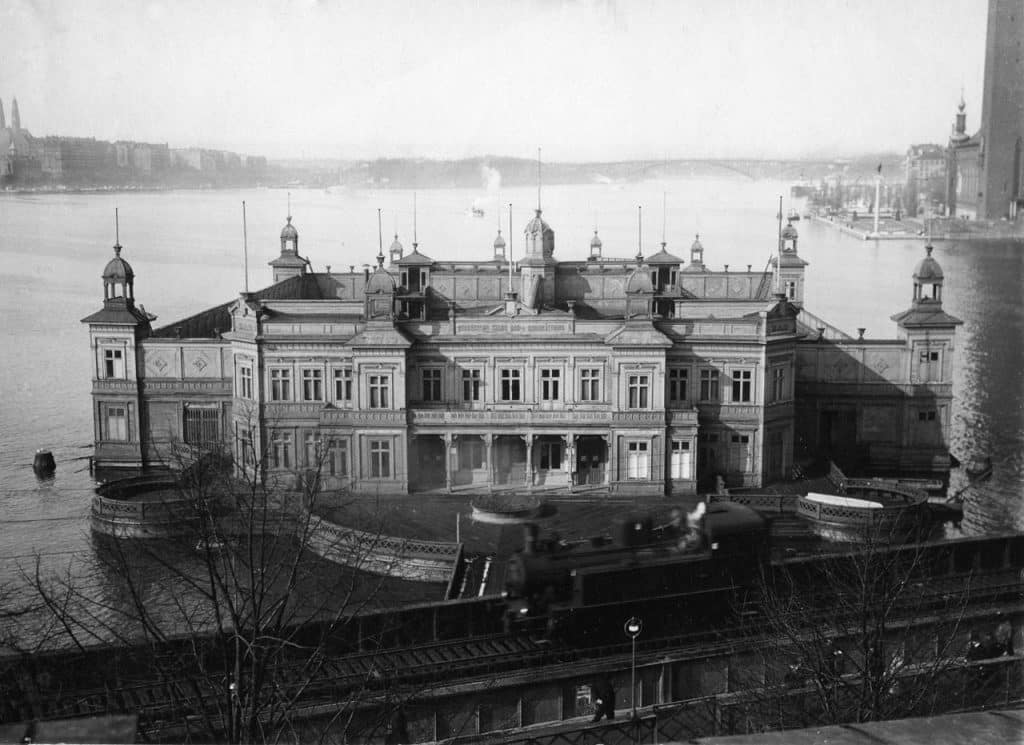 Cold bathhouses are a 200-year-old tradition in Sweden, inspired by international trends and the growing need for better hygiene in crowded cities.
In 1827, two facilities for men were opened at the same time on Riddarholmen: the Åbom swimming facility and the Lind swimming facility. Here you could swim in the sea in a safe environment and take part in swimming lessons. Both bathhouses met the same fate and were replaced by the emerging city – the Åbomska siminrättningen had to make room for a larger steamboat harbor and the Lindska or Gjörckeska siminrättningen was demolished to make room for the Norstedtshuset.
Instead, Stockholmers briefly enjoyed Strömbadet, which was also located by Riddarfjärden. Strömbadet was a beautiful wooden bathhouse designed by the Kumlien brothers (Grand Hotel, Münchenbryggeriet etc.). Unfortunately, the water quality deteriorated and in the confused spirit of modernism, the building style was also considered outdated. But when the baths were demolished in 1936, they were never replaced.
Instead, seaside resorts – especially in southern Sweden – took over the baton. Ribersborgsbadet in Malmö, built in 1867, is one of the earliest still standing.
Unfortunately, many bathhouses were demolished in the 20th century and it is only in the 21st century that construction has increased again. On several occasions, private initiatives in Stockholm have tried to create new cold water baths but have failed to get permission. Many other cities are going through the same process, and we can only hope that more will eventually succeed.
Cold bath label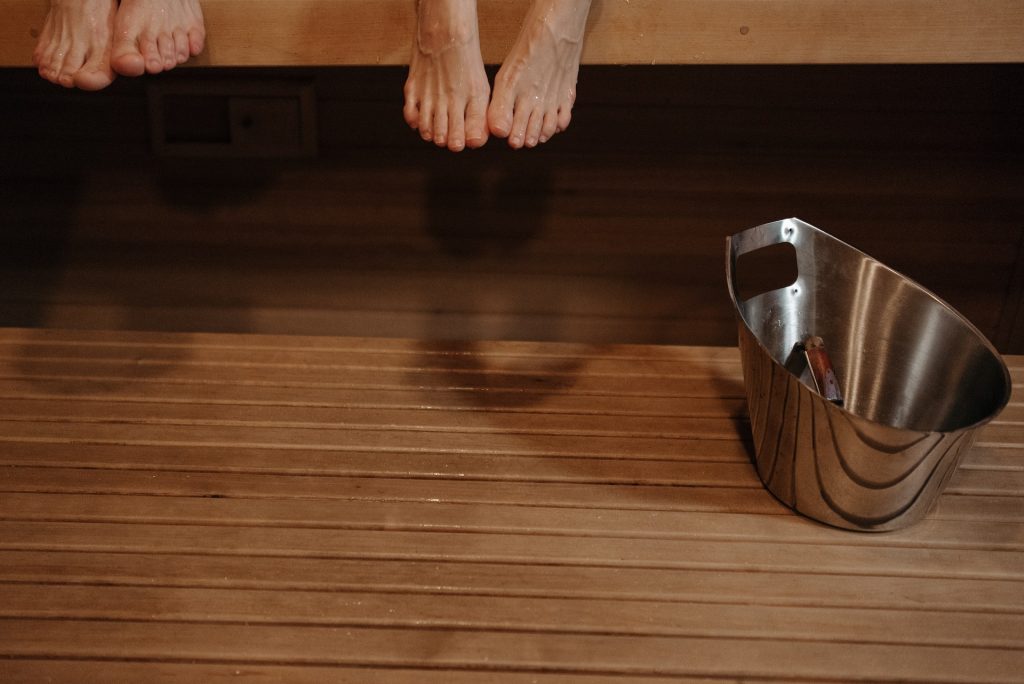 Cold bathing should be easy and relaxed, so there are no major rules of etiquette in Sweden. But we have listed a few simple reminders for those who are new to cold bathing.
Bathing naked – use a towel
Traditionally, people bathe naked. Moreover, ice-cold swimwear is not very comfortable. Some bathhouses allow swimwear but most want you to bathe naked and this is the most common among visitors as well. Almost all cold baths have separate sections for men and women. In the sauna, however, you should sit on a towel for hygiene reasons.
Check the rules on alcohol in saunas
Beer and saunas are a perfect match. However, many cold baths have rules on how and where alcohol can be consumed due to safety concerns and problems with spilled beer in the sauna. Check before you pop the cork.
Respect the calm
The sauna is a place for reflection and enjoyment. Of course you can talk, but please respect others' request for a low noise level.
Eight Swedish hot tubs with style
Sweden is full of piers and bathhouses. Here we have selected eight of the best experiences for those looking for a classy cold bath.
Ribersborgs Kallbadhus
https://www.ribersborgskallbadhus.se/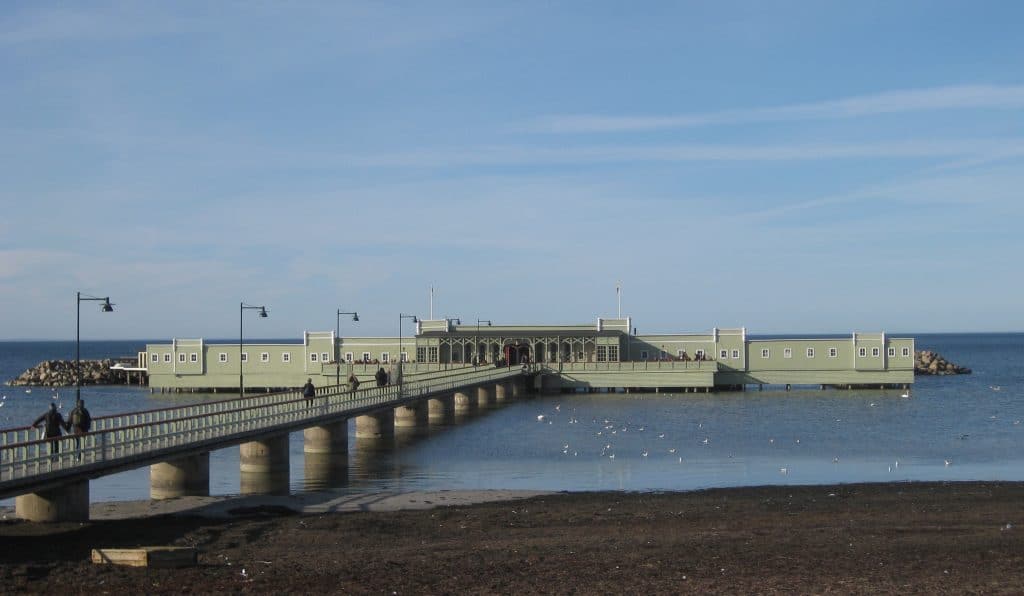 Ribersborg cold bath house in Malmö – "Kallis" – is the largest, best preserved and most popular cold bath house in the Nordic countries. It was first built in the center of Malmö, at Skeppsbron, but was bought and moved to Ribersborg beach in 1898.
There are two large outdoor pools, hot tubs and a total of 5 saunas – two each for men and women, and one shared. The bathhouse also offers massages. The cold bath house is separate with different sections for men and women, but once a month Kallis opens up without gender division.
The location is perfect on Ribersborg beach, within walking distance of central Malmö and with beautiful views of the Öresund and Denmark. There is also a café and restaurant with full rights, and the bathhouse is popular to rent for parties and weddings.
Kallbadhuset Varberg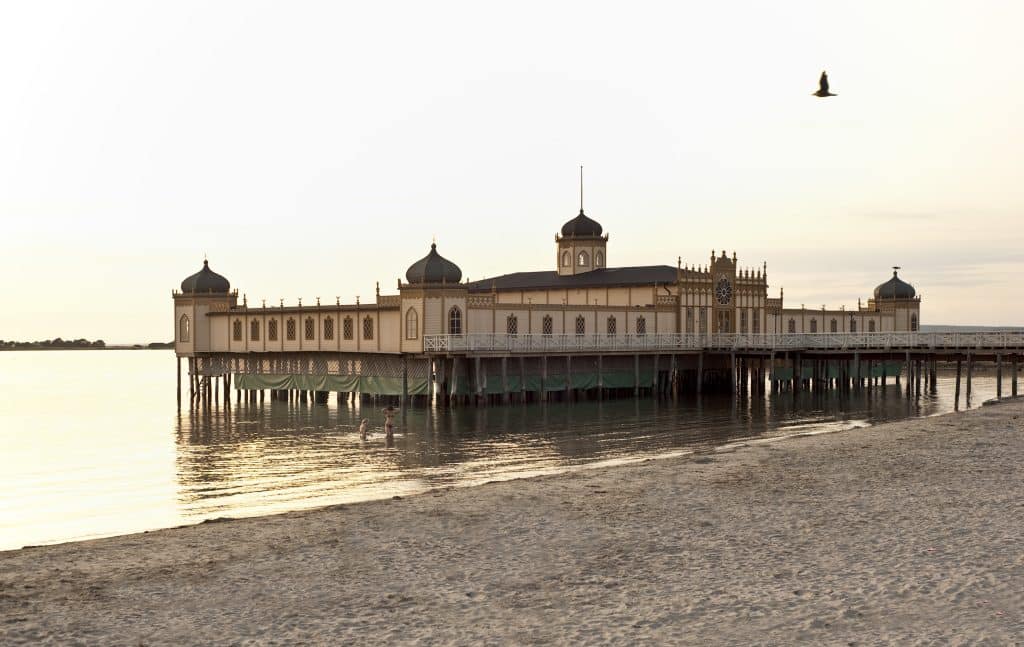 Varberg has had a cold bath house since 1866, but no less than two cold bath houses were destroyed in storms before the current bath house was built in 1903.
Varberg's Kallbadhus is worth a visit not only for the baths but also for its stunning oriental-style architecture – onion domes, bow windows and all. The house stands on stilts in the sea on the promenade in Varberg, right next to Varberg Fortress.
The bathhouse offers separate men's and women's sections with a sauna and a café.
Saltsjöbadens Friluftsbad
http://www.saltisbadet.se/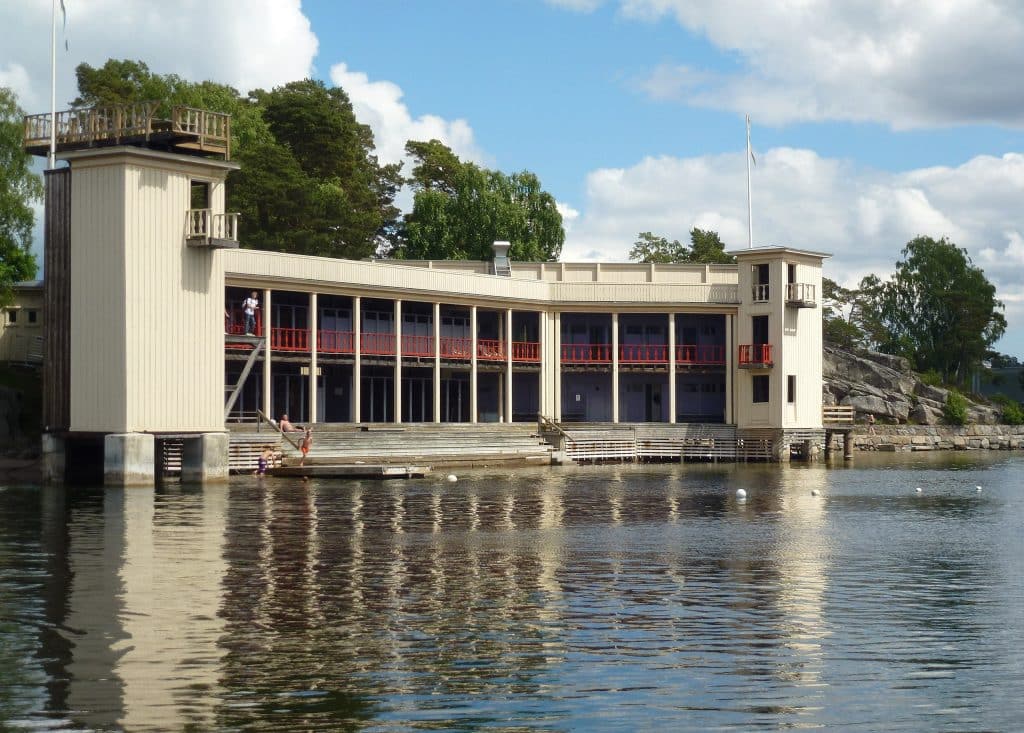 Saltsjöbaden began as an ambitious housing project by K.A. Wallenberg and Ernst Thiel, inspired by French models. Only 25 minutes away by train from Stockholm, a stately seaside resort with beautiful villas would attract visitors for swimming and hillside nature.
The bathhouse was therefore built as a natural part of the Grand Hotel Saltsjöbaden and the Grand Restaurant in the 1890s. In the 20th century, the baths were moved to their current palace and the men's baths were rebuilt in a classicist style by Torben Grut (Stockholm Stadium) – which explains why the men's and women's baths look different and are located in different places.
The separate bathhouses are equipped with a sauna and also have a diving tower. For winter swimming, pre-booking is required.
Kallbadhuset Båstad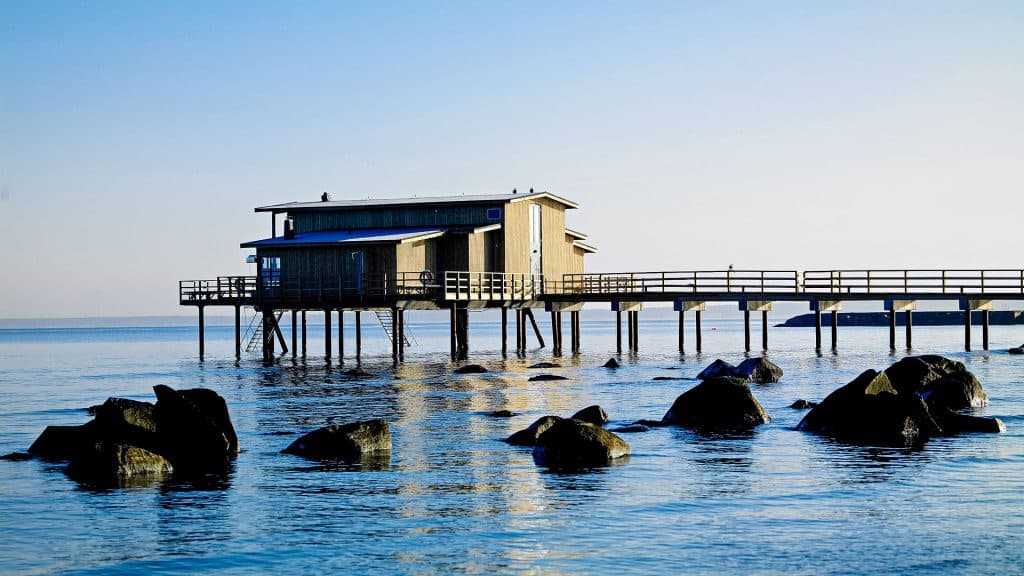 Kallbadhuset in Båstad is just a stone's throw (backhand?) from the famous tennis arena. As a seaside resort, Båstad has long offered sea bathing, originally by horse and cart (!), but the resort's original bathhouse was lost in storms.
In 2009, the new cold bath house opened on the same site, this time in a more modern package with a 60-meter-long pier, sauna, jacuzzi and relaxation area with large panoramic windows facing the sea.
The cold bath house is part of Hotel Skansen, which offers accommodation, restaurant, spa and indoor pool. If you stay at the hotel, you are free to use the cold bath house, but it is also available to external guests.
Ulricehamns Kallbadhus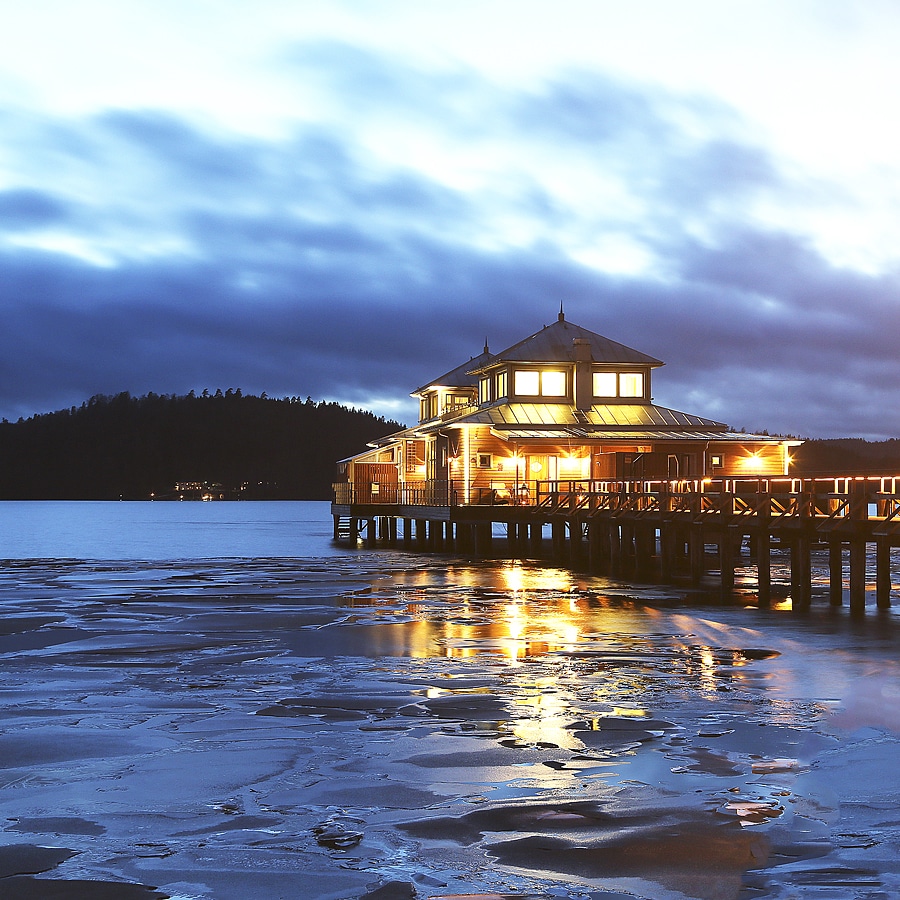 Ulricehamn, midway between Gothenburg and Jönköping, is a bathhouse on Lake Åsunden. There has been a cold bath house here since 1871, but the current bath house was opened in 2008.
Here you can enjoy a sauna, massage and food. The bathhouse's own restaurant Lago is run by Christopher Lai, who has competed several times in Chef of the Year.
Karlshamns Kallbadhus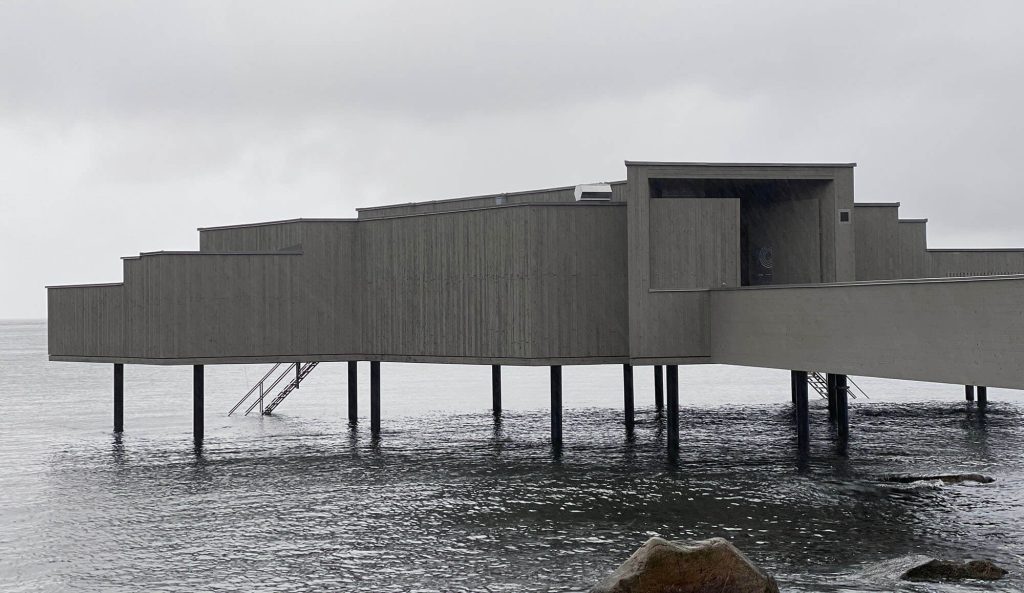 Karlshamns Kallbadhus is a new cold bath house, built in 2015, and the only one between Skåne and Öland. The town is perhaps best known for Carlshamn's Flaggpunsch, which unfortunately is no longer produced in Karlshamn.
The bathhouse is quite different from the turn-of-the-century bathhouse – this one is designed in a sleek, modern Nordic architecture by White Arkitektbyrå. With its thin piles on top of the water, the bathhouse almost seems to float above the water.
The facilities themselves are simple. There is a sauna in separate sections for men and women, but unfortunately no restaurant.
Bjerreds Saltsjöbad
https://www.bjerredssaltsjobad.se/sv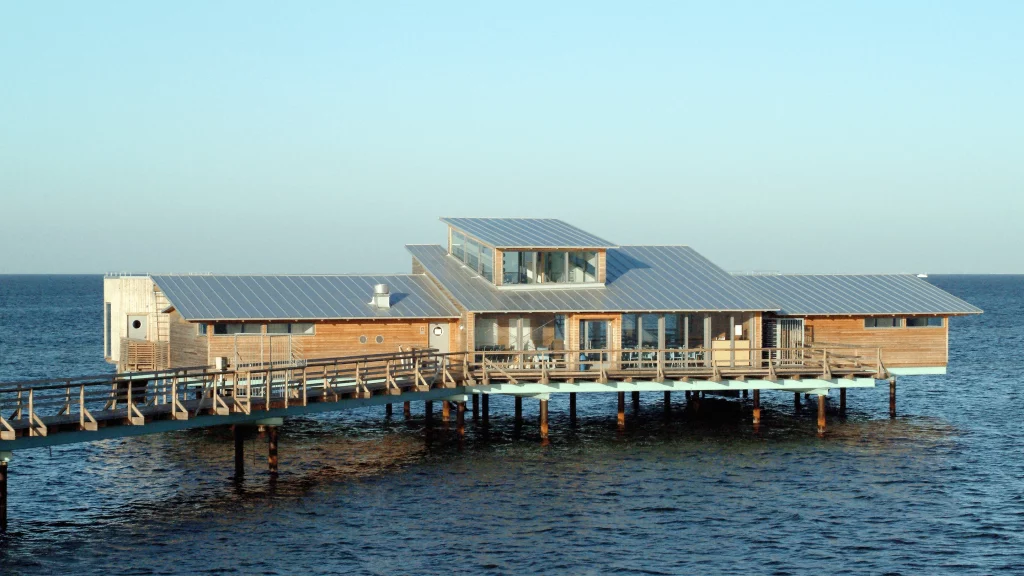 Bjärred began its days as "Lund's Riviera", powered by the railroad from Lund in 1901. On a fine day, up to 5000 people could visit Bjerred Saltsjöbad from Lund and Malmö. Today the town is one of Skåne's most affluent residential suburbs, but the bathhouse, the station (now a restaurant) and the beautiful villas are reminiscent of the turn of the century.
However, today's bathhouse is relatively new, built in 2004 by private initiative, in an elegant, modern Nordic style. Because of the shallow beach, a long jetty – over 500 meters – out into the Sound, appropriately named Långa Bryggan, is required.
Bjerreds Saltsjöbad has separate sections with a sauna and an excellent restaurant in the bathhouse – all with great views of the Öresund.
Arctic Bath
https://arcticbath.se/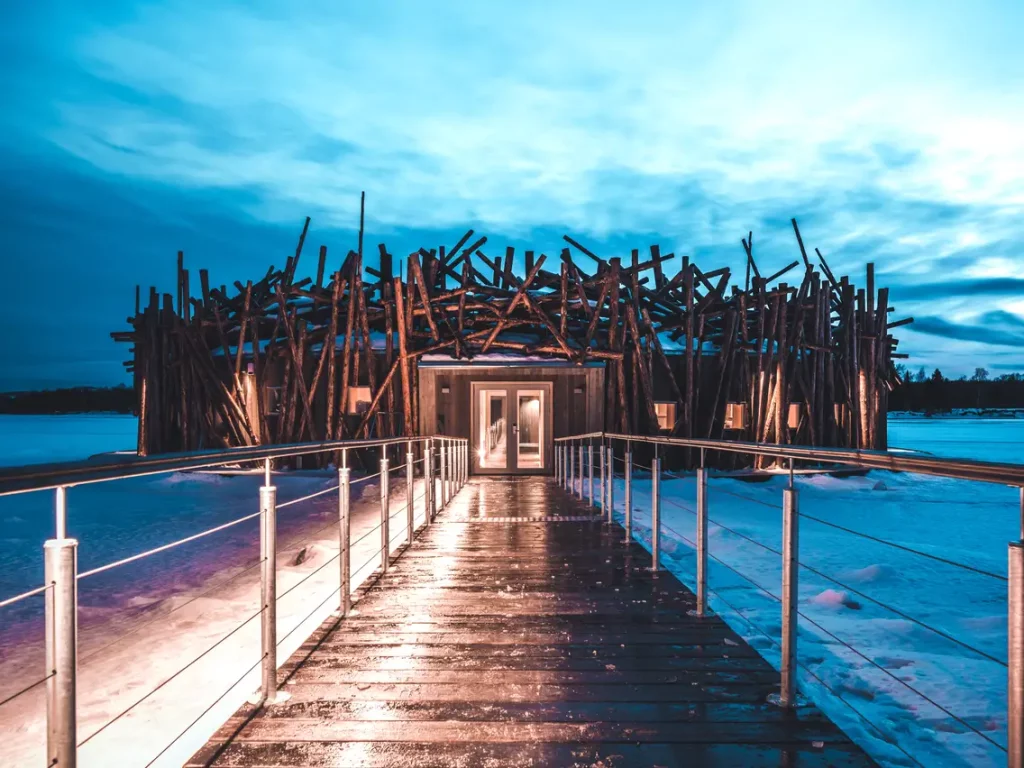 For those who are looking for really cold baths and a completely different experience, there is Arctic Bath in Harads, 5 miles outside Boden. Here you can swim in the Lule River in a unique floating bathhouse designed by Bertil Harström and Johan Kauppi. The idea is said to have arisen at the opening of Treehotel, another high-profile project in Harads, and the architecture is unlike anything else we've seen.
Arctic Bath is a complete luxury hotel resort with a small number of private houses, placed on stilts in the Lule River, and a spa with several saunas, outdoor jacuzzis and a cold bath in the river. There is also a White Guide-listed restaurant serving gourmet food and drinks related to Norrbotten.