After its younger siblings ID.3, ID.4 and ID.5, it's now time for Volkswagen's all-electric… top-of-the-line sedan: ID.7. With the ID.7, Volkswagen has opted for a real highway cruiser, with a large battery, long range and a comfortable interior.
Exterior
With its nearly 5 meters long and 2 meters wide body, the car is positioned as a cheaper alternative to electric luxury sedans like the Tesla Model S, Mercedes EQE and EQS and BMW i7 and upcoming i5.
To build a premium electric sedan with good range without costing too much, air resistance is crucial. Looking at the ID.7, it's clear that Volkswagen has worked hard on the aerodynamics – the ID.7's elegant streamlined chassis is almost reminiscent of an airport wing.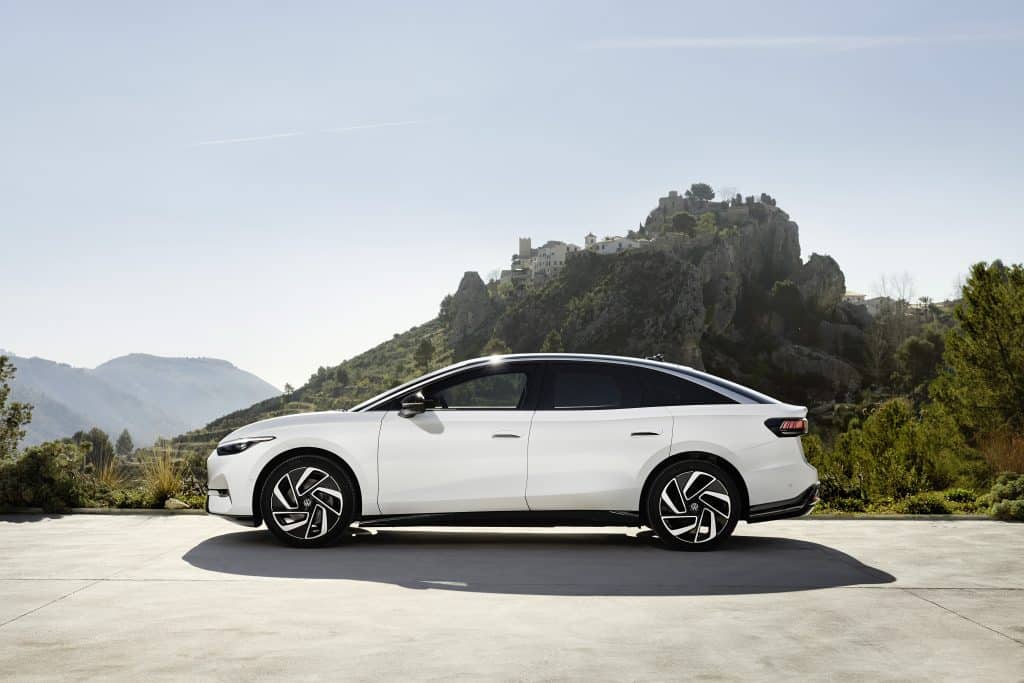 The roof slopes elegantly backwards in coupe style and contributes to an excellent drag coefficient of around 0.23 – better than the Mercedes EQE and as good as a Tesla Model Y. The long wheelbase and short overhangs create plenty of interior space for everyone in the car. The shapes also make the car appear smaller than it actually is in reality.
At the same time, it is easy to recognize the kinship with the other ID models – the ID is a little rougher in shape than e.g. Mercedes, but not as square as BMW's electric sedans. This is more futurism than elegance, but the balanced shape still provides a nice touch.
Engine and range
The ID.7 is the first model based on the MEB platform to feature a new, more efficient electric drive developed by Volkswagen. With 286 hp (210 kW), it is the most powerful and torquey electric motor in an ID model to date. However, 0-100 km/h takes 8 seconds, which is very modest compared to its more expensive competitors from Tesla and Mercedes.
Instead, the new electric drive has been optimized especially in terms of energy consumption. This, together with the aerodynamic shape and two battery options of 77 kWh and 86 kWh, should give the ID.7 a very good range. Up to 700 km range is measured according to WLTP and should provide at least 40 miles under more realistic conditions. Charging 10-80% should take about 30 minutes, which also reinforces the image of an excellent highway cruiser.
Interior and practicality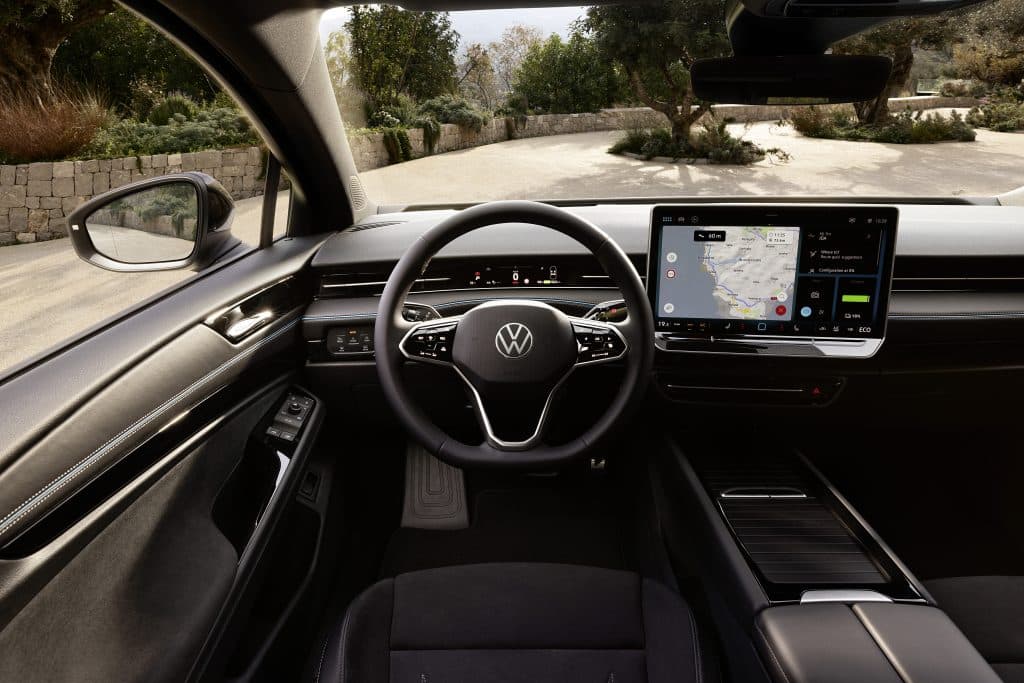 Inside, Volkswagen has focused on functionality and comfort. The spacious exterior dimensions provide a large interior with a generous rear seat, allowing the car to easily accommodate four adults on a long journey.
The ID.7 also offers equipment options that are otherwise only found in the higher classes of its competitors. The new panoramic sunroof with smart glass can be switched between opaque and transparent settings using touch control. The front seats are also new: for the first time in a Volkswagen, they are available with adaptive Climatronic seats – with cooling or heating as required, drying function (!) and massage.
The driver environment follows the futuristic trend established by Tesla, with a stripped-down environment with large screens and touch controls for most things. The ID.7 has three displays – a massive 15″ infotainment display, a small driver display with relevant information and a Heads-up Display that projects information onto the windshield. The car also features the new IDA voice assistant.
The range of options is rounded out by a 700-watt audio system from Harman Kardon: 14 high-quality speakers, including a front center speaker and a subwoofer in the trunk, will provide an impressive sound experience.
The boot is a spacious 532 liters, thanks to a large tailgate. Strangely, there is no frenzy i.e. luggage space under the bonnet.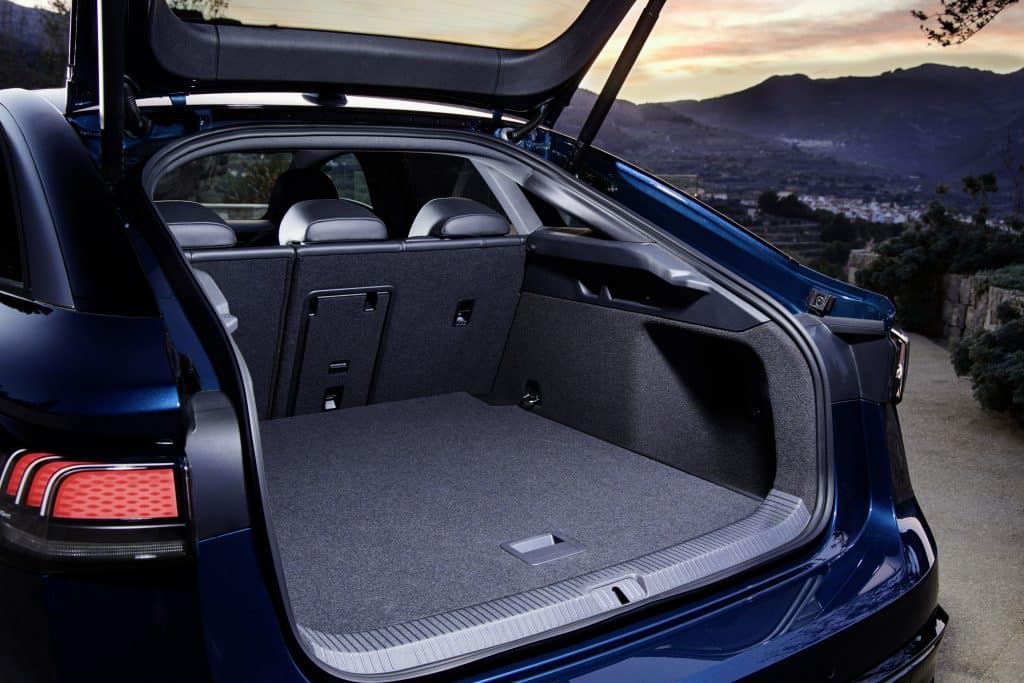 Prices and availability
ID.7 will be launched in two variants – ID. 7 Pro with 77 kWh battery and 615km range WLTP and ID. 7 Pro S with 86 kWh and 700 km range.
Unfortunately, Volkswagen has not published any prices for the ID.7 yet. Unlike e.g. Tesla, Volkswagen also uses a system with a lot of options, so for those who compare prices, it is important to look past the base price to the final price. Given the size of the car, we expect a price tag closer to SEK 700,000 – cheap compared to the luxury sedans, but still a lot of money for a Volkswagen. Will buyers go with reason over emotion?