Akvavit is the Nordic region's answer to champagne – that drink that comes to the table only on special occasions. As close as we get to a national drink after folk beer and middle milk. But while the French drink has become an international success through clever marketing, our Nordic alternative is still something exotic in the world.
Because of our beloved Systembolag, the drink was also treated poorly for a long time, with only a few alternatives surviving. It is only with the trend towards craft distillates in recent years that ingenuity and variety have returned. Aquavit is becoming food culture again.
In this guide, we give young and old gentlemen the aquavit education they may never have had. All drinks are better when you understand them, and few drinks are as misunderstood as our beloved aquavit.
About schnapps, brandy and aquavit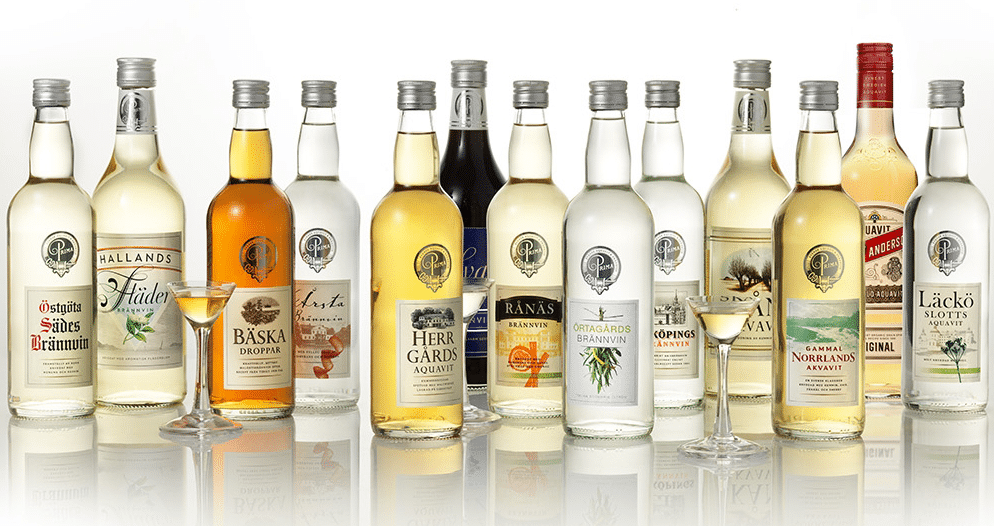 Schnapps, brandy and aquavit are often used synonymously, but actually mean different things. Perhaps our most original, preserved word for the way to drink a mouthful of liquor is sup. Sup comes from the same family of words as soup, so it refers to slurping something liquid with a spoon – and it comes from an old practice of drinking brandy with a spoon. Snaps is a later word, borrowed from German, with the same meaning: a mouthful of brandy. Thus, a shot as we would say today.
Snaps has also become another name for spirits. Spirits comes just as it sounds from burnt wine and first involved distilling wine to a higher alcohol content – perhaps to be easier to transport, or to avoid taxes. Later, we learned to make spirits from grain and potatoes.
Brandy was originally used to make gunpowder, but was also used medicinally. The spicing was certainly intended as a health benefit but also took the edge off the delicate taste, and brandy spiced with herbs such as cumin and dill became a popular drink.
Aquavit has nothing to do with the color white, but is a simplification of aqua vitae – a 14th century phrase attributed to the alchemist Johannes de Rupescissa. He supposedly studied spirits and came up with the idea that alcohol was a fifth fundamental element that gave life to things. The word is also the predecessor of the words eau-de-vie in French, akvavit in Swedish, whisky in Gaelic ( uisce beatha ) and vodka in the Slavic languages. It was thus a more sophisticated and international term for distillate.
Beyond all the terminology, there is actually an important difference. Schnapps can be anything, brandy is a spiced spirit and aquavit is now a protected name for a brandy spiced with cumin and/or dill. If it is not cumin or dill, then it is spiced brandy.
Styles of aquavit
Aquavit, like many other drinks, can be aged. This gives rise to our Nordic styles of aquavit. In Sweden and Denmark we drink it unaged, while Norwegian aquavit is typically barrel-aged.
In Denmark, it is Aalborg Taffel Akvavit ("the red") which is the most original, with its distinct note of cumin.
In Sweden we have O.P. Anderson Aquavit which is one of the most traditional, with hints of anise and fennel. The drink was first launched in 1891 and is one of the oldest varieties still in production in Sweden.
Norwegian aquavit is something completely different. The Norwegian barrel-aged spirit is said to come from a shipment of barrels sent to Australia in 1805, and then returned. It was then discovered that the spirit, which had been aged and crossed the equator twice, had a completely new taste. The style is called line aquavit which means that the spirit has crossed the equator on a ship during its storage period. Lysholms Line Aquavit is the original, but now it's a 16-month trip around the world. The notes from the sherry casks give the Norwegian aquavit a much softer style.
The turn order of the snaps
Originally, schnapps was served in relatively large glasses – 1 virgin or 8 cl would have been a normal schnapps (a so-called "kronsup"). The glasses were funnel-shaped, in tinplate, which is said to have given rise to the concept of 'taking a drink'.
To cope with the large amount of alcohol, the tradition of drinking a full and a half schnapps – the 'full' and the 'half' – emerged. In student circles, the order evolved to around 20 different schnapps, according to lists such as the following:
1. Helan
2. Halvan
3. Tersen
4. The quarter
5. The quince
6. Rivan
7. Septen
8. Rafflan
9. gutter
10. Smuttan
11. The baby of the munchkin
12. Fifteen drops
13. Lilla Manasse
14. Little Manasseh's brother
15. Resurrection of the creatures
16. Absolut sista supen
17. The drink of pale death
Six people, six spirits
Traditionalisten – O.P. Anderson Aquavit

With Swedish midsummer food, few things beat O.P. Anderson Aquavit. In fact, manufacturer O.P. Anderson had been dead for 15 years when the drink that made his name immortal was launched by his son and heir to the family distillery.
For those who want less spice, there is Skåne Akvavit, which has the same spices but in less concentration.
The curious – O.P. Anderson Björk

O.P. Anderson Björk is a modern variation on their Aquavit, where the traditional spice blend is supplemented with birch sap, birch buds and lemon zest.
Spritnörden – Stockholm Distillery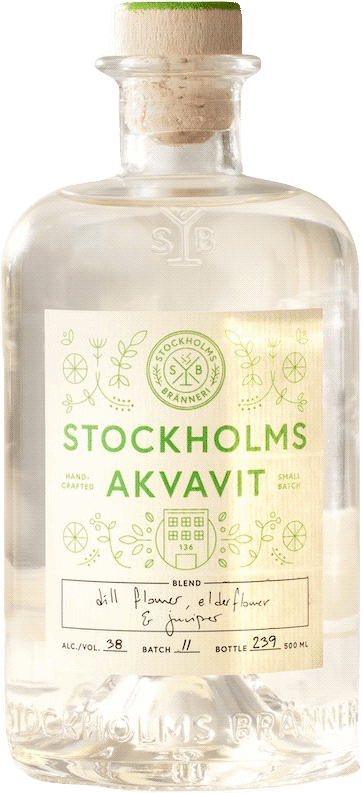 Since 2016, Stockholms Bränneri in Söder has made a name for itself as a producer of high-quality gin. So it's not surprising that they borrow juniper berries from the gin to make a modern, flavorful aquavit.
The seeker – Vaasa 1628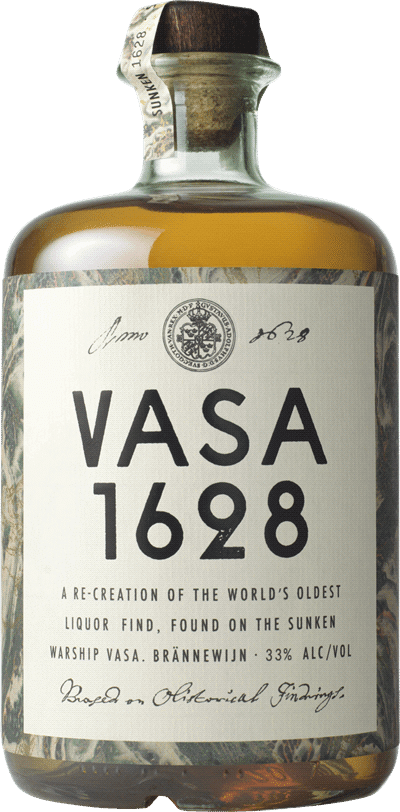 For those seeking the odd or new taste: how about 400-year-old notes? Vasa 1628 is carefully recreated from drops of the bottle of brandy recovered from the regal ship Vasa, and has been recreated by Norrtelje Brenneri. Notes of aniseed and oak allow you to drink it chilled as a schnapps, or take it as a avec afterwards.
Tuffingen – Bäska Drops

Brandy spiced with wormwood is only for the really brave. Bäsken is a cultural drink but not very kind to beginners. Best served as an after-dinner digestif – the berry is said to make it easier to eat more without getting too full.
The snap hater – O.P. Anderson Petronella Hallon

You won't get any bonus points from the traditionalists, but if you want to drink schnapps that doesn't taste like schnapps but still has the right name, O.P. Anderson Petronella Raspberry is for you. A lower-alcohol version of O.P. Anderson, flavored with raspberries, named after O.P. Anderson's wife Petronella.
We'll leave it to you to judge whether the name has anything to do with the drink's target audience. What is certain is that this version is also great for pink, fishy summer drinks (read more: drinks with O.P. Anderson Petronella Raspberry) if there's a drop left over.
Aquavit – some tips from the coach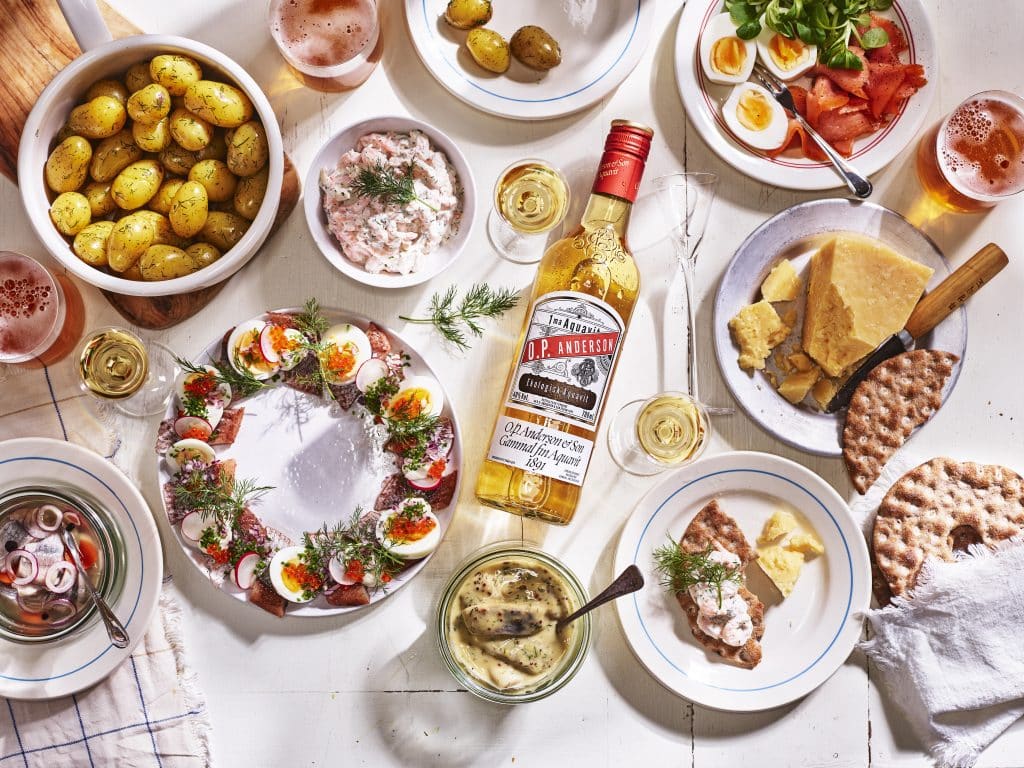 We are sending you some tasting tips signed by Jonas Odland, Aquavit Master Blender. at O.P. Anderson Distillery, on how to drink the schnapps for a perfect experience with food.
Never put aquavit in the freezer
Serving aquavit as cold as possible is an old habit from the days when spirits often tasted fine. The cold was needed to reduce the bitterness and make it more drinkable. With today's high quality, we want to feel the flavor from the spices. A perfect temperature for aquavit is found in the vegetable drawer of the fridge, root cellar or wine fridge, i.e. around 8-14 degrees. Submerging a bottle in the sea or lake is also an effective way to cool the schnapps to the right temperature.
Smaller schnapps are better than a big one
Both the alcohol and the spices in the aquavit serve to enhance the flavors of the food. It is therefore better to drink small schnapps during the meal, for example with different types of herring, than to let the "whole thing go" with a six.
The right aquavit for the right herring
In the same way that you match wine to different dishes, you should choose the aquavit according to the food being served. The clear herring pickles on the midsummer table, such as onion and glass master herring, go well with aquavit with a clear caraway flavor. O.P. Anderson's original from 1891 is an example where the spice well meets the sweetness and acidity of the herring. For creamier herrings such as archipelago herring and crayfish, however, slightly milder schnapps are suitable. Here you can, for example, choose one of the softer O.P. Anderson aquavits Björk or Klar.
Serve in stemmed shot glasses
The design of the glass is important for the overall experience. It is therefore recommended to serve aquavit in a footed shot glass rather than a shot glass. You can always find lovely older glasses at auctions, buy-and-sell sites and flea markets, for example. Mixing several different odd-shaped shot glasses makes the table setting even more beautiful.
Making cocktails on the slat
Aquavit does not only have to be drunk straight as a schnapps. If you have some left in the bottle after midsummer, it's great to use in drinks. Aquavit is a great base for both classic and modern cocktails such as Olof Palme, the Swedish version of the Fidel Castro drink.
Akvavitdrinken Olof Palme
Ingredients:
5 cl O.P. Anderson Original Aquavit
Ginger Beer
Much is
Lime
Mint if desired
Do this:
Fill a highball glass with ice.
Mix in O.P. Anderson and top with Ginger Beer.
Garnish with a lime wedge and some mint, if desired.