Our increasingly global travel has completely changed the season for swim shorts. A Christmas in Thailand, a sports holiday or fall break in Gran Canaria, or a heated pool – the need for swim shorts can exist all year round.
But summer is when the range is at its best. So take the opportunity to revamp your swimwear wardrobe with our guide to stylish swim shorts for men. Here we list great brands, give buying advice and style tips for a stylish summer (or winter!) at the beach.
Classic brands – ten specialists in men's swim shorts
Orlebar Brown
If Sean Connery could have chosen Orlebar Brown, he would have. But he wore Jantzen, a brand that has sadly stopped making men's swim shorts, and in the gap, Orlebar Brown was born. Daniel Craig in a pair of sky blue Orlebar Brown Setters in Skyfall was all it took to lift the brand to an international breakthrough.
Orlebar Brown was born as recently as 2007, with the goal of making swim shorts that allowed men to move freely from the beach to the city without embarrassment. Their classic models are based on the same pattern as a pair of men's trousers, with a zippered fly and a waistband. side adjusters. The brand offers a range of swim shorts of all lengths but the short Setter and semi-long Bulldog are among the most popular.
Vilebrequin
The elegant French word for 'crankshaft', inspired by the founder's passion for cars, became one of the world's classic swimwear brands in 1971. Fred Prysquel is said to have made the first sketch from a tablecloth in Saint Tropez, inspired by the long shorts of surfers.
Vilebrequin is a great choice for those who want shorts with a little more length. The playful and bright colors are part of the heritage, but there are actually more discreet options as well. The brand also has a strong focus on sustainability, and offers a repair service for swim shorts.
Ripa Ripa
Ripa Ripa is named after the street in Milan where the idea for the company was born in 2015. Oliveiro Muzi Falconi was looking for something more exciting than plain swim shorts, and together with his friend Anna Laura Hoefer, the idea of a swimwear brand that embodied Italy was born. The designs, fabrics and photographs would all be inspired by the beauty of Italy. The swimwear is sewn by hand in a studio near Naples.
The patterns are what make the brand, and if you take a closer look at the geometric patterns you will understand the connection to Italy. Ripa Ripa has also designed its swimwear to not only look good on the beach, but also in the water – to prevent the pants from filling up with air and becoming a balloon in the water, they are cut tighter in the legs.
The Resort Co
Swedish company The Resort Co was founded with the aim of making flip flops with class. Friends Niklas Schultz and Joakim Blom were traveling on Lake Como when the idea struck them, and the idea became a new Swedish brand focused on stylish beachwear. Today they make as much clothing as flip flops, and here too the inspiration from Italy and the Mediterranean is clear. The clothes are also produced in various locations in Italy, Spain and Portugal.
OAS
Like The Resort Co, OAS began with some friends and the search for a better pair of beach shoes – this time espadrilles.
From espadrilles, OAS has grown into a beach brand with everything from stylish towels to patterned robes, with color and pattern as its signature. An international breakthrough came when OAS' colorful clothing was handpicked for the second season of HBO's hit series White Lotus.
Hemingsworth
British Hemingsworth was created to dress the "modern globetrotter" on his travels, inspired by founder Matt Jones' quest for a wardrobe during his travels. Hemingsworth manufactures its clothing entirely in the UK, largely in London.
Hemingsworth started with Clipper, which it calls the world's most sophisticated swim shorts, hand-cut from a 23-piece pattern. Basically, a pair of tailored men's pants in shorts length. Hemingsworth also has a collaboration with Swedish Oscar Jacobson.
Surf's Big Three – Quiksilver, Billabong, Ripcurl
Talking swimwear without mentioning surf shorts feels wrong. Although the long shorts lost popularity after their peak in the 1980s and 90s, it's probably safe to guess that sooner or later they will come back.
Quiksilver, Billabong and Ripcurl are known as the 'big three' of the surfing industry, and they have fought through the ups and downs. You wear them not for style points, but because you can actually surf.
Speedo
Last and least? Say Speedo and many people get a shiver down their spine. The association with those tiny swimming trunks – which, yes, Speedo is entirely responsible for – is hard to break.
But Speedo is more than just the y-front of the beach. The Australian brand has been one of the pioneers of men's swimwear for over 100 years, and continues to make high quality swim shorts at very reasonable prices. In particular, Speedo makes real swimming trunks and shorts, but they also have regular swim shorts.
Buying advice for swimming shorts
Shorts eller speedos?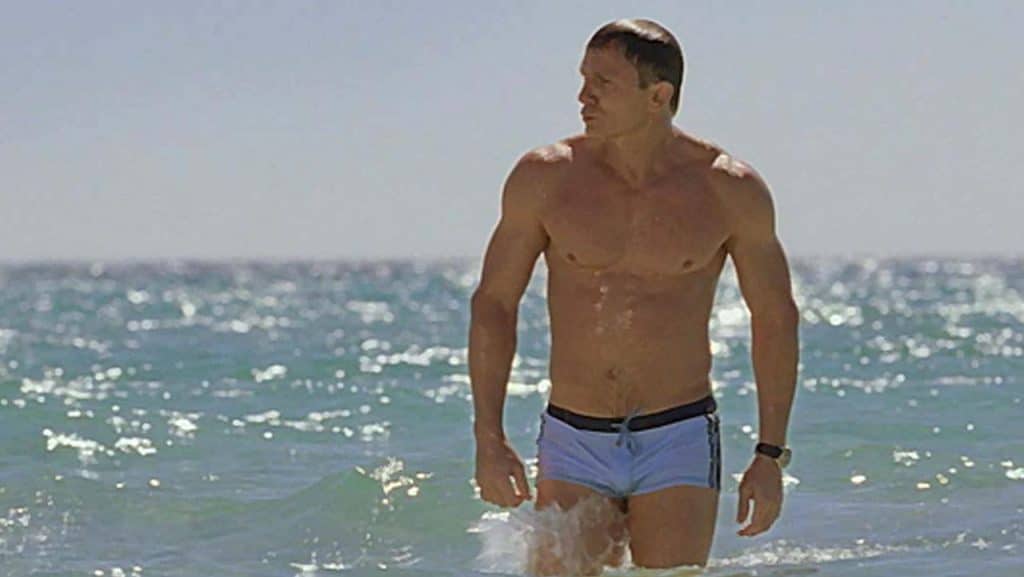 If you're a fit man in your 20s, or Daniel Craig on a beach in Jamaica – congratulations, you'll fit in just about anything. Enjoy the freedom and the looks.
But most men have regular bodies and perhaps winter-pale skin that doesn't need to be seen any more than necessary. That's where the shorts come in.
How long should swimming shorts be?
Most men look best in a pair of swim shorts that end somewhere around mid-thigh. You can also take that kind of shorts up to the restaurant by the pool or the beach without being embarrassed, while absolutely no one wants to see them. din ham in the buffet.
There's nothing wrong with longer shorts either, but keep in mind that they were designed for Hawaii. When they're wet and the sun goes cloudy, they get pretty cold pretty quickly.
Patterns and other details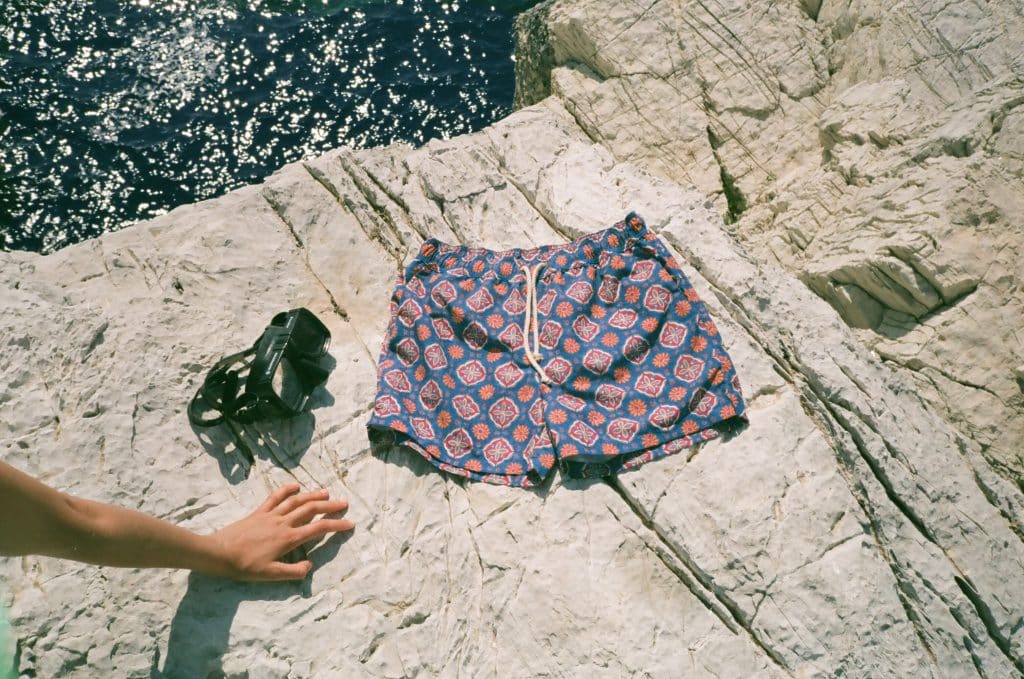 The classic swim shorts with their drawstring waist don't have much detail to speak of. For a long time, the shorts had a pocket for coins, and in places where cash is still used, it can be a handy detail if you can find some. Some cut their shorts with a slit on the thighs, just like a jacket, for added mobility.
When it comes to colors and patterns, there are plenty of options right now. If you're looking for something subtle, a pair of olive green, navy blue or black shorts will work just fine, perhaps with a white seam on the side. But why not try a geometric pattern like Ripa Ripa or a print from Vilebrequin or Ripa Ripa?
In the 21st century, tailored swim shorts have made a comeback – thanks in large part to brands like Orlebar Brown and the James Bond films. These shorts come into their own on the move, when you want to be able to move from the beach to the city. Classic details include belts, coin pockets that let water through but keep the coins, and adjustable waistbands. side adjusters.
Can you wear underwear under your swimming shorts?
No, it doesn't. It looks silly and gets hot and wet when you swim in it. Swimwear is designed to be used as it is.
Style tips – how to wear swim shorts
On the beach – swim shorts with T-shirt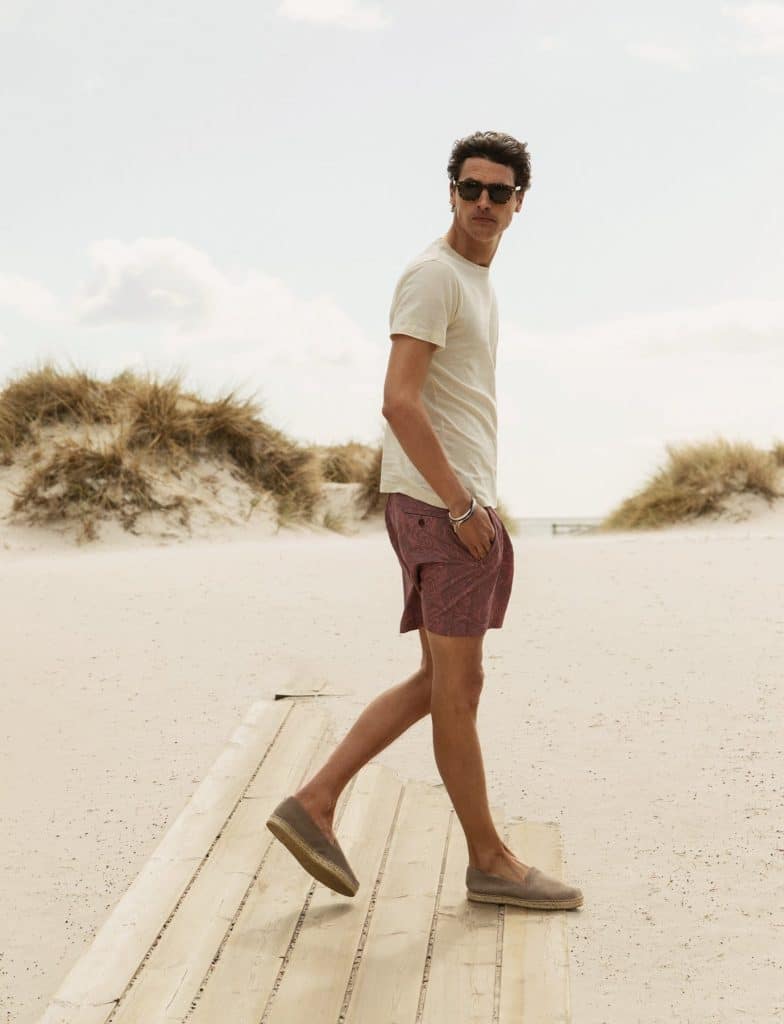 Being a gentleman is not only about being dressed up, but also about being right dressed. A simple T-shirt is perfect for protecting your body from unnecessary sun.
A fit person can choose a tight T-shirt that follows the body, or a thin but slightly larger one that molds to the body. If you have a few extra pounds, you may want to choose a slightly thicker fabric that gives a little more structure.
Swim shorts and a T-shirt go well with a pair of stylish sandals or flip flops. If you still want a pair of shoes, espadrilles or canvas sneakers are two nice options.
More dressed up – swim shorts with a shirt or pique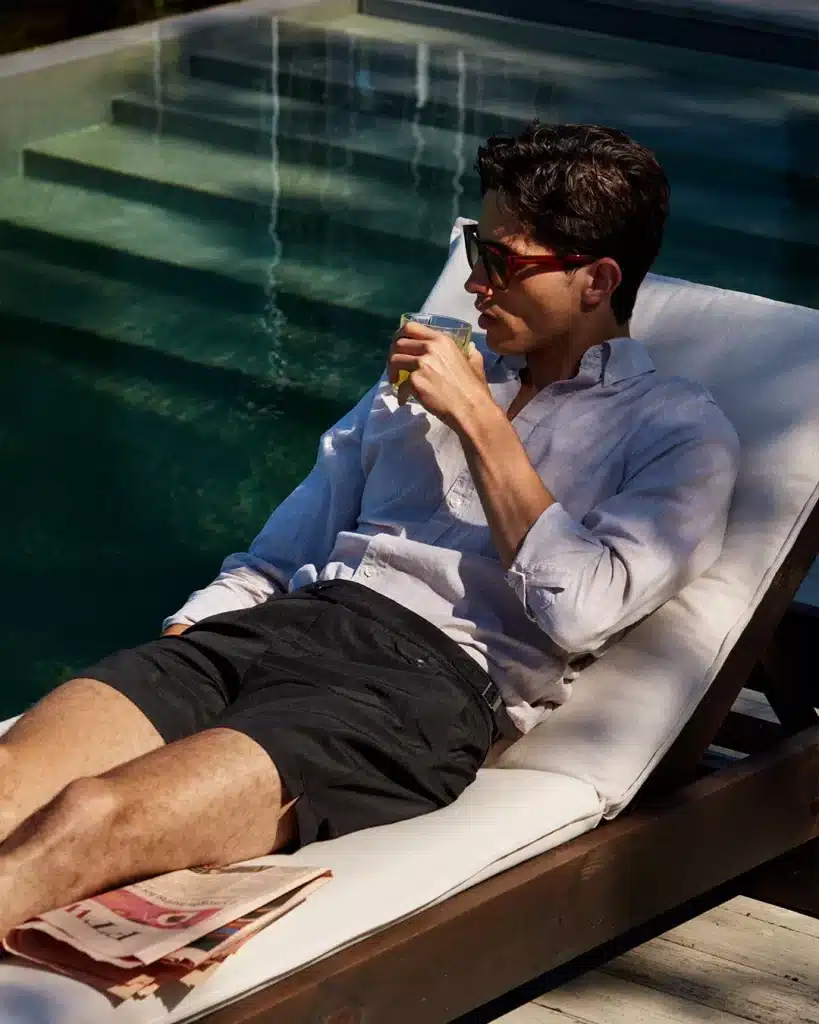 If you want to be able to walk around the city before the beach, or visit a restaurant, the more dressy version of swim shorts is more suitable. When dry, they will almost look like a pair of chinos.
A linen shirt and terry cloth polo shirt are two classic pieces to match. If you have patterned swim shorts, it may be worth keeping the top a little simpler.
On your feet, you can upgrade to loafers, mocs, car shoes, sailing shoes or canvas sneakers. Even espadrilles work well.
Cabana sets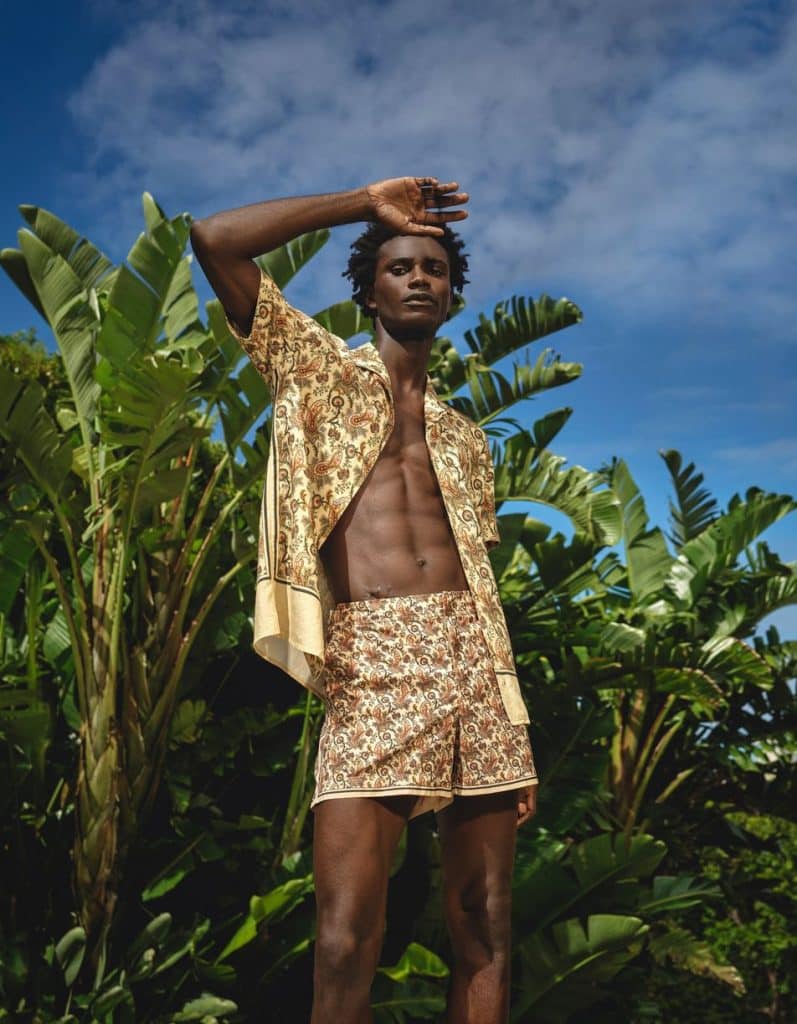 For a sense of the 1950s and casual style, a cabana set Work. These matching sets of shirts and swim shorts became popular in the 1950s, and quickly progressed from classic Hawaiian patterns (think Elvis) to more psychedelic designs in the 1960s, and the variety of thin jackets instead of shirts.
An eternal question about skin: the history of swimming shorts
For most of human civilized history, there was no such thing as swimwear. Men and women bathed naked, or possibly in their underwear. And men and women bathed separately – of course.
The era of the swimsuit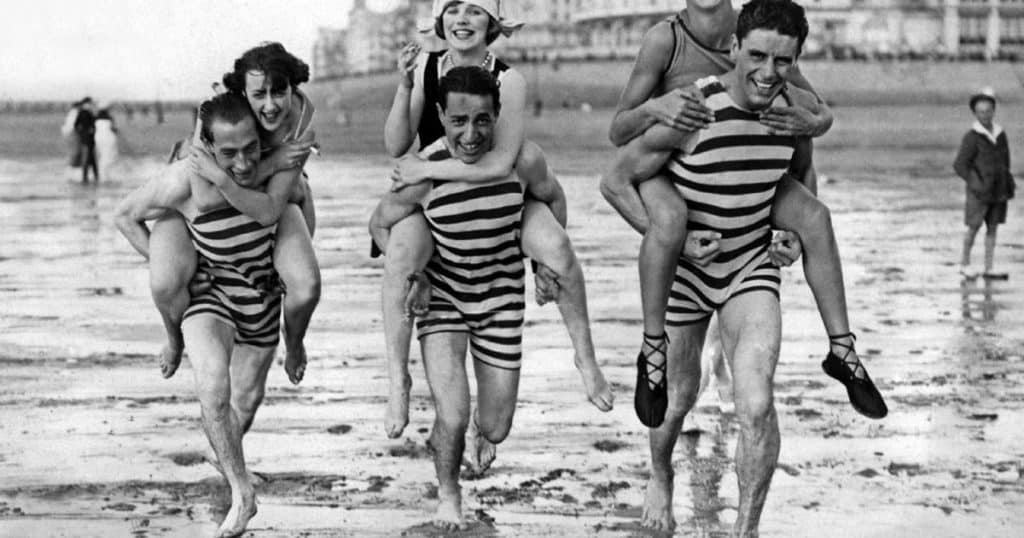 It was only when beach life became trendy during the Victorian era that the problem of naked bodies required a solution. Nude bathing on English beaches was banned in 1860 and men had to wear woolen bathing suits instead. To avoid showing the slightest contour of the man's body, even skirts could be worn without the swimsuit.
Swimsuits were bulky, uncomfortable and heavy when wet. It was only in the 1920s that swimsuits began to be divided into two parts: a tank top and swim shorts. The shorts were often held in place by a white belt with a metal buckle. The shape was focused on the waist, to enhance the V-shape of the man's upper body. It was no coincidence that one of the largest swimwear manufacturers, B.V.D., chose Johnny "Tarzan" Weissmüller as their ambassador.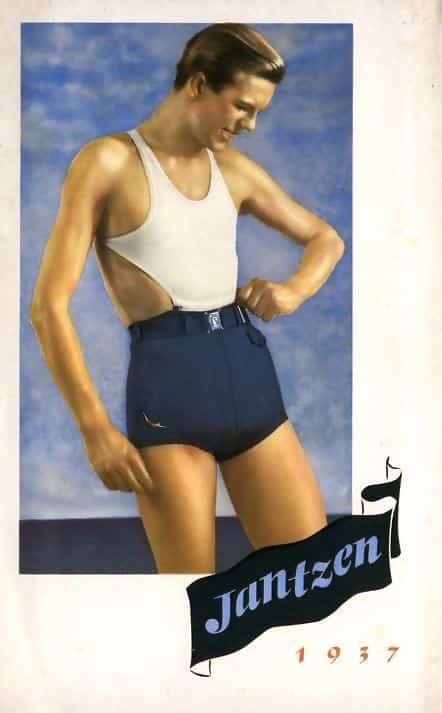 Another improvement was made by Australia's Speedo, when they freed the back of swimsuits with their first speed suit . The suit was originally designed for competitive swimming but soon spread to the beaches.
From two parts to one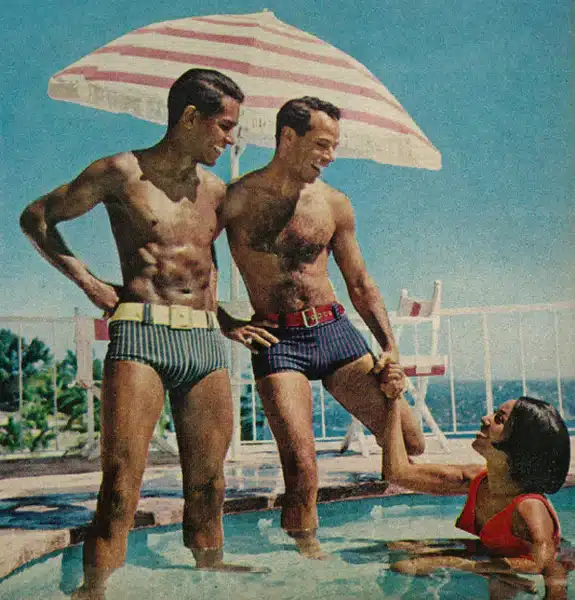 It wasn't until the 1940s and 1950s that men started dropping their tops and going bare-chested. A well-trimmed body and a nice tan had become a sign of health, supported by the film industry. Lastex (rayon) swimwear meant that men could finally move away from wool clothing.
1950s swimming shorts were often high-waisted and short in the legs. The upper body was instead covered by a sweater, such as terry cloth, or a matching shirt ( cabana set A belt or elastic band held the shirt up.
Solid colored shorts were still common, but in the 1950s and 1960s they were increasingly replaced by patterns, from geometric designs to floral Hawaiian prints.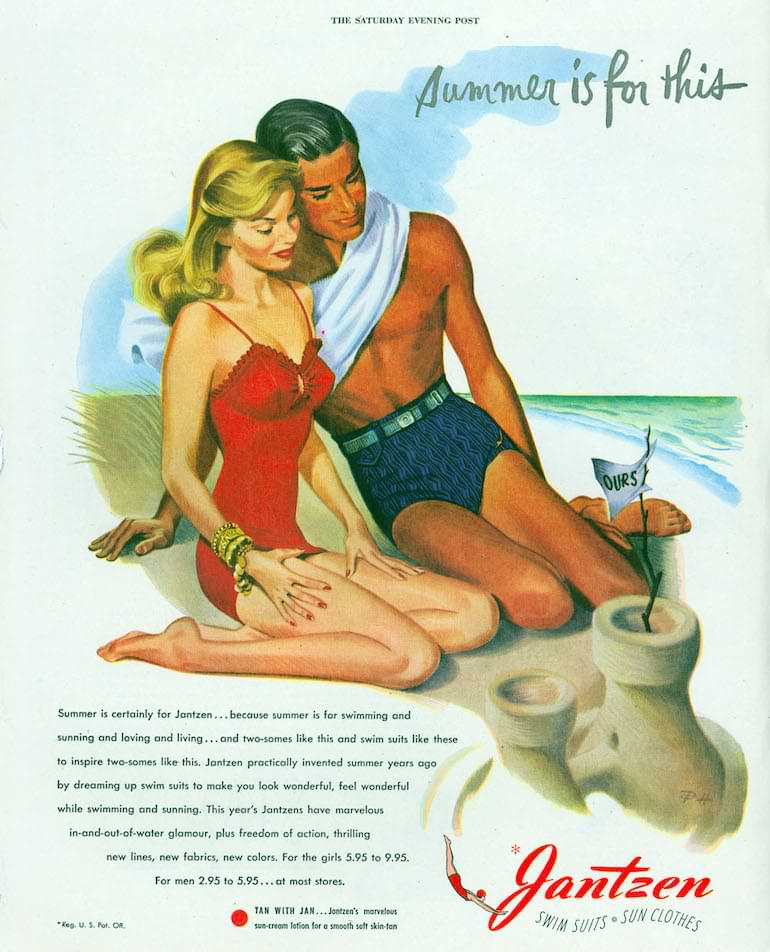 Many of the classic brands from this era, including Jantzen worn by Bond, have unfortunately disappeared or stopped making swimwear for men. We have to make do with brands "inspired by" this era, such as Orlebar Brown and Ripa Ripa.
Shorter and shorter …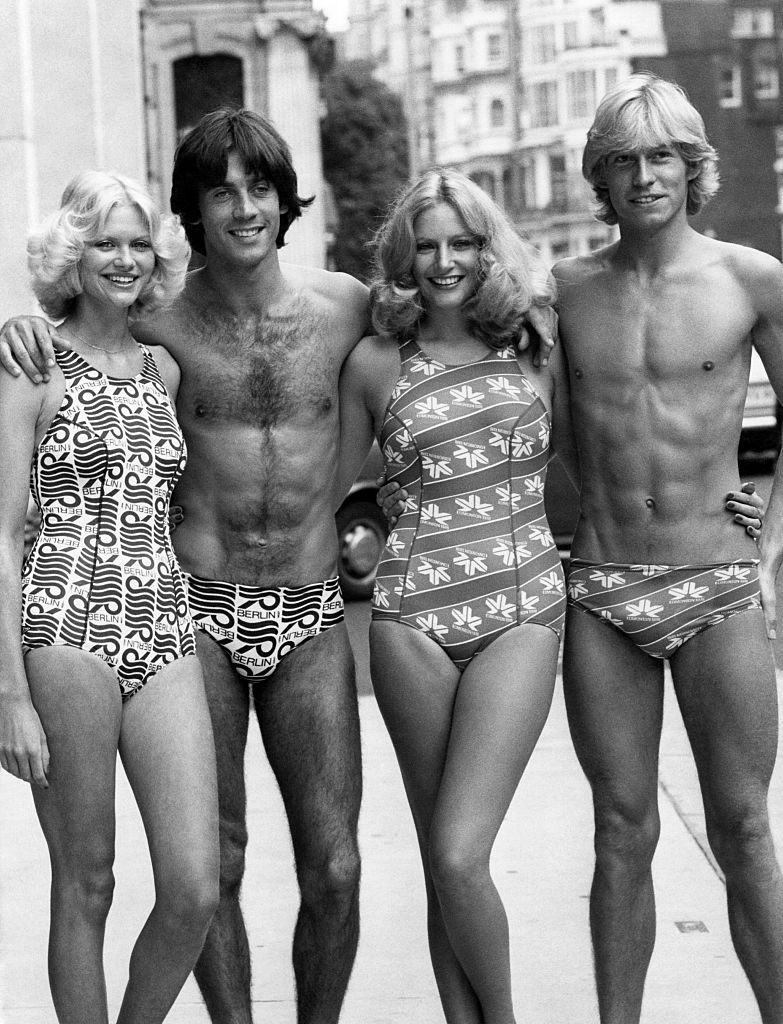 In 1960, Speedo hired designer Peter Travis to create a new line of swimwear. But instead of designing shorts, Travis wanted to build a better pair of swimming trunks, which sat on the hip instead of the waist. The pants, which became known around the world as the Just Speedos were born. Beaches and swimming pools would never be the same again.
Initially the trousers were released in a number of sizes, but eventually the smallest size would become dominant. In Brazil, the style evolved into sungas , minimal Brazilian boxer shorts.
Even among those who abandoned speedos, shorts became smaller and tighter, with new elastic materials. As James Bond shows in Thunderball, swimwear shrank to minimal dimensions. It was time for fashion to swing again.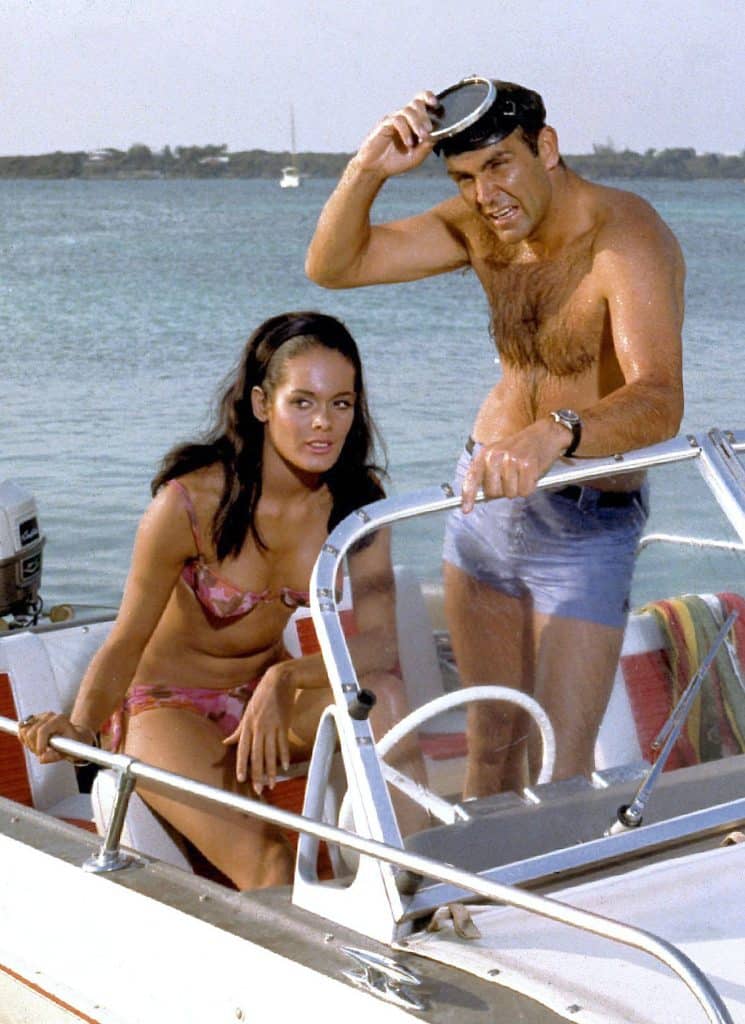 … and further again
Wave surfing as a trend sport had taken off in Hawaii. Surfing took its toll on swimming trunks, and tailor Minoru Nii began designing his own swim trunks, in a plaid cotton fabric, with a slightly looser fit. They came to be called drowners because they did not fall off but remained in place after a crash.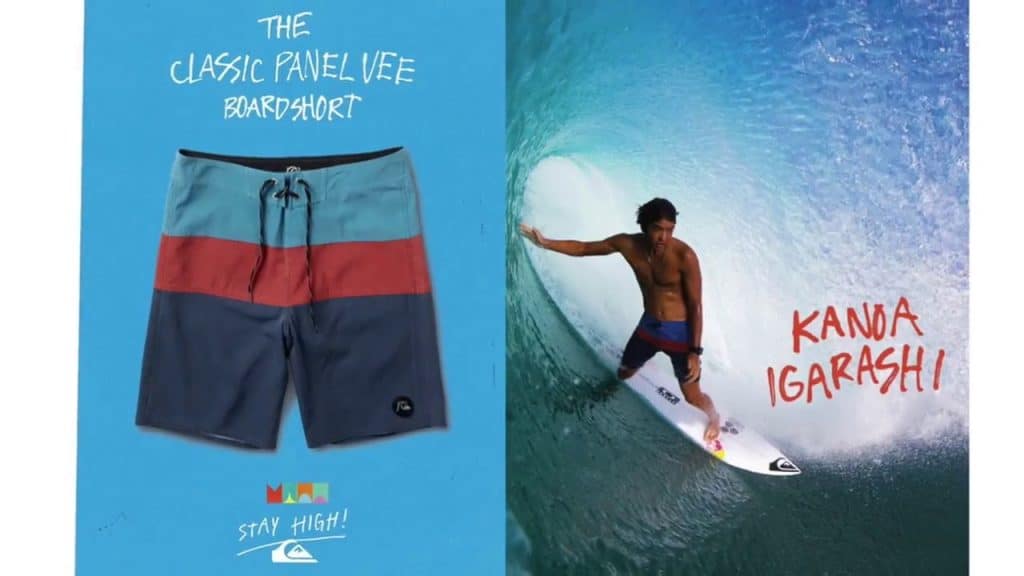 Surfing shorts evolved rapidly, not least in terms of their designs. Brands like Hang Ten, Gotcha, Quiksilver, Rip Curl and Billabong were among those born during this era. When Dave Rochlen started his brand Jams (from 'pajamas'), he asked his wife to make the first pair as a pair of cut-off pajama pants in floral fabric. Surfing culture gradually spread further, and in the 1980s surfing shorts became the standard for young men.
In the 21st century, things have slowed down a bit, somewhere in the middle of the thigh. Social media has accelerated cycles and everything from 50s-inspired swim shorts to speedos has been revolutionized.
Will there be more or less fabric in the future, or will we return to the nude baths of the past? We shall see.