More than any other model, the sneaker defines 21st century men's footwear fashion.
The shoe that a few decades ago was only suitable for the football pitch or jogging track has become both a high fashion och big business . Today, $1 trillion worth of sneakers are sold each year and a pair of Nike Air Jordan 13s worn by Michael Jordan was recently sold for $2.2 million by the prestigious Sotheby's. The trend of leather and suede sneakers has also created a whole new category of sneakers, more similar to classic men's shoes in quality and durability.
And if there was any doubt that a good-looking pair of sneakers belongs in a man's wardrobe, it disappeared when British label house Debrett's approved sneakers for smart casual occasions .
In this guide, we take a look at stylish sneakers for men, provide buying advice and style tips, and guide you to the right styles and brands in 2023.
Where to buy men's sneakers online?
Today, the vast majority of shoe brands have their own e-commerce. If you do not want to shop around, there are a few e-retailers we can recommend for their wide range, fast service and good prices.
CareOfCarl has an excellent range of stylish sneakers of the more dressy style. Here you'll find modern sneakers from Axel Arigato, Common Projects, Lanvin and C.QP plus more classic men's brands like Loake, John Lobb, Santoni and Tod's.
If you are looking for exclusive men's sneakers with a high degree of fashion, Mr. Porter is the right place. Here you will find luxury brands like Gucci, Tom Ford and Balenciaga but also a range of classic sneakers. Their own brand Mr. P makes quality shoes at affordable prices.
At Boozt you will find sneakers from classic men's brands such as Gant, BOSS and Polo Ralph Lauren but also a good range of Adidas, Converse and New Balance. For those looking for classic sneakers at a low price, Sneaky Steve is a recommendation. The sister site Booztlet offers the biggest discounts by far.
If you are looking for a genuine sneaker store with all the classic retro models, Sneakers n Stuff is the right place. Here you can browse among classic and new releases from Nike, Adidas, Jordan Brand, New Balance, Converse and others.
For true sneaker heads, marketplaces like Stockx.com, GOAT and Grailed are the way to go.
Five stylish sneakers for your wardrobe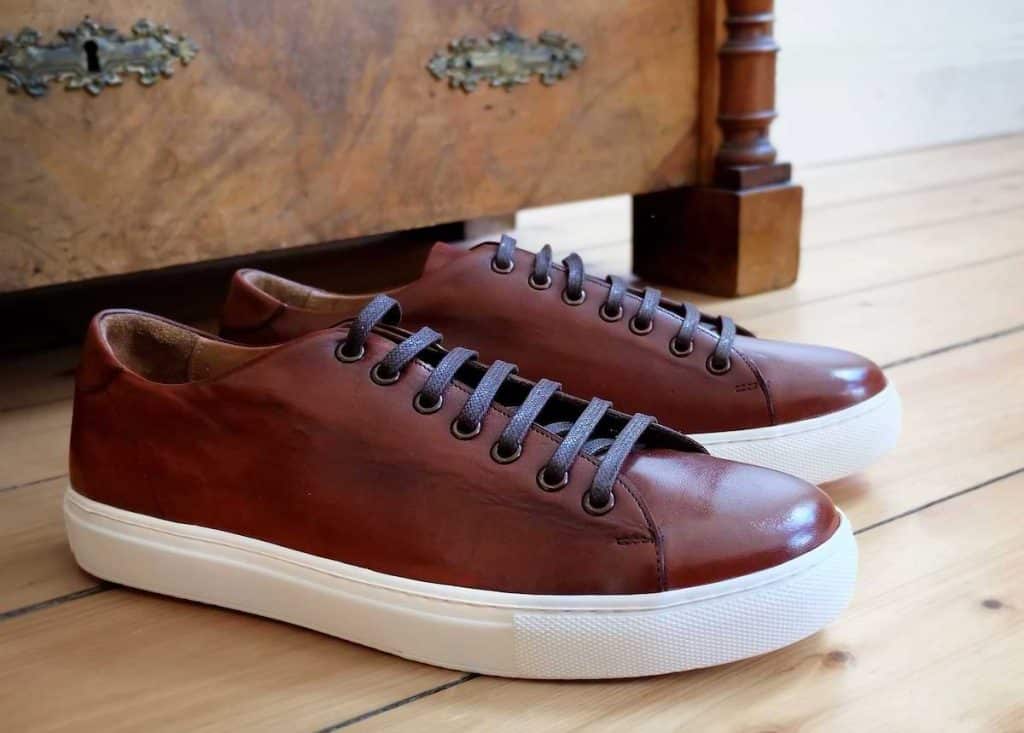 Vita sneakers
A pair of minimalist white sneakers is a wardrobe staple. They are easily matched with everything from a t-shirt and jeans all the way up to a suit. Brands like Common Projects, Axel Arigato and C.QP do it best.
Leather sneakers
For a more dressy style, leather sneakers in shades other than white are preferable. Black or brown leather sneakers can replace a more traditional men's shoe if you want to wear a suit or blazer. smart casual . Examples include Lanvin's cap toe sneakers, Axel Arigato's minimalist leather sneakers and Italian Buttero.
Mocka-sneakers
Although suede sneakers are not new, the range of stylish suede sneakers has exploded in recent years. A brown or beige suede sneaker goes perfectly with chinos and an overshirt or down vest.
Retro-sneakers
With over a hundred years of history, there's a lot to choose from in the archives, and much of it is about your own style. Right now, very chunky dad shoes are popular but we recommend sticking to classic lines. Adidas Samba, Gazelle and Stan Smith, Nike Cortez and Air Force One, Onitsuka Tiger Mexico 66, New Balance 574 – the list goes on.
Canvas-sneakers
Plimsolls – shoes with a rubber sole and canvas – were the original model, and are stil going strong . Converse Chuck Taylor All Stars and the Italian Superga 2750 are among the oldest models, but there are plenty to choose from. Keep in mind that white gets dirty quickly – beige or gray are shades that can both look more dressy and last longer.
Style tips – how to wear sneakers
Sneakers with costume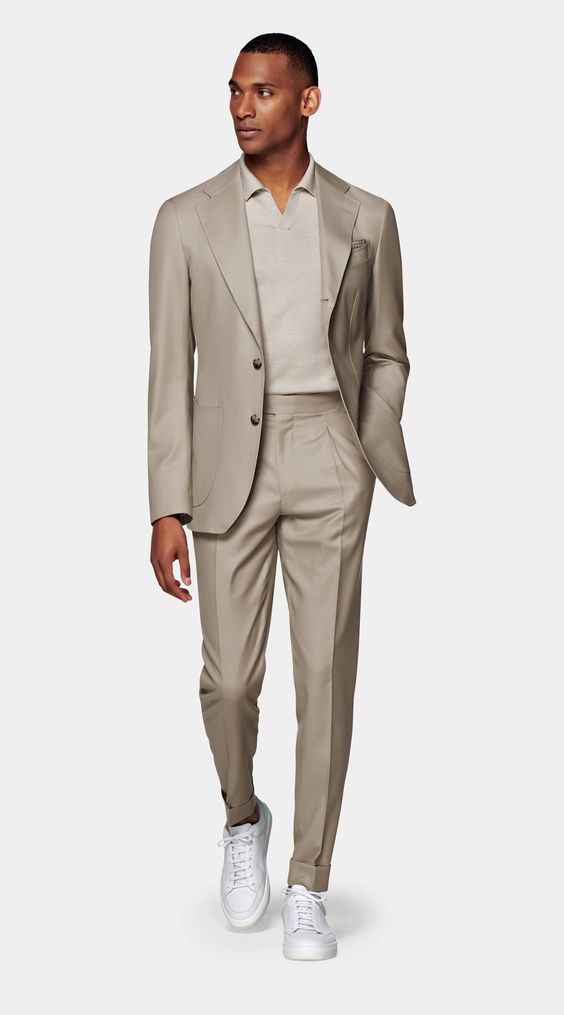 Suit sneakers are still something of a water divider: should something formal like a suit be matched with a sports shoe? Surely a loafer is a better choice? At the very least, the evolution of the suit and the shoe is making them better matched to each other. Our suits are becoming more casual, and there are more and more high-quality dressy sneakers.
When matching sneakers with a suit, choose a suit that matches the more informal style of the sneakers. Materials like cotton or linen are one way, another is to choose a more relaxed style suit – like the Neapolitan – with patch pockets and an unconstructed chest and shoulder area.
Another tip is to think about the color of the sneaker. White is fine, but by choosing a sneaker as you would choose a men's shoe, you get more harmony. Black sneakers with a dark gray suit, dark brown with a blue suit gives a more discreet impression.
Well-dressed in sneakers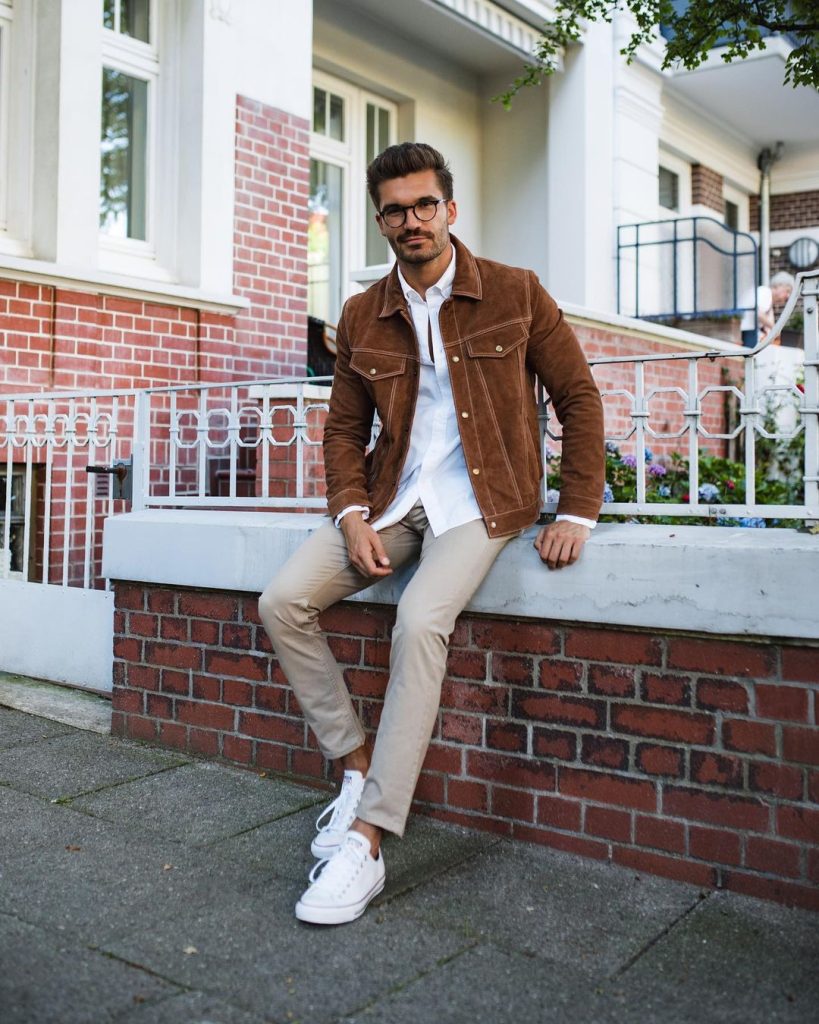 Sneakers are a perfect match for chinos, a shirt and a shirt jacket, denim jacket or vest. A suede overshirt adds an extra touch of sophistication.
Here you can choose freely among sneakers and colors. Chinos and men's pants in blue, beige and brown all go perfectly with sneakers. If you want, you can roll or fold the leg up a bit to make your style more casual and show off the shoe a bit more.
Relaxed in sneakers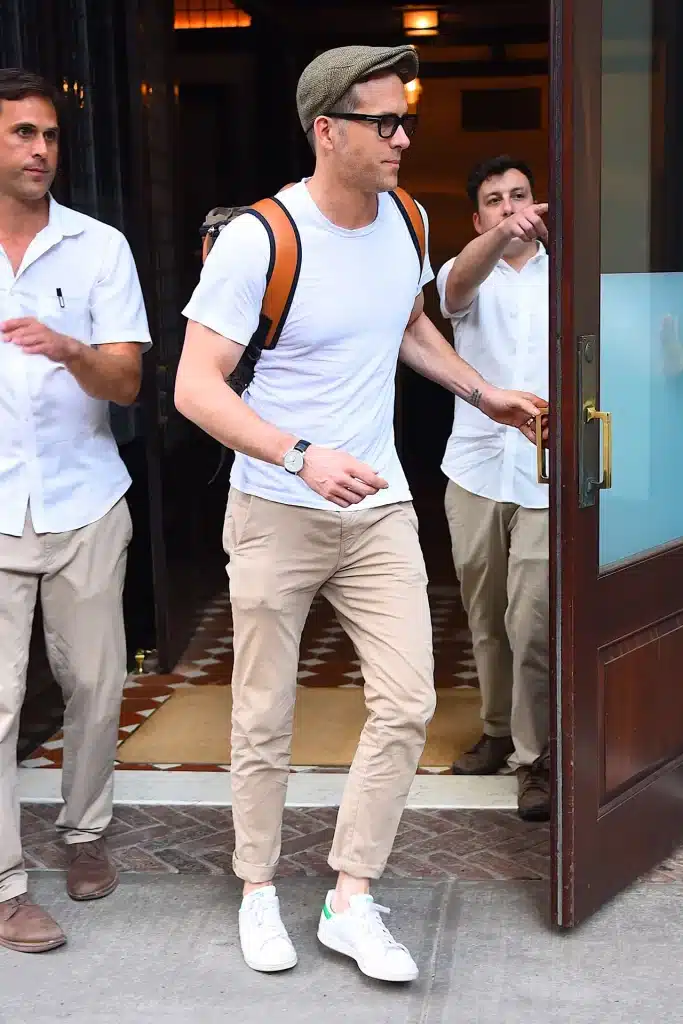 The sneaker is the go-to piece for a T-shirt – whether you're going to the gym, the store or out for a walk. The secret to Ryan Reynolds' style is the choice of classic retro Adidas sneakers, well-fitting clothes and a few stylish accessories.
Choosing the color of sneakers
It's easy to be drawn to white sneakers. It's stylish, classic and easy to match.
Just don't forget that there is much more to choose from. From dark shades to beige and off-white, and beyond, just how colorful and crazy you can get. A quirky color or a great match can elevate an entire style without looking tacky.
Sneakers with socks – or sneakers without socks?
You can wear sneakers both with socks and without socks, especially right now. After a few years of being completely out, white tube socks in sneakers are everywhere.
The easiest way is to treat the sneaker like any other men's shoe. If you wear them dressed up, such as with a suit or dress pants, use a sock that matches and blends in. If you wear it casually, choose a slightly more colorful sock. And in the summer, choose a no show sock that protects your shoe from foot sweat but allows the rest of the photos to breathe a little more – just as if you were wearing a loafer.
Dad shoes, crocs och annat
Finally, a comment on today's shoe fashion. Dad shoes was the name of the running shoes that stayed in my dad's closet long after he stopped running. because they were so beautiful . Through the vagaries of fashion and the desire to provoke, it's currently the height of fashion, preferably matched with striped tube socks. Crocs are the plastic shoes with a similar history.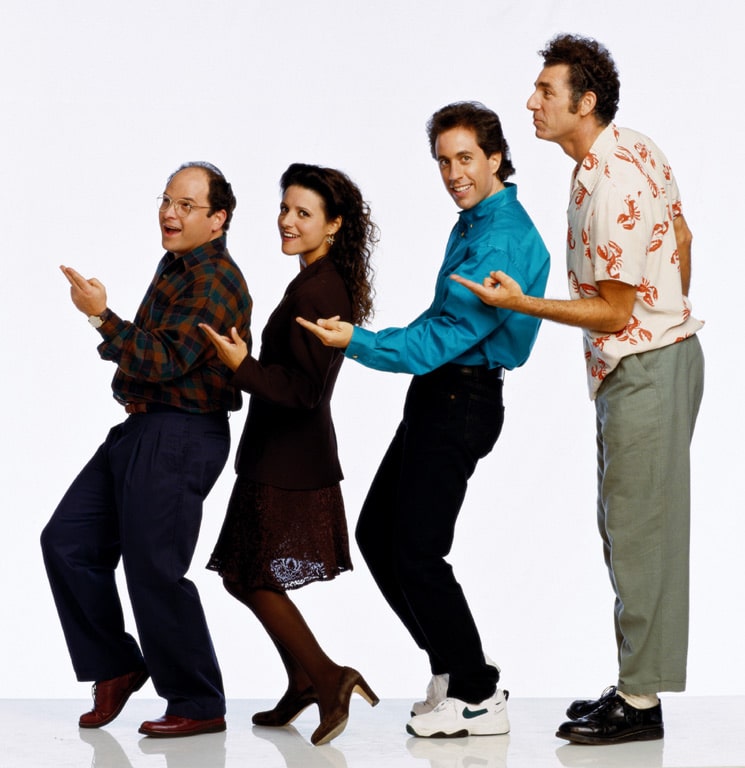 Fashion is fun and why not try wearing a pair of running shoes with a pair of wide jeans? But don't forget that what you're doing is fashion. Rest assured, in a few years you'll be questioning what you wore and throwing away your shoes with a sigh – or worse, becoming the next generation's dad.
Sneakerns historia
For those who really want to learn all about sneakers, we've saved the best for last – an overview of the sneaker through the ages – from Victorian women's prisons to the catwalks of the 21st century.
19th century: Sand shoes and plimsolls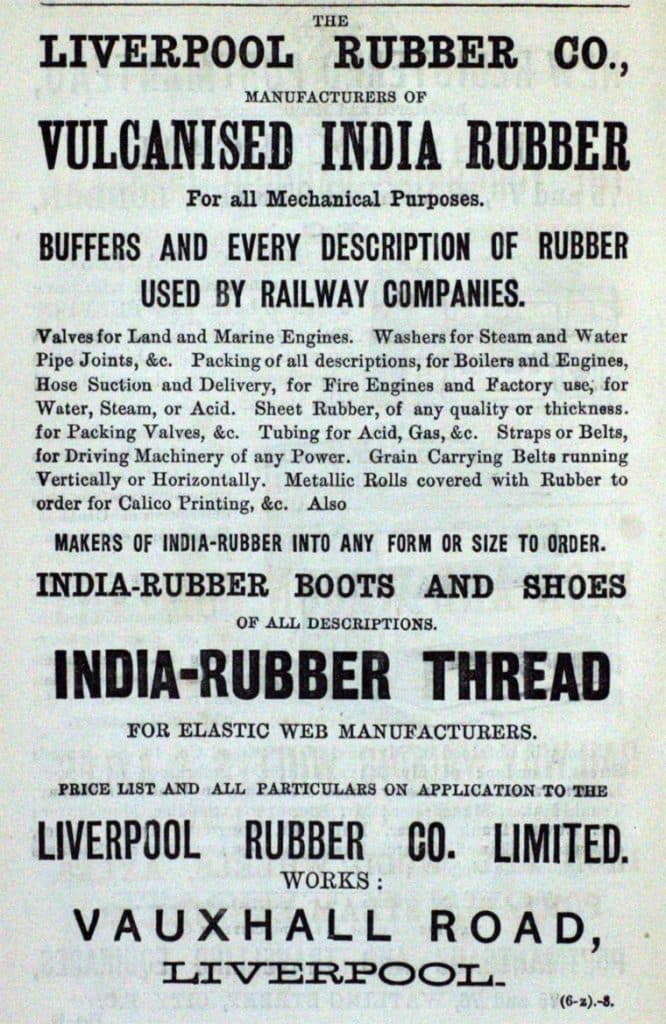 The ability to make shoes with rubber soles only emerged during the Industrial Revolution in the 19th century. In the 1830s, the Liverpool Rubber Company introduced a canvas shoe with a sole made of Indian rubber. The shoes were not very durable and were mainly used indoors at first, such as in prisons where shoes called 'sneaks' are mentioned in a book on women's prisons in 1862.
But manufacturing processes evolved with Goodyear's vulcanized rubber and new sewing machines from names like Howe, Singer and Blake. The improved shoe found a new audience among a growing Victorian middle class. There, the rubber-soled shoe became a leisure shoe, to be worn, for example, on visits to the beach – giving them the name 'sand shoes'. Strengthening the bond between the sole and the canvas fabric created a more durable shoe, eventually nicknamed 'Plimsoll shoes' after 'Plimsoll lines', the lines on ship hulls that mark where the maximum load goes.
The sneaker is born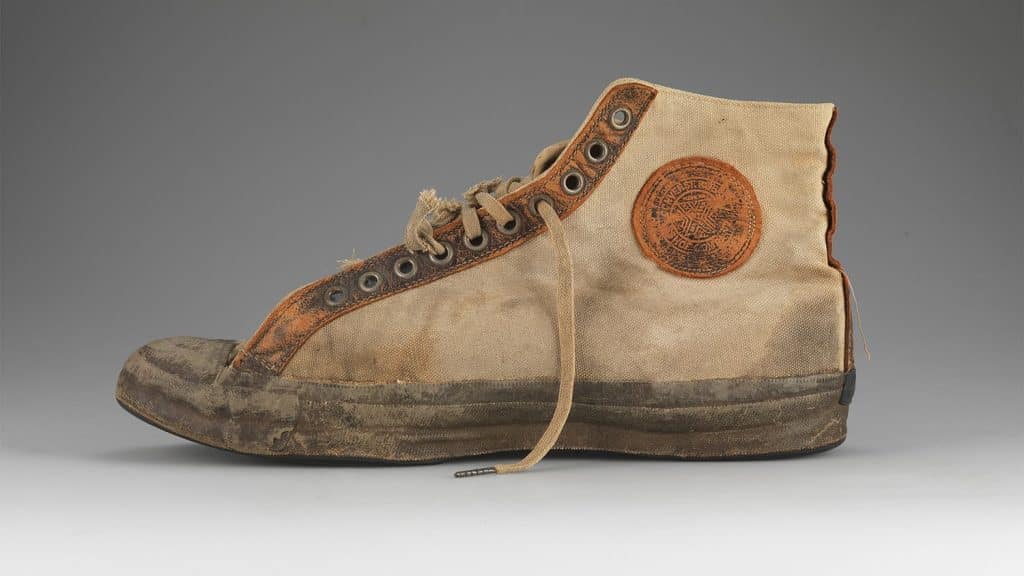 The production of plimsolls – or sneakers as they came to be known in America – grew rapidly in the early 20th century. In the US, the US Rubber Company brought together a large number of smaller manufacturers under the brand name 'Keds' – a play on the word 'Peds' after the Latin word for shoes. Keds became the first to mass produce sneakers and the brand still exists today.
Another company that started making shoes in the early 1900s was the Converse Rubber Shoe Company. Originally making rubber-soled shoes for winter use, Converse began making sports shoes in 1915, and in 1918 launched the "Converse All-Star" basketball shoe. In 1921, they hired basketball player Charles "Chuck" Taylor as a salesman, and Chuck began traveling around America selling Converse basketball shoes. Based on his suggestions, Converse also changed the design of the shoe, including a star-shaped ankle guard. In return, Chuck Taylor got his signature on the shoes, which were named "Chuck Taylor All Stars".
The Dassler brothers and the sports shoe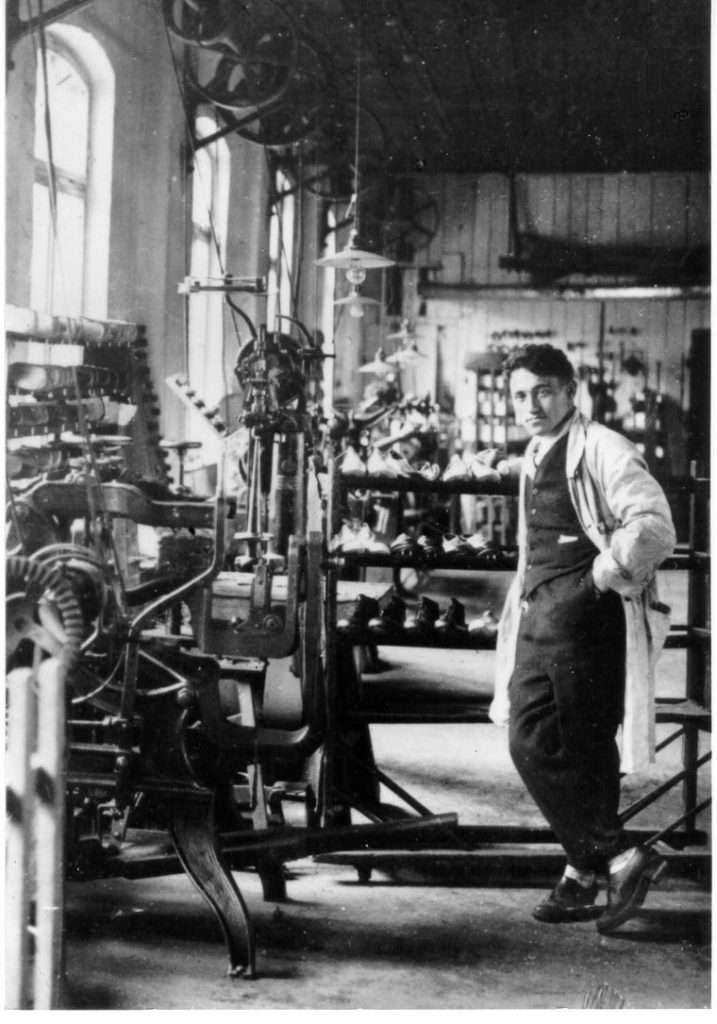 The first modern Olympic Games were held in Athens in 1896. The games and the emerging public health movement increased the status of sport in society, and created a market for sports equipment. In 1900, Joseph Wiliam Foster began manufacturing some of the world's first spiked running shoes in Bolton, England. J.W. Foster's shoes were on Harold Abraham's feet when he won the 100 meters at the 1924 Paris Summer Olympics. J.W. Foster's would later evolve into Reebok and become one of the world's largest running shoe companies.
Two other people interested in sports shoes were the brothers Rudolf and Adolf (Adi) Dassler. Adi Dassler was an entrepreneur and inventor who started making shoes in his mother's kitchen, and together with his brother he set up Gebrüder Dassler in Herzogenaurach near Nuremberg. Adi Dassler created shoes in a scientific way, and spent a lot of time observing how athletes used them. At the Berlin Olympics, Adi offered long jumper Jesse Owens a pair of his shoes, and when Owens won his legendary four gold medals, the breakthrough was made.
Unfortunately, it was not only shoes that interested the Dassler brothers – they were also active members of the German Nazi Party. For example, the family's shoe factory was converted to produce bazookas during World War II and the brothers were also accused of being members of the Gestapo.
Conflicts and power games between Adi and Rudolf led to the brothers falling out, and although they escaped lengthy prison sentences after World War II, they could no longer run the business together. Adi started his own shoe business and named it Adidas after his own name. Rudolf chose to name his shoe factory Puma. They would never speak again, but the brothers' competition led to two of the world's biggest shoe brands both originating in little Herzogenaurach.
Jeans, T-shirts and sneakers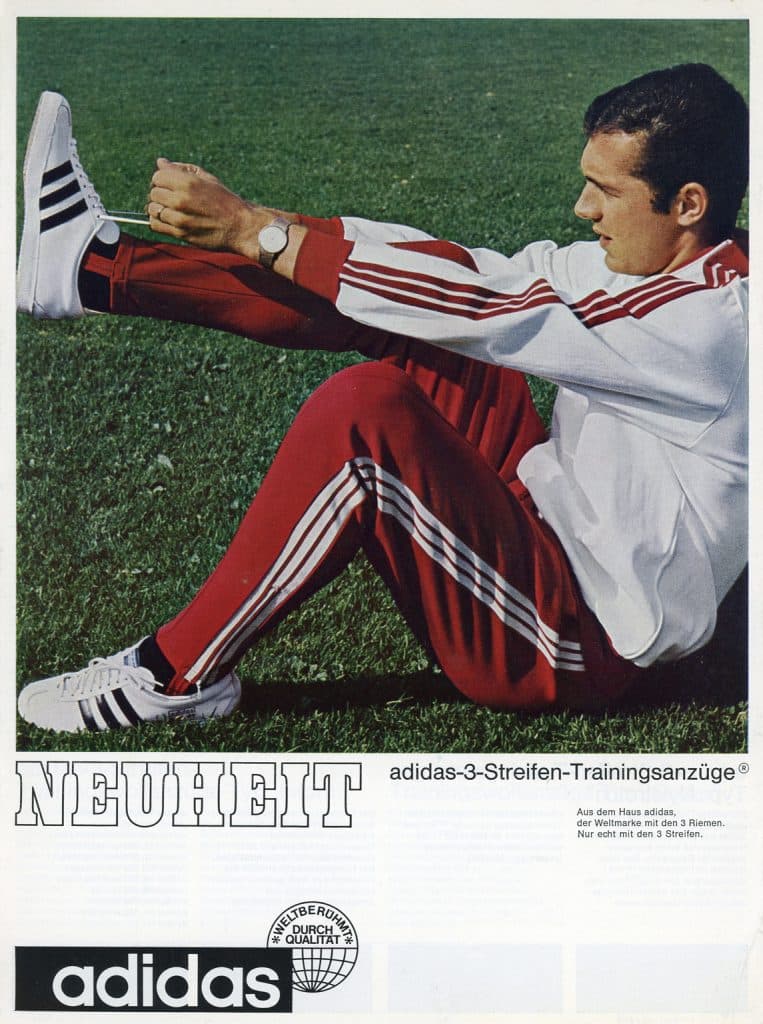 World War II ended, but the world was not the same. A generation of young people rebelled against their parents by choosing jeans, T-shirts and sneakers. Through Hollywood, the ideal spread throughout the world.
Thanks to TV, sport became a world sport. While their home country was still badly devastated by the Second World War, the West German team had managed to reach the final of the 1954 World Cup. In the final, they were to face Hungary, who were tipped to win. As the rain and mud spread in the final match, the West German team, with their screw-on boots, were able to outrun the Hungarians in their spike-covered boots, turning the match into a 3-2 victory. The Adidas football boots with their characteristic three leather stripes were an instant success and became the model for the Adidas Samba model.
With shoes appearing on sports stars, the opportunity to create a brand outside the sports arenas opened up as well. In 1967, soccer legend Franz Beckenbauer posed wearing Adidas' newly launched workout clothes and white Adidas sneakers – the concept athleisure was born. Adidas Gazelle model was also one of the first sneaker models to use suede as a replacement for canvas and leather.
The running boom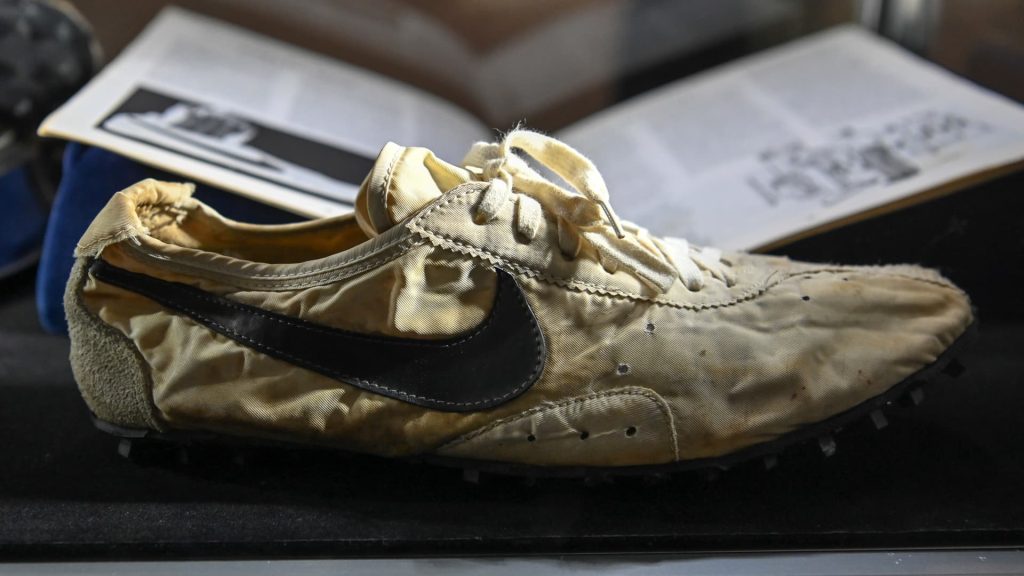 In Japan, start-up Onitsuka Tiger had gone from making basketball shoes to running shoes. When Ethiopian Olympic gold medalist Abebe Bikila visited Japan to run a marathon, Onitsuka convinced him to try a pair of shoes instead of running barefoot. Abebe won easily and admitted that the shoes helped him. Several world records were set in Onitsuka Tiger shoes with their characteristic stripes. The running shoes later became known as ASICS, and Onitsuka Tiger became the ASICS sneaker brand.
Phil Knight had written a paper entitled " Can Japanese Sports Shoes Do to German Sports Shoes What Japanese Cameras Did to German Cameras? " when he was at Stanford. Right after graduation, Knight went to Japan, where he met Onitsuka-san and convinced him to distribute Onitsuka's shoes in the United States.
Knight's company, originally called Blue Ribbon Sports, changed its name to Nike in 1971 and in the same year the 'swoosh' was designed. Nike began making its own shoes with a characteristic grooved grip sole. The sole is said to have been developed by co-founder Bill Bowerman through experiments with rubber in the family's waffle iron, earning it the nickname 'swoosh'. waffle sole .
In 1972, Frank Shorter became the first American in 60 years to win an Olympic gold medal in the marathon. Running went from exercise to a cultural phenomenon, with participation in marathons increasing tenfold in a short time. Sales of running shoes from brands like Nike, Adidas, ASICS, New Balance and Reebok exploded. Brooks pioneered the EVA sole in 1971 and in 1978 Nike released the Tailwind, the first shoe with air pockets in the sole.
sneaker culture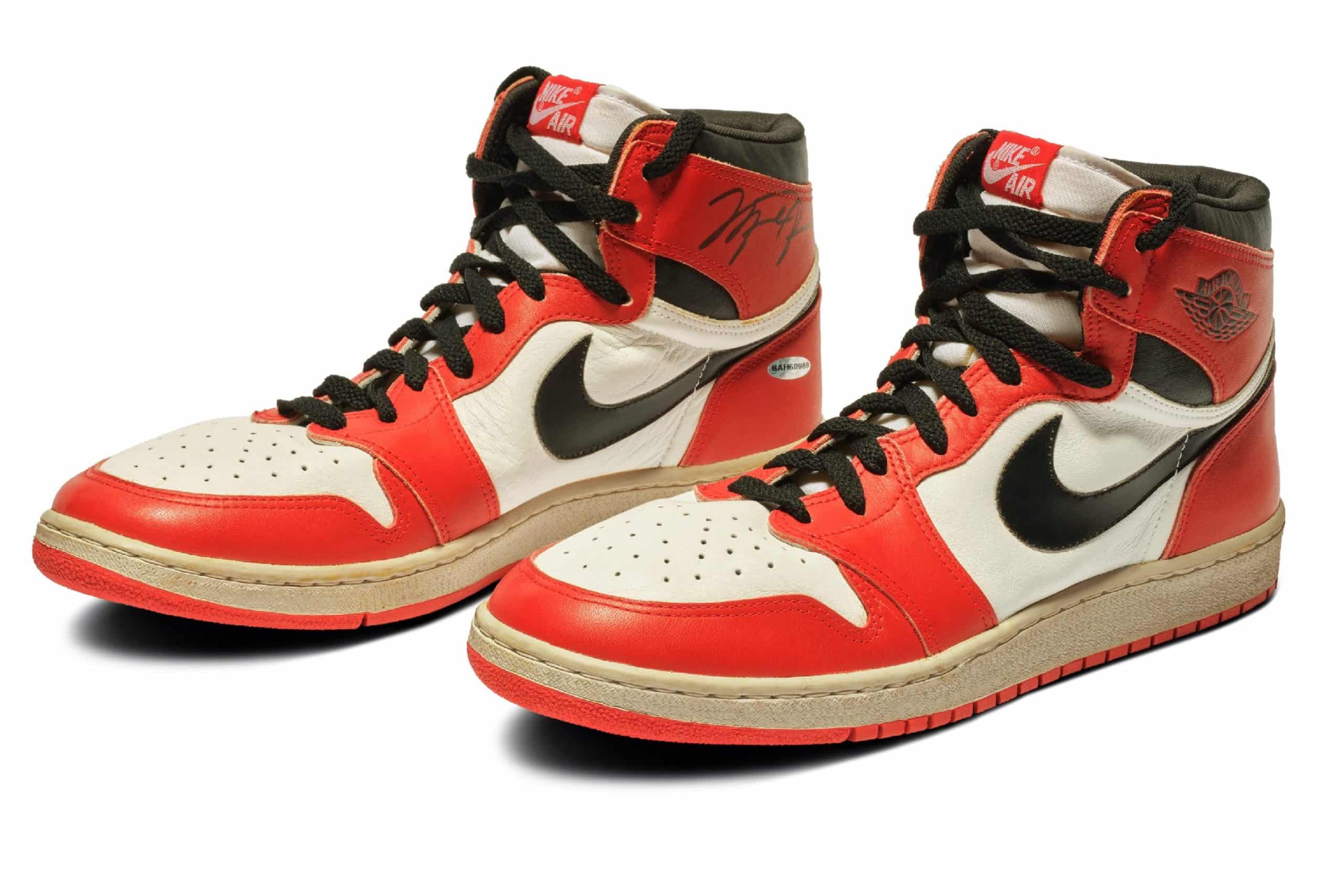 The next step in the history of sneakers came in a very different part of American society – among poor blacks. Since the first black players were allowed into the NBA league in 1950, basketball had become increasingly dominated by African-American stars and from the 1970s onwards they almost completely dominated the sport.
At the time, basketball shoes were almost synonymous with Converse. But when Converse couldn't offer the latest NBA superstar – Michael Jordan – a good sponsorship deal, Nike stepped in. Michael Jordan had earned the name Air Jordan for his amazing long dunks and Nike saw the opportunity to sign a star to promote its new Air Force 1 basketball shoe.
The first Air Jordans were red, black and white – so colorful that the shoes were banned for not being "white enough". The ban provided great publicity for Nike and they happily paid Jordan's fines after every game. Within a year, $100 million worth of Air Jordans had been sold and Nike sneakers had become street fashion. Today, Air Jordans worn by Michael Jordan are among the most sought-after shoes at sneaker auctions – the shoe world's answer to a Rolex Daytona worn by Steve McQueen.
New Air Jordans were released every year, and the message was clear: "Be like Mike", to play like Michael Jordan you needed his shoes. Sneakers became part of African-American street culture, along with basketball and rap. Run-D.M.C. became the first group to sign a sponsorship contract with a shoe brand, after playing the song "My Adidas" at a concert in 1986. When Run-D.M.C. asked the fans in the audience to hold up their Adidas, one of the Adidas executives, who was standing in the audience watching with wide eyes, clicked.
Even in skate culture, sneakers became a cult shoe. Brands like Nike, Adidas and start-up Vans took advantage of street culture to build their brands towards new audiences.
Sneakerheads and luxury sneakers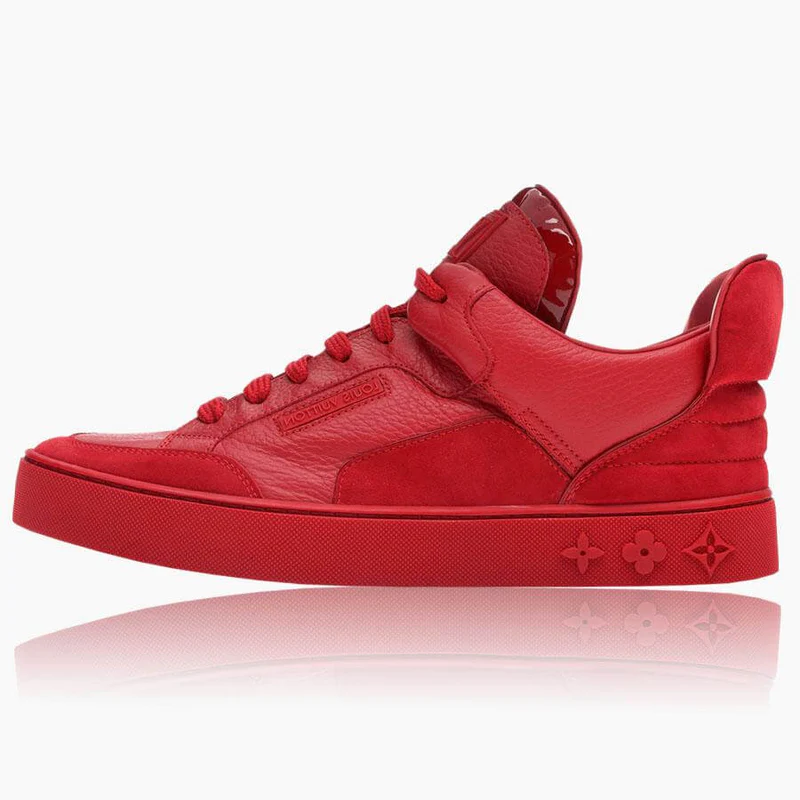 As the money flowed into both sports and music, sneakers became big business . From party music and culture, rap became a global phenomenon. World stars like Snoop Dogg, 2Pac and Jay-Z elevated sneakers to cult status. In 2002, Nike sold 15 million Air Force Ones each year, despite the shoe being one of the least marketed.
Shoe brands like Nike, Adidas and FILA were quick to recognize the business opportunity. By releasing variants at an accelerated pace, and using collaborations with designers and artists to create special editions, they managed to establish sneaker collecting as a phenomenon. Sneakerheads went looking for rare editions in mint condition, deadstock and lined up for special releases. When designer Jeff Staple released a version of the Nike Dunks in 2005, the price went from $69 in the store to $2000 on Ebay the same day. Sneakers were a perfect fit for social media, and Youtube, Instagram and TikTok have only added to the gold rush.
At the end of the 20th century, the luxury industry also started to take an interest in sneakers. Gucci and Prada were early adopters of their own sneakers. Yohji Yamamoto and Jeremy Scott began collaborating with Adidas in 2002, and in 2009, Louis Vuitton itself made sneakers with Kanye West. Kanye's Don- sneakers were sold with price tags upwards of $1000 each. In 2023, Kanye West was appointed the new creative director of the prestigious luxury house.
The rise of the sneaker was unstoppable and in the 2000s, sneakers became part of men's fashion. Even established shoe houses such as John Lobb and Edward Green started to include sneakers in their ranges, and start-up brands such as Common Projects sold handcrafted sneakers in stylish styles.
Today, sneakers are by far the largest segment of the shoe world, with sales of SEK 1,000 billion every year. The question is not so much whether sneakers will remain part of shoe fashion, but rather whether there will be a shoe fashion left outside of sneakers?
Tip: Don't miss our other articles on men's shoes and men's loafers! !
Frequently asked questions – Stylish sneakers
Sneakers – what are they?
Sneakers are a description of a sporty type of shoe that is primarily intended for use as an everyday shoe, rather than for sporting activities. Nowadays, sneakers are used in a variety of contexts, including more formal attire such as suits.
What men's sneakers to wear in 2023?
A clean and simple leather sneaker is versatile and can be worn in many situations. A pair of white sneakers is the easiest choice, but leather sneakers in black, brown or beige are also good.
What color of sneakers to go for in 2023?
White sneakers are always a safe bet when it comes to sneakers. Other colors to bet on for sneakers in 2023 include earthy colors. Beige, brown and various shades of olive green are trend colors for sneakers this year.
What are the best sneakers for a suit?
Preferably choose leather sneakers in a sleek and minimalist design for a suit. Avoid large logos and colorful sneakers when wearing a suit.
Where to find breathable sneakers?
This is often a question of quality. If you choose sneakers in the higher price ranges, you usually get sneakers with thoughtful design, where they also think about how the shoes breathe.
How should sneakers fit?
If you choose genuine leather sneakers, they should fit snugly on your foot. Leather sneakers often stretch with use and can become too loose if you choose too large models.
How to make sneakers white again?
Nowadays, there are good products for cleaning white sneakers on the market. Use sneaker cleaning cloths regularly to avoid discoloration of white sneakers. Especially if you use leather white sneakers, they require regular care to stay fresh and white.
What are the best no-lace sneakers?
For example, Human Scales has great sneakers without lacing. Vans is another classic laceless brand. Also consider loafers or driving shoes.