Linen is closely linked to summer in men's fashion. As well as a pair of linen pants can fit on a warm and windless summer day, they can fit just as badly on a windy spring or fall day. Simply put, it's now or never.
In this article, we've picked out five stylish men's linen pants, giving you buying advice and style tips on how to match them.
Why choose linen trousers?
Linen is a material with a couple of great qualities, and a partly negative one.
Let's start with the negative: the wrinkles. If you love a pair of well-stretched pants, prepare yourself for a shock. Linen wrinkles and you won't be able to keep that freshly ironed feeling no matter how you try. There are two ways to deal with this: 1) develop your sprezzatura and turn it into a positive, 2) avoid pure linen trousers and opt for linen-blend trousers, which look like linen but hold their shape much better.
With the negatives out of the way, the positives: linen trousers are cool, airy and great looking. Linen fabrics are good at transporting air and moisture – it's a natural property. We'll come back to their stylishness below, but linen has a casual elegance that's hard to beat in summer.
Plus, to top it off, linen is good from a sustainability perspective, especially if you choose fabrics woven here in Europe. Linen is more resource-efficient than cotton and wool, and is grown here in Europe.
Five stylish linen trousers for summer
Oscar Jacobson
The Delon linen trousers from classic Oscar Jacobson. The beige natural color is easy to match and the pants have a tapered fit that can be rolled up a bit to highlight a pair of suede loafers.
NN07
If you want a pant with a straighter leg, there is the Karl model from NN07. The straight leg makes the style a little more relaxed, perfect for sandals or espadrilles and a bowling shirt.
Morris Heritage
Morris Herritage model Jack is made in a fine linen fabric from Italian Angelico and has classic details such as lapels and press folds. The tobacco brown shade is a favorite with an off-white or navy blue polo shirt.
PT01
For maximum Italian flair, look no further than Italian trouser specialist PT01 from Turin. Classic dark brown men's trousers in a wide model with stylish front pleats. Made from a mix of cotton, linen and a little stretch.
Incotex
If you want to wear white linen pants outside the beach or pool, Incotex pants in the linen-cotton blend chinolino are a good option. Keep in mind that the pants are thin – wear a jacket or let the shirt go over the pants to avoid showing more than you intended.
Stiltips
Outfit: Linen trousers and jacket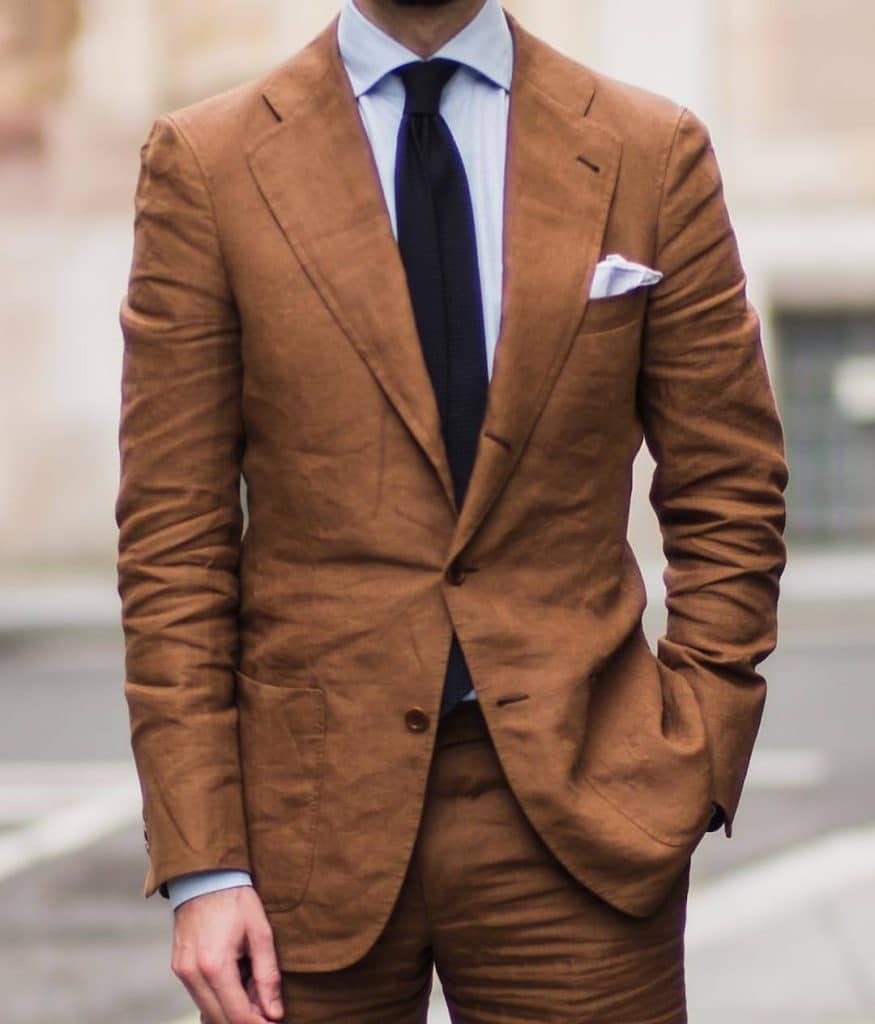 In addition to linen suits, a linen jacket can of course also be paired with linen dress pants.
As we discuss in our guide to linen jackets, the challenge is mainly about color combinations: if you match a light-colored jacket with light-colored pants, there's a risk of looking dressed up but not dressed down. So think about either breaking the colors against each other – dark on top and light on the bottom or vice versa – or use other tricks to create contrasts, such as a blue denim shirt or a woven cotton pique.
Choosing a cotton shirt or polo shirt is a good idea regardless of the color combination. Cotton breaks up the old-fashioned feel of linen and takes the focus away from the wrinkles.
You can of course wear a tie with your jacket, but be careful to avoid an overly shiny side tie. An interesting texture, such as a crocheted tie, or material that matches the linen will create more harmony.
Outfit: Linen pants with shirt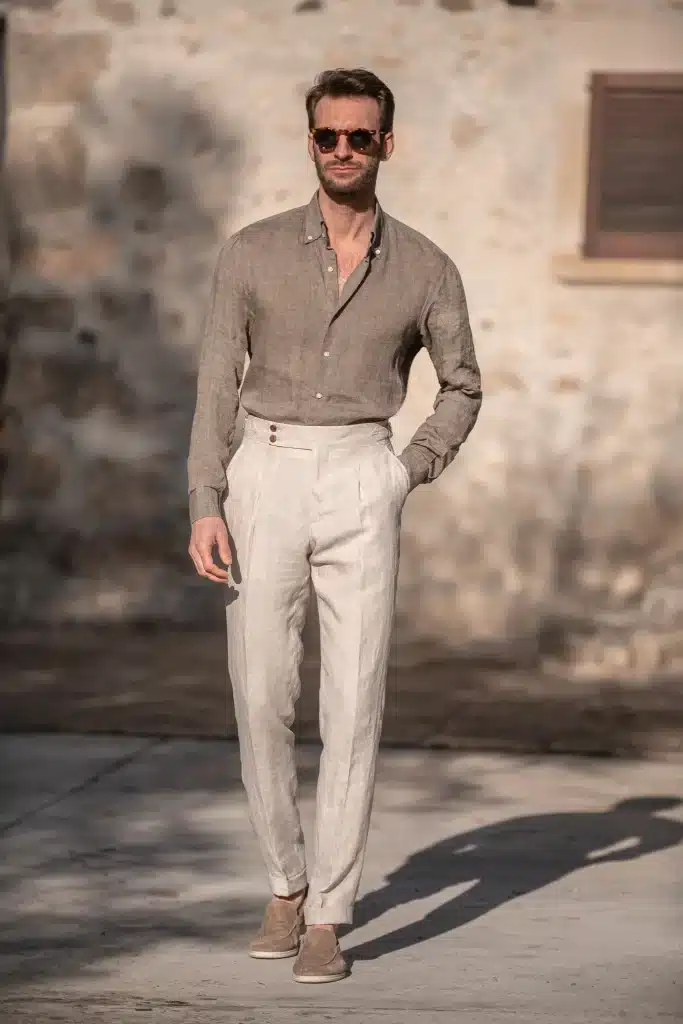 There are many good ways to combine shirts with linen trousers. If you will be wearing a jacket, a cotton shirt is best – otherwise, linen shirts, for example, work just as well.
The distinctly summery feel of linen pants also allows you to wear short-sleeved shirts without looking like you work at NASA. For example, try matching it with a bowling shirt ( cuban collar / camp collar).
Outfit: Linen trousers with pique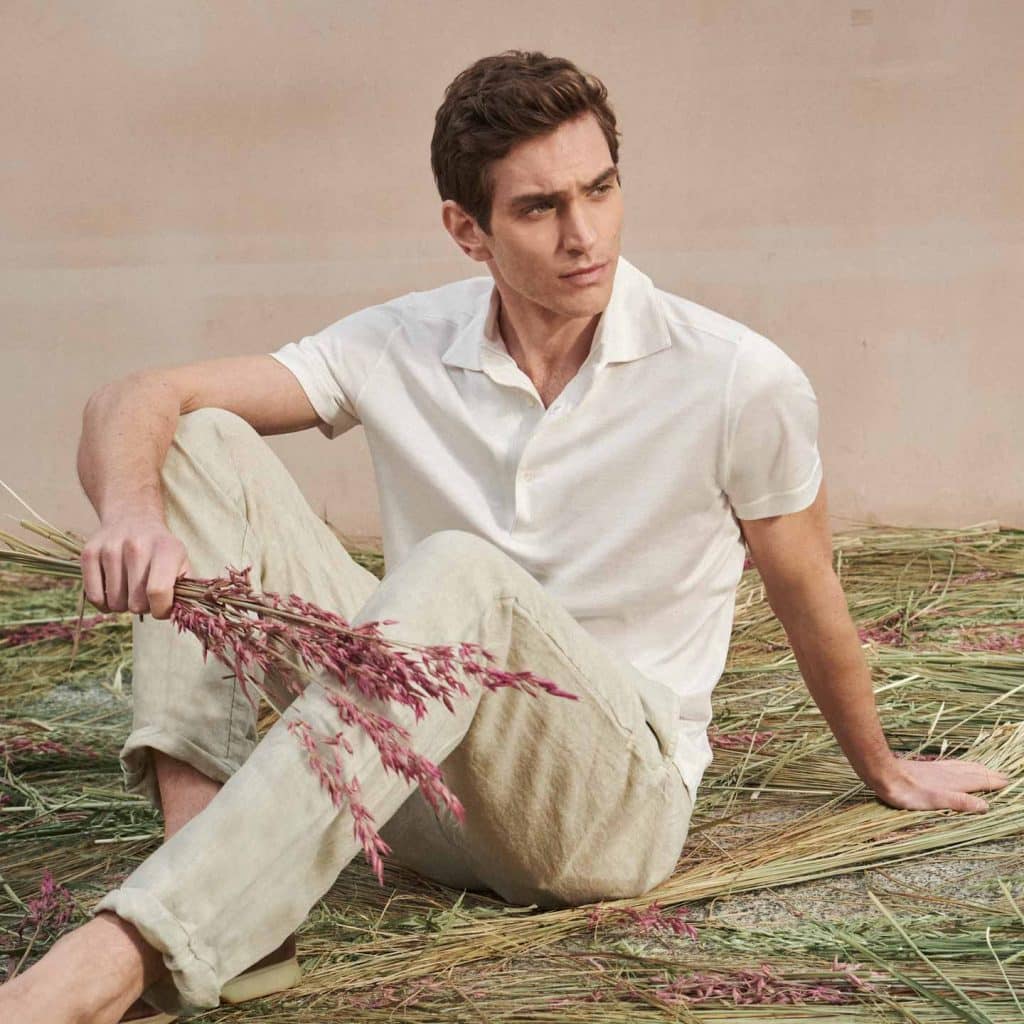 Another well-dressed option is to combine linen trousers with a polo shirt. We're not thinking of a white tennis shirt a la Lacoste, but rather a woven cotton polo shirt with a more Mediterranean feel.
A polo shirt without a button placket, a so-called johnny collar, is a way to make your outfit a little more dressy. If you want to go for a more beachy feel, look at terry cloth polo shirts ( terry).
Unlike the usually bright colors of tennis shirts, there is a lot to be gained from more natural shades that match the linen pants. Off-white, cream, gray-brown and olive green are examples of good shades.
Shoes with linen trousers
There are several typical summer shoes that go well with linen trousers.
If you wear long linen trousers with wide legs, you should preferably wear sandals or espadrilles.
Loafers are the absolute best choice for linen trousers with narrower trouser legs, if you want to dress stylishly. Other summer shoes, such as driving shoes and sailing shoes, also go well with narrow-leg linen trousers.
Buying advice
Fit and details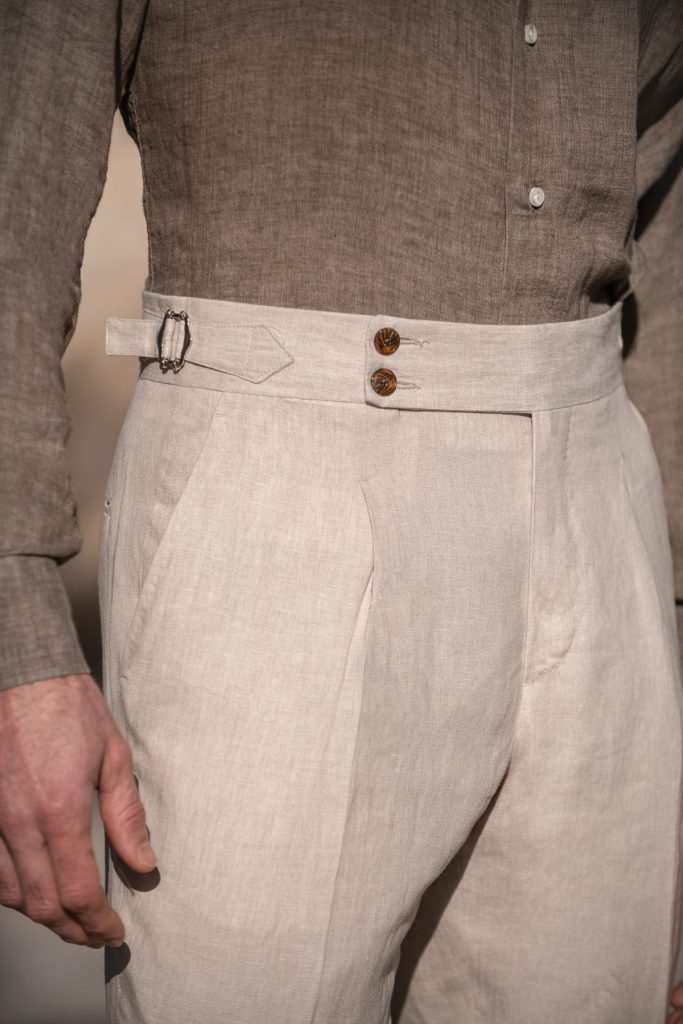 With linen trousers, there are two basic styles – tailored and casual. The tailored trousers often have classic trouser details such as side adjusters waist and front pleats, while the relaxed ones have wide legs, flat front and often elasticated or tied at the waist.
Unlike other men's trousers, tailored linen trousers do not have to reach all the way down to the shoes. Since many people wear open-toed shoes such as loafers, espadrilles and sandals with linen trousers, the linen trousers can be shorter and have a flare.
The models of linen trousers that come with wide legs are best suited for beach use.
Linen trousers with ties or elastics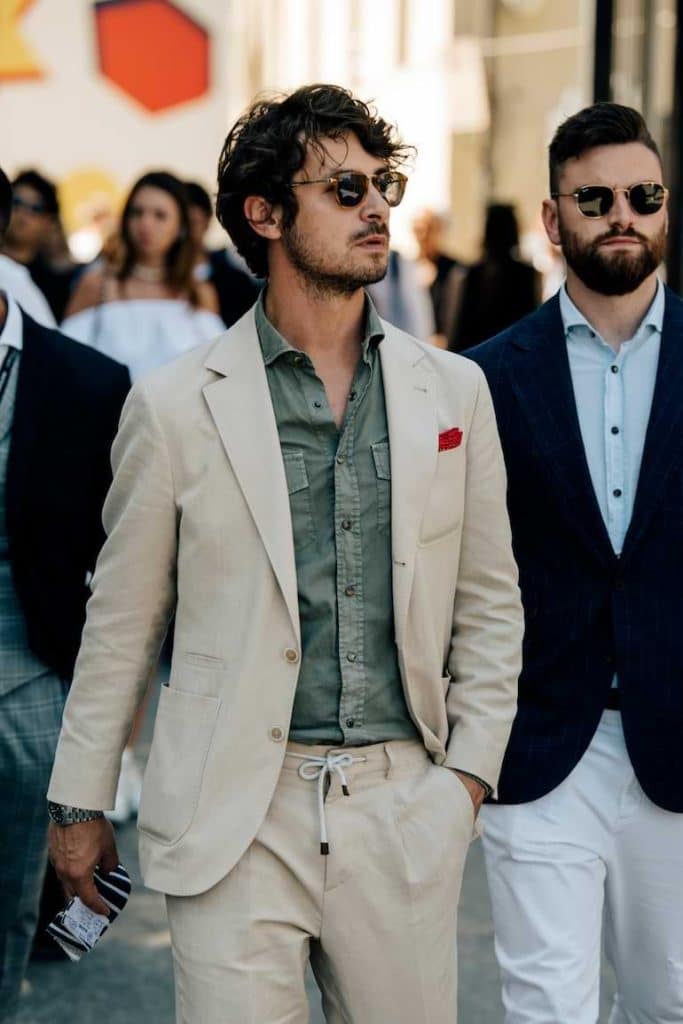 Linen trousers with ties have become increasingly popular ( drawstring) . Belts don't always go well with linen trousers, and tying is one way to solve that.
Another variant is the elasticated linen trousers. Here the linen pants become more of a linen jogging pants, and it is not clear what the idea of such pants is other than pure comfort.
This is a detail best suited to linen trousers of the wider type, best suited for beach use. If you are wearing linen trousers with a shirt and jacket, choose the side adjusters instead. But – as the picture shows – there are no rules without exceptions. Fashion is about knowing the rules, and then choosing which ones to break.
Materials and colors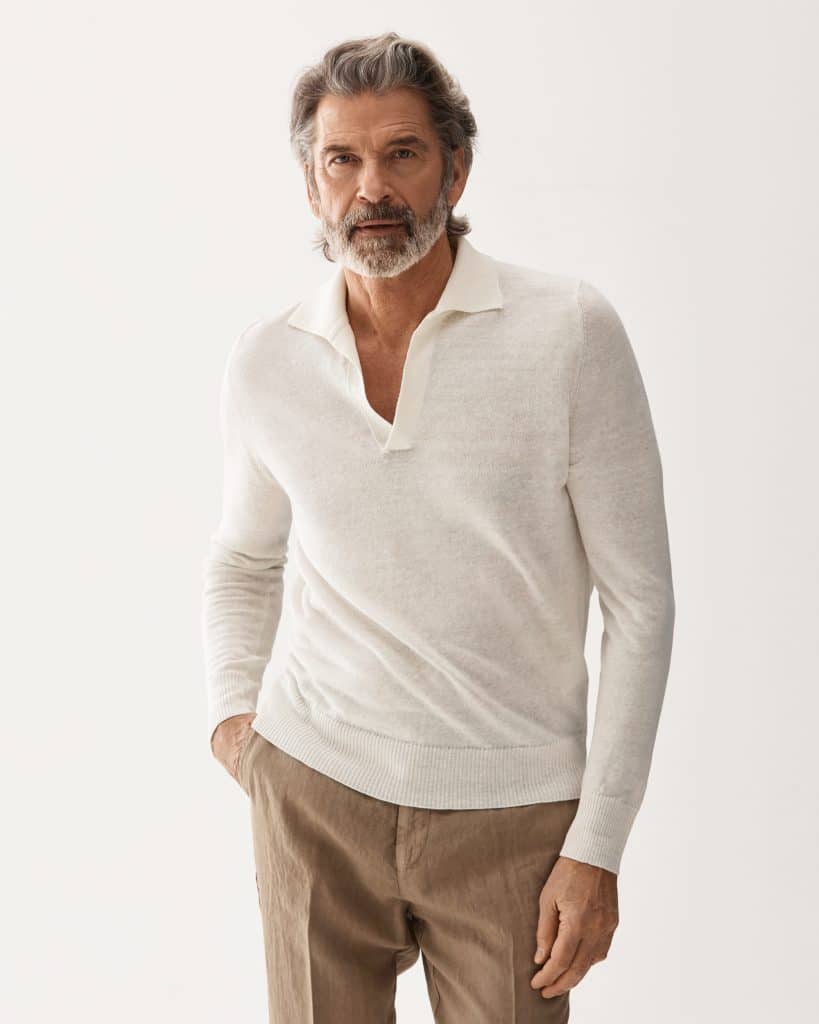 As we mentioned earlier, you can choose between pants in pure linen, or to mix the linen with e.g. cotton. The pure linen pants are usually cooler but more wrinkled, but when you mix the linen with cotton, you get a pair of pants that keep their shape a little better.
When it comes to colors, the recommendation is to stick to the natural palette – from different shades of off-white and beige to muted shades like olive green, navy blue or tobacco brown.
White linen trousers – a question in itself
What about white linen pants? White linen trousers are undoubtedly popular, but think twice before choosing white over any of the colors we recommended above.
Aside from being a very impractical shade for pants (think stains), white is also a very transparent shade. What doesn't seem like a problem indoors can quickly become a little too revealing in the sun and wet.
White linen trousers with a T-shirt can definitely be worn on a beach. But if you're leaving the beach and still want to wear white, we recommend choosing a jacket of the right length to cover some of the problem, so to speak. Also choose light-colored underwear, which will show through less.
Frequently asked questions – men's linen trousers
What are linen trousers?
Linen trousers come from linen fabric, which is made from the fibers of the flax plant. Linen is absorbent and dries quickly, making it an ideal choice for summer clothing such as trousers.
How should linen trousers fit?
This depends largely on the model of linen trousers you buy. In general, linen trousers should not be too tight as the linen fabric is not stretchy. If you opt for a loose style of linen pants, you may want to roll up the pants to avoid them dragging on the ground.
Where to find linen trousers online?
Linen trousers can be found in most online clothing stores. In men's online fashion stores, you can find both stylish linen pants with a slim silhouette with creases and turn-ups, as well as more casual models with a looser fit.