Shirt jacket, overshirt, chore jacket or shacket – there are many names for this dear child, not least the most trendy garment of the year. But an overshirt is not just a fly, but a worker's garment with centuries-old roots in both workwear and military tradition. In fact, it is a
In this guide, we provide you with tips on overshirt men, good shops and brands, and gives tips on how to wear them best.
Read more: All about men's fashion
What is a shirt jacket or overshirt?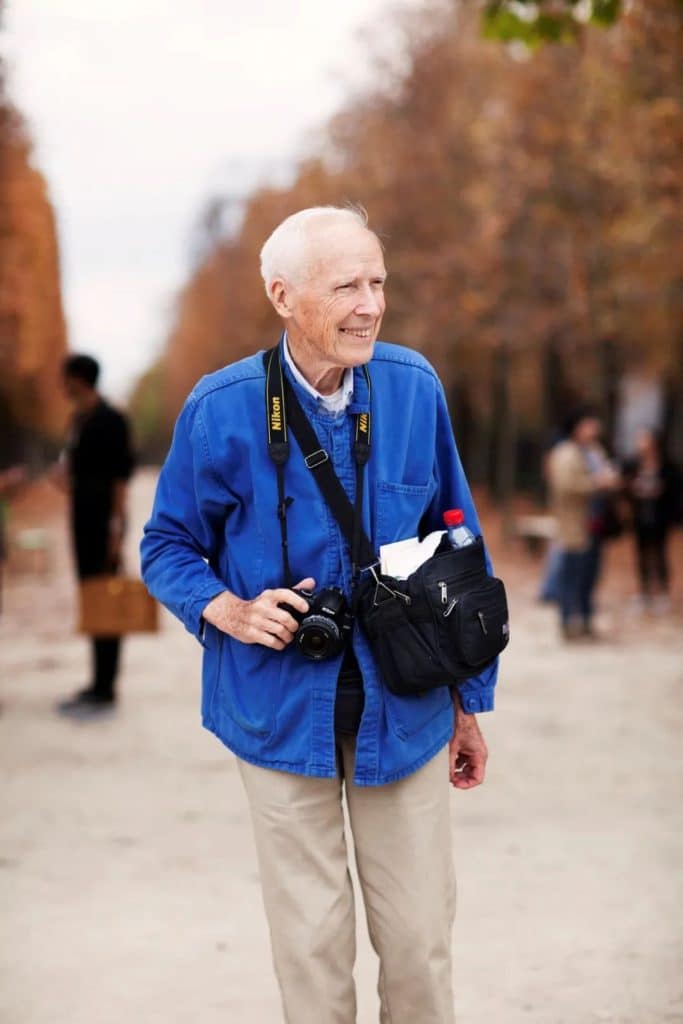 En overshirt is a mixture of shirt and jacket, meant to be worn as a second layer over a T-shirt or shirt. In English, the word shirt jacket , which unfortunately is also sometimes abbreviated to the dreadful word shacket.
There is a huge range of variants from overshirt – shaped like a shirt and either without pockets or with breast pockets, best worn over a T-shirt – for a shirt jacket with 2-4 pockets and thicker fabrics like canvas, twill, suede or even wool.
The first shirt jackets were the French blue trava il , which in the US was named chore jacket . In overalls is a plain shirt jacket in cotton twill or moleskin with 3-4 breast pockets and front pockets, worn by French roughnecks. In the US, denim and other canvas fabrics, corduroy collars, etc. were added.
Among the names most closely associated with the garment is Bill Cunningham, a legendary fashion journalist for the New York Times and elsewhere who used to cycle around the city wearing his overalls , and Paul Newman, who in Cool Hand Luke held up a worn shirt jacket as if it were a designer item.
Good shops for overshirts
Overshirts are available in most online men's clothing stores nowadays.
One of our absolute favorites is Care of Carl where you will find many high quality brands. Boozt also has a large and very affordable range, with brands like Polo Ralph Lauren, Les Deux, Filippa K and Armor Lux.
Among our Swedish menswear house brands, Oscar Jacobson and Eton are also very good at shirt jackets, with a wide range updated every season.
If you want to buy the originals, look to French working-class brands such as Le Mont Saint Michel, Le Laboureur and Vetra, or Buzz Ricksons, which makes reproductions of military garments. Britain's Drake's is another good brand for a more modern take on workwear.
Buying guide: How to choose the right overshirt
Construction and fit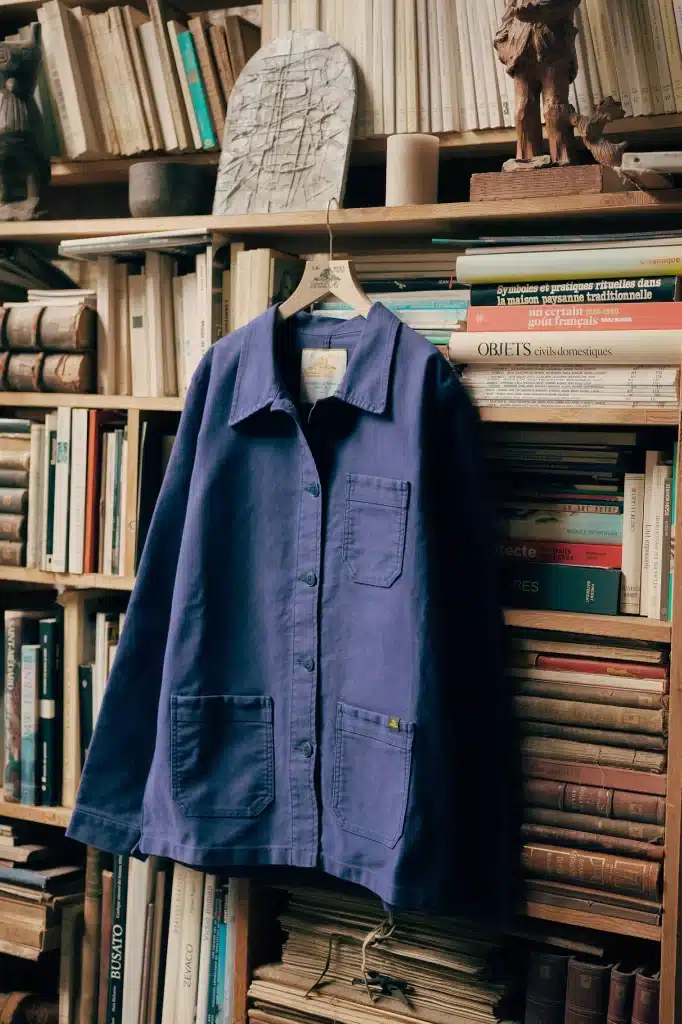 As we mentioned, there are many variations of a men's overshirt, but a typical overshirt is thicker than a regular shirt and at the same time not lined like an outer jacket. It should have a classic folded shirt collar and button cuff like a shirt.
The shirt jacket is intended to be worn over other garments, and should therefore be looser in fit. However, avoid oversize- trend, where the jacket does not fit in the shoulders and sleeves.
Material
The shirt jackets were originally made of durable cotton – think canvas or twill. In the military version, which for us enlisted men is best suited for autumn and winter, wool was used.
But nowadays, shirt jackets are available in all kinds of materials. If you want to dress up your shirt jacket, linen or suede are interesting options that create a more dressy style in spring and summer. For a more casual style, you can choose denim, or corduroy and flannel for winter.
Avoid shiny fabrics so that it doesn't look like an ill-fitting jacket.
Color
The original French worker's jacket was Prussian blue – probably because it was easy to dye and covered well against dirt – and therefore went by the name of overalls . A blue overshirt is elegant, easy to match and at the same time directly linked to the traditions of the garment. It can be matched for both spring and fall.
If you want an overshirt mainly for spring and summer, it's worth looking at natural palettes, such as an olive green overshirt or beige overshirt.
With thicker fabrics such as wool or flannel, you can choose classic fall colors – patterns or navy blue, gray, brown, etc.
Pockets and buttoning
Here you have to distinguish between different variants. The overshirt, which is intended to be worn over a T-shirt, has no front pockets. It is either completely without pockets or has breast pockets – just like a shirt.
However, shirt jackets and chore coats usually have 2 front pockets and 1-2 chest pockets, for maximum practicality. The pockets are often open for easy access.
Most commonly, an overshirt is fastened with buttons, just like a shirt. But there are zippered versions, which immediately become more modern and less workwear.
Three stylish shirt jackets
Blue twill shirt jacket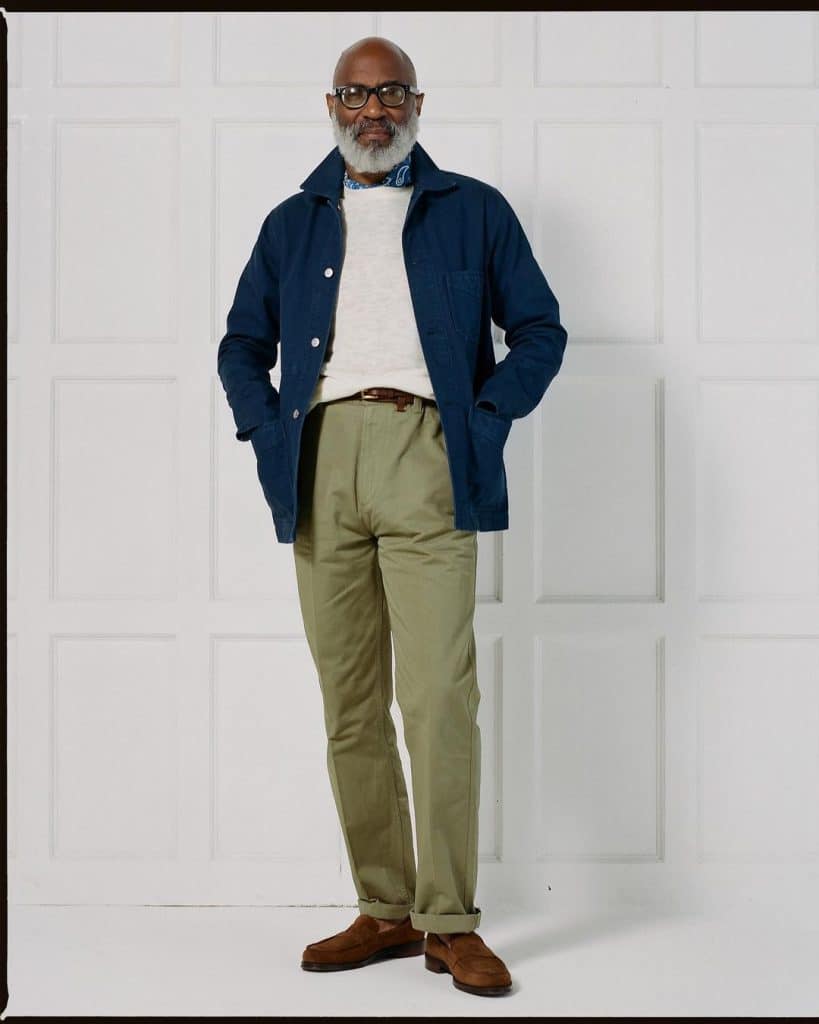 A blue shirt jacket is a perfect replacement for a jacket, and can be worn both smart casual and business casual (at least in most of Europe). It works just as well with a T-shirt at a Sunday brunch. The traditionalist chooses a Prussian blue, but dark blue works just as well.
The blue shirt jacket can be worn with a plain T-shirt, but a striped T-shirt is more stylish. Alternatively, you can opt for a lightweight knitted sweater like the one pictured – or a simple white shirt.
In spring, the shirt jacket goes well with chinos and light-colored jeans, and in autumn you can also choose dress pants.
On our feet, we choose loafers or sneakers in the spring, stylish chukkas in the fall. Suede is a material that matches the blue twill perfectly.
Green linen shirt jacket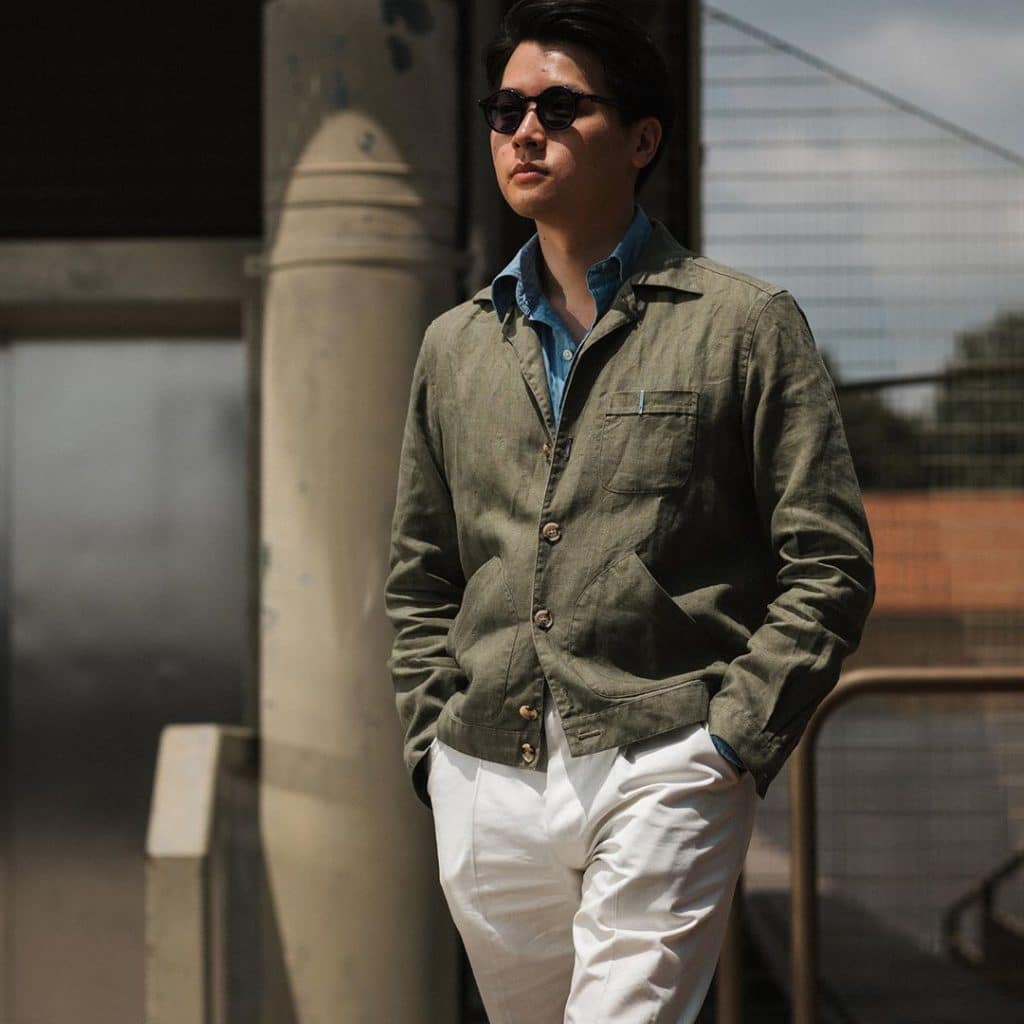 With a gray or green linen shirt jacket, the whole outfit becomes more summery. This is perfect for a summer party or a cool summer evening.
For the upper body, a linen shirt is perfect, or as here, a classic blue denim shirt. A more casual option is a T-shirt, in cotton or linen.
With the linen shirt jacket, linen trousers are a great match. For footwear, loafers, car shoes or perhaps espadrilles are just right for a restaurant. Canvas sneakers and stylish sandals are other good options for the holiday.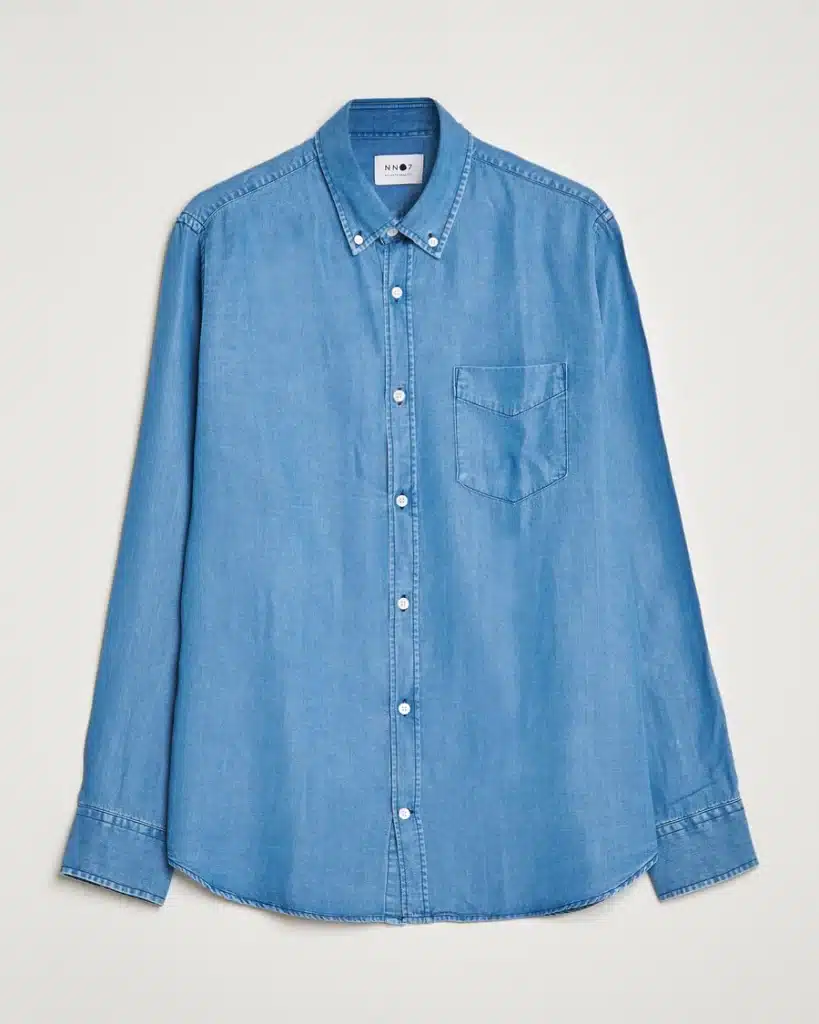 Suede shirt jacket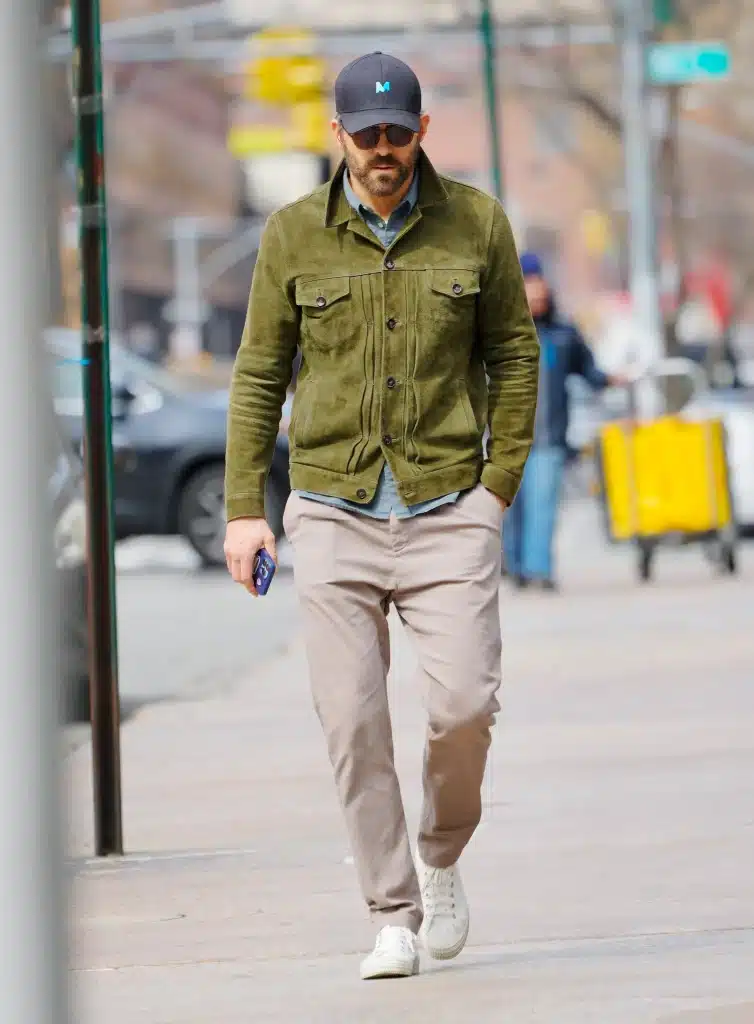 Suede is back as a material after playing a very obscure role since the 90s. Ryan Reynolds is not only a Hollywood star but also a master of being stylish and comfortable at the same time, and his green suede shirt jacket was an instant hit.
Suede is a material that stands out and makes your style much more luxurious. A well-cut shirt jacket in real suede can be well over 10,000 SEK, although there are so-called vegan / fake suede that are significantly cheaper.
The most common colors are tones of brown, but pale grey or green are other shades worth considering. A suede overshirt is incredibly flexible – it can be dressed up or down very easily.
Accessoarer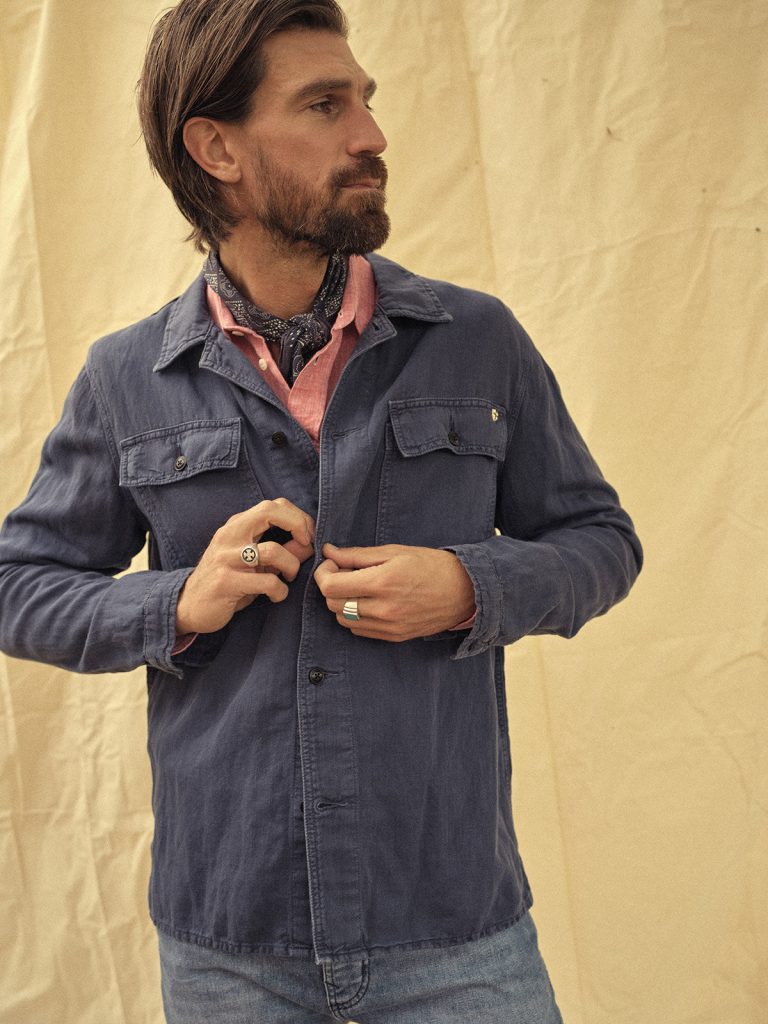 The style-conscious will choose a bandana (scarf) as an accessory. The knotted cloth fits perfectly in the open collar and also protects against the wind blowing in under the shirt.
If you have a shirt jacket with chest pockets, keep your sunglasses in the chest pocket and put your notebook (think Moleskine) in one of the front pockets.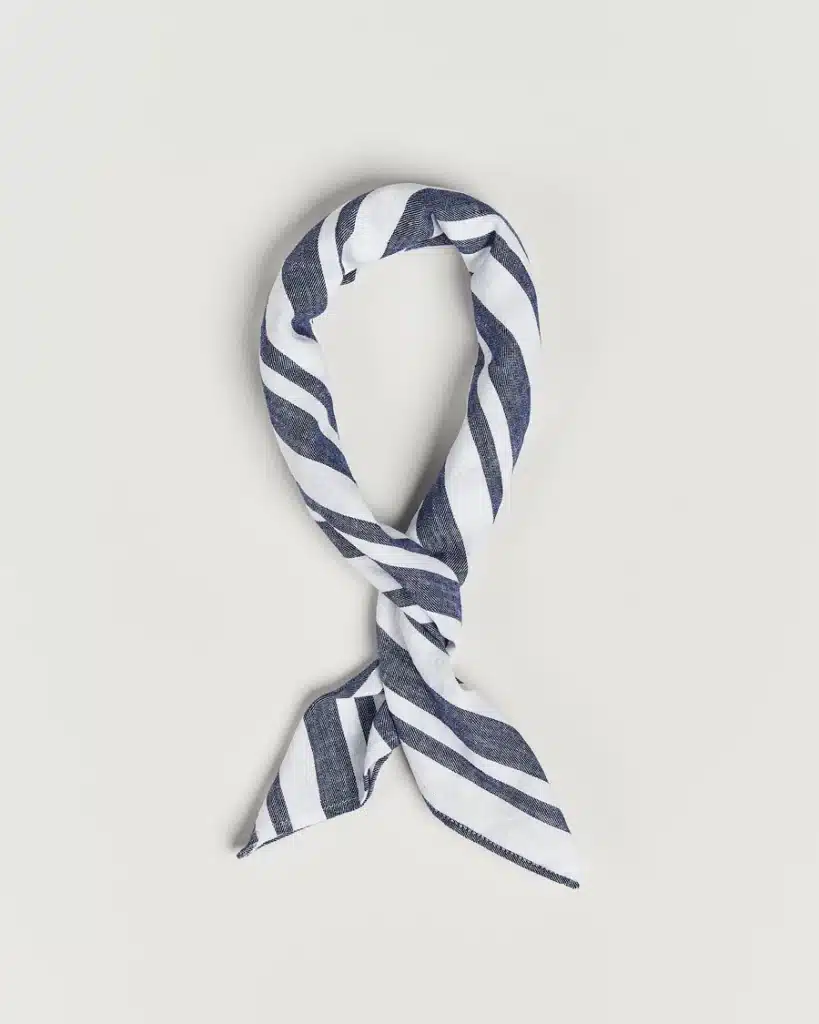 The history of the shirt jacket
Finally, let's take a tour through history and look at the shirt jacket and its multifaceted history.
Work blue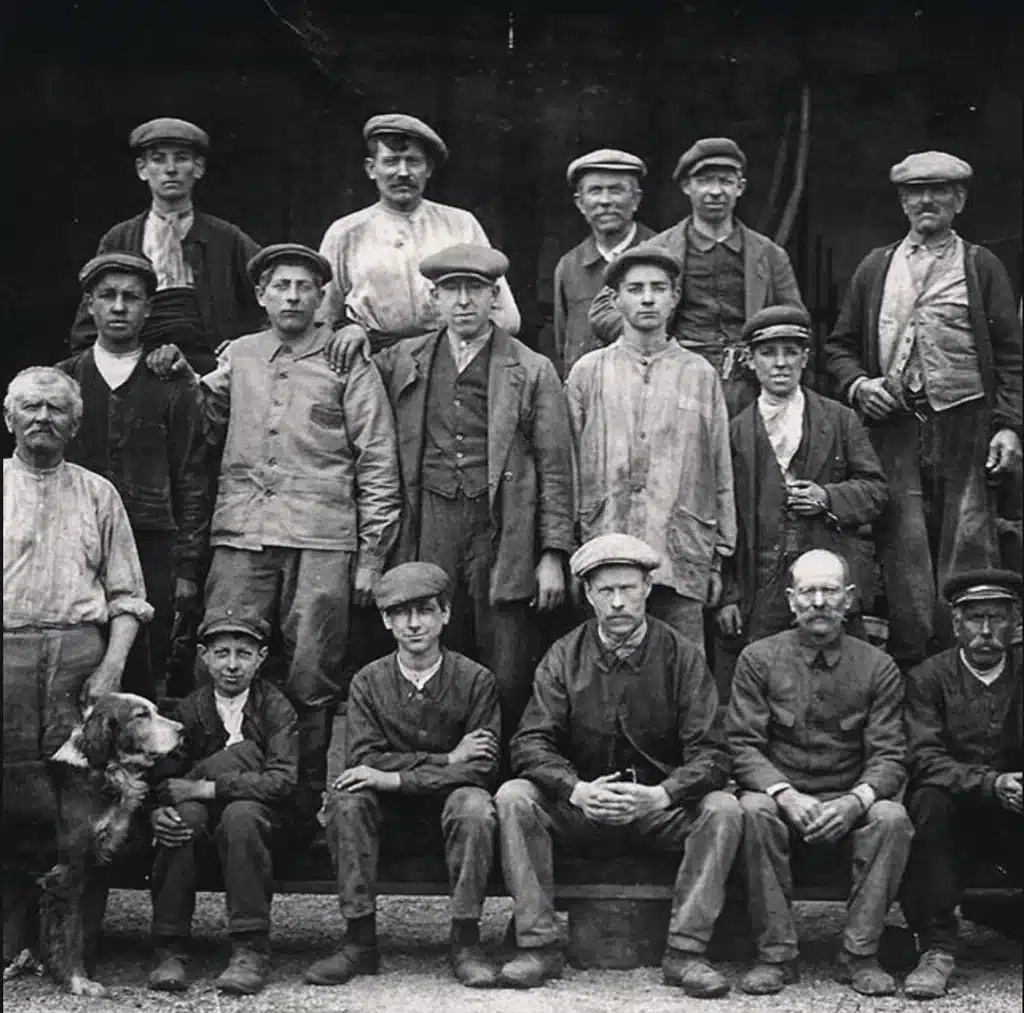 Of course, putting pockets on a shirt and making it in a coarser fabric is no great innovation, and today's shirt jacket takes inspiration from several sources.
As we mentioned earlier, French roughnecks often wore blue overall jackets called overalls (roughly "blue for jobs"). This is also where the word blue collar worker as a term for a worker. For example, shirt jackets were worn by railroad workers and engineers on the major railroad projects of the time that connected the continent.
The color was bright blue, known as Prussian blue or Berlin blue. Why it was chosen is not entirely clear, but it was the first color to be produced synthetically and so it was probably both cheap and good at hiding dirt and stains – perfect for a worker's jacket.
En overalls was spacious, and could be buttoned up at the chest and rolled up in the sleeves to cool off in the sun. The large pockets held everything you might need to take with you. The material is twill ( cotton drill ) or moleskin.
Several French historical workwear manufacturers such as Le Mont Saint Michel, Le Laboureur and Vetra still produce their versions of the overalls in France . The jackets also spread to the USA where they were called chore coats , and there are similarities in Levi's and Carhartt's classic workers' jackets. The jackets were also worn in prisons and from there they appeared on screen in films such as Cool Hand Luke och Shawnshank Redemption .
Shirt jackets similar overalls also became popular among painters, as a perfect and elegant protection against the paint, and are sometimes also called painter's jackets.
The CPO jacket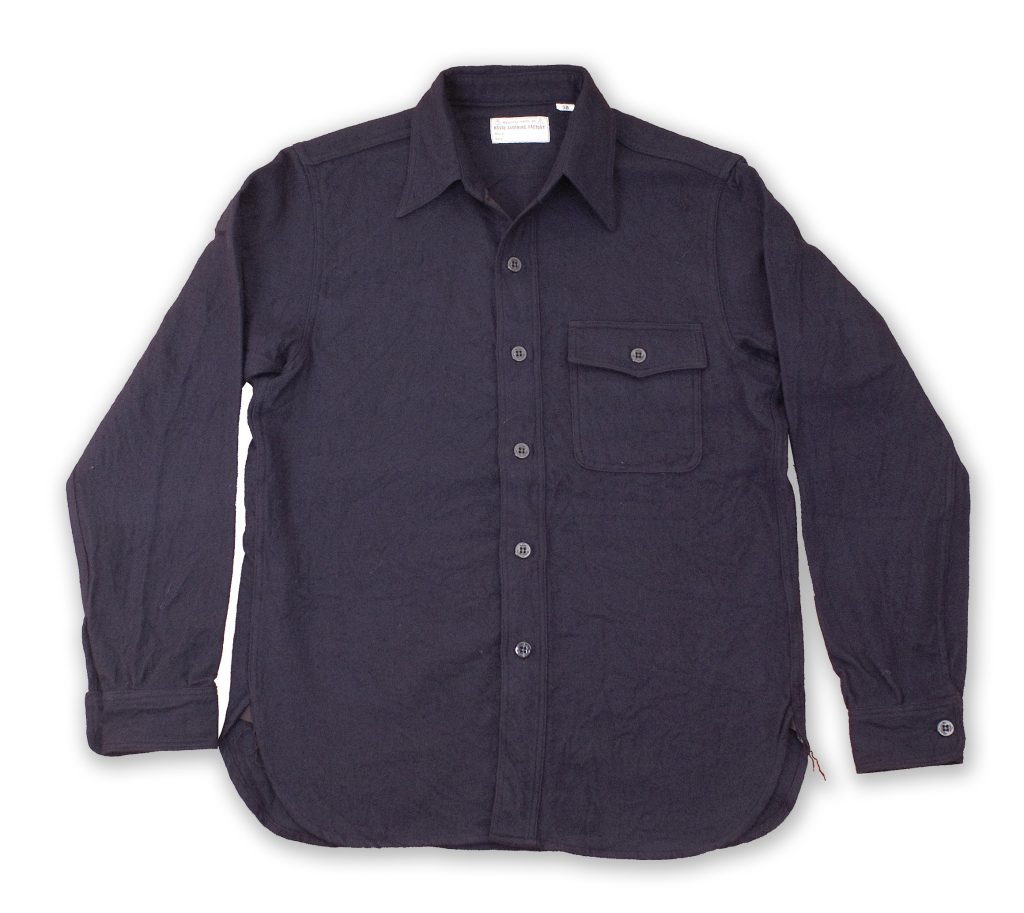 Like so many other pieces of men's clothing, the shirt jacket also has a military heritage.
In the 1930s, the US Navy began issuing wool overshirts for its personnel. chief petty officers , non-commissioned officers. These acted almost like a fleece sweater today, intended as a warming layer for hard passes on board (unlike higher ranking officers, who didn't have to think too much about the weather).
A CPO jacket was a navy blue wool shirt jacket with a chest pocket with a flap. The buttons and other details are tone-on-tone and may include symbols such as anchors, much like skipper's jackets, peacoats .
When World War II ended, military fashion remained as soldiers returned to their families, and CPO jackets continued to be popular. From being navy blue, various patterned flannel overshirts also became popular.
Safarijackor och shooting jackets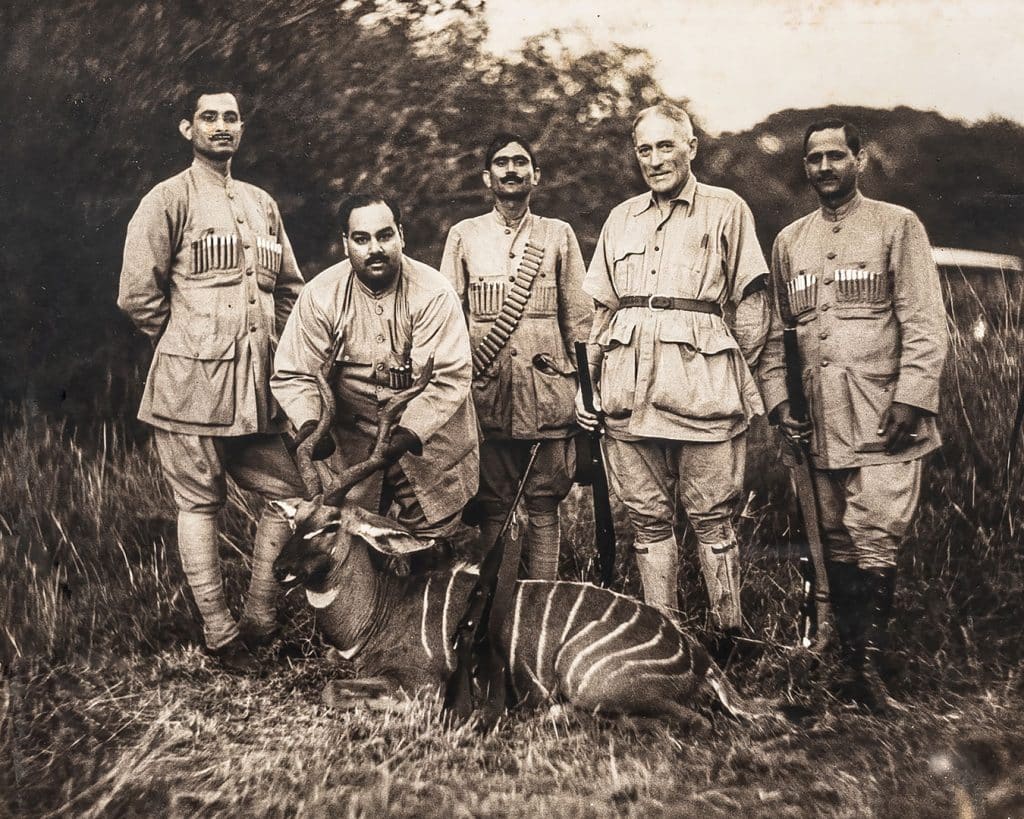 A final cousin to the shirt jacket is of course the safari jacket and various forms of shooting jackets . A common feature is the need for large pockets to carry a lot of equipment and have it easily accessible. While chore coats often have open pockets, these versions often have pocket lids, to prevent e.g. cartridges from falling out.
Shooting jackets are tweed jackets designed for hunting, with large pockets for cartridges and other important accessories. They have flaps and often reinforcements at the shoulder and elbows, which most shirt jackets lack.
The safari jacket was a variant of the military uniform developed by the British Army for South Africa and the Ber war. Like the shirt jacket, it was made of heavy twill with four large pockets and a shirt collar. The difference lies in its military character with belts and shoulder flaps.
Frequently asked questions – men's overshirt
What is an overshirt?
An overshirt could be described as a mixture of a jacket and a shirt. This is why it is often referred to as a shirt jacket or overshirt. It has become increasingly popular in recent years as an outer garment for the summer months. It is also common to use an overshirt as a substitute for a jacket.
Men's overshirts – where to find them?
Most men's fashion brands now offer overshirts. For summer, overshirts are often made of thinner materials such as linen, while for the rest of the year overshirts are made of thicker materials such as cotton and corduroy. Flannel is also a popular material for winter overshirts.
Overshirt fashion – how to look good in it?
There are many ways to look good in an overshirt. It is a versatile garment that you can wear with both chinos and jeans. You can also wear a shirt or sweater depending on how formal you want to be. In this article, we give you different ways to dress nicely with an overshirt.
What are the best looking overshirts in 2023?
When it comes to overshirts, we can recommend that you think along the same lines as other outerwear such as jackets in terms of color shades. Use neutral colors that are easy to combine with other garments. Earthy tones such as olive, beige and cream are good summer colors, while dark blue, brown and gray are good colors for winter.