The summer heat is here and it's time for Swedes to spend a few months enjoying squares and outdoor cafes. This is where the linen jacket takes its rightful place.
Linen is a quintessential summer material. Its fabric and the way it's woven make linen clothing durable and cool, but also look very casual. You can wear your linen jacket both dressy and casual in very simple ways, and it works well with other classic summer clothes and shoes, such as polo shirts and loafers.
In this guide, we've picked out five stylish linen jackets for men, and also give you some style tips and inspiration on how to match a linen jacket.
Five stylish linen jackets for summer
Boglioli
Italy's Boglioli is an expert in unconstructed jackets and elegant Italian menswear. The K-Jacket is the brand's signature style that comes in a plethora of variations. Here's a linen K-Jacket in navy blue to match with, for example, a green linen shirt and chinos.
Oscar Jacobson
Deep colors like green, brown and caramel look great on linen too. The Oscar Jacobson Ferris jacket is a comfortable jacket, which is semi-lined for extra coolness in the summer.
Morris Stockholm
Morris has a wide range of linen jackets for men, with classic details such as patch pockets and working buttonholes. Here is a stylish linen jacket with fabric from Angelico in a natural beige shade, which goes well with both white and navy blue. Try wearing it with, say, a white cotton shirt or a mid-blue denim shirt and light-colored jeans.
L.B.M. 1911
Linen jackets don't have to be solid colors. A patterned linen jacket like this one from L.B.M. 1911 breaks up the look to avoid being too formal with light-colored clothing.
Family-owned Luigi Bianchi Mantova has been making clothes since 1911. Under the L.B.M. 1911 line, they make well-tailored menswear that blends traditional features with a slightly more modern look.
POLO Ralph Lauren
A double-breasted linen jacket is an alternative to the usual single-breasted ones, giving a slightly more elegant look. Goes perfectly with a pair of cream pants and mocs for a sophisticated summer style, as an alternative to a full linen suit.
Style tips for linen jackets
The strength of the linen jacket is its relaxed look. The sparse weave and natural colors allow a linen jacket to elevate other garments without dominating too much. It also doesn't hurt that it's cool and comfortable – perfect for packing on a vacation down south.
Stylish color combinations with a linen jacket
With a linen jacket, you have two options: either you choose to go in tone between the jacket and pants, or you create a contrast (darker on top, lighter on bottom, or vice versa). Logical – but also important.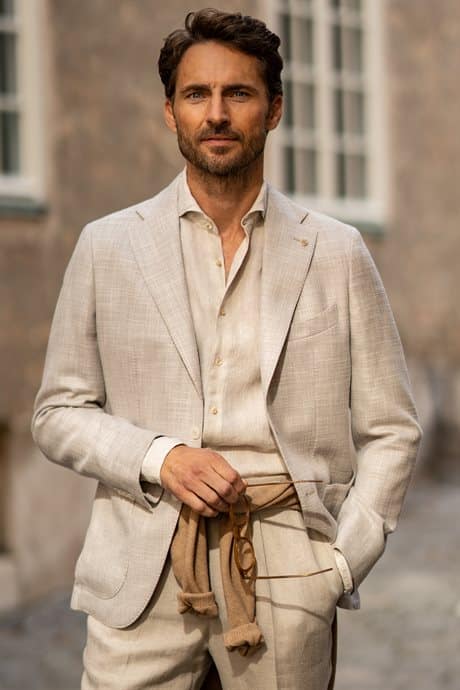 The combination of a light-colored jacket and light-colored trousers is the most challenging. The combination of a light-colored jacket and light-colored trousers can easily become a bit … well, weak? Dressed up without being well-dressed, quite simply. That's why you have to be extra careful.
One way to break the mood is with a shirt. For example, choose a blue denim shirt that breaks the mood a little, but whose material still matches the linen well.
Another way to break away is with textures and patterns. Choose a linen jacket with a slightly distinctive weave or pattern to create contrast in other ways. Or a polo shirt or T-shirt with a clear structure.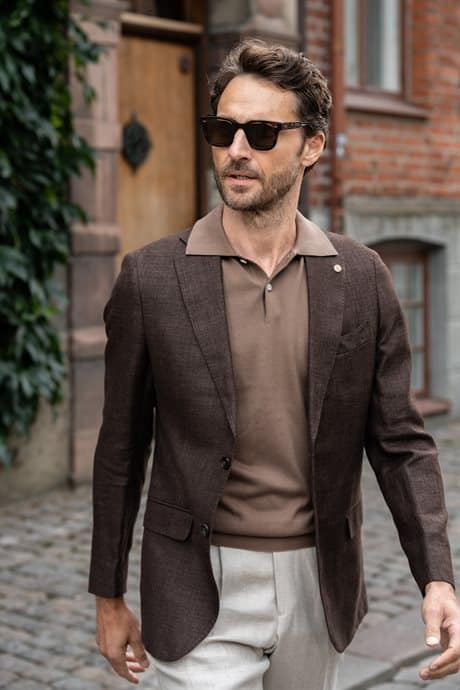 If you want to make it easier for yourself, go the other way – contrast between jacket and trousers. If you have a light jacket, choose dark pants. For example, combine a brown-gray linen jacket with beige chinos or an off-white linen jacket with blue pants.
Details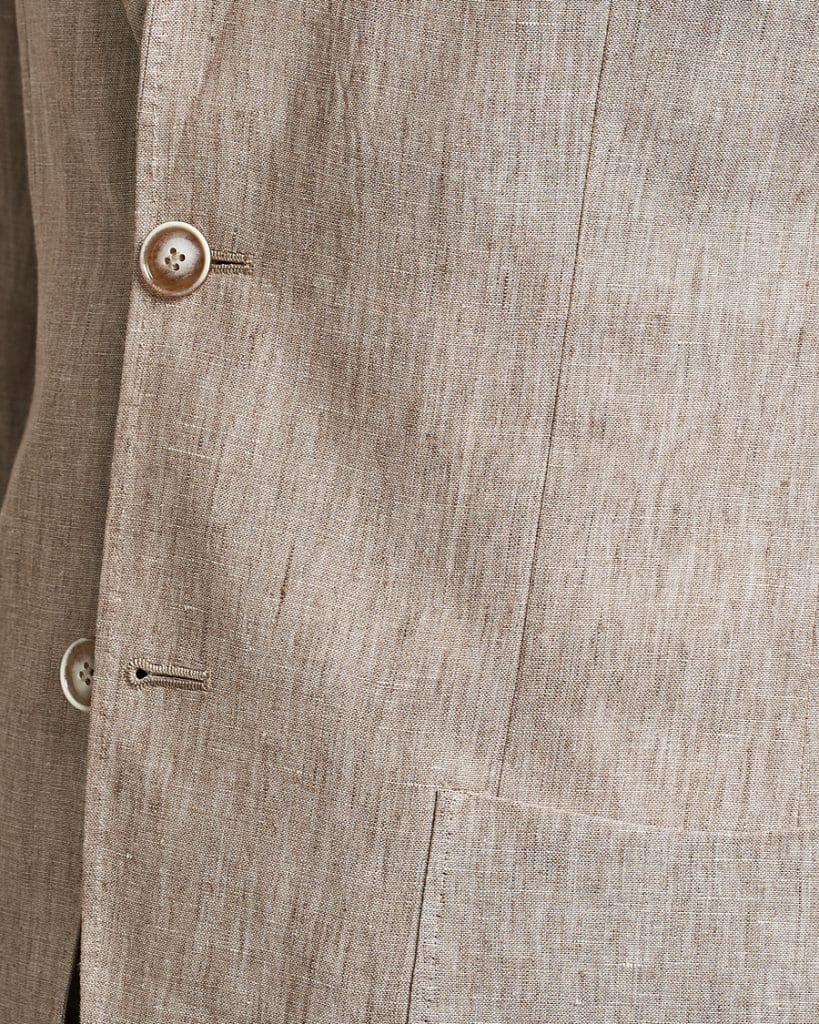 As usual with jackets, there are many options, but we will try to give some guidelines.
Basically, linen is a summer material. So, in a way, it makes sense to have a single-breasted jacket that doesn't add more fabric than necessary around the waist. At the same time, a double-breasted linen jacket can definitely look very elegant.
Similarly, linen jackets are often – but not always – half-lined, so that the jacket lining does not destroy the breathable properties of the linen.
There are linen jackets available with most types of pockets, but a popular choice is surface-mounted pockets, known as patch pockets. patch pockets . The casual style of linen lends itself well to choosing buttons that provide a bit of contrast, such as light brown buttons for a beige linen jacket.
How to keep your linen jacket looking good
A linen jacket will wrinkle, that's just the way it is. If this is a problem, you can either choose a different jacket or look at linen blends, which use things like cotton, wool and silk to modify the properties of the fabric.
Or you can accept and appreciate the wrinkles for what they are, a sign of a natural material. If you've been traveling in a jacket for a long time, or have packed it badly, remember to wet the jacket before ironing it. If you don't have a steamer, the
Of course, it is also important to treat a linen jacket well, just like any other men's clothing. Always hang it up after use and let it air out. Wash gently, preferably in cold water.