It's getting close to vacation time, and time to review your holiday wardrobe. The holidays are a chance to vary your style, and use pieces that often feel out of place during the Swedish summer. Linen shorts are a good example.
With their distinctly Mediterranean feel and warm days, linen shorts often end up tucked away in the closet. But as out of place as they can feel on a semi-sunny Swedish June day when it "should actually be warmer", they can feel just as perfect on a warm evening along the Mediterranean.
In this guide, we've picked out five stylish linen shorts for men, and also give you some tips and ideas on how to best combine them.
Don't miss our big guide to shorts !
Five stylish linen shorts for summer
Bridle 1949
These shorts from Italian trouser specialist Briglia 1949 have a Mediterranean feel to them. The natural brown color is easy to match with blue, white and shades of off-white and beige for a classic style.
The shorts are made from cotton and linen, with a bit of stretch, which makes them less wrinkly and a bit more comfortable than classic linen shorts.
NN07
Linen shorts from NN07 in a classic and easily matched beige shade that goes well with e.g. white, olive green or dark blue. The shorts are in 100% linen and will shape themselves accordingly – this is not for you who want to look well pressed. Available in a variety of other shades as well.
Oscar Jacobson
Menswear specialist Oscar Jacobson makes its shorts just like the rest of its clothes – dressy and with stylish details. This dark green shade is great for evening wear, where it can be combined with other muted shades like navy blue and dark brown.
Incotex
It doesn't get much more dressy than these linen shorts from Incotex. Front pleats, side adjusters and a slightly longer cut. Made from a cotton and linen blend that keeps the style a little longer.
Orlebar Brown
Orlebar Brown has quickly made a name for itself in well-tailored swimwear, but also offers casual vacation pieces like these shorts. Pair with a stylish polo or linen shirt for an evening stroll on vacation.
Style tips for linen shorts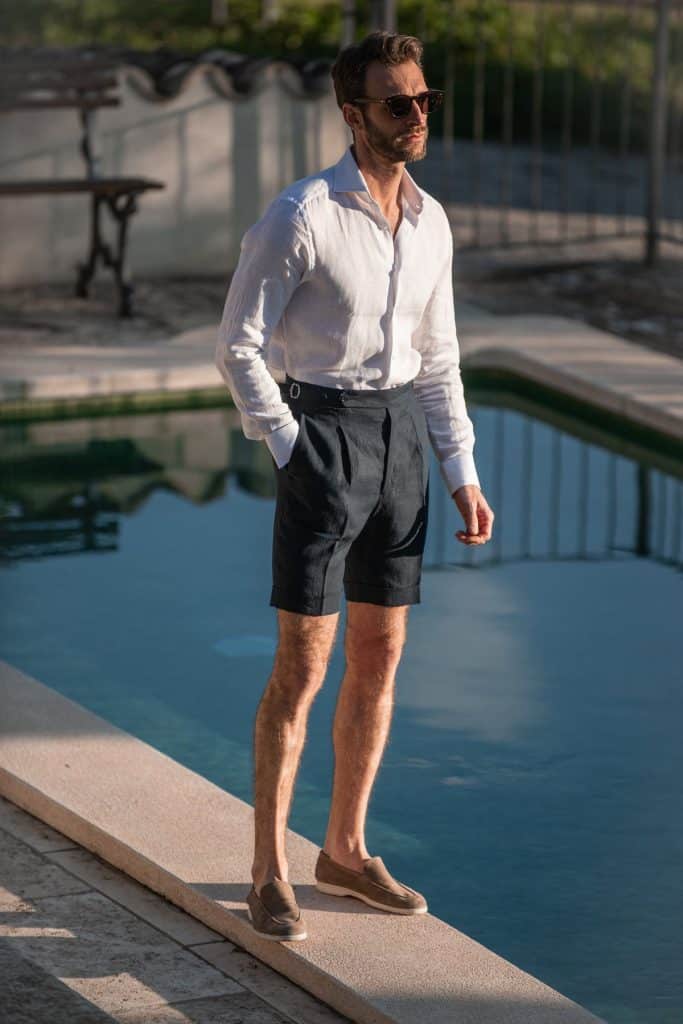 Linen gives the shorts a slightly old-fashioned character, reminiscent of a bygone era, and that's how they often combine best. So avoid a new white T-shirt and look for more natural shades – beige, gray, brown, green – and interesting textures.
For example, linen shorts go well with a linen shirt. Roll up your sleeves and unbutton your shirt to make it clear that you didn't forget to take off your shorts on the way to the office. Or choose a short-sleeved linen shirt. A denim shirt is another interesting option.
A woven cotton polo shirt, with or without a button placket, is another option. It doesn't have to be the classic tennis shirt, but look to more classic menswear brands for polo shirts with slightly traditional weaves and natural color schemes.