Summer is almost here and that means a big boost for the ultimate summer fabric in men's fashion – linen. In this guide, we will tell you more about linen and linen fabrics, its pros and cons as a material, and stylish linen clothes for your wardrobe.
Along with wool, cotton and silk, linen is one of the four basic materials for men's wardrobe (no we don't include synthetics, although it has its uses). Linen clothing has a long history, but today linen mainly plays the role of the best material for men's casual summer wear.
What is linen?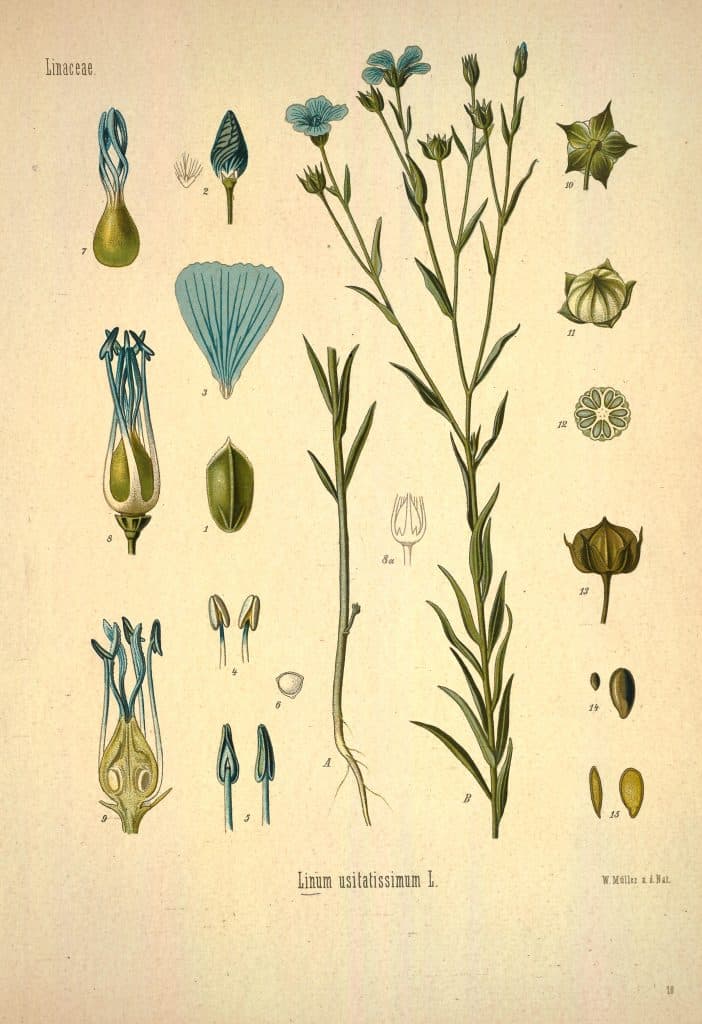 Linen is made from the fibers of the flax plant, a fairly unassuming crop that grows over a meter high with blue flowers. By harvesting the flax plant, drying it and breaking its stem to release the flax fibers, you can eventually get shiny and strong fibers that can be spun into yarn. It is also possible to make linseed oil from the seeds of the plant.
Linen is one of humanity's oldest fabrics. The world's oldest surviving woven garment – the Egyptian Tarkhan dress, about 5 000 years old – is made of linen. Woven linen fibers believed to be nearly 36 000 years old have been found in caves in Georgia.
From growing wild, the flax plant began to be cultivated in ancient Egypt and Mesopotamia. The beautiful fabrics became popular with the upper classes, where linen fabrics were worn by priests and used to embalm mummies. The use of linen fabrics spread to Europe, where it was widely cultivated. Charlemagne is said to have been particularly obsessed with flax seeds and encouraged their cultivation.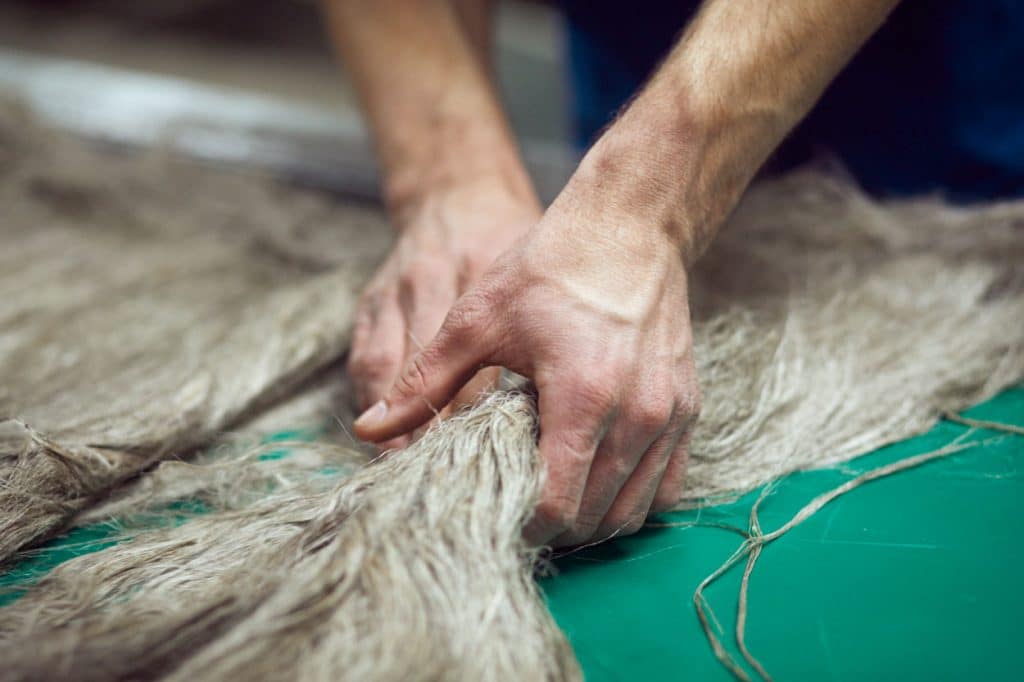 Over time, linen came to be used as a second layer under wool garments. Words like lingerie (underwear) and lining (feed) stems from linen. But during industrialization, cotton, which was easier and cheaper to mass produce, largely replaced linen fabrics.
Advantages and disadvantages of linen clothing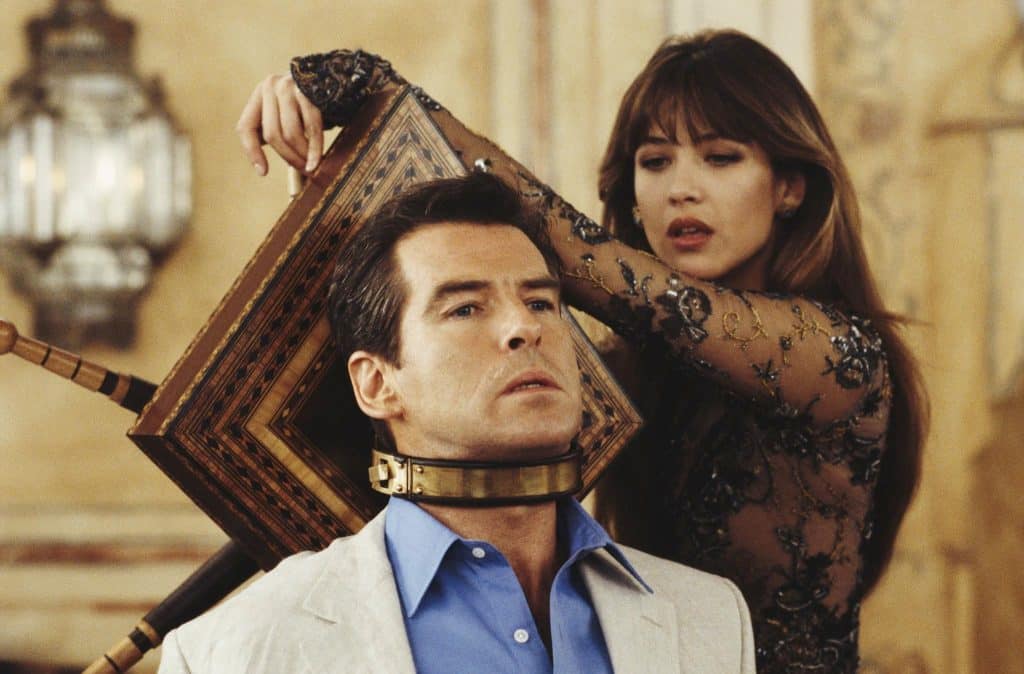 Advantage: Cooling
If you've ever worn a linen garment, you know it's one of the most comfortable things you can wear in the summer.
Linen fabrics conduct heat well, making them cool to the touch. The strong fibers also make it easier to weave airy fabrics with good breathing properties (known as "breathable" fabrics). plain weave ). In addition, linen can absorb up to 20% of its weight in moisture and then dry quickly, helping to wick away sweat.
Advantage: Durability
Linen fibers are also durable. They can be ironed at high temperatures, do not snag and are not attractive to moths.
The sustainability also extends beyond that. Flax is a natural material that requires less water, pesticides and energy to produce than cotton. Moreover, all parts of the flax plant can be used.
Disadvantage: Wrinkledness
No surprise. The hard linen fiber is not stretchy and tends to wrinkle. By mixing linen with other fibers (more on that below) you can avoid some of the worst problems. To minimize wrinkling, use an iron or steamer, preferably before the freshly washed garment has dried completely.
But the easiest thing to do is to accept it, and see it as the charm of the material. As long as you choose good quality linen, the creases become part of the charm and patina of the garment.
Disadvantage: Hardness
As the linen cannot be stretched, linen clothing is also more restrictive in size. Don't choose sizes that are too small, but choose garments with some room for your body to move.
Linen fabrics can also feel a little rough compared to cotton, but will soften over time.
Stylish linen clothing for men
Linnekostym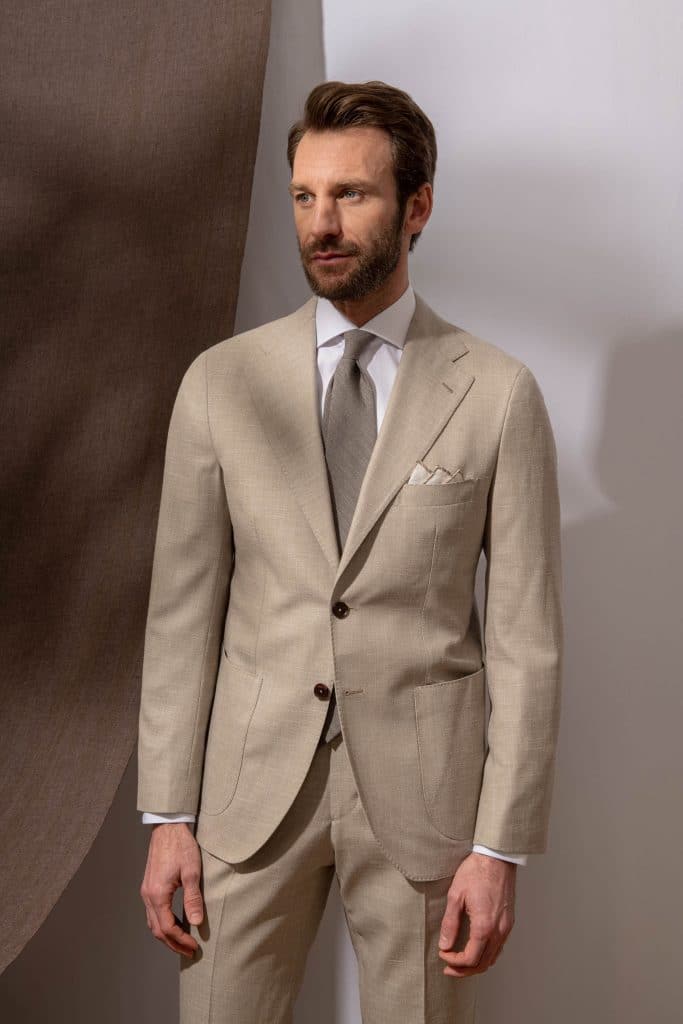 The perfect suit for a summer wedding or party is a linen suit. Not only are linen suits comfortable (as comfortable as they can be), the natural material also adds a casual elegance. For office use, it may be better to look at linen blends, to avoid the worst of the wrinkles.
Always choose a natural linen color, but keep in mind that there are many options. Off-white, cream, olive green, various shades of blue and tobacco brown are just a few possibilities. White, on the other hand, is a challenging linen color, perhaps best reserved for the streets of Miami. On your feet, a pair of stylish loafers is best.
Linnekavaj
You don't have to wear a suit – you can also wear your linen jacket separately with chinos or jeans (in summer weights, not heavy selvedge denim).
When it comes to the linen jacket, with or without trousers, you can opt for a semi-lined construction and details such as patch pockets and contrasting buttons to match the material and garment. A single-breasted design is most common, because it's cooler, but a double-breasted jacket can be very elegant too, as long as it's not formal.
Linen shirt and linen shirt jacket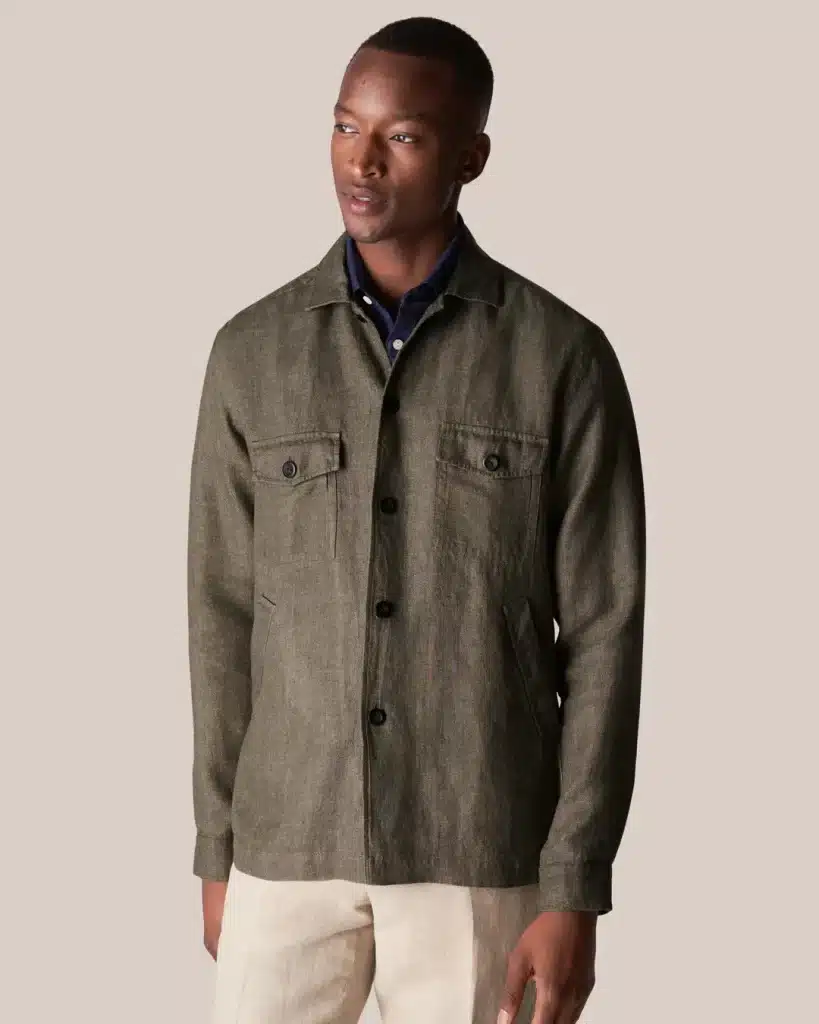 A linen shirt with a button-down collar and rolled-up sleeves is a cool and summery option to wear with pants and shorts. Paired with white trousers, this is an unbeatable combination. Just as denim shirts are a great way to bring out a summer tan, blue linen shirts are also great for this.
In spring and fall, you can instead opt for a linen shirt jacket/overshirt as an extra layer for a well-dressed style.
Linen trousers and shorts
Of course, linen works equally well with linen trousers and linen shorts. You can't avoid the wrinkles, but let it be part of your garment.
Linen trousers with a stylish polo shirt are a great combination, with the materials matching each other well.
T-shirts and polo shirts in linen
Making t-shirts out of linen has become more popular again (after all, it was as underwear that linen was once popularized). Some Italian manufacturers offer T-shirts made entirely of linen, but otherwise a mix of cotton and linen is also popular and a bit more practical.
You may not be familiar with linen polo shirts, but men's fashion brands such as Gran Sasso and Stenströms offer finely knitted linen polo shirts.
Handkerchiefs and ties in linen
Last but not least, linen is also suitable for accessories. Linen is a good alternative to cotton in both handkerchiefs and ties, if you're wearing a cotton or linen summer suit.
Different types of linen fabrics
Irish Linen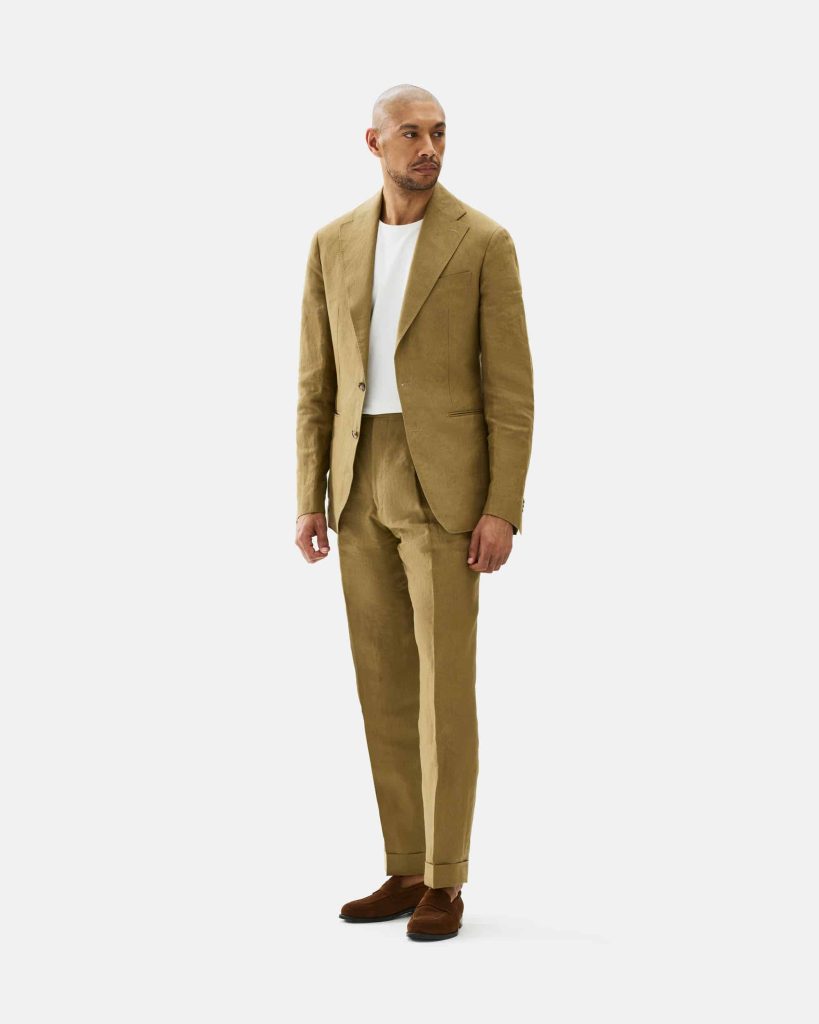 For a long time, Ireland was a world-leading exporter of linen fabrics. Flax had long been grown on the Emerald Isle, but linen production was boosted by immigrant Huguenots. When the Titanic sailed on its maiden voyage, it carried 40 000 napkins made of Irish linen. Unfortunately, cotton wiped out much of Ireland's linen production, and today much linen fiber is imported from Europe, but there is still an industry that specializes in high quality fabrics.
Today, Irish Linen is associated with slightly heavier fabrics, which are ideal for linen suits, for example.
Belgian Linen and European Linen
In Europe, the area from Normandy to Flanders is the center of flax production. Both France and Belgium are major producers. But instead of producing the fabrics themselves, the majority are exported to textile factories in India and China.
To address this, Belgium has created the Belgian Linen trademark, which can only be used on linen made from Belgian linen woven in Belgium. Other linen-producing countries in Europe include France and Italy, and it is sometimes called European linen .
The quality of course depends on the manufacturer but compared to Irish Linen, European linen often refers to slightly lighter fabrics.
Linen mixtures
For those who want to get many of the advantages of linen but avoid the disadvantages, linen blends are common. Linen, wool, cotton and silk are four natural materials that can complement each other. The blends reduce the breathability of linen but give it other attractive properties, such as more luster or less wrinkling.