Summer is finally approaching – a high season for student parties, weddings and birthday parties. But wearing a classic wool suit during the Swedish high summer can both feel wrong and look wrong. Feel wrong, because you'll sweat and agonize in the dense fabric (read more about the exceptions below) – and look wrong, because it's simply too formal.
Consider a linen suit instead. A linen – or linen-blend – suit is both cooler and more stylish for summer. Sure, you might not be able to take it to a fancy business meeting, but it's perfect for a party. Plus, you can split it up, wearing your linen trousers with a stylish polo shirt, or your linen jacket with a pair of cotton trousers when you want to dress even more casually.
Fashionable man? Read more in our big guide to men's fashion
Where to buy a linen suit online?
Here are a few online retailers we can recommend as good starting points for looking for linen jackets online.
CareOfCarl has a range of linen suits, from brands such as Oscar Jacobson, Morris and Brunello Cucinelli. CareOfCarl also has excellent measurement charts and, in some cases, provides grants for tailoring.
Oscar Jacobson currently has one of the best and widest ranges of linen suits in classic colors.
Mr. Porter has linen suits from exclusive brands like Brunello Cucinelli and Canali.
Other stores we recommend are brands with a focus on classic menswear such as Cavour and Pini Parma.
Linen suit and other options for summer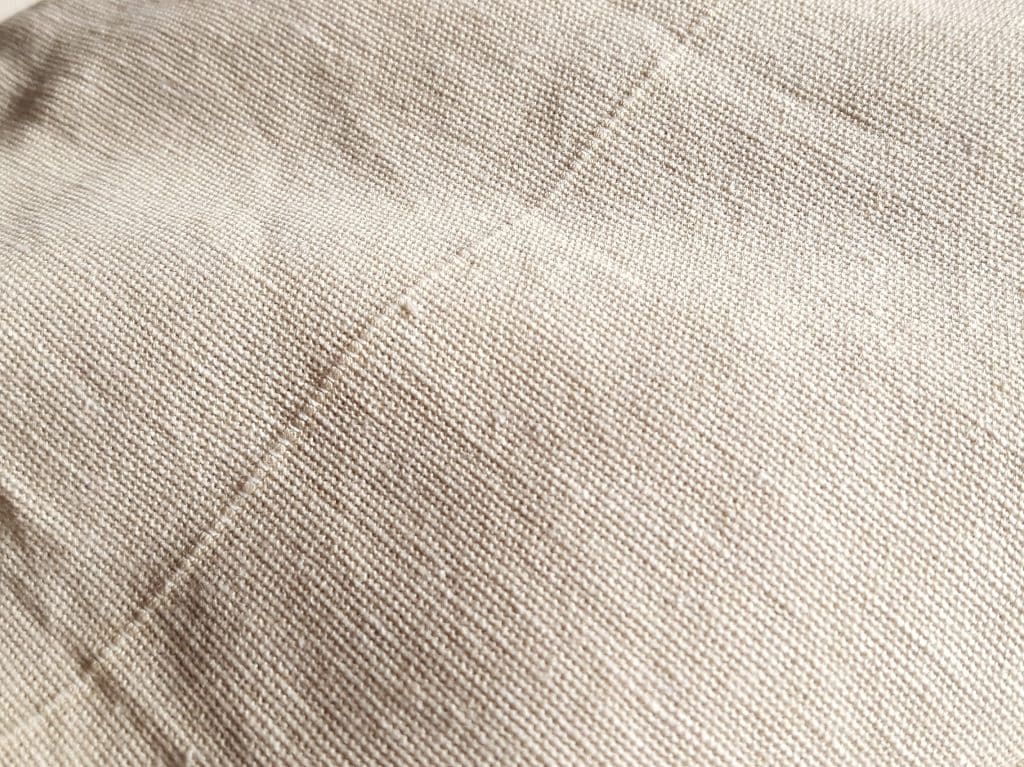 So why are linen suits so good in summer? Linen, one of our oldest natural materials, is strong, cool and good at retaining moisture. Men's linen clothing is often woven in airy plain weaves where the 'holes' in the fabric help to transport air. Simply put, nature's own functional material.
Linen is something of a European specialty – the world's finest linen fabric is grown and produced here. It is often referred to as Irish Linen , a slightly heavier quality dating back to Ireland, once a world leader in linen fabrics, and European Linen where, for example, Italy is prominent.
The only reason linen hasn't taken over completely is that it likes to wrinkle. This is a natural characteristic of the hard fiber of linen and something you have to learn to love. The wrinkling gives linen a very relaxed style, which can be just as right at a party as wrong at the office.
An alternative is therefore blends of linen with other materials, such as cotton, silk or wool. These are often designed to compensate for the wrinkling of linen at the expense of a slightly less cool fabric. Other relaxed options for summer suits are cotton fabrics, including the summer classic creek breeze ( seersucker).
If you want something that is suitable for offices and business meetings, then the so-called "business meetings" can be used instead. tropical wool or Fresh be an option. These are wool fabrics, but woven in an airy weave of densely spun cotton, which gives them airy properties.
Buying advice
Suit or jacket?
Should you buy a full suit or just a jacket? One of the advantages of linen suits is that they can be so easily divided. You can wear the linen jacket on its own, with linen or cotton trousers, or thin summer jeans (think white or cream). Similarly with the trousers, you can also wear them separately with a polo, shirt or T-shirt.
Single-breasted or double-breasted?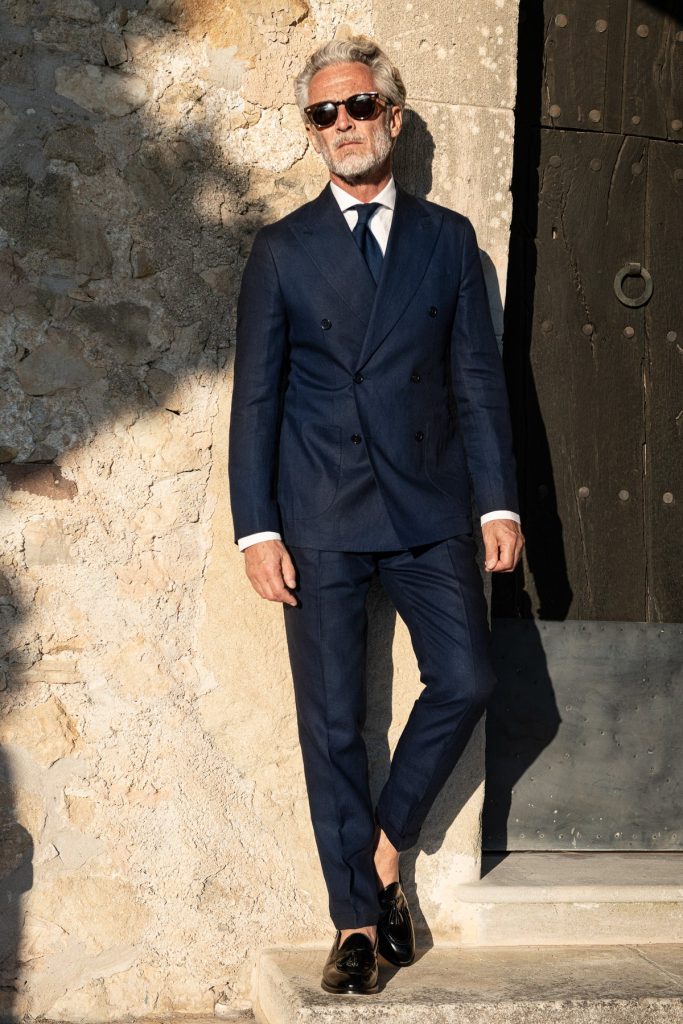 The idea of a linen suit is to be cool. That's why it's natural to choose a single-breasted suit that gives air around the waist. For the same reason, a vest seems a bit superfluous, at least outside of a wedding.
But there are certainly alternatives. A double-breasted linen jacket can be very stylish, and they are sometimes worn unbuttoned – a style that demands its wearer and its jacket.
Fit
Linen is a strong fiber. A suit made entirely of linen will not give way in the same way as some other materials.
Instead, choose a slightly more relaxed fit where the whole of you can fit. Same with the pants – front pleats have their function, especially if you choose a higher waist.
Details – pockets, buttons etc.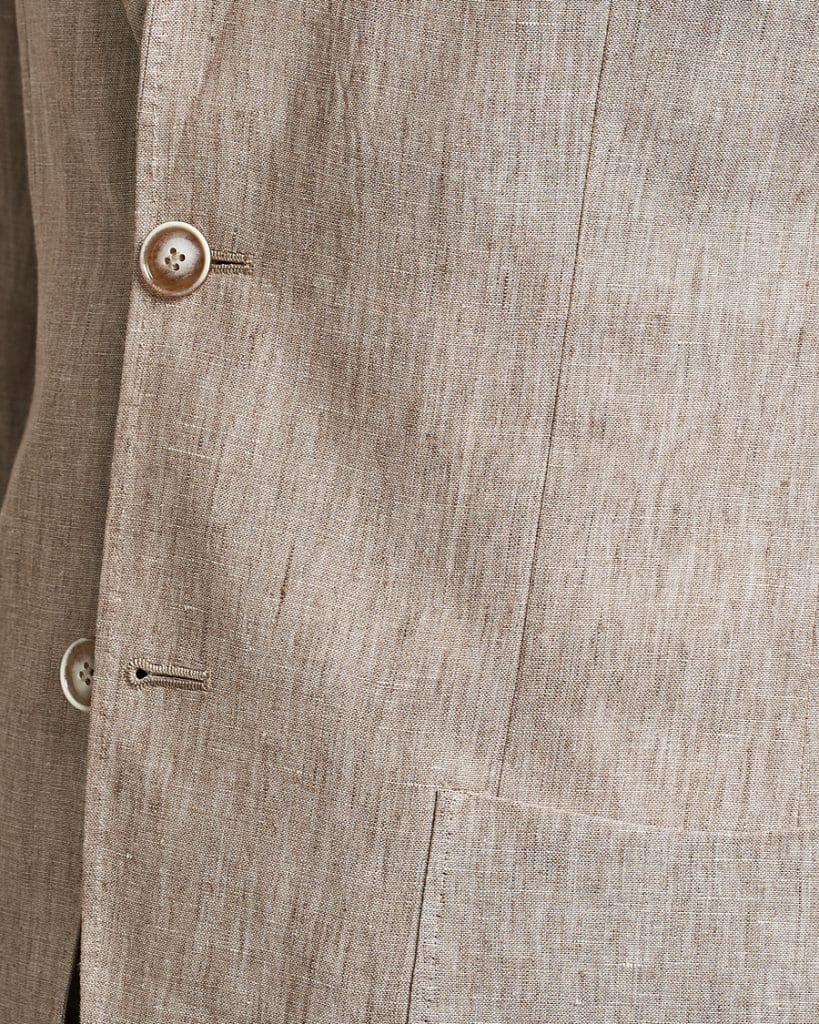 The summer feel of the linen suit allows for slightly different design choices.
When it comes to jacket pockets, there are all kinds, but surface pockets ( patch pockets) is a variation that really fits with the style of the linen suit.
The jacket buttons are another detail you can experiment with, by adding some contrast – for example, brown buttons on a beige linen jacket.
Finally, linen suits are often semi-lined, to give more air across the back – or completely unlined.
Colours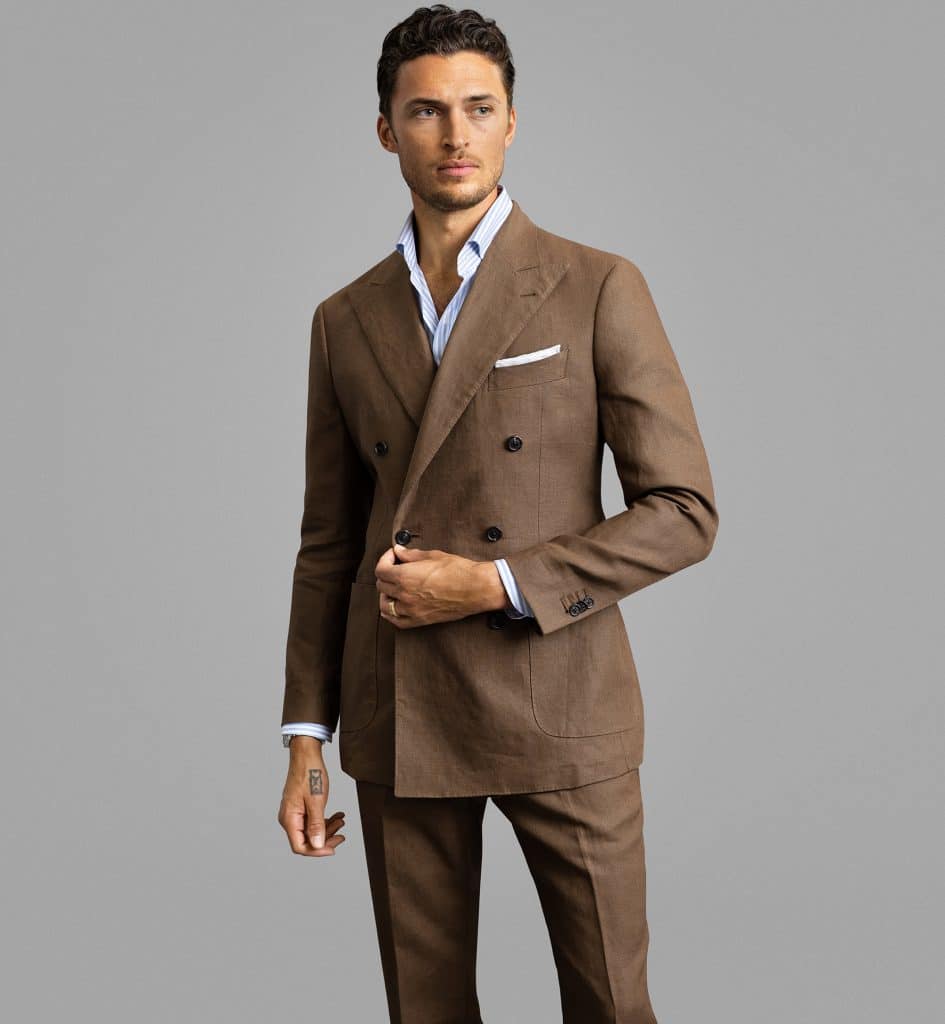 There are two color schemes that are often seen on linen suits – the natural tones and pastels.
The natural tones of off-white, beige, blue, green and brown are perfectly suited to the natural feel of linen and are a perfect starting point. A light-colored linen suit can easily be paired with a white cotton shirt for a stylish and well-dressed look, but don't forget about colors like green and brown, which can look fantastic.
Pastels – and white – are colors we think are best suited to weddings (and the groom). Robert Redford may have worn a pink linen suit in The Great Gatsby, but few others can pull it off. The white linen suit had its heyday in Miami Vice, and is probably best suited to more southern latitudes than ours.
Stiltips
Dressed up: Linen suit with tie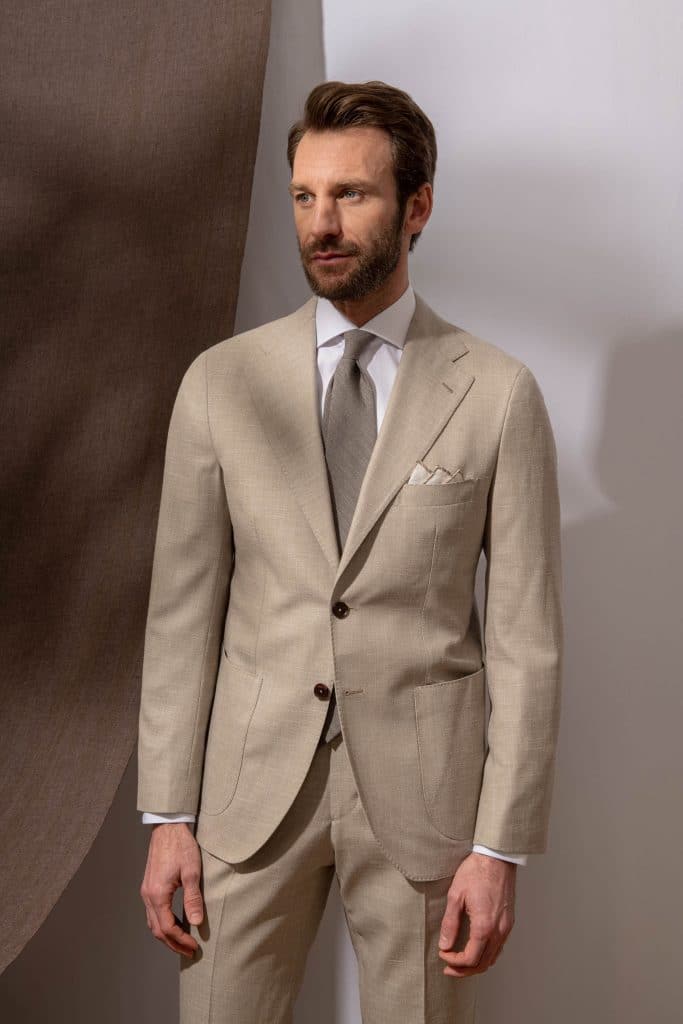 Outside of the most formal contexts, a linen suit works perfectly well with a shirt and tie. A tip is not to match a linen suit with a linen shirt, but instead choose e.g. cotton.
On your feet you wear classic men's shoes, such as a pair of suede oxfords. You can definitely wear loafers too, especially if it's very hot outside, but for a dressy style, oxfords are a better match.
Well-dressed: Linen suit with polo shirt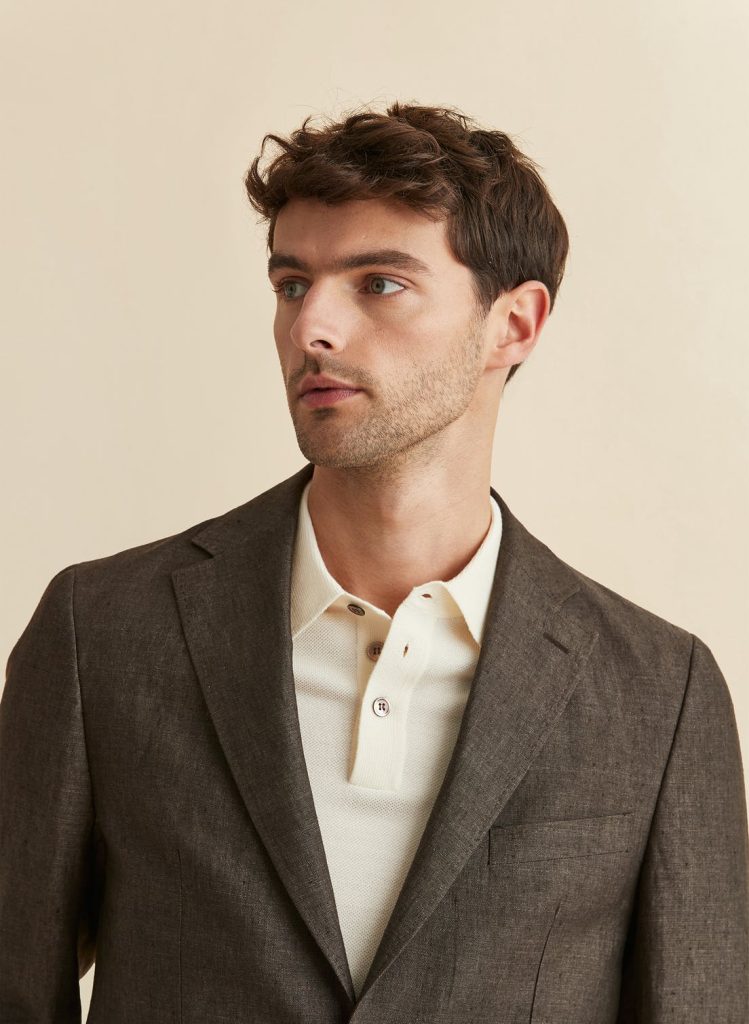 If you want to be well-dressed but not too fancy, a linen suit with a polo shirt is a perfect choice.
We're not talking about a classic tennis shirt, but a men's woven cotton polo shirt, with or without buttons. Just like the suit's colors, natural shades go well with it, and one of the most stylish is a simple white polo shirt.
On your feet, loafers or mocs without visible socks are best – in suede or leather. Sneakers are another option that can work if you choose something quite simple and minimalist.
Casual: Linen suit with T-shirt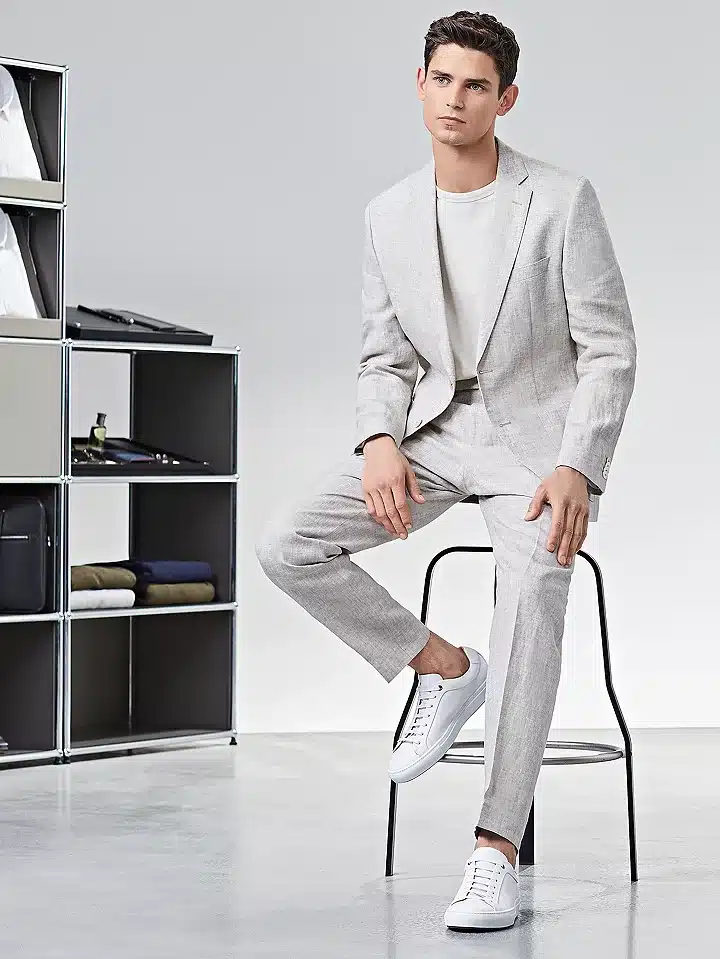 One of the advantages of the linen suit is that it can be dressed down quite a bit without looking out of place. If the occasion allows it – such as a dinner on vacation – you can wear a linen suit and a T-shirt. Of course, it can be a single-color T-shirt, but striped T-shirts in slightly duller textures also work well.
On your feet, it will be either mocs / driving shoes, minimalist sneakers or possibly espadrilles. Men's sandals such as Birkenstock are certainly suitable in terms of appearance, but the question is how many occasions a suit and sandals have in common?