From their simple roots as workwear, jeans have become a modern cult – just agreeing on what constitutes good-looking men's jeans can take hours of discussion with an inveterate denim lover. What is clear is that jeans are now a staple in every man's wardrobe, style enthusiast or not. From being dominated by "The Big 3" (Levi's, Lee and Wrangler), virtually every brand makes men's jeans and there is a plethora of models, fabrics and washes.
In this guide – humbly titled "All about jeans" – we want to do the impossible and help you through the denim jungle. Here you'll find tips and advice on how to find stylish men's jeans, important things to consider, and how to best match your jeans.
Men's jeans 101 – an all too brief introduction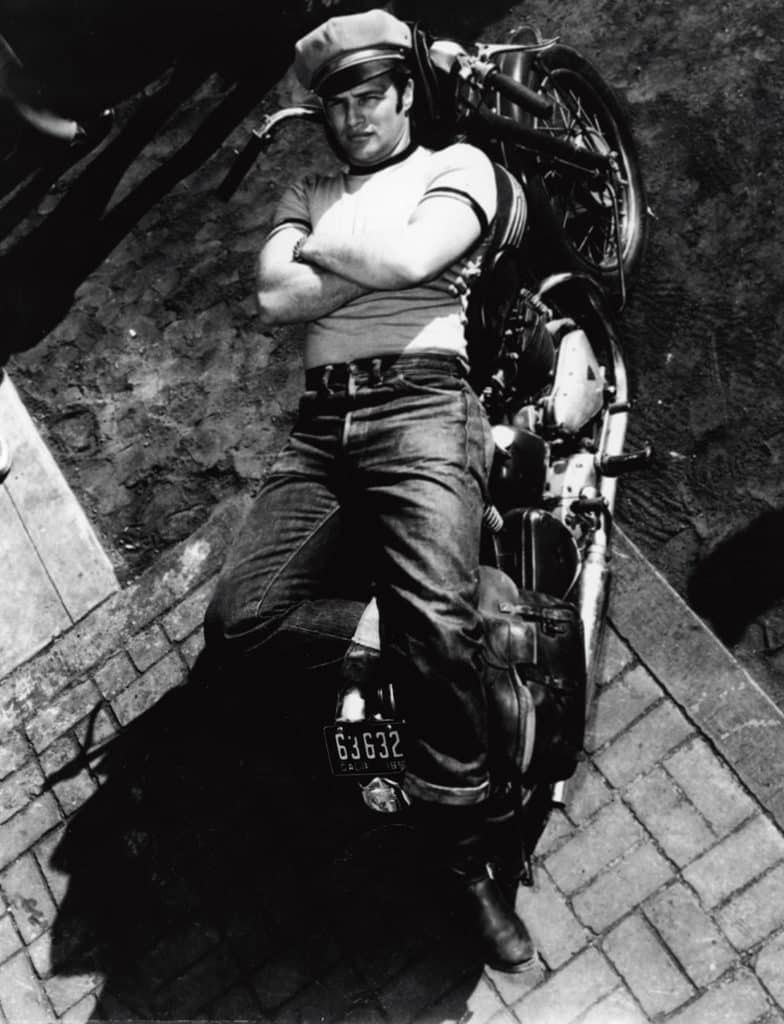 Jeans are a garment almost as old as the tuxedo. Let that sink in: just 8 years after Edward VII ordered his first dinner suit from Henry Poole, Levi Strauss and Jacob Davis patented a blue denim suit with rivets. The difference is that jeans have had 150 years of constant evolution – and it continues today.
Let's start with the basics: jeans are workwear, made from coarse cotton fabric for durability. It's telling that it took many decades for Levi's to stop calling their jeans 'jeans'. overalls – it was, after all, workers' clothing. Initially, there was only one choice: brown canvas or blue denim. Other choices such as wash and finish only emerged much later, when Hollywood elevated jeans to high fashion in the 1950s. Meanwhile, the Second World War saw the spread of jeans with the GI Joes to Europe and Japan, laying the foundations for new jean traditions such as Japanese denim manufacturing.
The second half of the 20th century saw non-stop experimentation that created today's varieties, from the classic fit of the 1950s to the slim jeans of the 2000s. The hipster era focused on materials, and raw (unwashed) selvedge denim became a premium commodity.
Jeans brands – an overview
There is a plethora of jeans brands – enough for entire books. Very simply, there are a couple of different groupings within denim:
"The Big 3"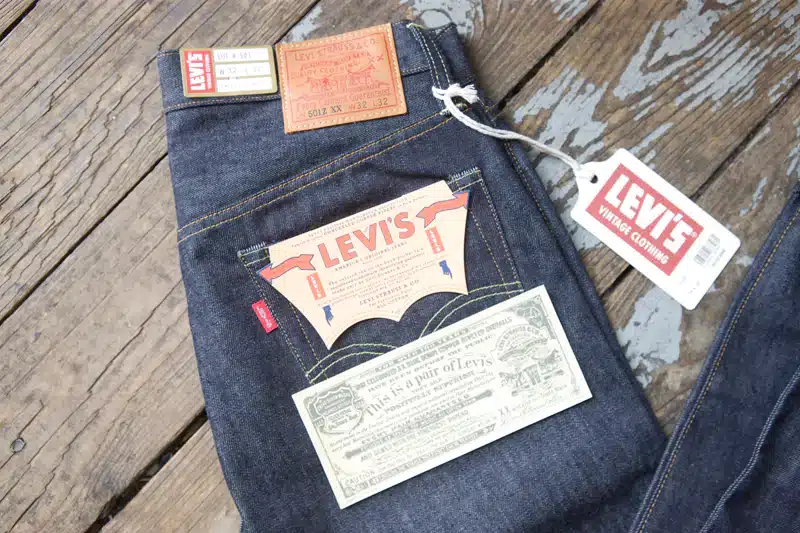 "The 'Big 3' are the denim pioneers who are still alive today – Levi's, Lee and Wrangler. Levi's created the first modern jeans in 1873, and Lee and Wrangler started making denim overalls around the turn of the century. The overalls are gone and today the companies have broadened their range to cover almost all categories. Prices are good, especially in terms of value for money, but unfortunately most jeans are no longer made in the US.
Japanese denim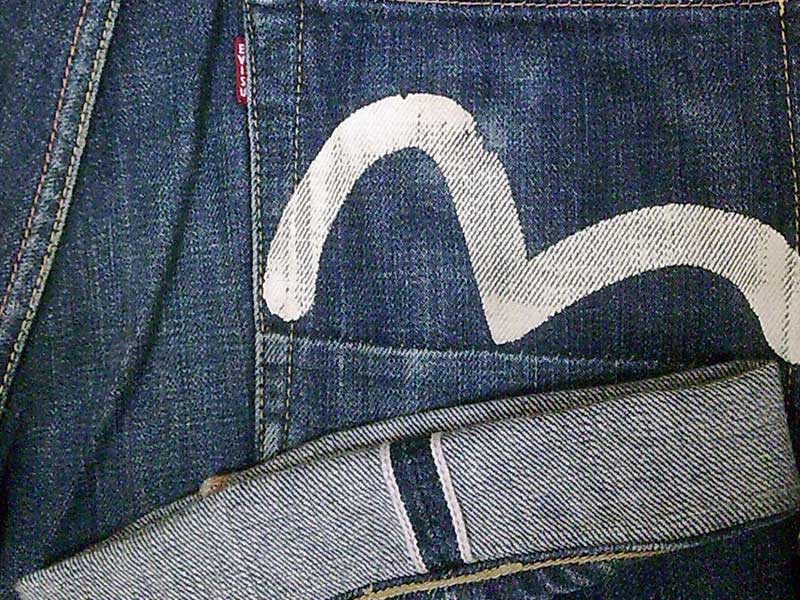 After World War II, Japan was inspired by the American jeans as a symbol of freedom, but they were hard to come by. Instead, Japanese entrepreneurs started sewing and then weaving their own denim. The Japanese way soon outclassed the master and today Japanese denim ranks as the world's finest.
Pioneers include Edwin, Big John and the so-called 'Osaka 5' (Studio D'Artisan, Denime, Evisu, Fullcount and Warehouse). More recent additions include names like Momotaro, Iron Heart, Samurai, ONI and Pure Blue Japan. Japanese jeans are characterized by an obsession with materials and construction.
Designer jeans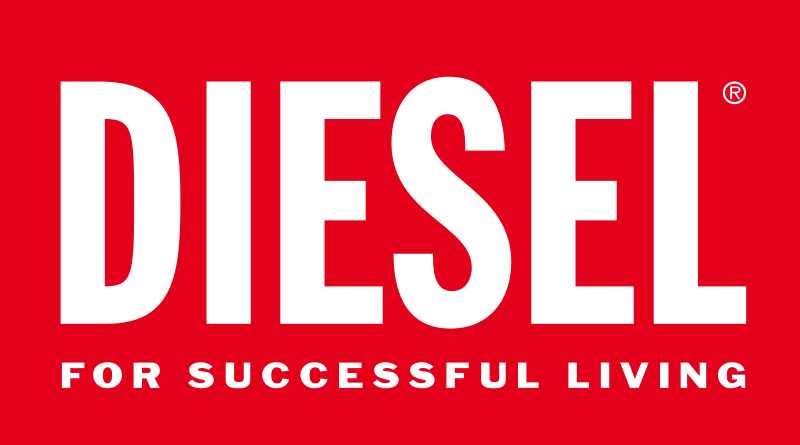 In the 70s and 80s, the Italian fashion industry realized that jeans were becoming a luxury item. Fashion houses like Armani and Gucci were joined by dedicated jeans brands like Diesel and Replay, which brought worn jeans to the catwalk. American designer Calvin Klein mixed fashion with American traditions, using jeans and T-shirts as sex symbols. Dsquared2 and Jacob Cohën are two recent additions, as well as Swedish Acne.
This is about as far from Japan as you can get – the focus is on fashion trends, washes and rips, although the jeans are often made in Italy.
Denim heads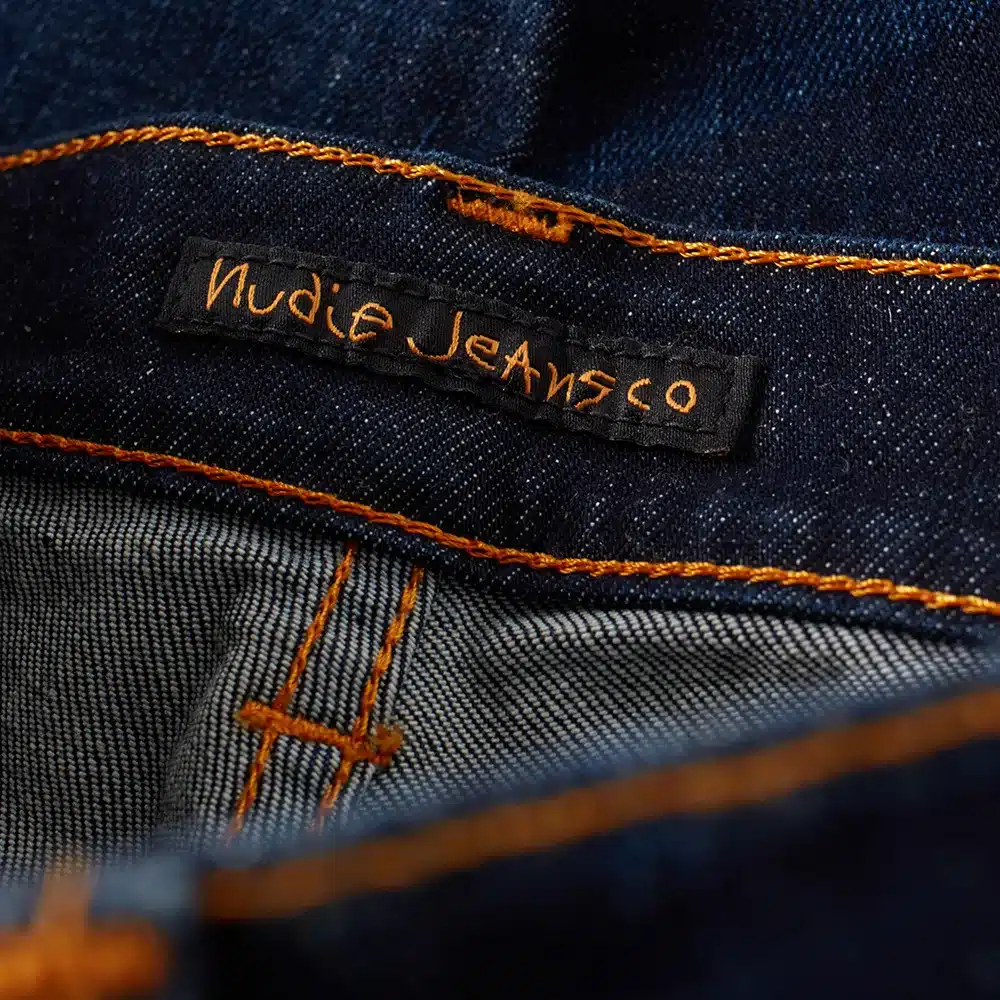 When raw denim and vintage jeans got a new lease of life in the 2000s, a plethora of jeans brands were started all over the world by jeans lovers who geeked out over traditions, details and materials.
The list is long – G-Star, A.P.C., orSlow and Brave Star are some of the best known. Swedish jeans brands include Nudie Jeans, which pioneered raw denim and sustainability, and Swedish-founded NEUW.
Where to buy men's jeans online?
Everywhere. But that might not be a helpful answer? Apart from the fact that almost every jeans brand has an online shop, there are a couple of online retailers we can recommend if you want a wider range or extra good prices.
CareOfCarl has a fantastic range of men's jeans, and is constantly adding new brands. You'll find Levi's, premium denim from A.P.C. and Nudie Jeans, men's jeans from Boss, Italian jeans from Dsquared2 and Replay and newer brands like Jeanerica, Frame and orSlow.
If you are looking for jeans from exclusive fashion houses, Mr. Porter is the right place. But in addition to the designer jeans, you will also find more reasonably priced jeans from e.g. A.P.C., J. Crew, Nudie Jeans and Edwin.
Boozt offers classic jeans brands like Levi's, Lee, Wrangler, G-Star, Nudie and others at great prices. At its sister site, Booztlet, you'll find the biggest discounts.
Just want classic men's jeans? Oscar Jacobson makes well-made jeans in good materials from weaving mills like Candiani.
How to choose the right men's jeans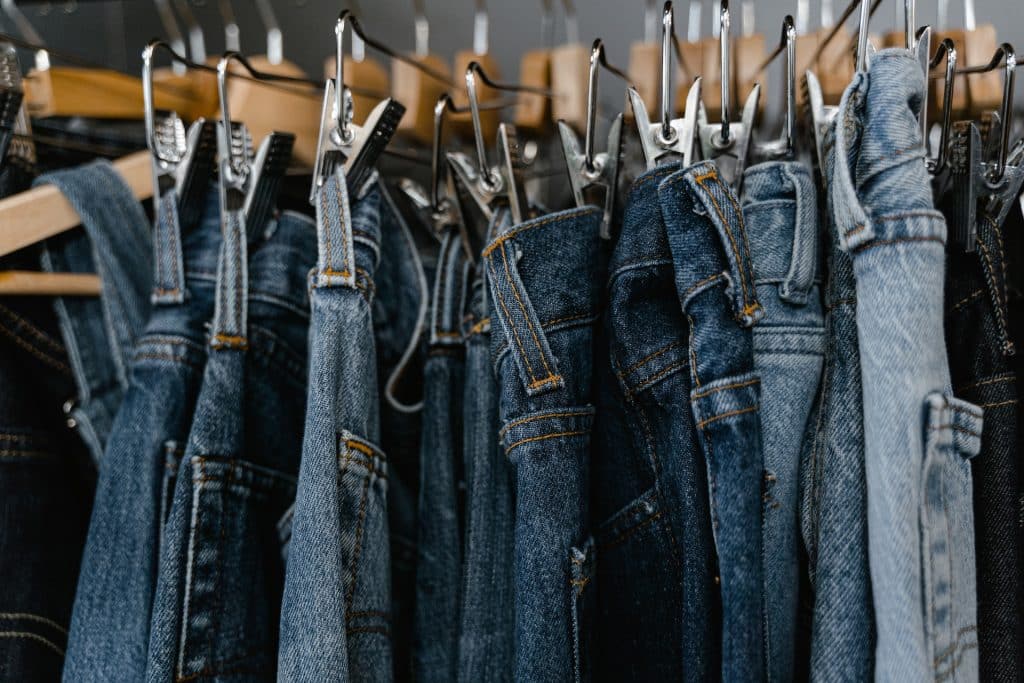 Today, jeans are worn with everything from a tailored jacket to a simple T-shirt. This means that you can't just talk about stylish jeans, but stylish jeans for what? The main dimensions are fit, size, material, color, wash and finish.
Fit
Ever since Levi's named its first pair of jeans 'XX', jeans manufacturers have loved creating creative names for their styles. But basically, there are a few different basic styles for men, sorted from loosest to tightest.
Loose fit / baggy fit: An excessively loose fit popularized by skate and hip hop.
Bootcut jeans: The jeans that are flared at the bottom. Originally intended to accommodate cowboy boots in skinny jeans, they grew to enormous proportions during the 60s and 70s. flares .
Vintage fit / relaxed fit: Jeans with a traditional, straight and roomy fit. Made to work in.
Regular fit / straight fit: Straight jeans with a more body-hugging but not tight fit.
Tapered fit / slim fit / skinny fit: Jeans designed to follow the body closely, from tapered which are roomy at the top but have narrower legs at the bottom. skinny that fits like a second skin.
Another dimension is the waistline – rise – where high rise means jeans that go to the navel, mid rise that they sit on the natural waistline and low rise jeans that hang at the hip.
Size
As you know, jeans sizes are measured at the waist and inseam (i.e. measured from the crotch down), in inches.
Untreated denim shrinks. Levi's marketing geniuses realized this but turned it into an advantage – Levi's Shrink-to-fit™ was a way of explaining to consumers that they needed to choose a larger size to deal with the shrinkage. But most other manufacturers opted for a process called sanforization, which pre-shrinks the jeans. You can also simply wash them. If you buy unsanforized jeans, be sure to allow for shrinkage. For example, for shrink-to-fit, Levi's recommends choosing a 1-inch wider waist and 3-inch longer inseam than normal.
There is another myth that jeans should be one size too small when you buy them, because they stretch. This is not true – unless the jeans have a lot of stretch in them. If you buy jeans too small, neither you nor your pants will feel good.
Material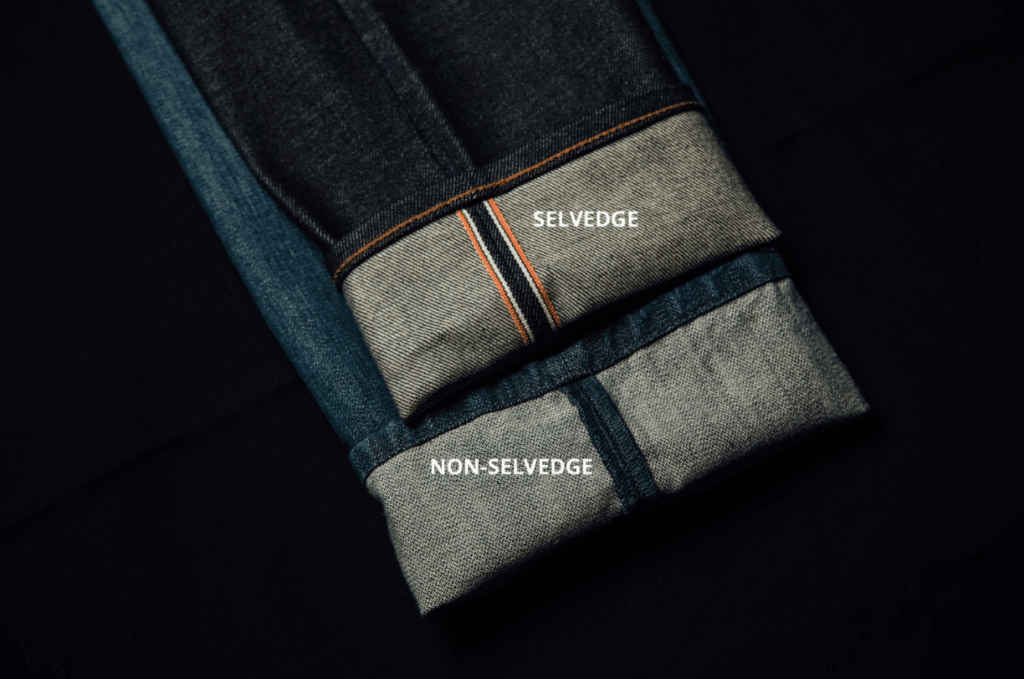 Jeans were originally made from blue denim or brown cotton canvas. Today, blue denim is completely dominant.
Selvage (USA), selvedge (UK) means that a classic loom was used. As the shuttle of the loom turns around for the next lap, an edge (selvedge) is created to finish the fabric. It is often marked with a different color of thread, thus creating the characteristic band on a pair of selvedge jeans.
During industrialization, looms were replaced by modern techniques in which the thread is "pushed" through the weave and cut off, leaving the fabric frayed instead of having an edge. Since industrially fast-produced fabrics are often made with inferior quality, selvedge is a quality mark of denim fabric. At the same time, the slow and narrow looms make selvedge more expensive to produce, which also contributes to its premium price.
Today, most selvedge denim is made by Japanese weavers on old Toyoda looms – yes, the same Toyoda that later became the car manufacturer Toyota! Cone Mills in the US was another legendary producer, known for making denim fabrics for Levi's for a long time. Unfortunately, they decided to close down production in 2017 and have sold all the looms that produced Cone Mills White Oak. Europe's largest denim manufacturer is Italy's Candiani.
Another dimension is the weight of the denim fabric, which is measured in ounces per square yard. Anything from 8 ounces up to 20 is used, but a tip is to stay between 10-15 ounces.
Color
Jeans can be dyed to any shade. But men's jeans tend to stick to the basic colors of blue, black and white.
The original color is indigo blue – after the intense blue pigment extracted from the indigo plant for thousands of years. However, the pigment was expensive and it was not until the invention of synthetic indigo that it became possible to use it in workwear.
Unfortunately, synthetic indigo dye is very bad for the environment. It breaks down slowly and can contaminate rivers and streams. Its production also requires large amounts of chemicals. Natural indigo is rare but a great way to make your jeans a little more ecological.
The cotton thread is dyed by dipping in a dye bath. The best industrial process is considered to be the so-called rope dying where the thread is twisted into rope and quickly dipped in an indigo bath. As the dye does not penetrate the thread, the color will gradually fade, giving the coveted line on the jeans. There is also an older method of hand-dyeing the thread, which produces a much more powerful dye that does not fade.
Washing
To get lighter jeans, the jeans are washed after manufacture. There are a few different variations
Rinsed: The jeans have been washed one or more times – the more times, the lighter the color.
Stone wash: The jeans have been washed with pumice stone to remove the paint. This is an extremely environmentally unfriendly process.
Acid wash or bleach wash : The jeans are washed with chemicals – acids or bleach – to get a worn look.
Raw denim means that the jeans are sold unwashed – they may still be sanforized, i.e. shrunken, but all the indigo color is still there. Through your own wearing and washing, the jeans will naturally take on a lighter, more worn look over time.
Finish
Since the fashion industry fell in love with jeans, ripped jeans have been a recurring fashion trend.
Jeans wear out through normal use. Denim lovers have named the tears as whiskers (horizontal lines around the hip), honeycombs (hexagonal patterns on the back of the knees), and stacking (horizontal stripes where the jeans reach the shoes).
Pre-worn jeans are created by hand using various machines – grinders, sandblasters, etc. Some manufacturers have also started using lasers that burn the tears into the fabric.
How to wear jeans
So one of the great benefits of jeans is their versatility. However, there are certain types of jeans that go better with some garments than others. Here we look at some common styles and how to pair them with jeans.
Jeans and T-shirt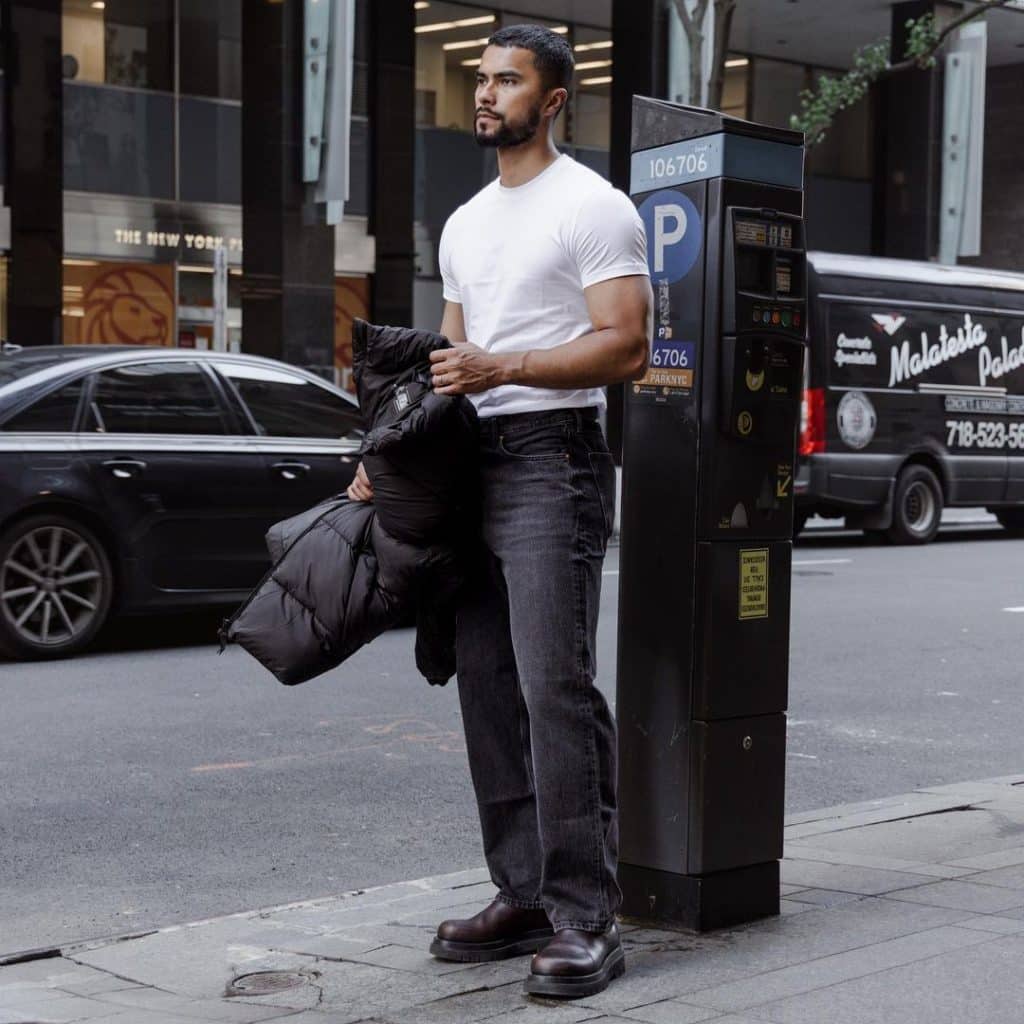 Jeans and t-shirt is an iconic style, but also challenging. The secret to looking like Marlon Brando – besides the gym card – is to choose a really good T-shirt. A mid-weight T-shirt matches the heavier fabric of the jeans and also molds to the body. Choose a pair of straight, simple and stylish men's jeans for a timeless look. Combine with classic workwear such as a denim jacket, sherpa or overshirt.
Jeans and shirt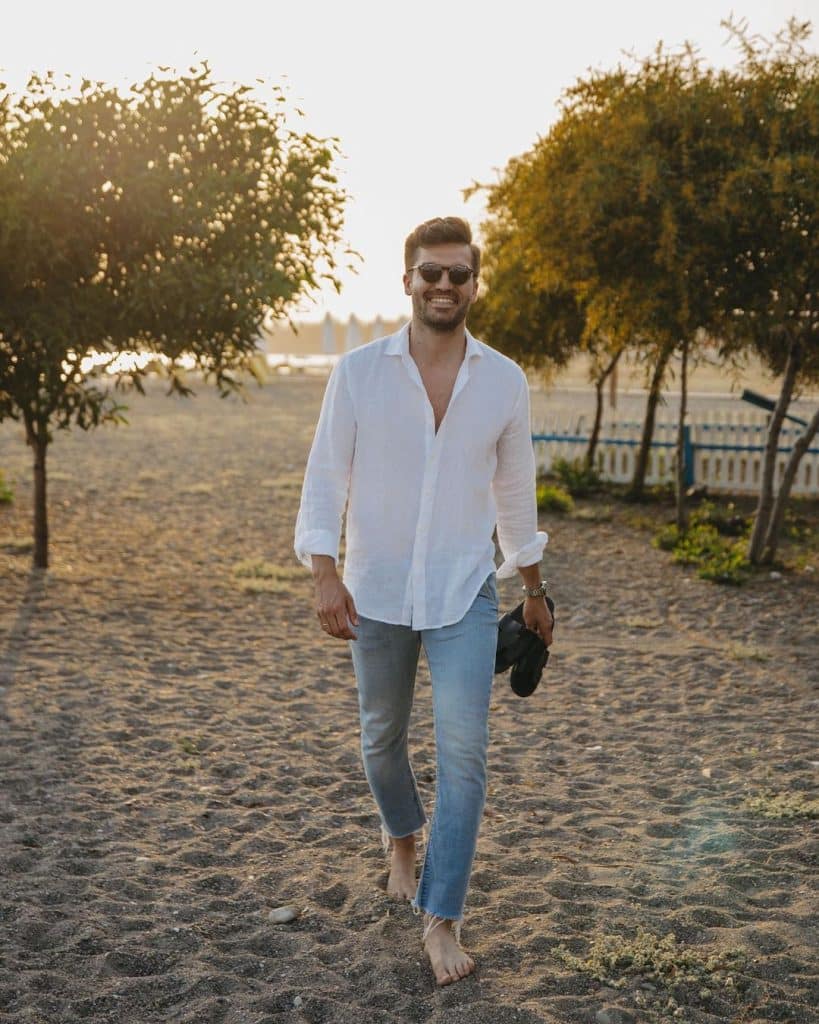 Jeans and white shirt is another classic casual combination. Match the wash of the jeans with the shirt – darker jeans with a fitted spread collar shirt, medium blue with a button down and a linen shirt with light summer jeans. A knitted sweater or thin shirt jacket goes well with it if you don't choose a jacket.
Jeans and jacket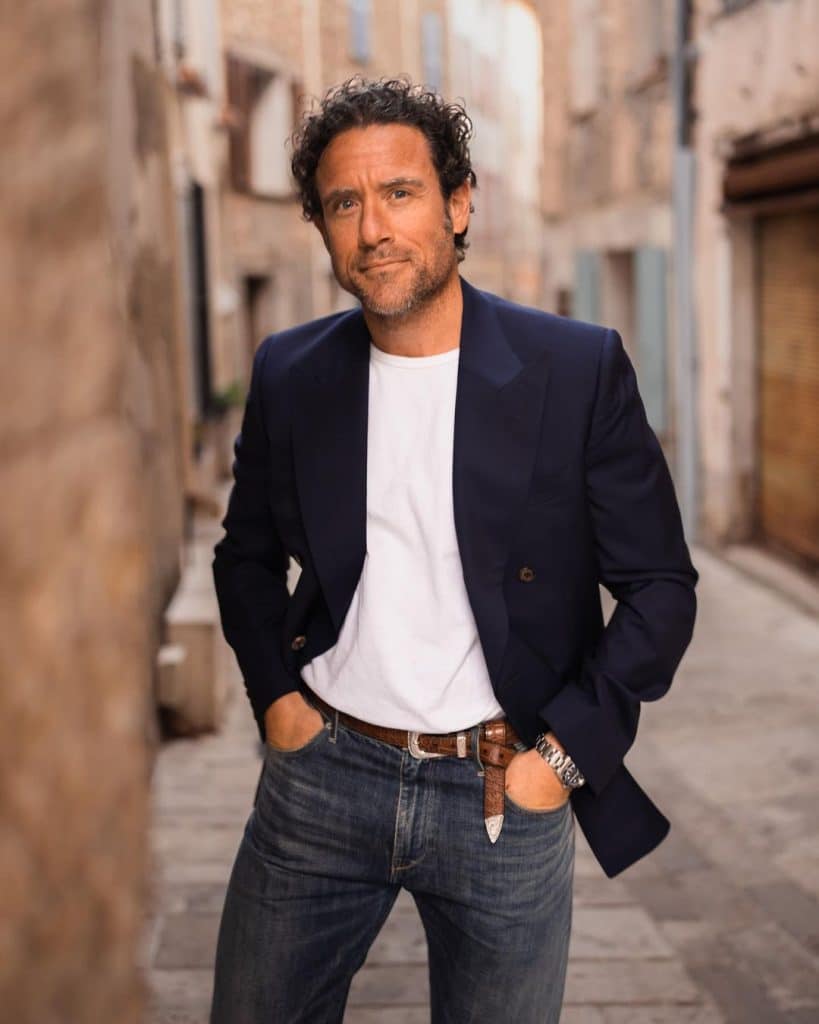 Jeans and a blazer is a classic faux pas that is usually discouraged – the formality of the blazer doesn't match the coarse texture of the jeans. But it comes from a time when there were much smaller jeans to choose from. Choose a jacket that follows the quality of the jeans – a pair of elegant skinny jeans with a club blazer, and chunky selvage jeans with a tweed jacket.
The right jeans for the right shoes
It is also important to match shoes with jeans. The basic principle is to let the jeans and shoes follow each other in size and formality.
If you're wearing sneakers, match the jeans to the shape of your shoes – minimalist sneakers go well with regular or slim fit, while the so-called… chunky sneakers that are popular right now require a larger leg.
If you wear chucka boots or desert boots the regular fit of your jeans is the best choice. A more tapered pant leg brings out the silhouette of the shoe model – such as Levi's 502 or 512.
For men's shoes that oxfords regular fit should be the best fit. The Karl jeans from Oscar Jacobson are perfect with oxfords.
Loafers are a versatile shoe model to combine with jeans. Both slim fit and regular fit are perfect for loafers. With wider models of loafers, even straight and loose models of jeans give a stylish and relaxed impression. Levi's 502 is an example of stylish men's jeans with wide loafers.
For sandals, straight pant styles are by far the best choice as this gives a relaxed look.
Frequently asked questions – men's jeans 2023
Which jeans are in in 2023?
High-waisted jeans are in for both men and women in 2023. We can also see a slightly looser fit of the jeans compared to previous years. Tight, low-waisted jeans are something that fewer and fewer people are wearing.
Which jeans are the best?
There are several prominent manufacturers of jeans. For a timeless, stylish pair of men's jeans, we recommend Japanese or Italian selvedge. Choose manufacturers with a healthy approach to sustainability, such as Swedish Nudie Jeans, which is one of the pioneers.
What size jeans do I have?
Measure your waist and inseam and compare with the manufacturer's measurement chart. Jeans should be tight but not uncomfortable – you should be able to move around in them.
Jeans vs denim?
The difference between denim and jeans is that denim is the name of the fabric and jeans is the name of the garment.
How to wash jeans?
Always check the washing instructions on your jeans before washing. Most models of jeans have a recommendation of 30-40 degrees machine wash. Always turn your jeans inside out before washing them.
Are jeans good for the environment?
No. Cotton is a natural material but growing cotton requires a lot of water. Dyeing and finishing denim can also have a significant impact on nature. Always choose organic cotton and brands with a clear sustainability policy.