Since Levi's created the first jeans in 1873, jeans have become a global phenomenon. And while the US has 'The Big Three' – Levi's, Wrangler and Lee – and Japan is home to the world's most exclusive and artisanal jeans brands, Sweden has nothing to be ashamed of. A large number of Swedish jeans brands have made a name for themselves in the world.
In this article we list 10 Swedish jeans brands you should know – 6 brands that are hot right now, and 4 that are part of Swedish jeans history.
6 current Swedish jeans brands
Nudie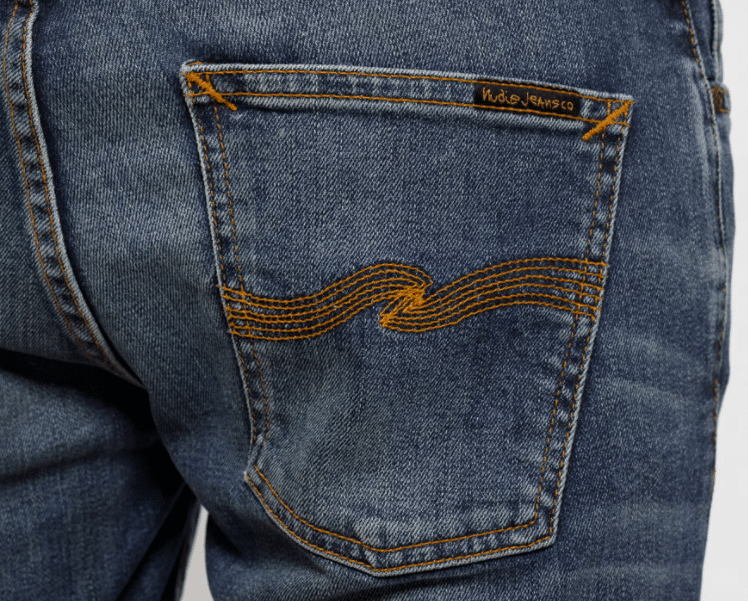 Maria Erixon was chief designer at Lee Jeans in Europe when she got fed up with the politics of the big company and started Nudie 2001 with her husband and childhood friend Palle Stenberg.
The goal from the start was to build a Swedish jeans brand with greater values – respect for the environment and human rights. Organic cotton and free repairs of the jeans became a way for Nudie to put these values into practice. It may sound obvious today, but Nudie was undoubtedly a pioneer of sustainable fashion.
It became best known for its unwashed denim – a 13.75 ounce selvage denim from Japan's Kaihara Mills – and the advice to wear the jeans for 6 months before washing them for the first time. For visibility, Maria Erixon chose orange sewing thread and the characteristic arcuate over the back pocket makes it easy to identify a pair of Nudie jeans.
Nudie continues to design clothes with Gothenburg as its base. The focus on sustainability, repairs and selvedge denim feels as relevant as when the brand was founded 20 years ago.
You can find Nudie Jeans at Careofcarl and Boozt.
Acne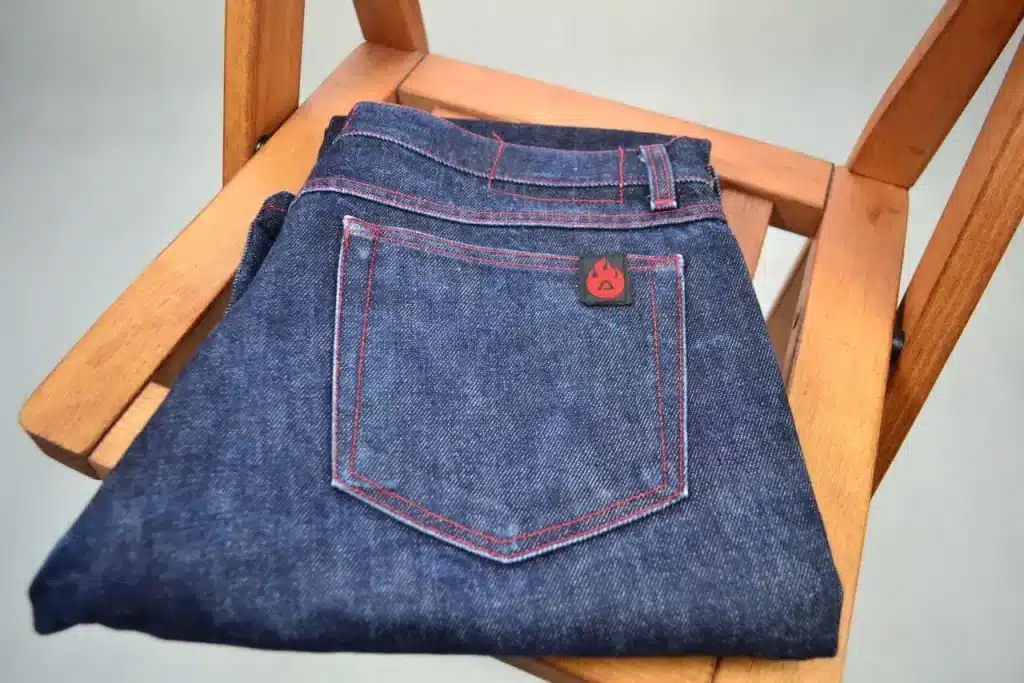 The story of how Jonny Johansson of the advertising agency Acne In 1996, he produced 100 pairs of jeans with bright red stitching, creating the jeans brand and fashion house Acne is already a legend.
Acne had already made a name for itself in advertising Sweden with the Ipren man, but it was only in the fashion house that the founders' creative strength was fully realized. The choice of jeans and the idea of distributing them to influencers (Acne describes it as fans and friends ) in Stockholm was not a coincidence but a deliberate strategy. . When the first 100 pairs of jeans began to appear in Stockholm's creative circles, Acne's turnover exploded and the company is now Sweden's largest pure fashion house. Even today, the company's creative spirit is perhaps the most distinctive feature, rather than any particular garment.
The original Acne jeans were slim and low-cut, fitting perfectly into a wave of minimalism and slim silhouettes at the turn of the millennium.
Fun fact: Acne originally jokingly stood for Associated Computer Nerd Enterprises, but later it was officially changed to Ambition to Create Novel Expressions. In interviews, Jonny Johansson has expressed some hesitation about the name, but it stuck.
You can find Acne Studios at Mytheresa and Mr. Porter.
Frame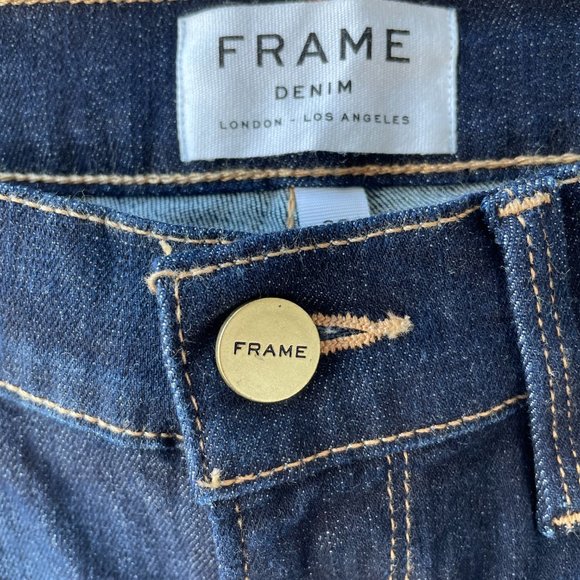 After building Wednesday Agency, an international digital advertising agency with Net-a-Porter and HM on its client list and 400 employees, Jens Grede and Erik Torstenson decided to start a clothing brand in Los Angeles in 2012. Frames The idea was to design perfect versions of basic garments and the first was 'Le Skinny de Jeanne', a pair of skinny jeans that quickly became popular with female models and actors.
A few years later, it expanded into menswear, and Frame offers a complete menswear collection of modern, pared-down basics such as jeans, leather jackets and cashmere sweaters. Today, Frame is a billion-dollar company with stores in several major US cities.
Frame's key products are the L'Homme Skinny and L'Home Slim stretch jeans, which remain among the best sellers. Each model is available in a wide range – the website lists 21 variations of the L'Home Slim alone.
Incidentally, Grede and Torstensson are partners with two other big names in fashion – Torstensson is cohabiting with Net-a-Porter founder Natalie Massenet and Erik Grede is married to entrepreneur Emma Grede, who founded Good American with Kim Kardashian.
Frame is available from Careofcarl and others.
NEWW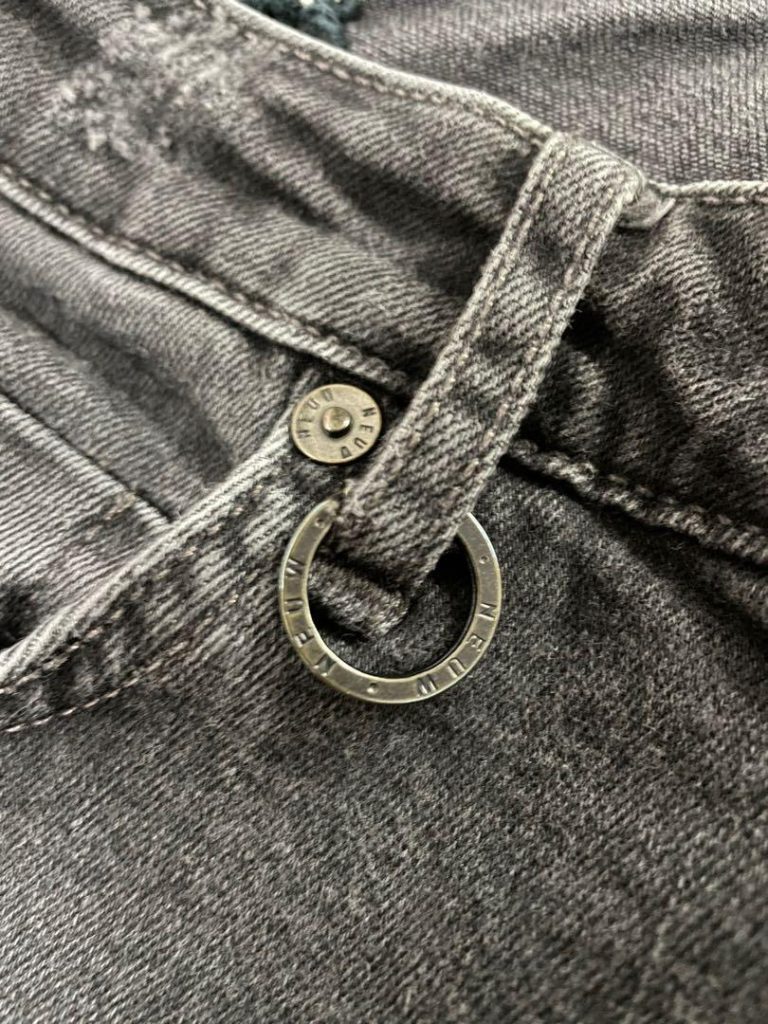 NEWW was founded in 2009 by Pär Lundqvist, Steve Little and Richard Bell. The jeans brand was named after the street Nieuwlandstraat in Brussels where the brand was founded.
Designer Pär Lundqvist had been working at Lee for several years and collecting jeans, a collection that now stands at over 4000 pairs of jeans. The idea for NEUW came when Pär started re-sewing garments from his collection, and the vintage spirit remains strong in the brand even though the style is much more modern.
NEUW jeans are recognized by three characteristic details – The Fob Ring, The Repair Stitch and The Revision Dart. The Fob Ring is a ring attached to one of the belt loops on the jeans, a detail reminiscent of an inherited pocket watch that Pär supposedly lost one wet night. The watch was attached to the jeans with a ring, but when the watch disappeared, he kept the ring as a memento. The Repair Stitch and The Revision Dart are two other details inspired by repairs and alterations from Lundqvist's own collection of jeans.
NEUW can be found at Boozt.
Jeanerica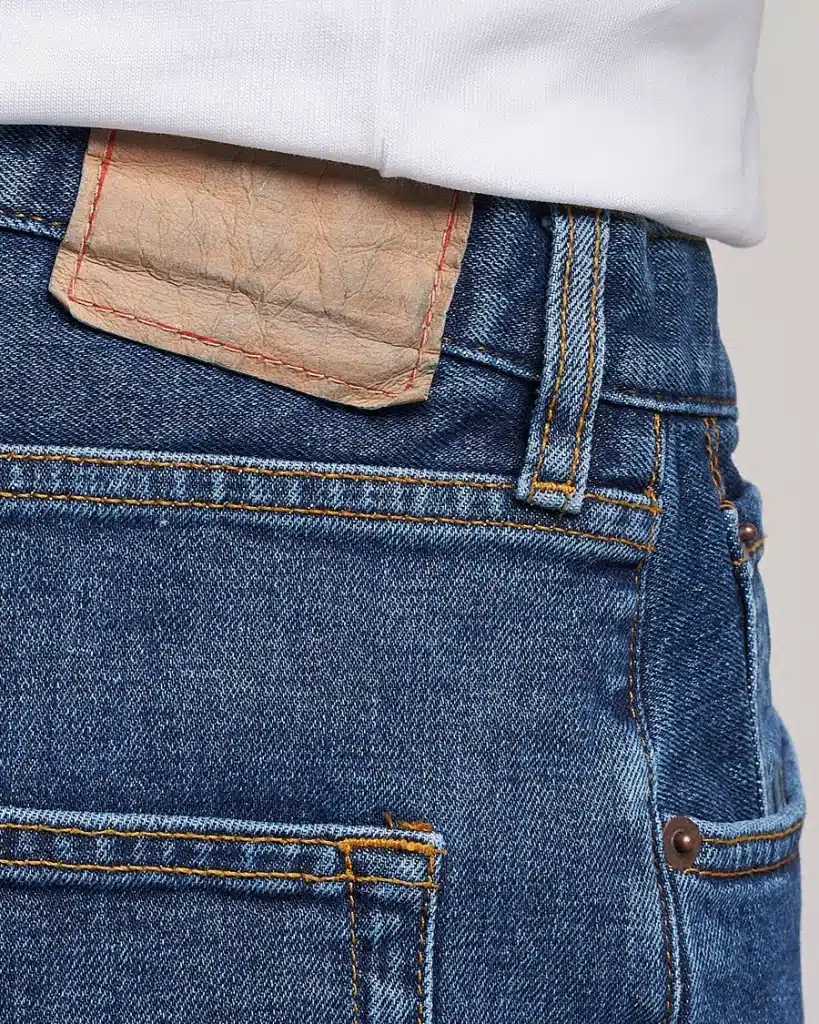 Jeanerica is one of the newest Swedish jeans brands. The brand was created in 2018 by Lena Patriksson Keller and Jonas Claeson. The name is logical – a combination of 'jeans' and 'America'.
Jeanerica is another example of how modern jeans brands are often born at the intersection of advertising and fashion – Lena founded the communications agency Patriksson Communication and also sits on the board of HM, while Jonas Claeson co-founded the fashion brands Whyred and ATP Atelier.
The brand is focused on sustainability and vintage, and claims to avoid short-term trends, which is reflected in the jeans. The company has a number of models inspired by jeans from the 50s to the 90s, but made from Jeanerica's own denim mix of organic cotton and 2% elastane.
Jeanerica is available at Boozt and Careofcarl.
The denim plant
Based in Borås, once the capital of Sweden's textile production, Swedish jeans brand The denim plant started manufacturing jeans in Sweden again. Founder Johan Käll makes jeans in small batches from organic cotton and recycled denim fabrics. The website is a far cry from the slick marketing of Acne Studios and Frame, but the company's focus on making good jeans creates an artisanal charm.
The jeans factory does not build large stocks, but the jeans are made to order. It takes 2-3 weeks to get a pair of jeans, but on the other hand, there is no problem with a size being out of stock or simply not available.
Read more on the Jeansverket website: https://www.jeansverket.se
4 Swedish jeans brands from history
Algots – the first Swedish jeans
Algot Johansson was a young man who began his career by knocking on doors and selling clothes made by his family in the Sjuhärad region. In 1913, Algot Johansson AB was founded in Borås and began manufacturing clothes according to the new assembly line principle, under the supervision of a German engineer.
In post-war Sweden, American jeans became popular thanks to the movie, but availability was poor, not least because of tariffs. Algots seized the opportunity and quickly expanded into jeans and other casual wear. In 1952, the company employed over 1000 people and produced more than 4 million garments. The crisis of the 1970s destroyed Algots and the company went bankrupt in 1977.
Algot's jeans were more like trousers than cowboy jeans. A typical pair was dark blue and could be worn with creases and turn-ups, like a classic pair of men's trousers.
Yellow & Blue – where it all started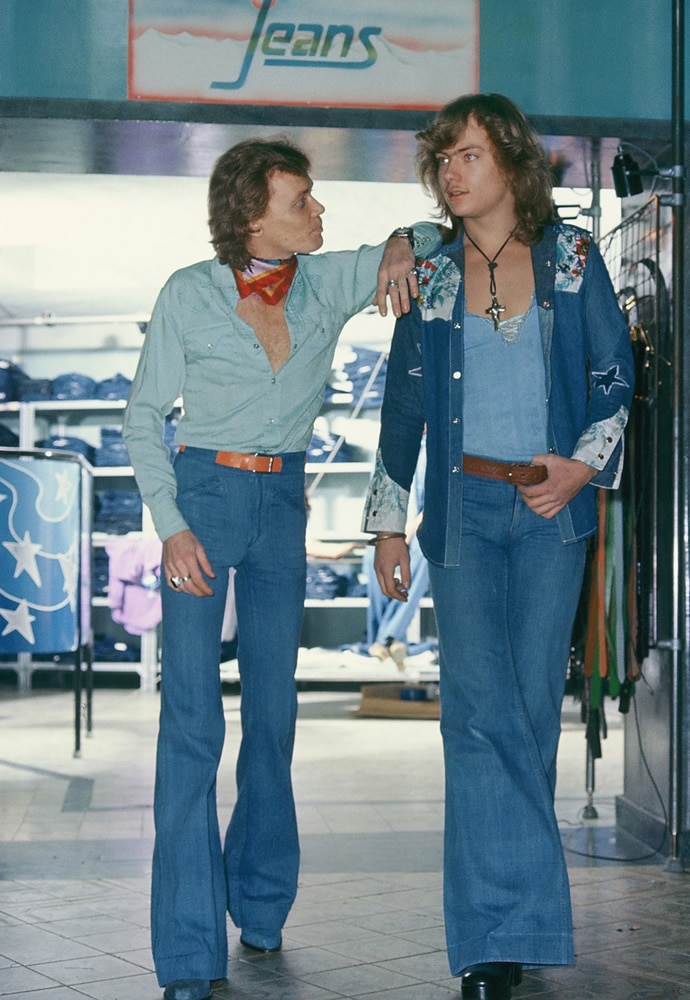 Lars Knutsson started his clothes shop Yellow & Blue in Birger Jarls Passage in 1966. Inspired by the fashions of London's Carnaby Street, Knutsson began importing British clothing. But there was more demand than he could buy, and Gul&Blå started making their own jeans in Sweden.
Gul & Blå's signature was their playful design and fearlessness. Gul & Blå made jeans that no one else would have dared to design in the 60s. The first breakthrough came with the V-jeans, a bootcut model that was tight at the top and above the knees but with an extreme foot width, inspired by a trouser from Yves Saint Laurent.
T-shirts featuring the Phantom, Mickey Mouse and the skating banana (!) Joe Banana were another area where the brand challenged convention.
Increasing competition from chains like HM and JC stopped Gul&Blå's growth, but the brand lived on. When Lars Knutsson got cancer, it was sold on and is still alive, with Charlotte Perrelli and her husband among the shareholders.
Lars Knutsson is also the father of Filippa Knutsson (Filippa K) and Sebastian Knutsson (King, the company behind Candy Crush).
Cheap Monday – the rise and fall of a Swedish jeans brand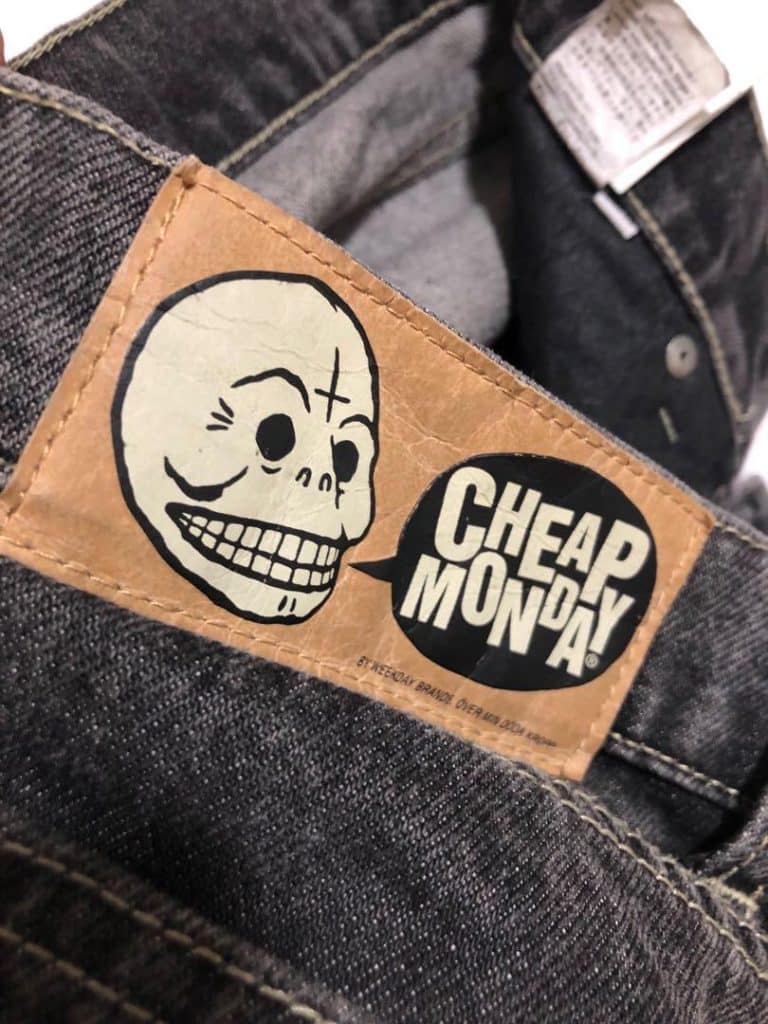 The Swedish jeans brand Cheap Monday was founded in 2004 by Lars Karlsson, Örjan Andersson and spouses Adam and Linda Friberg, who all worked at JC in the 1990s. The dream was to create a clothing brand that was cheaper than premium jeans, but still felt trendy.
The first batch of 800 pairs sold out in a month in the shop that Cheap Monday opened in a small back street off Hötorget in Stockholm. Customers cheered the design, which cost no more than SEK 400 per pair, and production took off. Two years ago, 1 million pairs were sold in 150 countries and the company opened flagship stores in London, Paris, Beijing and Shenyiang.
In 2008, HM bought 60% of the company for over SEK 500 million. The intention was to continue operating Cheap Monday and the Weekday chain of stores as a standalone brand, but this did not turn out as HM intended. In 2019, HM shut down the Cheap Monday brand.
Cheap Monday's hallmark, in addition to its low price and trendy products, was the skull that adorned the label. It originally had an upside-down crucifix on its forehead intended as a criticism of Christianity. The crucifix was later changed to a dash.
JC / Crocker – an institution in Swedish jeans fashion
Crocker was the hallmark of JC – once one of Sweden's largest clothing chains – supplying generations of young people with jeans in the late 20th century. JC was founded in Helsingborg in 1962. The name actually means Junior Center, but soon became synonymous with jeans and jeans fashion. In the 1990s, the name was changed to JC Jeans & Clothes. After many twists and turns, JC finally went bankrupt in 2019 – the franchise stores live on as Jeansbolaget.
Over the years, JC was an important nursery for Swedish jean talent: Örjan Andersson, who founded Cheap Monday and Weekday, and Maria Erixon, who founded Nudie and Filip Lundqvist all have a background at JC.
Initially, JC sold brands such as Levi's and Lee, but in 1976 it launched its own jeans brand, Crocker, which focused on affordable jeans. Crocker's had a wide range of products but was perhaps most associated with the jeans fashion of the 80s and 90s, such as stonewashed jeans.