The story of Japan's denim industry is a tale of the apprentice finally overcoming the master. From the rubble of World War II, a number of entrepreneurs worked hard to build the Japanese jeans brands and weaving mills that today rank among the world's best. The story of how Japan became the world champion of denim is a fascinating quest for the perfect jeans.
Prologue – Toyoda looms
It started with looms. Before Sakichi Toyoda's family business started making cars, they actually sold looms. Sakichi grew up in one of Japan's cotton districts and had been fascinated by looms since his youth. He started a company to automate looms and made several important inventions.
Finally, in 1924, Sakichi and his son Kiichiro Toyoda created the Automatic Loom Type G, the first fully automated loom that provided both better quality and a 20-fold increase in productivity. Still, it was no match for later air or water jet powered systems, which later replaced the shuttle-based looms. A Toyoda loom can only produce a few meters of fabric per hour, which is also narrower than modern looms and thus makes fewer jeans. But the slow weaving and the beautiful selvedge (or selvage) it produces have proven to create the best fabric.
No one knew it at the time, but Toyoda's looms and their ability to weave amazing denim fabrics would, many years later, explain the success of Japanese denim. Toyoda's looms are no longer in production, but the ones that exist are lovingly cared for and continue to create the fabrics that are the foundation of Japanese denim.
Edwin – pionjären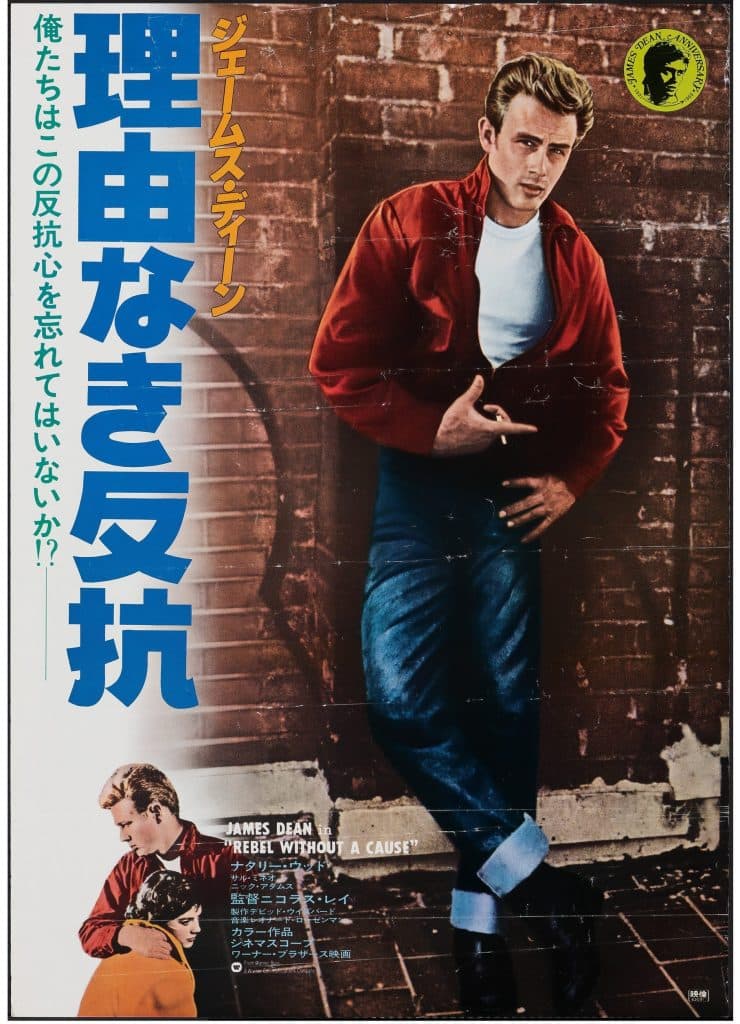 After World War II, Japan's economy was in shambles. The strict hierarchical society also began to gently loosen up, and the older generation watched in horror as the younger one taiyōzoku – a Japanese term for spoiled children – rebelled against social structures. For these young rebels, jeans became a means of rebellion and Levi's jeans a symbol of freedom.
Tsunemi Yonehachi was one of the young entrepreneurs who started importing American jeans into Japan. Initially, he imported second-hand army clothing which he repaired and sold, under the name Edwin (an anagram of "denim" but with the "m" upside down). But the quality was not good enough, and in 1961 he created the first Japanese jeans from hand-woven selvedge denim. They were adorned with a rainbow-colored border that became the brand's signature.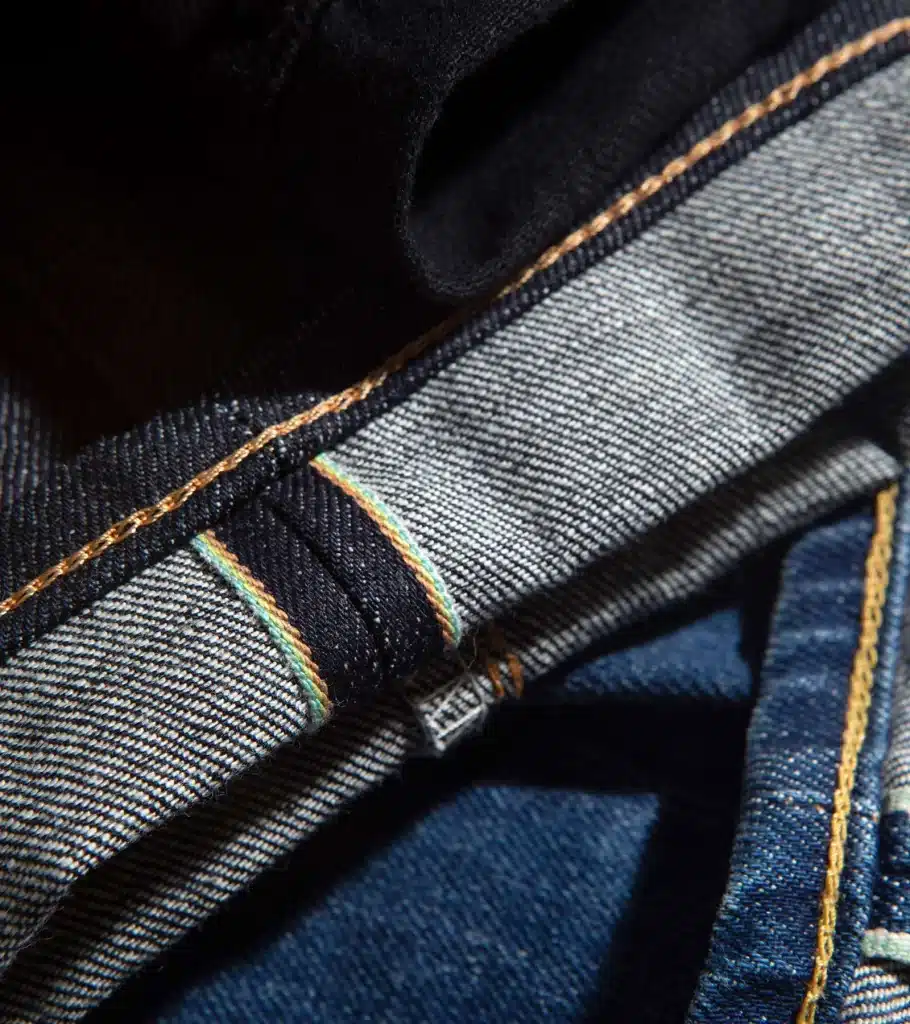 Edwin has been one of the innovators among Japanese jeans brands, and was early to experiment with washes and finishes. The brand was among the first in the world to stonewash jeans.
Big John – the godfather of Kojima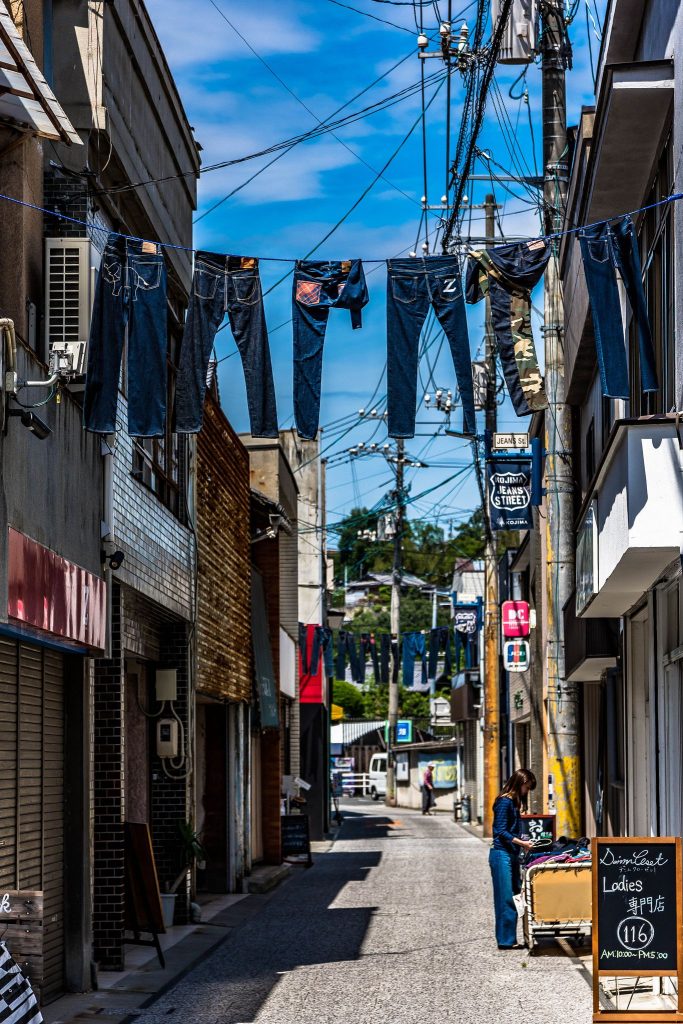 Big John is often called the godfather of Japanese jeans. As one of the first to manufacture jeans in Japan, it became a precursor and inspiration for many other Japanese jeans brands.
Kotaro Ozaki was sewing work clothes and uniforms when he came across some batches of imported denim fabric from the American Canton Textile Mills and Cone Mills (supplier to Levi's). In 1973, Big John also succeeded in getting a Japanese weaving mill, Kurabo, to produce the KD-8 denim fabric for the first time. These are often considered to be the first jeans ever made. made in Japan, but this is many years after Edwin made his first jeans.
Thanks to Big John, his hometown of Kojima became a denim mecca, which today houses some 40 denim shops in the area. Jeans Street.
Osaka 5 and the dream of the perfect jeans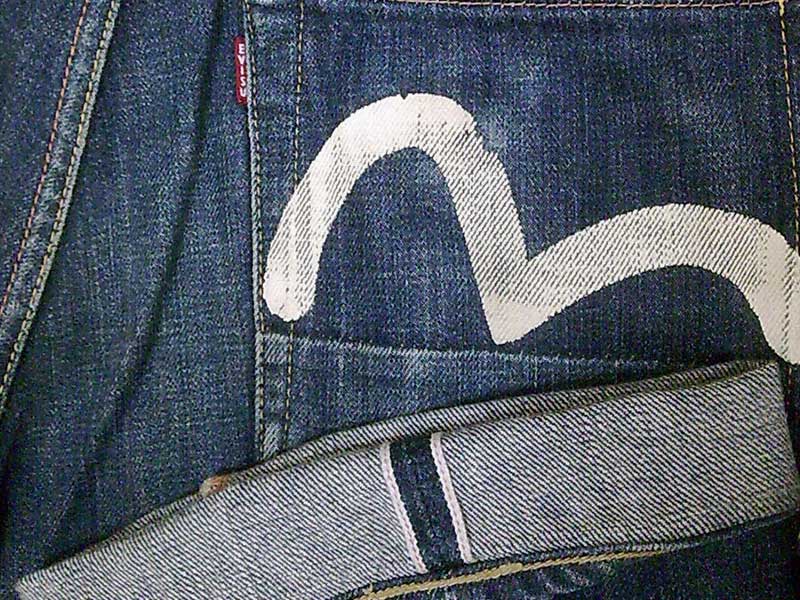 Osaka is one of Japan's largest cities and has long been an industrial and financial center, earning it the nickname 'Japan's Manchester'. With its strategic location by the sea, and between Tokyo and western Japan, it was an important trading hub early on.
Osaka in the 1980s saw the birth of the Osaka 5, a cluster of Japanese denim brands with the common driving force of a love of denim. While American companies lowered standards in search of market share, the Osaka 5 immersed themselves in fabrics, manufacturing and details. This passion would later spread to Europe and the US, laying the foundation for Swedish jeans brands such as Nudie Jeans and Indigofera.
The first brand was Studio d'Artisan in 1979. Founder Shigeharu Tagaki recreated vintage jeans from the 1960s in selvedge denim at a time when most people wore stonewashed jeans. The fabrics were woven on old looms from carefully dyed indigo blue yarn, and prices were 3-4 times higher than what Japanese jeans used to cost. This was the start of the selvedge era, which would grow into a global phenomenon much later.
Another legendary Japanese jeans brand was also founded in Osaka – Evisu. Hidehiko Yamane, like Tagaki, wanted to recreate the durable jeans of previous decades. Evisu's small factory produced 14 pairs of jeans per day, and Yamane painted Evisu's famous 'seagull' on the back pockets by hand.
The other three in the Osaka 5 are Denime, Fullcount and Warehouse. What they all have in common is a longing for the workwear of the past and an attempt to recreate the perfect jeans as they were once made – but with a modern twist.
Momotaro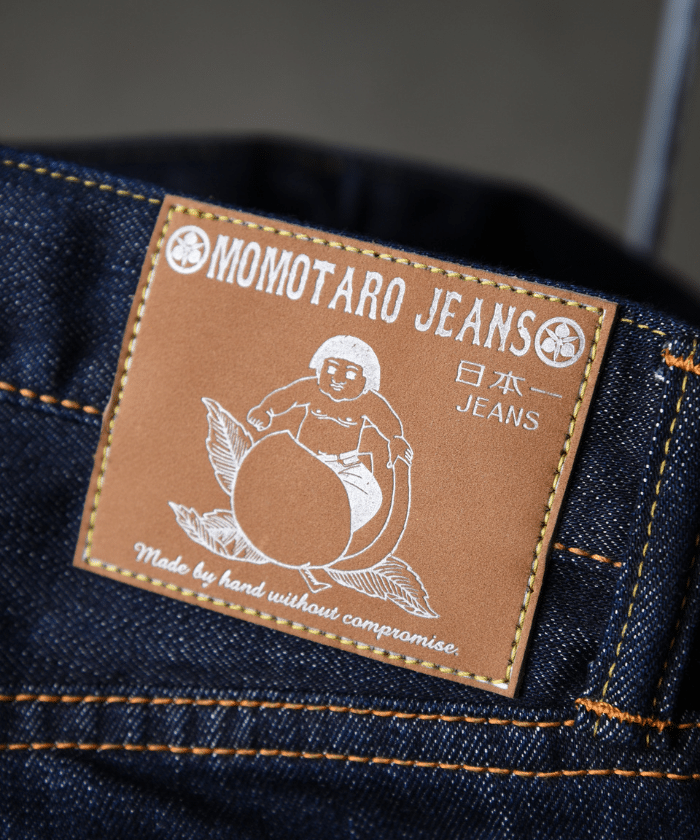 Momotaro has its roots in Collect Mills, a Japanese denim manufacturer in Kojima. Collect produced high quality denim fabric for other jeans brands, before deciding to create their own jeans brand: Momotaro.
Momotaro is the Japanese legend of an elderly, childless couple who find a giant peach. When they open the peach, they find a boy who is named Momotaro – 'the peach boy'. He grows up to become a strong warrior, driving away a demon that plagues the land. The connection to Collect, which is creating a strong young brand in the old days, is clear.
Momotaro's claim to fame – in addition to great fabrics and well-made jeans – is their Gold Label jeans, which are hand-woven on old looms that were previously used for kimono production. A pair of Momotaro Gold Label can cost over 2,000 dollars and can thus claim to be the world's most expensive jeans. Sister brand Japan Blue offers cheaper jeans, with fewer details and simpler materials.
What makes Momotaro unique is its control over production, where everything from dyeing and weaving to production is part of the same group of companies.
Japanese jeans with cult status: Iron Heart, Samurai, ONI, Pure Blue Japan and others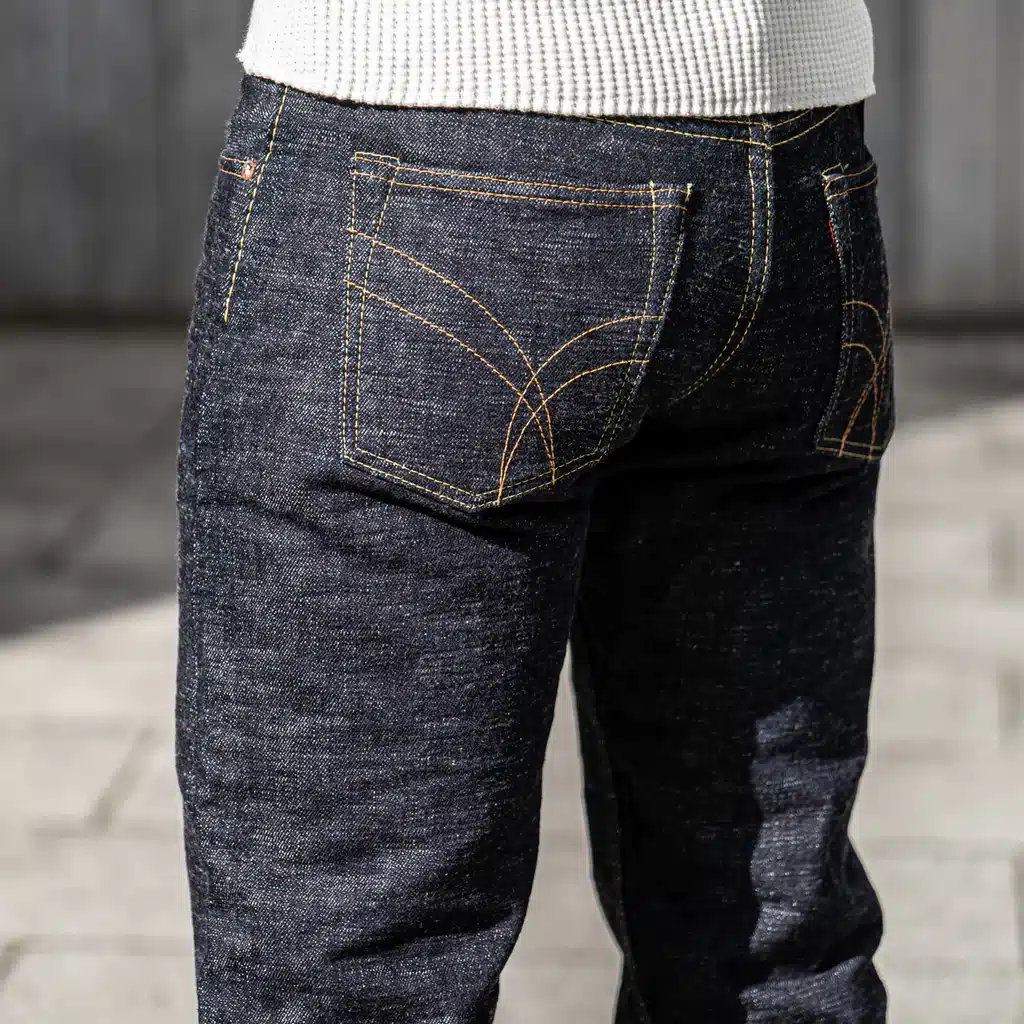 Today, Japanese denim is driven by a number of brands with almost cult-like status among their followers. Like Osaka 5 and other predecessors, it's all about an almost manic focus on materials and craftsmanship.
Trying to distinguish the characteristics of these Japanese jeans brands – especially in a way that a denim connoisseur would accept – is almost hopeless. At the heart of it is the search for the perfect thread – just as a wine lover can discuss aging methods for ages, so can a denim heads around the world debate which manufacturer's jeans age most beautifully.
In the search for the perfect pair, Japanese jeans go into great detail. The materials include things like cotton from Zimbabwe or home-grown in Japan, heavy fabric weights for better fades, and different weaving techniques to create the perfect fit. slub (uneven weave) and day ( The design involves details such as cuts, rivets, stitching methods and much more.
The Japanese denim school has transformed jeans from a workwear item into something as expensive and sophisticated as a classic men's suit. Nowhere else in the world are denim fabrics and jeans created with such passion and detail as in Japan, with its epicenter in the sleepy little town of Kojima.
Don't miss our great guide to guide to stylish men's jeans