For a short time in the 1990s, chinos were everywhere. It had started in U.S. offices, where beige khakis became synonymous with business casual , and has spread around the world to become the perfect walking trousers in Sweden . Eventually, there was too much beige, and the chinos disappeared.
But the beige trouser with its military heritage has slowly been resurrected, as have many other items from the 1990s. Better fits, new materials, more colors have all restored chinos to a wardrobe staple.
In this guide we take a look at chinos, giving you tips on good brands, buying advice and style tips for chinos.
Eight classic brands for men's chinos
Ralph Lauren
No list of chinos would be complete without the king of preppy, Ralph Lauren. Ralph Lauren offers a number of classic styles, from distinctly 80s-inspired chinos to more classic proportions.
Gant
Swedish-American Gant actually has a much longer heritage in preppy fashion than Ralph Lauren, with its roots in New Haven, Connecticut. But while Ralph Lauren has stayed in classic fashion, Gant tries to stay more contemporary. But it still has classic styles in its range.
J. Press
J. Press was founded on the Yale campus in 1902 – it doesn't get more Ivy League than that. The brand has stayed very true to its roots, and still makes its chinos in the USA with all the classic details.
Incotex
Italy's Incotex originally made trousers for Italian luxury brands and army uniforms – a perfect starting point if you're looking for a pair of stylish chinos.
Incotex offers everything from roomy double-front chinos to thigh-hugging stretch chinos, but always with a focus on stylish and classic details. The pants are made in raw length, intended to be folded or laid up by tailors.
Bridle 1949
Despite the name, Brigilia 1949 is a more recent brand, but with a focus on classic clothing. Their chinos have a classic, if rather slim, shape and the right details.
NN07
Danish NN07 makes their chinos in no less than 21 different shades. That should be enough for you to find the color you're looking for. There are also two variants – Theo, a more dressy model, and Marco, with a lower waist and slimmer fit.
Ashes
Swedish Asket was founded with the idea of a minimal, sustainable wardrobe. That's why they only make one type of chino – appropriately called The Chino – in five different shades. If you're looking for a stylish and well-made chino at a good price, you should put Asket on your list.
Dockers
Finally, there's Dockers – the pants that, along with Gap, defined the chino boom in the 1990s. Since then, Dockers has struggled to find its way back. But no one takes chinos as seriously as Dockers – their European range lists no less than 102 varieties.
Buying advice for chinos
Material
Chinos are almost by definition cotton trousers. In an era of slim fits, it has become common to add stretch to the fabric to make them more comfortable.
The classic chino fabric gabardine is a twill, which is a diagonally striped fabric, but there are also chinos in cotton satin, which is a plain weave.
Details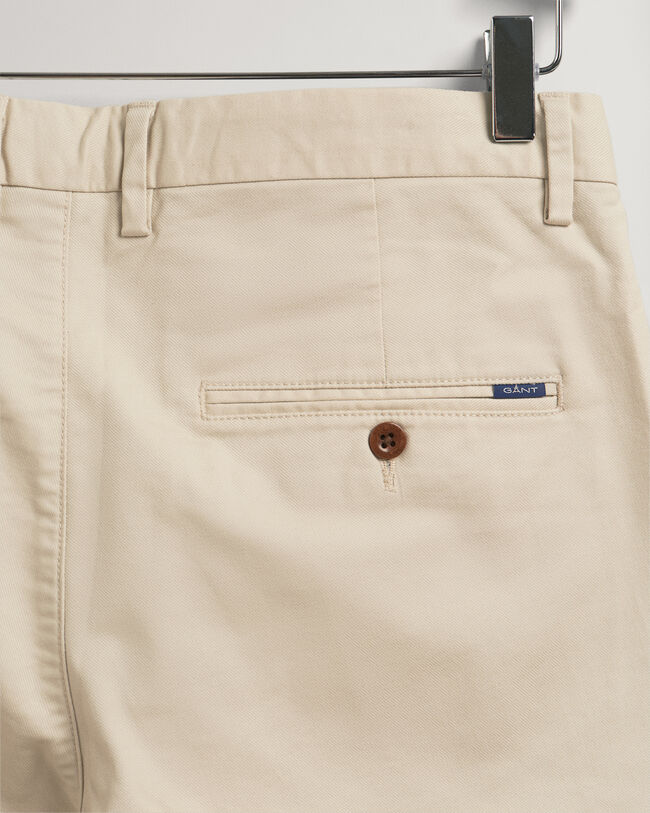 The Chinon evolved from the military uniform and has a number of classic details. It is usually flat front and has belt loops because it was worn with a belt.
In terms of pockets, they often have two slanted front pockets (i.e. the pocket does not run straight along the side seam but starts a little closer to the fly), two passport-sized back pockets and often a discreet coin pocket.
Chinos can be worn both with and without folds. J. Press swears by its 1 3/4 inches, or just over 5 cm. For summer, it can also be nice to roll up chinos to show a little ankle and a sneaker or loafer without a sock.
Shades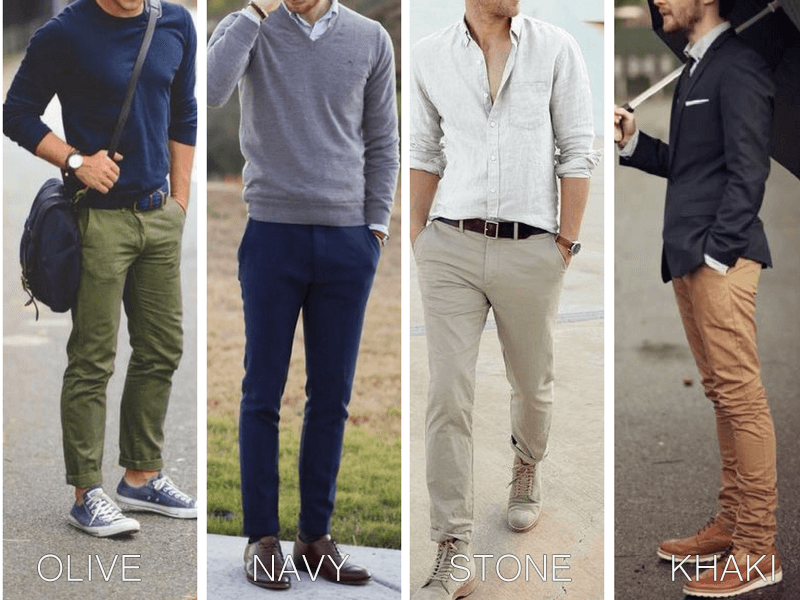 The classic shade of chinos is khaki , the brown-beige shade. Two other classics that are very useful are navy blue and olive green, as well as white and light beige (stone). In New England, Nantucket Red, the red shade that later fades to reddish-pink, is the shade of choice.
If you want to show that you're rich enough not to care what you look like, the patterned chinos with motifs like ducks or boats could be an option. For us mere mortals, they are best left on the shelf in the store.
Style tips – how to wear chinos
Well-dressed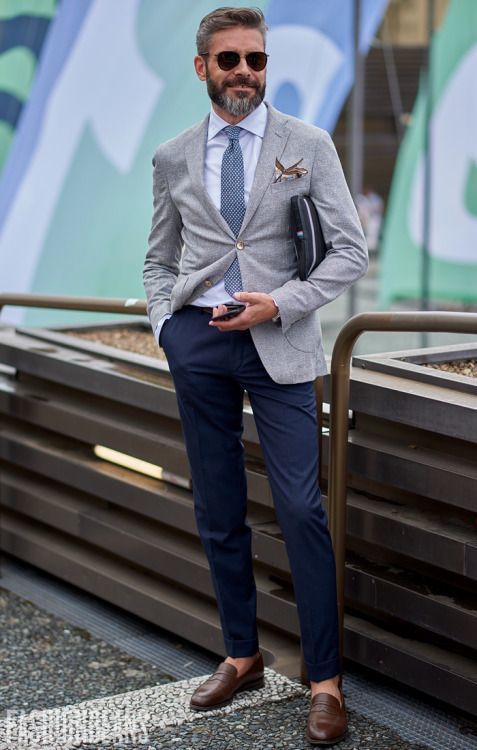 Chinos are great pants for spring, summer and fall. They look great with a flared jacket in a not too shiny fabric that matches the surface of the chino fabric. Navy blue, grey, brown and olive green are some summer colors that often work well with classic chino colors. Combine a light jacket with dark pants, or vice versa. Patterns and textures in the fabric also help to make the outfit less uniform.
Under the jacket, a button-down or other oxford cotton shirt is a good choice. White, light pastel colors or subtle stripes are some good options.
On the feet, brown loafers are the perfect match for chinos. Suede is a material that harmonizes nicely with the chino fabric and has about the same formality. For a real Ivy League feel, choose tassel loafers, but otherwise, regular penny loafers are great too. For summer, mocs can be an option, or a horsebit loafer In winter, boots, oxfords, derbies and monk shoes all work well.
Relaxed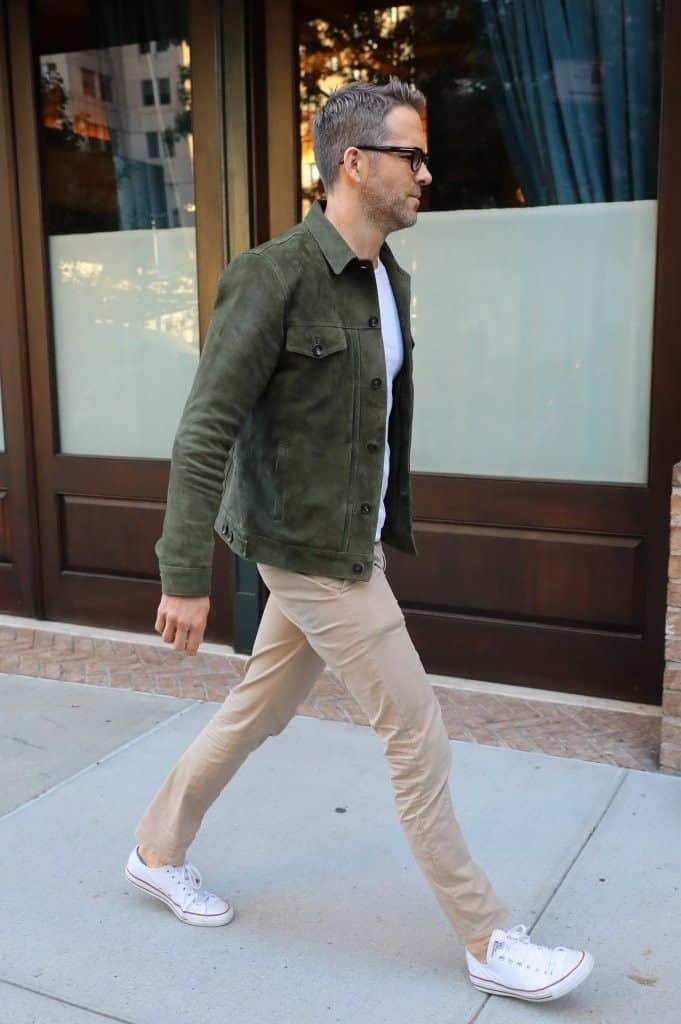 You can wear chinos much like you would wear jeans, but with a slightly more dressy style. Chinos go well with a good quality polo or T-shirt, a shirt jacket or even a suede jacket.
Loafers and moccasins continue to be a good option in summer. For spring and winter, stylish sneakers will go well with chinos.
Four shades of beige: Chinos through history
For officers and gentlemen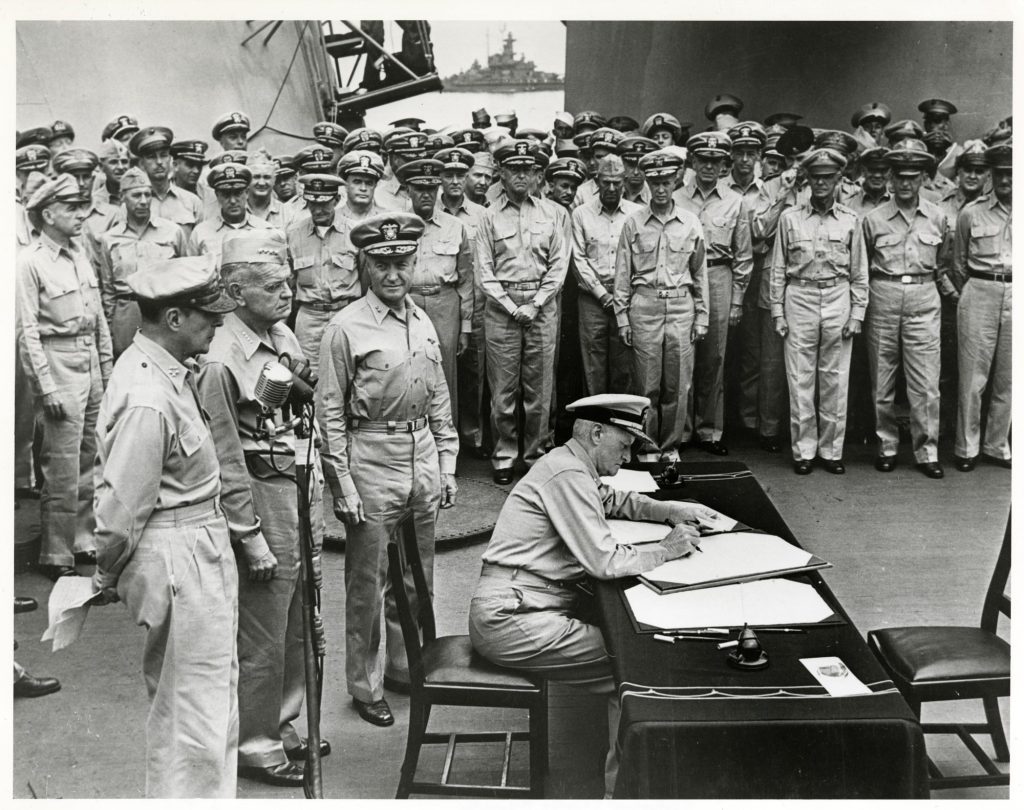 The beige shade khaki has its own history. The word khaki means 'earth-colored' in Urdu, and comes from the need for more camouflaging uniforms.
Before the development of long-range weapons and colonization, the colours of soldiers' clothing played very little role in tactical terms. Rather, bright colors were chosen to distinguish different armies and regiments. But as the British army expanded into Asia and Africa, the need to blend in was realized, especially as rifles became more and more effective. Sir Harry Lumsden, a British army general in India, was reportedly the first to mix coffee, curry and mulberries into a dye paste to recolor white uniforms in 1848. The first khaki uniforms were woven in a dense cotton twill, but the British Army would also use wool.
When the sharpshooting Boers of the First Boer War used the bright red uniforms of the British as sight marks, the need for Lumsden's khaki for field uniforms was quickly recognized.
Chino comes from the Spanish word for 'Chinese'. It was during the Spanish-American War that American soldiers stationed in the Philippines began wearing trousers made from Chinese fabric. The pants were made to be cheap, and were therefore more narrowly cut, without front pleats, than classic army uniforms.
From army uniforms to preppy uniforms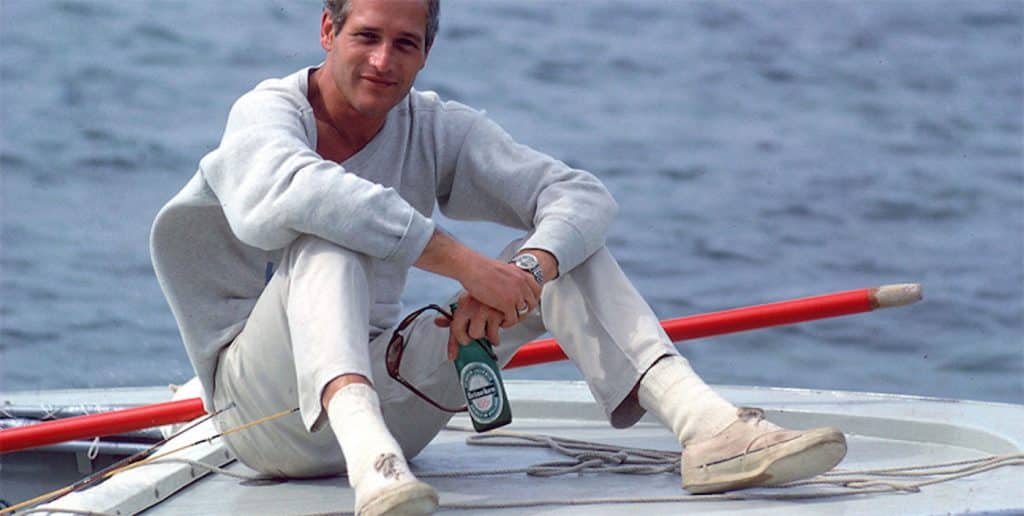 From the army, the use of chinos also spread to other professions. Among those who sought out the durable cotton trousers were miners and other rough workers, and explorers. Levi Strauss was an early adopter of khaki cotton trousers.
However, it wasn't until after the Second World War that chinos or khakis really took off. As with many other uniform items, they followed the soldiers home and became everyday wear. From there, they spread to schools. Chinos became a central part of Ivy League style, and their popularity was driven by style icons such as Paul Newman, Steve McQueen and JFK.
Casual Friday gone too far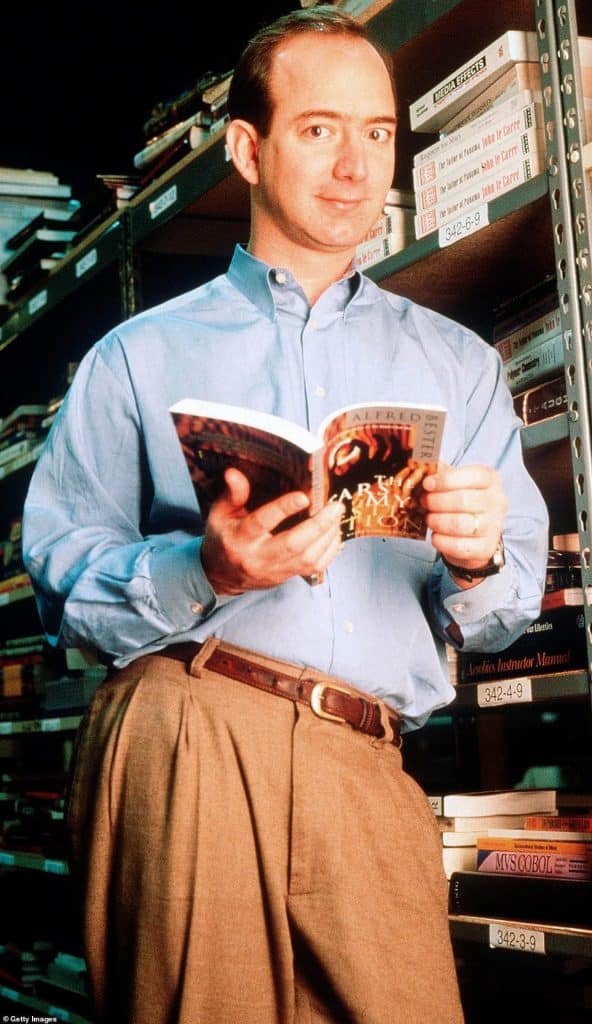 After the fashion revolution of the 1970s, chinos came back into fashion in the 1980s and 1990s, as part of the preppy -fashion. Chinos were now wide, often with double front pleats, in bright colors.
Brands like Ralph Lauren, Gap, Tommy Hilfiger and J.Crew all grew up around chinos. Dockers, perhaps the epitome of 90s chinos, was born as a spinoff from Levi Strauss in 1985.
The idea of wearing casual clothes on Fridays had been around since the 1960s, but it was reportedly a shrewd marketing campaign in 1992, where Dockers sent the "Casual Businesswear Guide" to 25,000 HR managers that really put the concept on the map. The book contained ready-made style tips, including combinations of button-down shirts with chinos, to distribute to bewildered employees trying to adjust to the Casual Friday .
The peak was reached in the late 90s, with the rise of selvedge denim and slim silhouettes. The last episode of Seinfeldt was broadcast with a Gap chino commercial.
Chinos make a comeback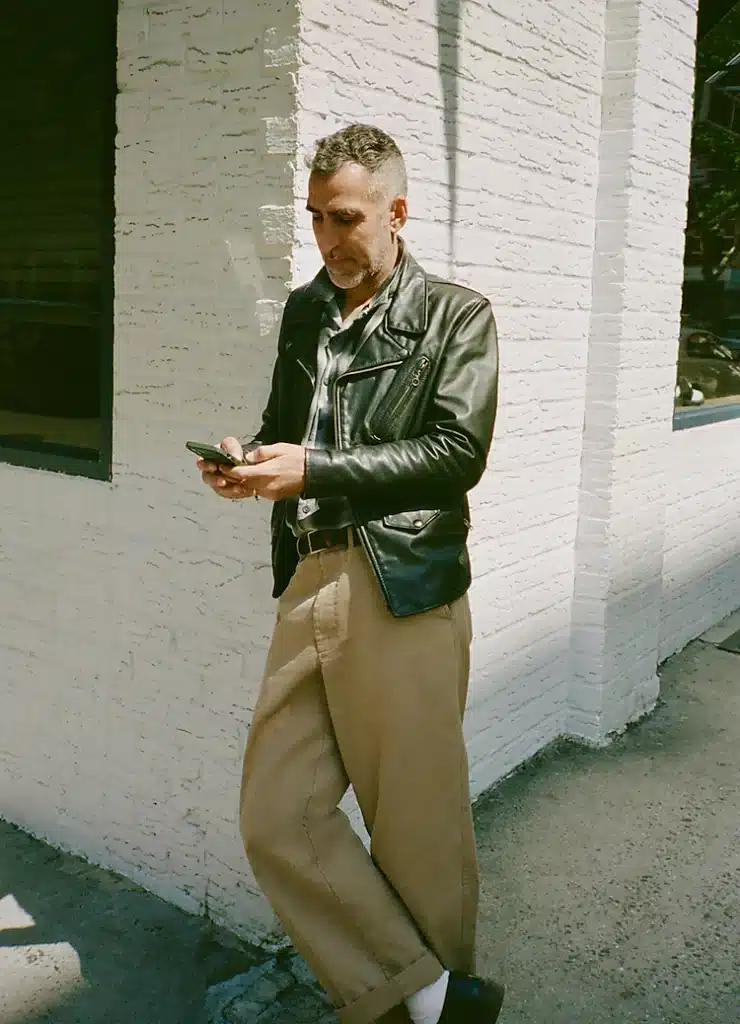 Although some manufacturers never quite recovered from the chino boom, chinos have never really gone away. Along with their military-inspired cousin the cargo pants, they have continued to come and go in men's fashion. During the 2000s era of slim silhouettes, chinos in body-hugging stretch materials became very popular, as did colored chinos.
In 2023, J.Crew's "giant fit" chinos with straight, wide legs got a lot of attention. The pants were designed by the brand's new creative director Brendon Babenzien, former creative director at Supreme and founder of Noah.
Perhaps the 2020s will see chinos return to their roots with wide military silhouettes?