The button-down shirt is a wardrobe staple. evergreen Whatever the occasion, whatever the season – it can almost always be worn. And it has successfully made it through almost 200 years of history without ever losing pace; you can still see it on young and old alike. It is also, as far as we know, the only men's garment to have its own abbreviation. OCBD for Oxford Cloth Button Down.
In this guide, we cover everything about button-down shirts: brands, buying advice and style tips.
10 brands for button down shirts
Brooks Brothers
Through 200 years of ups and downs, Brooks Brothers has been dressing the American upper class. They may not have invented the button-down collar, but it wasn't far off.
Over the past few decades, Brooks Brothers has faced many setbacks, ending in bankruptcy in 2020, moving a lot of production from the US and facing quality issues. Nevertheless, Brooks Brothers (vintage) shirts are still the starting point for all discussions about the "right button down shirt".
Gant
Gant grew up in New Haven, Connecticut, as a shirtmaker for Brooks Brothers and others. In 1949, they started their own brand and became a supplier to the Yale Co-Op – a legendary store on campus. Among other things, Gant was the first to introduce locker loops (see more on this below).
Unlike Brooks Brothers, Gant has tried to keep up with fashion in recent years, but you can still find classic button-down shirts from the brand.
Ralph Lauren
Not surprisingly, Ralph Lauren began his career as a salesman at Brooks Brothers. He launched his own brand of ties in 1967 but quickly expanded into his own full line of clothing with the polo player as his signature.
For those who like 80s preppy fashion, Polo Ralph Lauren is a good choice.
Gitman Vintage
If you're looking for shirts reminiscent of Brooks Brothers' original designs, but with an updated fit, Gitman Vintage is a great option. The American shirt maker takes its inspiration from old vintage shirts from the height of Ivy League style in the 1950s. What's more, the shirts are still sewn in the USA
Drake's
British Drake's is another brand that offers updated versions inspired by the traditional. Here you'll find traditional OCBDs as well as variants in poplin, flannel and more, all sewn at Drake's own factories in England.
Kamakura
The Ivy League style spread to Japan via fashion magazines, and the Ivy League style went from a clothing style to almost a religion. Japanese brands now make American preppy clothes better than the American brands themselves.
Kamakura Shirts was founded by Yoshio and Tamiko Sadasue, who previously worked for Van Jacket, the company that first introduced the Ivy League style to Japan.
Mazzarelli
The Ivy League also made its way to Italy, not least through Gianni Agnelli who wore his Brooks Brothers shirts with the collar unbuttoned and the watch on the cuff.
Mazzarelli is a shirt specialist rather than specializing in the button down shirt, but if you're looking for a slightly more elegant version of the button down, this is a good place to start. Fitted and in finely woven cotton, this is something completely different from what was worn at Yale.
Ashes
And now for something completely different. Asket is a modern brand with minimalist, Scandinavian design and a focus on quality and durability. Asket's button down is more modern, slimmer, shorter and more casual – meant to be worn with chinos, jeans or shorts.
Eton Shirts
Eton Shirts has a huge range of shirts, sizes and variations. Unlike other brands, Eton doesn't really have a house style, but focuses on breadth. Here you'll find button-down shirts in everything from dressy royal oxford to plain oxford and madras-patterned linen fabrics. This narrow-striped royal oxford is best paired with a tie and a navy suit.
Stenströms
Another of our Swedish shirt specialists, Stenströms, also has a large range of button down shirts. Like Eton, they don't really have a house style but Stenströms is consistently a bit more traditional in styles and materials than Eton.
OCBD Traditionalists – J Press, Mercer & Sons m.fl.
During the 1980s, Brooks Brothers began updating their classic OCBD after the brand was acquired by Marks & Spencers. This included switching from the traditional soft collar to stiffer collars with interlining and introducing non-iron cotton fabrics.
Brooks Brothers' break with tradition led to a rebellion among 'traditionalists', and several brands have been founded that try to recreate the original style with soft, rolling collars with 3 3/8″ lace, generous fits and wide sleeves.
J Press is one of the surviving brands from the original Ivy League era, and under Japanese ownership has retained its traditional style, although it has probably hindered the company's expansion. Mercer & Sons is often considered one of the best manufacturers of classic OCBDs, but the brand's website leaves much to be desired. Rowing Blazers mix colorful preppy style and classic cuts with an almost punky aesthetic.
Buying advice
Collar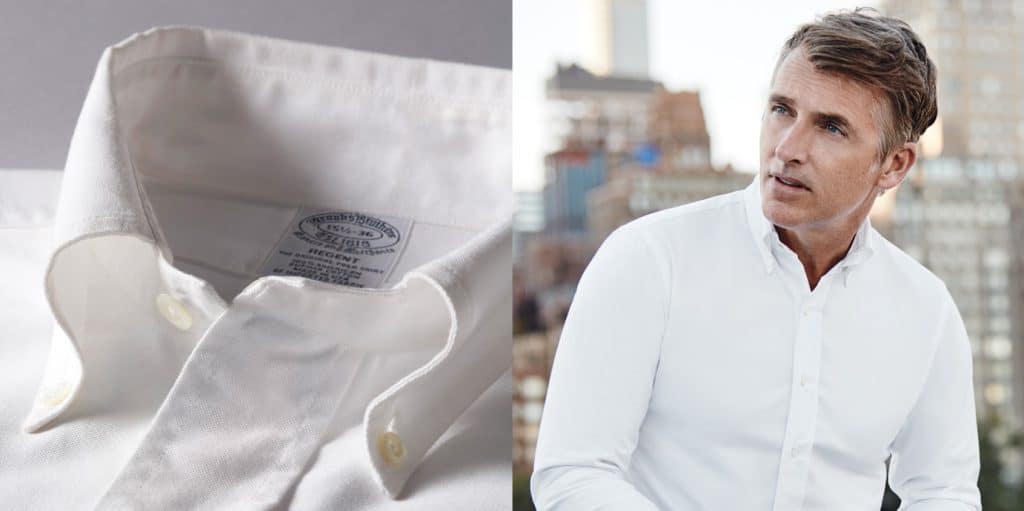 Let's start with the most controversial: the collar. It's clear that the button-down collar was originally just a way to fasten the shirt collar. Over time, a certain type of collar, popularized by Brooks Brothers, became "the right collar": a soft, unlined collar that, through the placement of the buttons, bends into a soft bow.
Depending on the construction of the shirt, the collar often forms a 'bell' that swings down from the neck button and then turns out towards the lapels of the jacket in an S-shape. Historically, the shape varied more, from more of a V-shape to more curved bell shapes.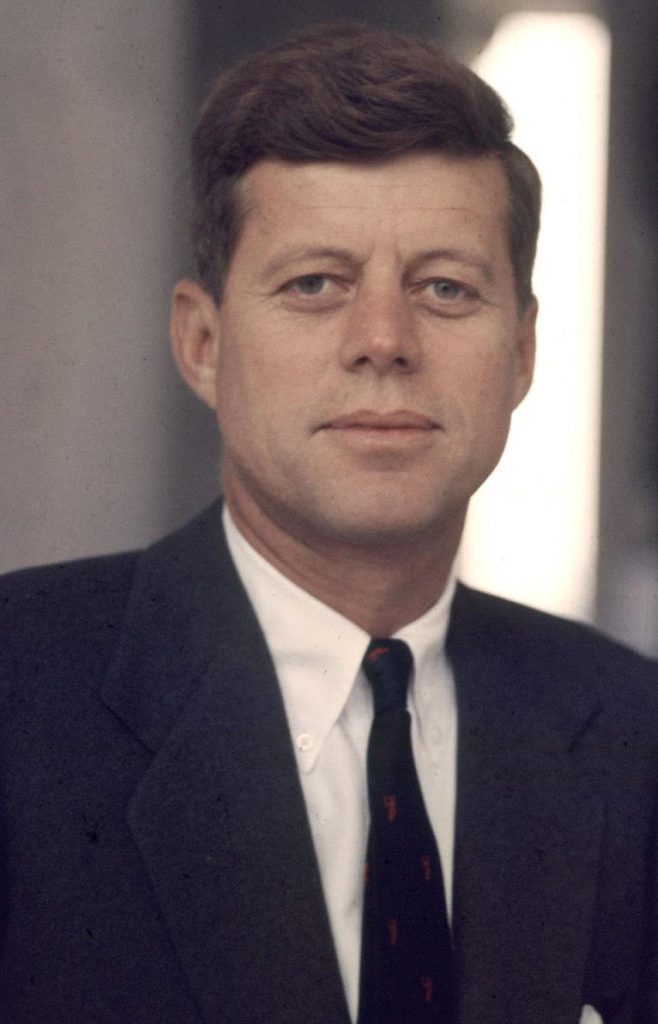 Traditionally, the collar buttons and thus the lace were placed quite close to the buttonhole of the shirt, while some modern alternatives have more width between the collar buttons. The result is a collar that "swells" and becomes more dominant than the rather discreet traditional collar.
Fit
A classic OCBD is generously cut in the belly and sleeves, and with a substantial length so that it stays in your pants during the day. Many people who think they want a classic shirt will be surprised by how wide and blousy it can be.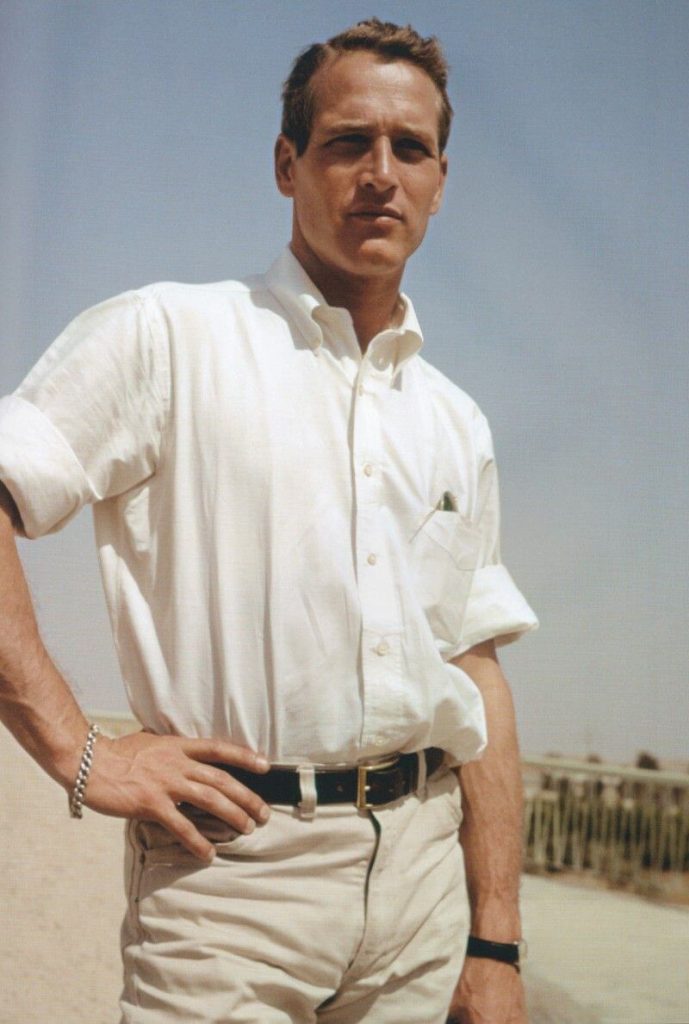 Fortunately, there are alternatives – if you prefer a narrower fit, most shirt manufacturers also offer slimmer models.
Material
A classic button-down shirt is made from Oxford cotton. The name has nothing to do with Oxford, but is said to have been a marketing gimmick by a textile manufacturer in Scotland when developing the fabric that later became so popular.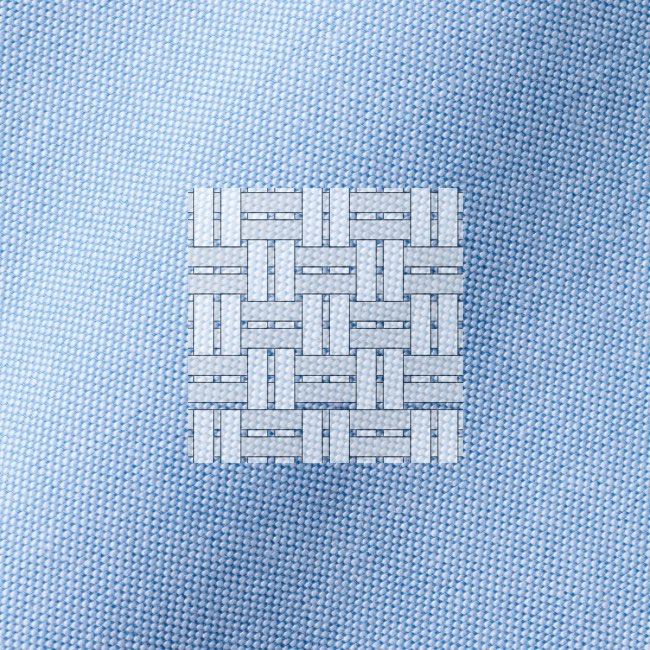 The Oxford fabric is woven as a basket weave , a weaving technique that gives a fine structure to the fabric with a mixture of white and colored threads. The classic Oxford fabric is quite heavy and coarse, but there are also Pinpoint Oxford which is woven with a finer thread. It's easy to think that Royal Oxford would be an even finer version of oxford, but it's a completely different weave that makes for a much dressier shirt.
Oxford fabrics were originally solid colors, but later on different types of patterns were added – especially thin stripes, known as 'stripes'. university stripes.
You can also make button-down shirts in other fabrics. Popular choices include denim and chambray for a jean feel or casual shirts in madras and linen.
Details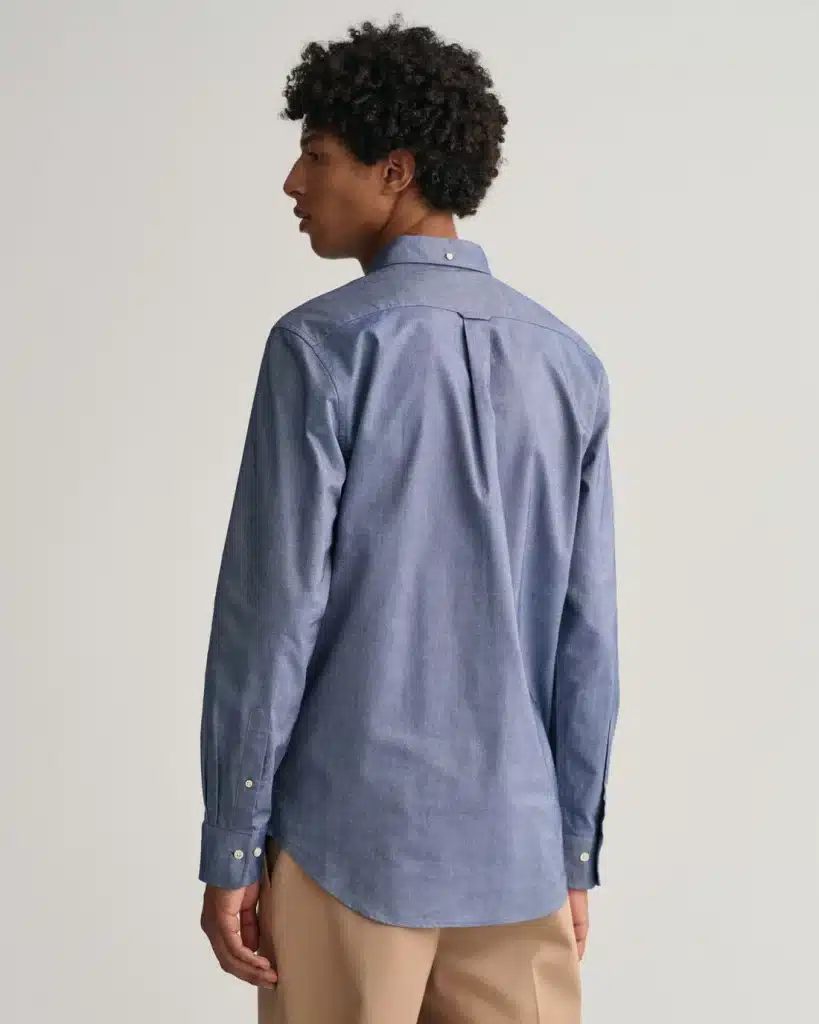 If you want a classic OCBD there are a number of historical details to look for, in addition to the collar.
Boxveck (box pleat) are two pleats that run centrally along the back of the shirt. They create spaciousness and freedom of movement by expanding when you move your hands forward.
Locker loop – a hanger placed on the back of the shirt – invented by Gant, to help students hang up their shirts in the changing rooms.
Back collar button is a button that holds the collar in place at the back of the neck. The idea was to secure the tie and prevent it from slipping out from under the collar.
Breast pocket belongs on an OCBD. Both with or without a pocket lid are traditional options.
Manschetterna should always be simple – no double cuffs on a classic button down.
Tab collars , where the collars are held in place by a piece of fabric instead of buttons, is not really a variation on button-down shirts but a predecessor. The style made a comeback thanks to Daniel Craig in James Bond.
Style tips – how to wear a button down
Preppy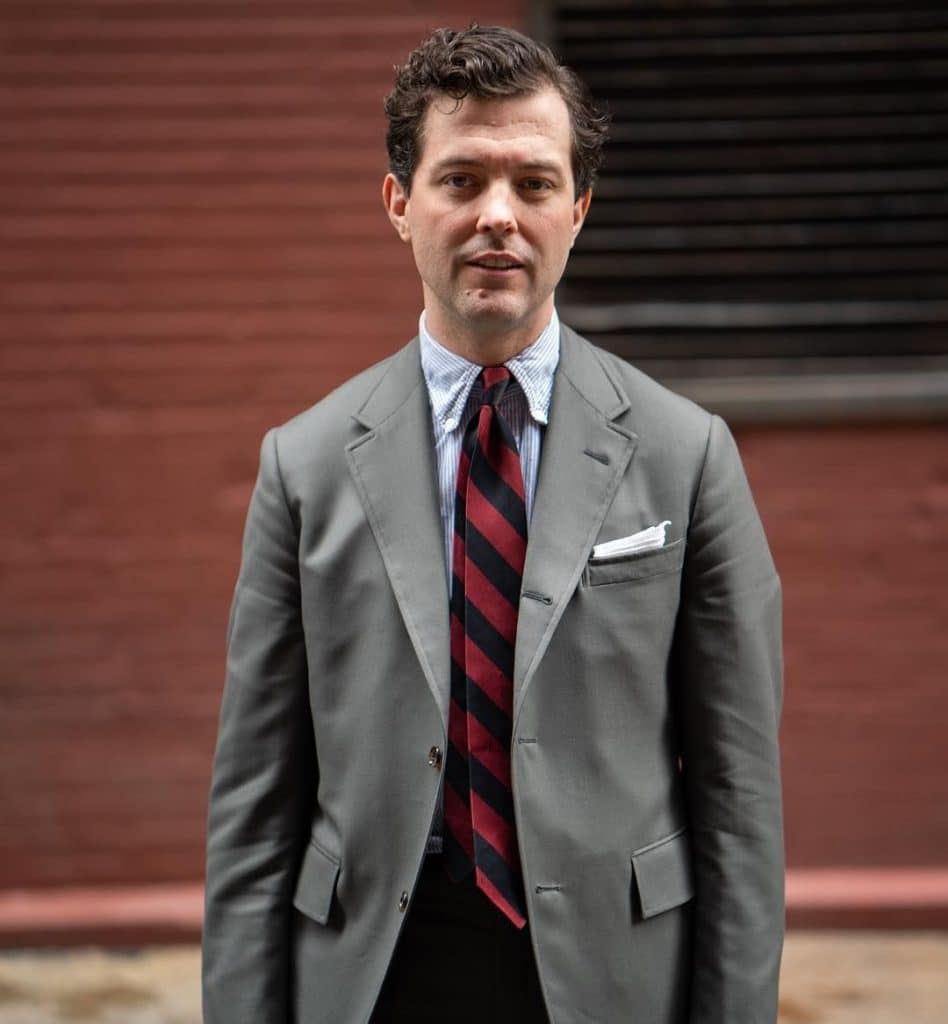 The Ivy League was originally not so much a style of dress as a lifestyle. School kids wore the clothes their parents wore, but in a way that better suited their lives. It was only through fashion magazines that the style alternately called preppy (more casual) or Ivy League (more formal) was formalized.
For a classic preppy style, choose a solid-colored button-down shirt and khaki colors. flat front chinos. On your feet, penny loafers such as the Bass veejuns, or in summer a pair of sailing shoes, such as Sperry TopSiders .
As a jacket, a blazer is perfect – a club blazer or rowing blazer in the summer, and a tweed jacket in the fall. The classic blazer was relatively unconstructed and 3-roll-2 (3 buttonholes, but designed to be buttoned at 2). If it's really cold, a nice knitted sweater in e.g. Argyle or Fair Isle can sit nicely under the blazer.
Add a knitted or patterned tie, the most classic of which are the diagonal stripes. regimental ties. Consider the balance between the tie knot and the tie – preferably choose a smaller knot that leaves some space between the collar and the knot.
Casual – button down shirt with jeans or chinos
One of the biggest reasons why the button down shirt is so popular is that it is great for casual wear.
For an American style, unbutton the top button and wear your button down with jeans, chinos or chinos shorts. If you want to wear your shirt over trousers, you need a more fitted version than the traditional models.
In cool weather, a cable-knit sweater or rugby shirt works well over a button-down shirt.
On your feet, loafers are again a great fit.
Well-dressed – button down with suit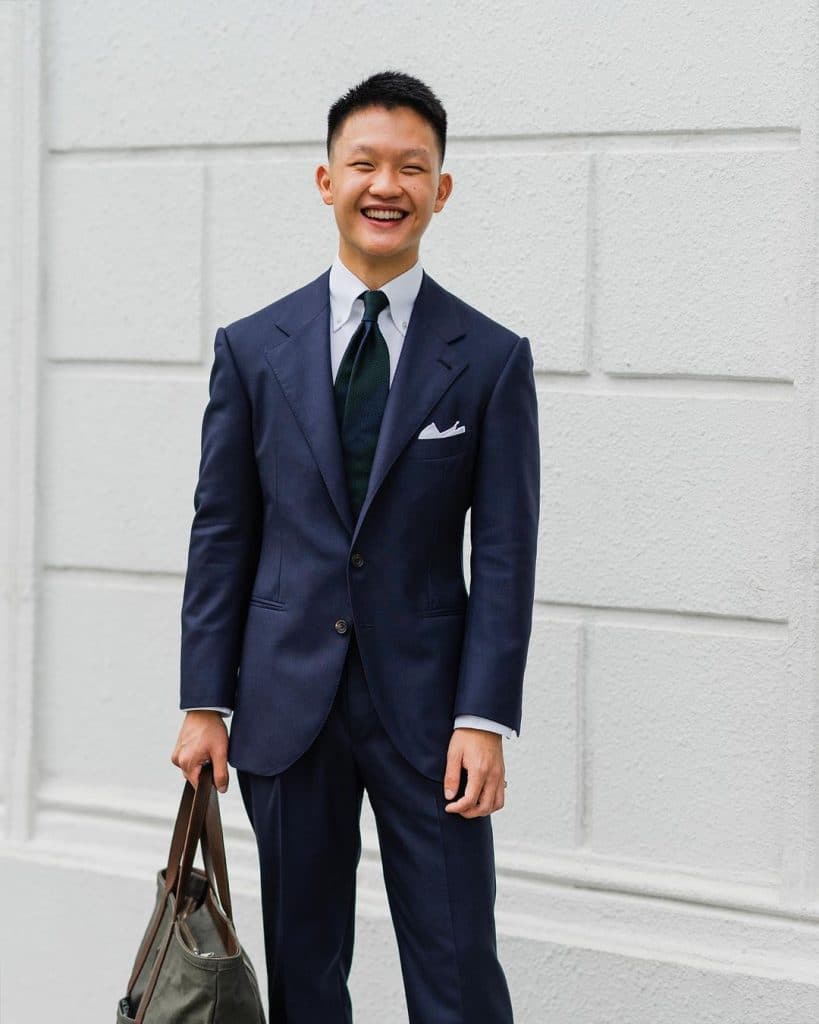 Button down doesn't have to mean preppy. A poplin button down shirt is a great way to dress down a formal suit and make it a little more personal.
The button-down collar's shape and slightly larger dimensions add elegance to the style. The diagonal striped tie plays on the preppy style, recalling the history of the shirt. Because the collar is a little wider, the tie, and therefore the tie knot, can have a little more room. On your feet, a simple pair of oxfords can fit perfectly.
Two buttons, 200 years: the history of the button-down shirt
From gentleman to gentleman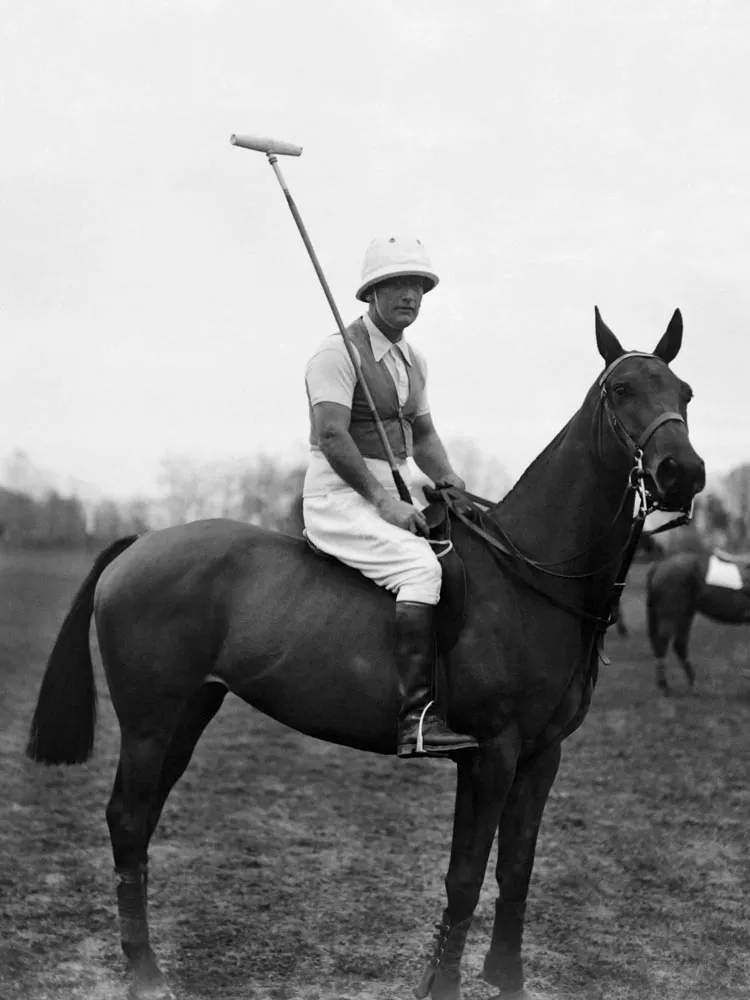 Unlike some other men's garments, the button-down shirt has a fairly well-defined history. It was born among polo players and other sporting English gentlemen in the mid-19th century as a way to keep their collars from flapping in the wind. Therefore, the collar was first called polo collar .
But it was an American, John E. Brooks, who took the collar from sportswear to menswear. In 1896, Mr. Brooks, CEO of Brooks Brothers and grandson of the company's founder, reportedly relaxed by watching a polo match during a shopping trip to England. The collars caught his eye and John Brooks is said to have brought the idea back to the United States. A few years later in 1900, Brooks Brothers launched its own shirt with the button down collar .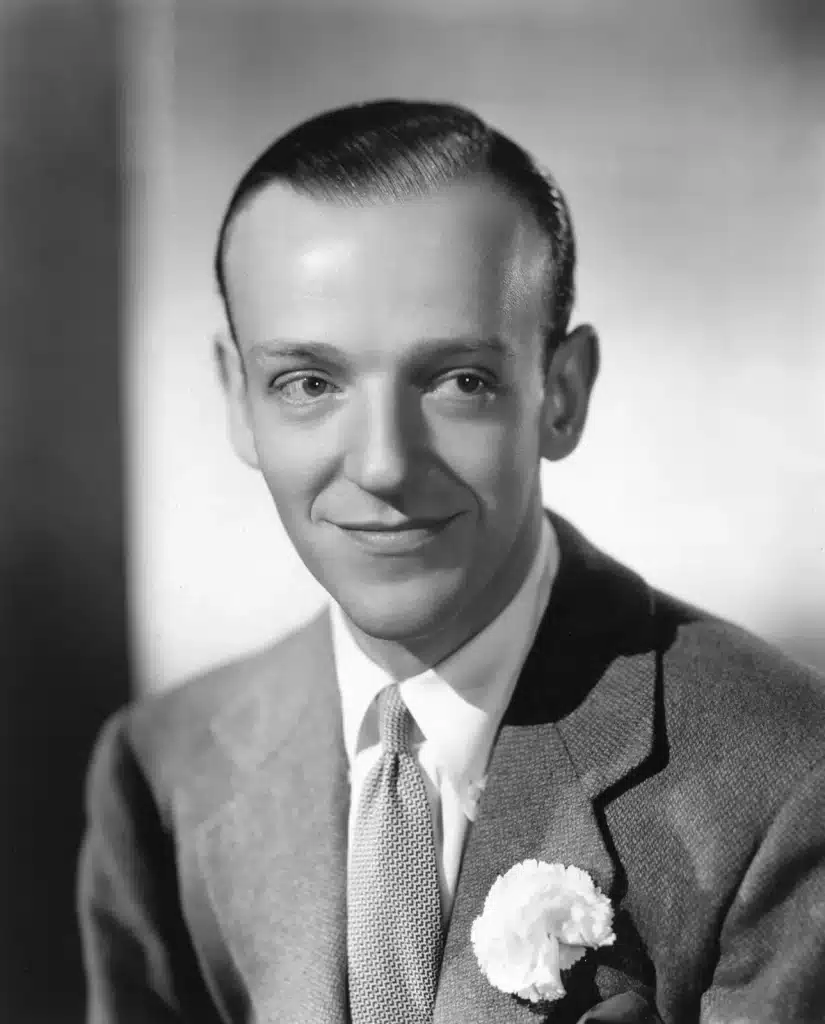 In the 1920s, starched collars began to be replaced by soft fabric collars. To keep the collar neat, collar pins, chains, and fabric (known as tab collars). In this environment, the button down shirt became a less formal option to achieve the same thing. Dancer Fred Astaire is said to have hated tab collars and was one of the first celebrities to embrace the button down collar.
From the Ivy League to the people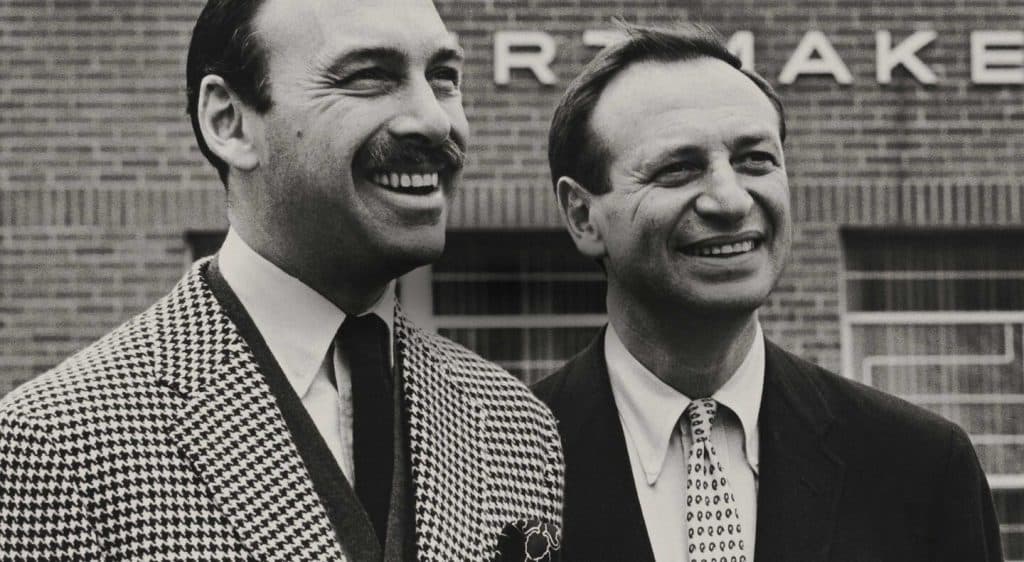 Through brands like Brooks Brothers, J Press and later Gant, the famous shirt collar came to Ivy League universities. The soft collar was perfect for a youthful lifestyle and in the 1940s and 1950s it became synonymous with the well-educated, privileged upper class.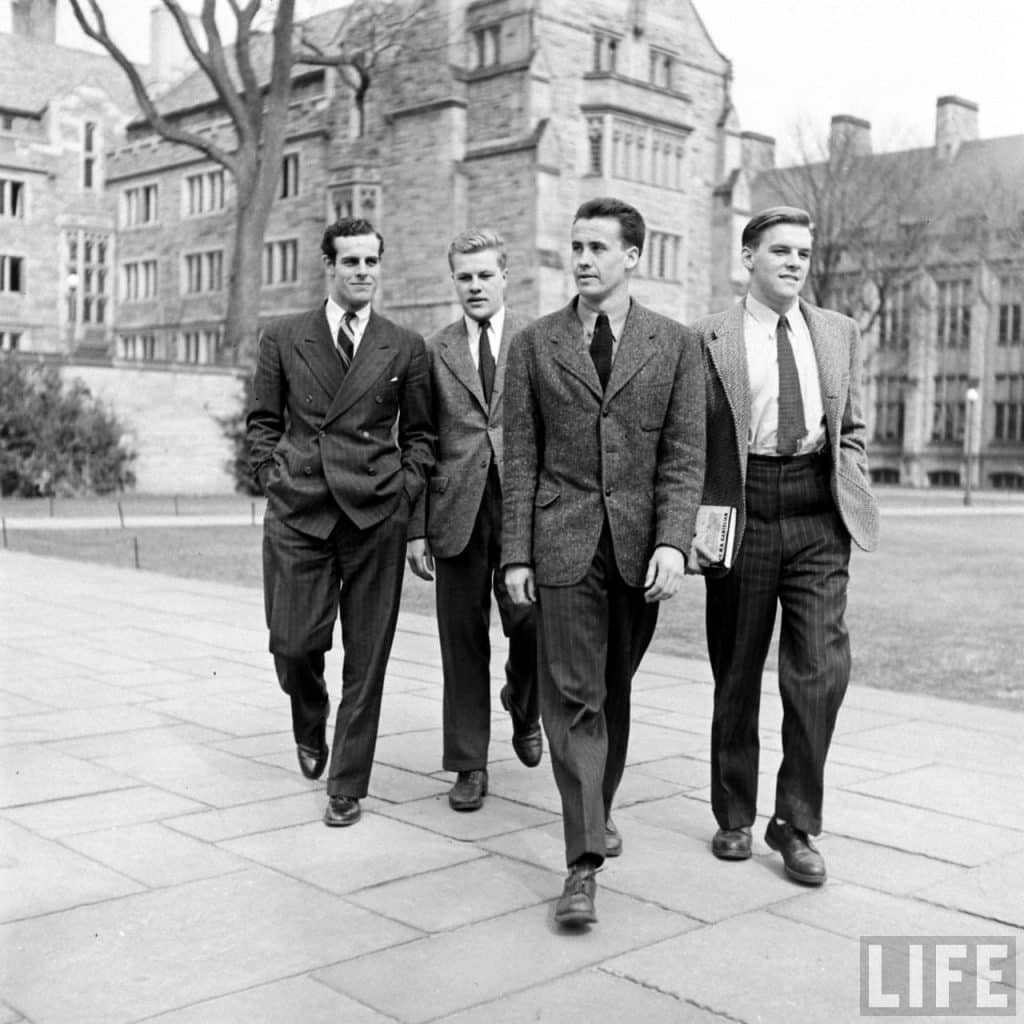 Hollywood stars and other celebrities turned the style into fashion, and more and more people began to take notice. Jazz legend Miles Davis made the button-down cool, and John F Kennedy wore it both officially and casually. Gianni Agnelli took the button-down shirt to Italy, leaving the buttons undone and letting the collar fly with his classic nonchalance. In Japan, Hollywood movies began to build a love of American clothing that would last for many decades.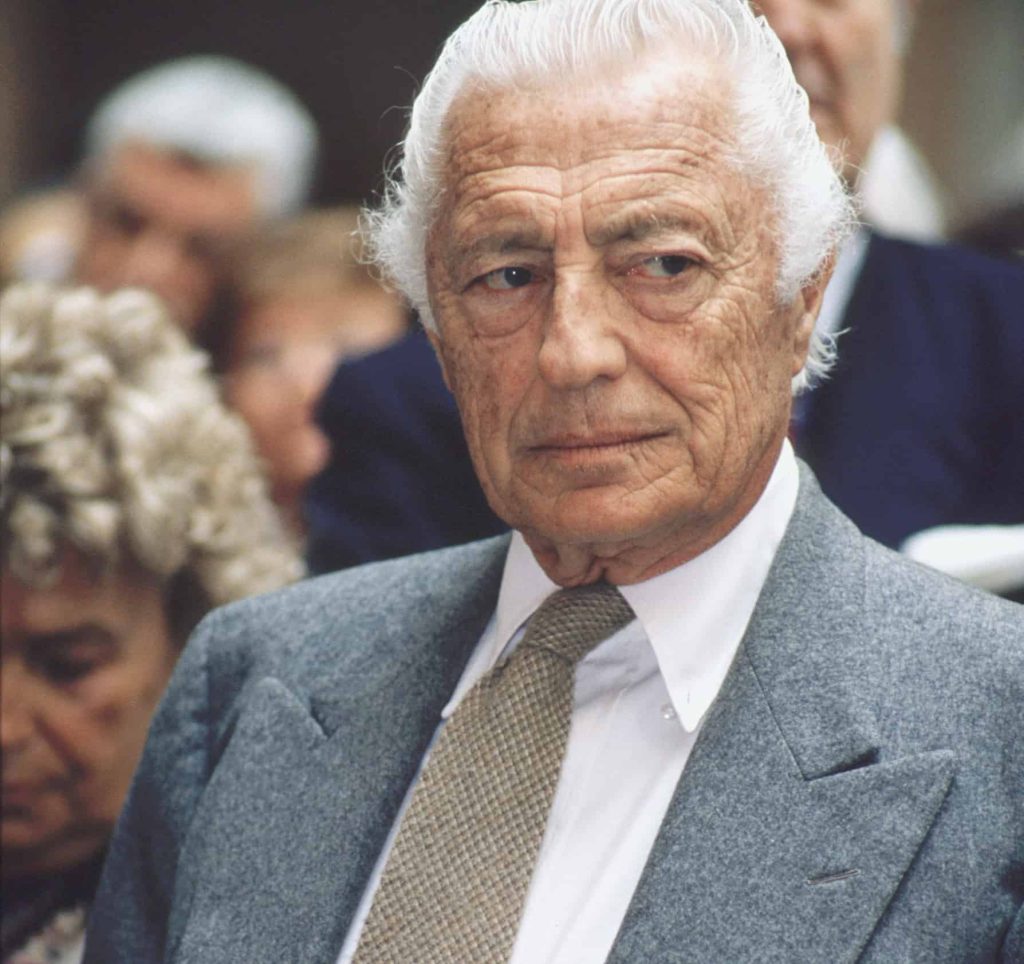 The soft, informal shirt was perfect for the post-war revolt against the rigid and uncomfortable wardrobe of previous generations.
From preppy to basic
After a messy 1970s, preppy style made a comeback in the 80s. Chinos were hot and the new concept of casual Friday found in the button-down shirt a model that was just the right amount of casual.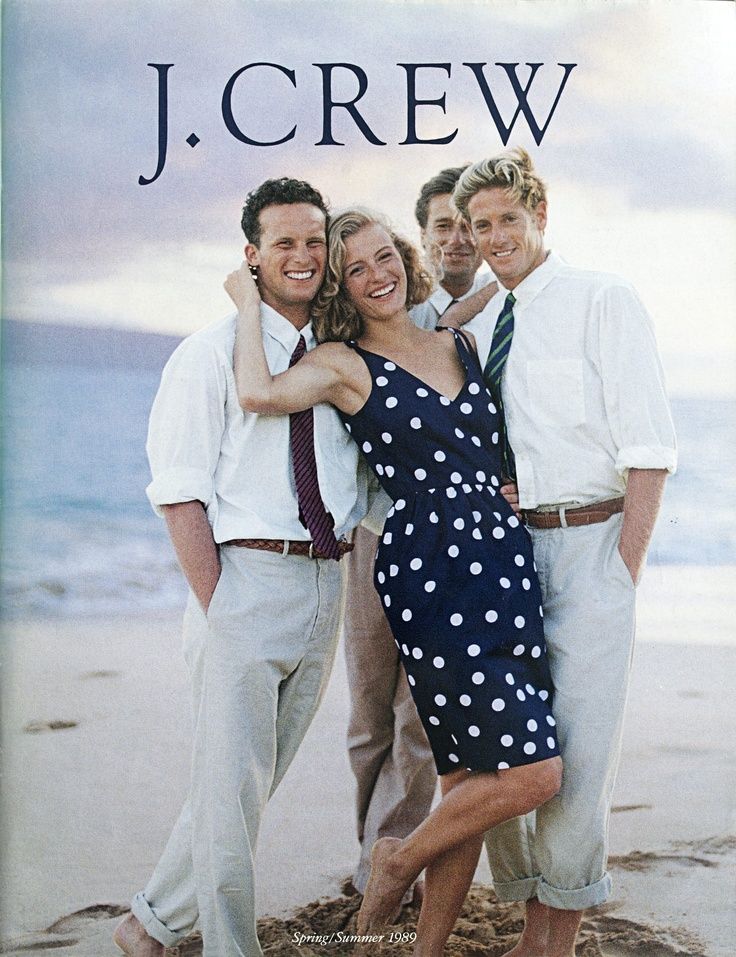 Now the button down shirt was colorful and fun, driven by brands like Polo Ralph Lauren, Gap, Tommy Hilfiger and J Crew. The collar shrank and became firmer. When Brooks Brothers adopted the style, there was an uproar among the brand's traditional wearers, and only much later would they realize their mistake and reintroduce the soft collar that had been the brand's signature.
The chino bubble burst, but the button-down shirt survived. It was able to follow the trend towards narrower collars and slimmer models by becoming shorter, narrower in the waist and with a straight, short collar. The button down shirt once again became a staple among young people, but now in a completely different style.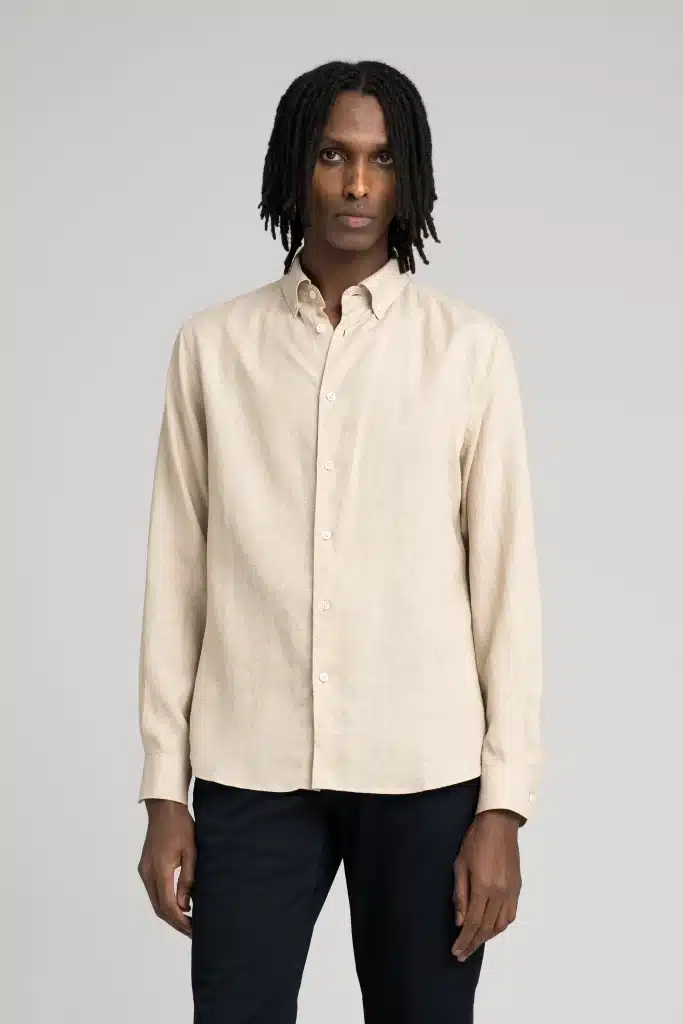 With the rise of classic menswear in the 2010s, traditional button-down shirts have made a comeback in men's fashion as well. Designers like Thom Browne and Michael Bastian, and brands like Drake's, have brought the old OCBD back to life. Both classic rolled collars and more modern, grandiose collars are popular.
The soft rolling collar that does not move and does not stand out continues to be appreciated by new generations more than 100 years after its birth.