Bella Porcile has lived in both London and Mexico. But in her drinks, Swedish nature is distilled. Now her book Wild drinks has been named Best Drinking Book of the Year.
Born to be a bartender
Bella was born and raised in Kalmar. She was born straight into the restaurant world: her Italian father, who ended up in Kalmar by chance, founded and runs Ernesto – one of Kalmar's first and most famous Italian restaurants.
At the age of 20, Bella moved to London, and it was there that she realized she wanted to be a bartender. "I always watched the show Cheers when I was younger and thought it was the dream. As a bartender, I love the contact with the guests – meeting and getting to know them. "
His interest in nature was born in Kalmar, on walks with his father Ernesto. However, it was on Ulvön in the High Coast that the interest in natural drinks and the foraging , "collection" of plants, was born. While working as a bar manager at Ulvö Hotel, Bella spent a lot of time in nature. Using Google as a guide, she started exploring what was edible and how to create drinks from it.
"I have traveled a lot and spent long periods in Mexico, for example. There they made their drinks with fresh flowers, which I thought was so beautiful. I wanted to do it in Sweden, and when you pick yourself, you have to know what you can use. Also, both my father and grandfather have been very close to nature, so I guess it's in my genes." says Bella.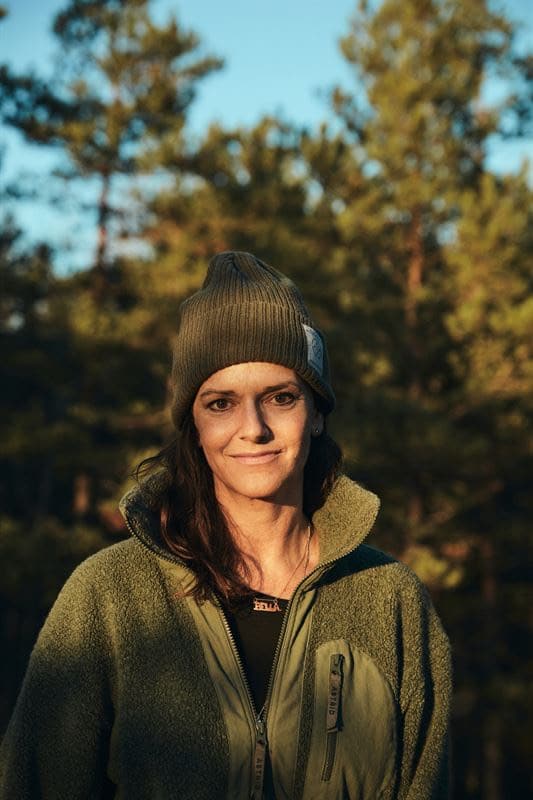 Today, Bella lives in Stockholm, but works in hotels as a bar manager during peak seasons. "I have started to discover more and more of Sweden – and want to discover even more! All weather conditions are magical. Love being up in the barren like Abisko and Kiruna and also around the forests in Kalix. Halland has wonderful little hidden gems. Dalarna I need to explore more. Gotland and Öland are two favorite islands and I also like Skåne a lot" .
In the summer of 2022, Bella Porcile ran the bar at Hotel Borgholm. " There I picked nettles, pine cones, huckleberries and elderberries. If I had stayed in the fall, I would have picked a lot of blackberries and sloes. I also had a whole herb garden at the hotel to pick from, which was a great luxury."
The best drink book of the year: Wild Drinks
"Bella Porcile's nature walk is not just any forest bathing. Her close encounter with herbs, weeds, cones, shoots, flowers, leaves, pine needles and berries has resulted in an encyclopedic set of drinks – and very thirsty!"

Ur juryns motivering till Årets Bästa Drinkbok 2022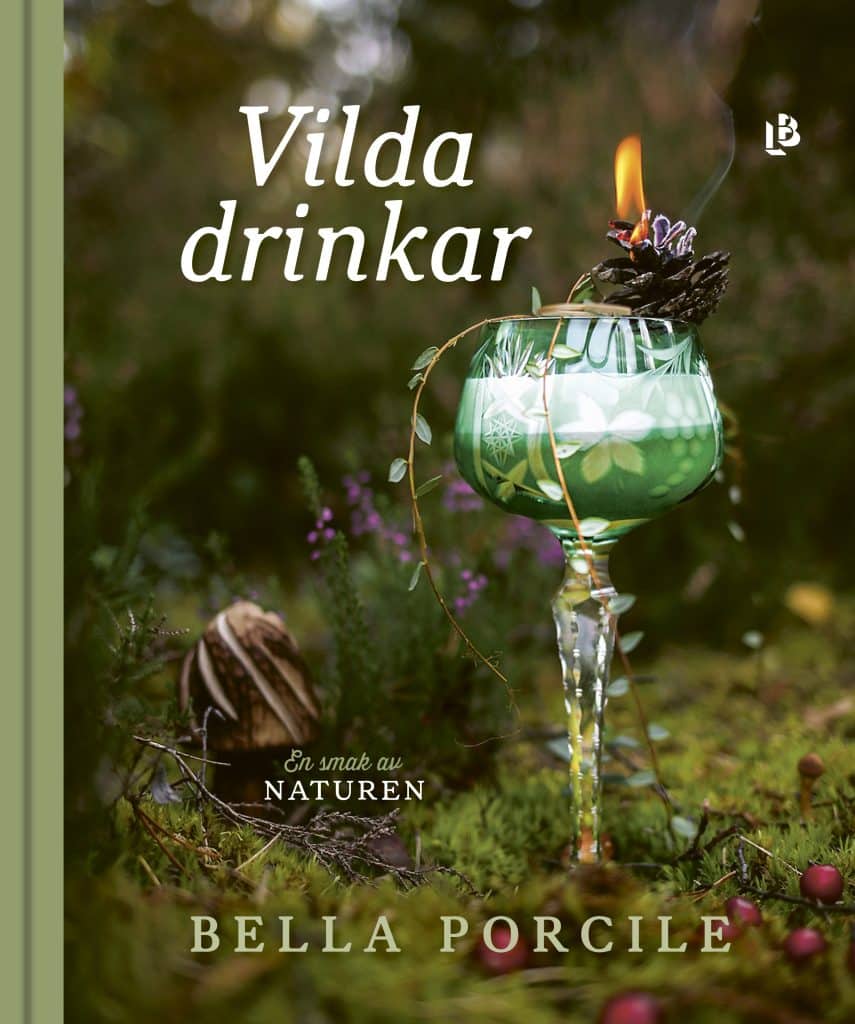 If Kajsa Warg had written a drink book, it might have been "Vilda drinkar". Because here the measure is that everything nature offers can make a fantastic drink. Birch, spruce, parkslide and milkweed are just some of the odd ingredients that Bella manages to turn into drinks. "Milkweed is one of many examples of an underutilized raw material in Sweden. The tender shoots are just like asparagus in the spring. You can really use the whole plant from root to flower", says Bella.
The book is structured as a catalog of Swedish ingredients, with tips on how to pick and prepare them, and of course examples of drinks. Here, the Old Fashioned is made with a taste of the forest, birch trees Martinii with O.P. Andersson Björk and margaritas on violet and lavender.
Not only do the ingredients come from Sweden, but Bella also mixes with Swedish spirits such as Bränneri i Åre, Spriteriet and classic O.P. Anderson. " I think it's great that so many people follow their dream and do what they are passionate about. There are many enthusiasts out there who are great at making spirits. It's great that you can buy and use local products. Nowadays, everything from gin, vodka and whiskey to aquavit, liqueurs and vermouth is made in Sweden."
But the analogy with Kajsa Warg leaves out Bella's amazing sense of colour and shape, because the drinks presented are not only tasty but beautiful. The idea comes from her time in Mexico, where Bella was inspired by the beautiful edible flowers used in food and drinks. Dried fruits, berries, flowers and even spruce shoots are used here.
Best Drink Book of the Year 2022 "Vilda Drinkar" by Bella Porcile is available at e.g. Adlibris and Bokus.
Bellas Forest Old Fashioned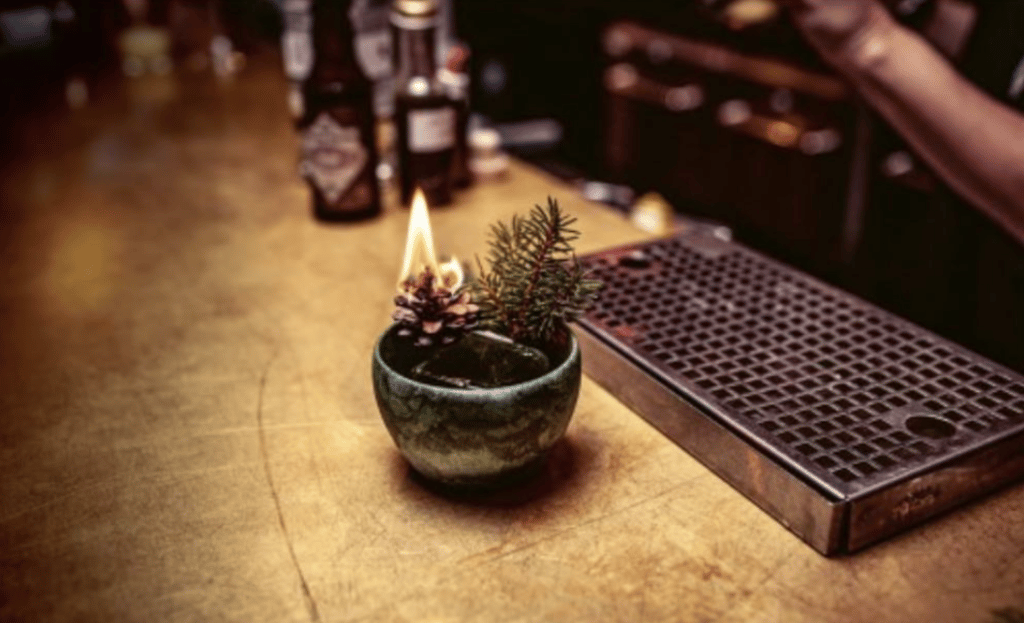 Ingredients:
50ml Local's Edition Gin from Bränneri i Åre AB
10ml gransirap
3 splashes of Angostura or other aromatic bitters
Measure all ingredients into a mixing glass and fill with ice. Stir quickly for about 10 seconds to cool the drink and water it down a bit. Strain over a large ice cube. Garnish with a spruce branch.
To make the drink more fun with a little smoke, mix the ingredients in a lidded jar, add smoke with a smoke gun and close the lid. When you serve the drink, the smoke follows and adds an extra dimension to the drink.
Gransirap :
– Combine spruce shoots and sugar in a jar with a tight-fitting lid. Raw sugar gives a fuller flavor.
– Place the jar in a sunny window for about a month, turning it over from time to time.
– Transfer to a saucepan and add a few sliced lemons. Heat everything up, strain the shoots and pour the syrup into a well-cleaned glass bottle.
If you want to make it easy for yourself, you can buy spruce syrup from Skogens Sköna Gröna, under the name spruce syrup.
More about Bella Porcile
In addition to writing drink books and bartending, Bella also runs her own company MixedByBella with everything from drink workshops and training to various events. Follow Bella via @mixedbybella on Instagram or visit the website www.mixedbybella.se.