The spring and summer garments have finally started to arrive in full force in online menswear stores. We have selected the best of the men's spring clothes – the styles, garments and where you buy them.
Dressing beautifully is largely about having the ability to match colors, choose the right fit and know which pieces go together. Even if you don't have a natural interest in clothes, it is possible to achieve a stylish look by applying a few simple principles.
Interested in fashion? Here you will find everything about men's fashion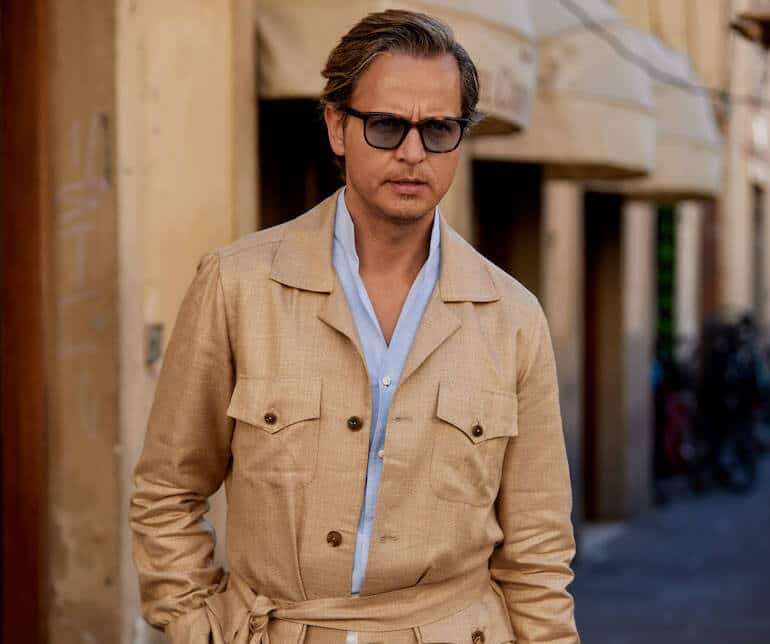 Style inspiration for spring and summer
By adding a few key pieces to your wardrobe, you can combine different styles endlessly. Here are some examples of great styles for spring 2023 clothing.
Unconstructed jackets – a must
We recommend that you have at least one high-quality unconstructed jacket in your wardrobe. One of the most reliable options is a navy jacket that can be used for many different occasions. Choose a stretch fabric model that is comfortable to wear even in informal settings.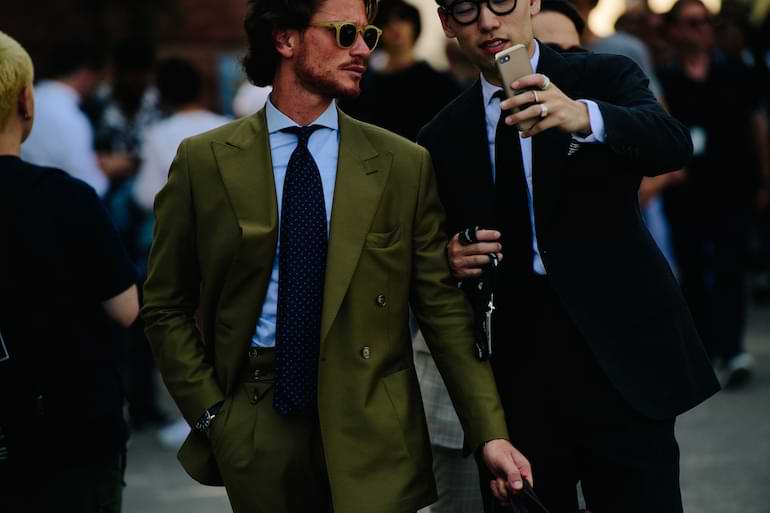 You can find stylish unstructured jackets in both stretchy cotton and linen at Italian brands such as Boglioli and Lardini. Generally speaking, we take more inspiration from Italian menswear for spring and summer, but the British style is more dominant in the winter months.
This olive green slim-fit suit from Oscar Jacobson is an incredibly stylish option for the summer months. It's made from a lightweight stretch cotton fabric with a semi-lined interior, perfect for spring and summer wear. This is exactly the type of suit you often find from the Italians. A durable and comfortable suit. This suit is also available in beige and dark blue.
Among the knitted jackets that have become so popular in men's fashion in recent years are the stylish options from Lardini. What is special about this model is the wide lapels that definitely enhance the style factor.
What makes the knitted jacket so versatile is that it is so stretchy. This means that you do not risk it becoming uncomfortable even if your body shape is a little wider in some areas. It is often also slightly shorter in the model than "regular jackets". This makes it easy to combine it with both jeans and chinos. The model above is also available in a lighter blue color and in beige.
A knitted jacket in navy is definitely a must-have in the men's wardrobe because of its versatility.
In menswear for spring 2023, there will definitely be more double-breasted jackets in the collections. There are a lot of colors in different shades of green and beige this year. However, these are classic and timeless colors that are guaranteed to stay in style for years to come.
Double-breasted blazers have become increasingly popular in men's fashion in recent years, which is a welcome development for anyone who enjoys classic men's fashion. The model on the left is from Tiger of Sweden, while the one on the right is from J. Lindeberg.
Style tip! Wear a polo shirt as an alternative to a shirt. Loafers are the ultimate shoes for a summer outfit. Combine them with a bandana to add the finishing touch.
Vests – garments that enhance your style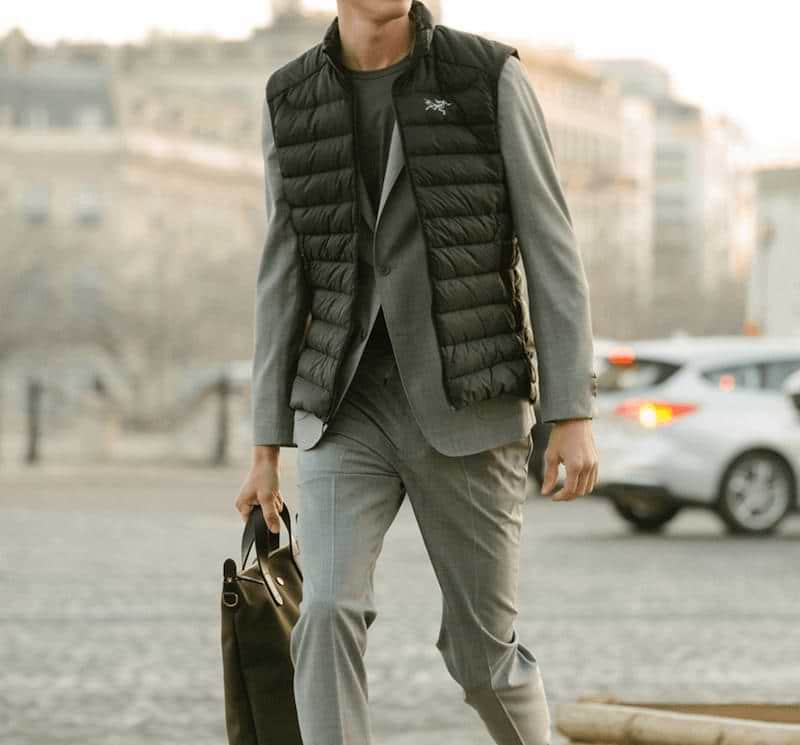 Among Italians and other southern European countries, vests are extremely popular. Even in our latitudes, this piece of clothing is versatile in all seasons. Especially in spring and on cooler summer days, it's really stylish to wear over a sweater – or why not over a jacket?
Here are some examples of stylish vests. There are many different types of vests, both with and without collars and both quilted and plain models. The more formal you dress, the slimmer the silhouette of the vest should be. The thickest models of padded vests should only be worn when you are dressed casually.
Style tip! Use the vest in more unconventional ways as well. Italians have a habit of wearing vests over their jackets. Why not try it this spring?
The overshirt – versatile outerwear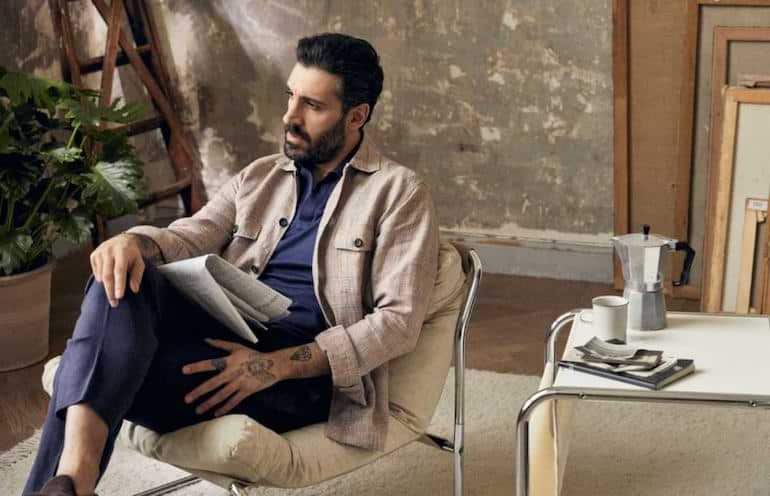 One item of clothing that has really come into its own in men's fashion in recent years is the overshirt, or overshirts as they are also known. Shirt jacket is also a name that is sometimes used for the garment – dear child has many names.
This is a very practical garment that has to some extent replaced many models of thinner jackets. Read more here about stylish spring jackets for men.
The great advantage of overshirts is that they are suitable whether you want to dress formally or casually. If you wish to wear a cap, the overshirt is the optimal piece of clothing to combine with it.
You'll find overshirts from most brands among the spring 2023 clothes. Eton has nice models in water-repellent cotton and nylon blend. At Oscar Jacobson and their category of shirt jackets you will find many stylish models of overshirts this season. What's impressive about Oscar Jacobson is their huge range of different styles. For example, you will find many options of overshirts that resemble classic safari jackets.
Style tip! Wear the overshirt with a shirt and tie for a casual style. Bandanas also look great with the overshirt.
Trousers – go for tapered legs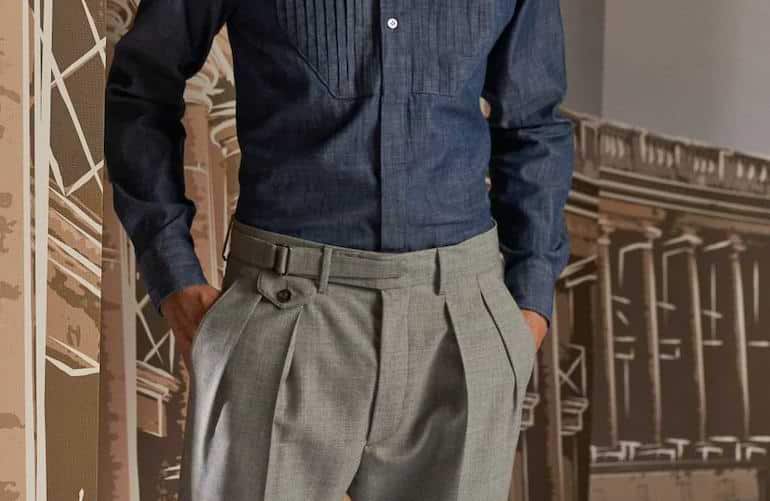 We have already recommended trousers with a high waist and stylish details at the waist. Another detail that enhances the sense of style is pants with tapered legs. This gives a perfect "fall" to the trousers that enhances your sense of style. Well-fitting pants are always an underestimated detail in the overall look!
Here we have some models from Italian Incotex that are made in Super 130's wool. An extra thin pant in fine wool quality. Incotex is known throughout the world for its quality pants.
However, it is Italian PT01 and Briglia 1949 that we recommend you check if you are looking for stylish men's trousers and shorts for spring 2023. But many of our Swedish brands have also adopted the Italian style. At Morris, for example, you will usually find many stylish models of spring trousers.
Style tips! We recommend chinos in a thin stretch fabric for spring and summer. This makes the pants feel comfortable and gives them a natural "fall".
Loafers – shoes for spring and summer
There is no more distinctive summer shoe than loafers. These shoes, just like the vest, are very popular in countries like Italy and are synonymous with the Italian style. If you want to dress up for the summer, you should have a pair of stylish loafers in your wardrobe!
One of the most classic models on the market is the Cavendish from Crockett & Jones. This is available in many different materials and colors.
When it comes to loafers, there are a few brands that we particularly recommend. These include Crockett & Jones, Loake 1880, Edward Green and Santoni. They all have extremely elegant loafers of the highest quality in their range.
Here's a pair of striped loafers from Loake 1880 in embossed calfskin made by hand in England. Care of Carl is one of the few exclusive retailers of this shoe model.
Style tips! For many, showing your ankles outside your shoes is a style sin. However, we recommend that you avoid showing socks during the summer months. There are many practical varieties of socks on the market that you can hide inside loafers.