The Neapolitan jacket is one of the iconic jacket styles for men. When it was created by Attolini and Rubinacci in the 1930s, it was revolutionary. A jacket that was as light as a shirt, soft, fitted and cool.
Here we teach you all about the Neapolitan jacket, the main tailors and where to buy it. If you want to know more about the history of the Neapolitan jacket, read our story on Cesare Attolini.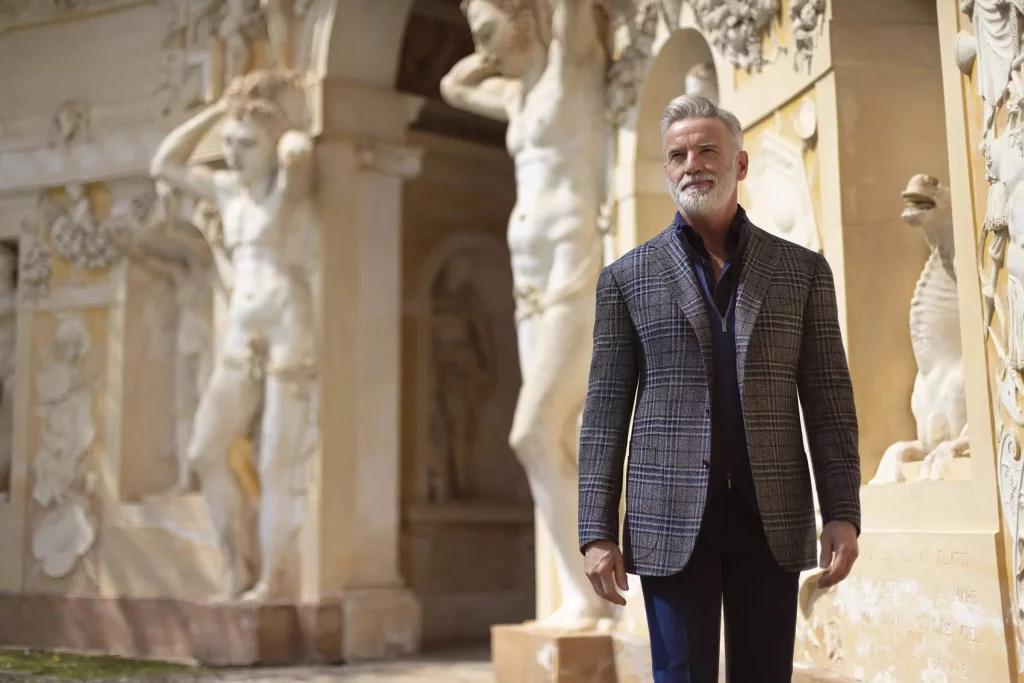 The details of the Neapolitan jacket
Of course, there are as many variations of jackets as there are tailors in Naples, but the tradition carried on by names like Attolini, Rubinacci and Kiton still has many similarities. Here are five details that will make your jacket as typically Neapolitan as any other. Pizza Margherita .
Minimal construction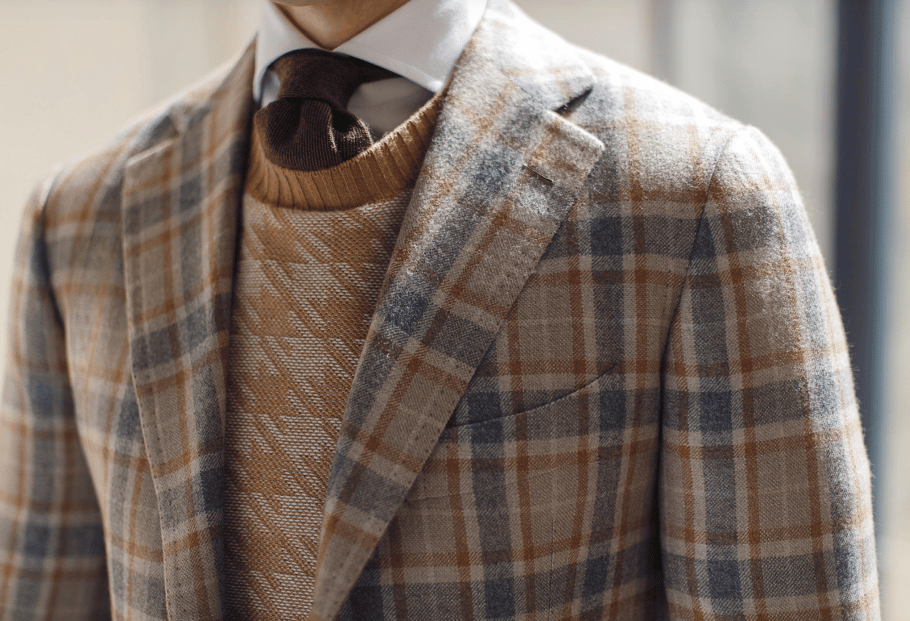 The Neapolitan jacket began its life as a reaction to the highly constructed – and hot! – British suit. At Rubinacci's London House Vincenzo Attolini instead created a jacket as soft and light as a shirt, with minimal interlining and a thin inner lining. The Neapolitan silhouette does not shape the body but follows it. The inner lining is often Cupro/Bemberg (a brand name for Cupro) – a silky and cool fabric made from cotton fiber.
Soft shoulders
The other highly visible part is the soft shoulders. As with the canvas, Attolini also removed the marked shoulders of the British suits. The Neapolitan silhouette instead hugs the shoulders and follows their shape.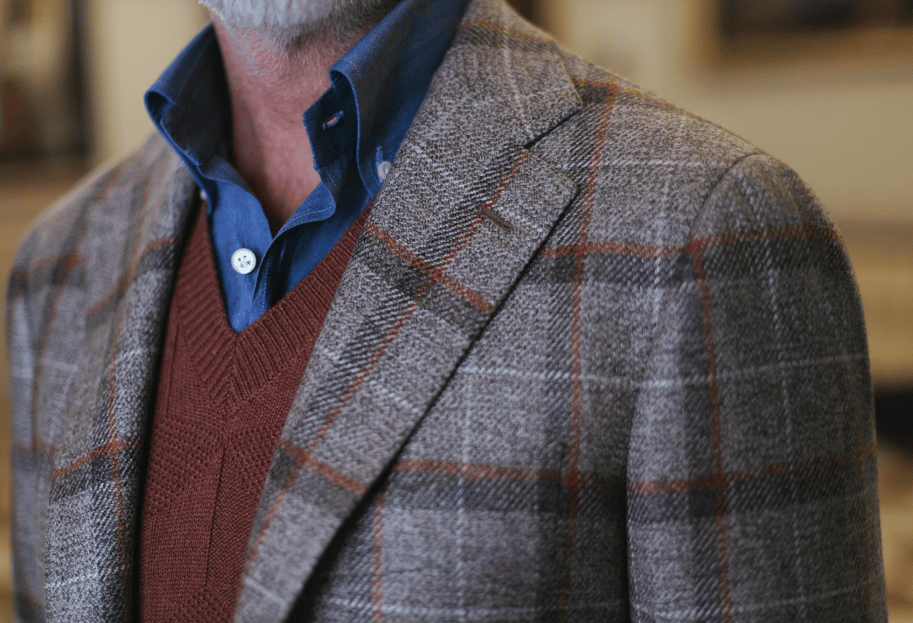 Shoulder shirt – the shirt sleeve – is a Neapolitan classic. It involves the sleeve being sewn on like a shirt sleeve and the seam allowance being folded or pleated around. To some it may look like the sleeve is 'wrinkling', but this is a deliberate detail. Another option is with roll where the seam allowance is instead rolled up into a more pronounced shoulder.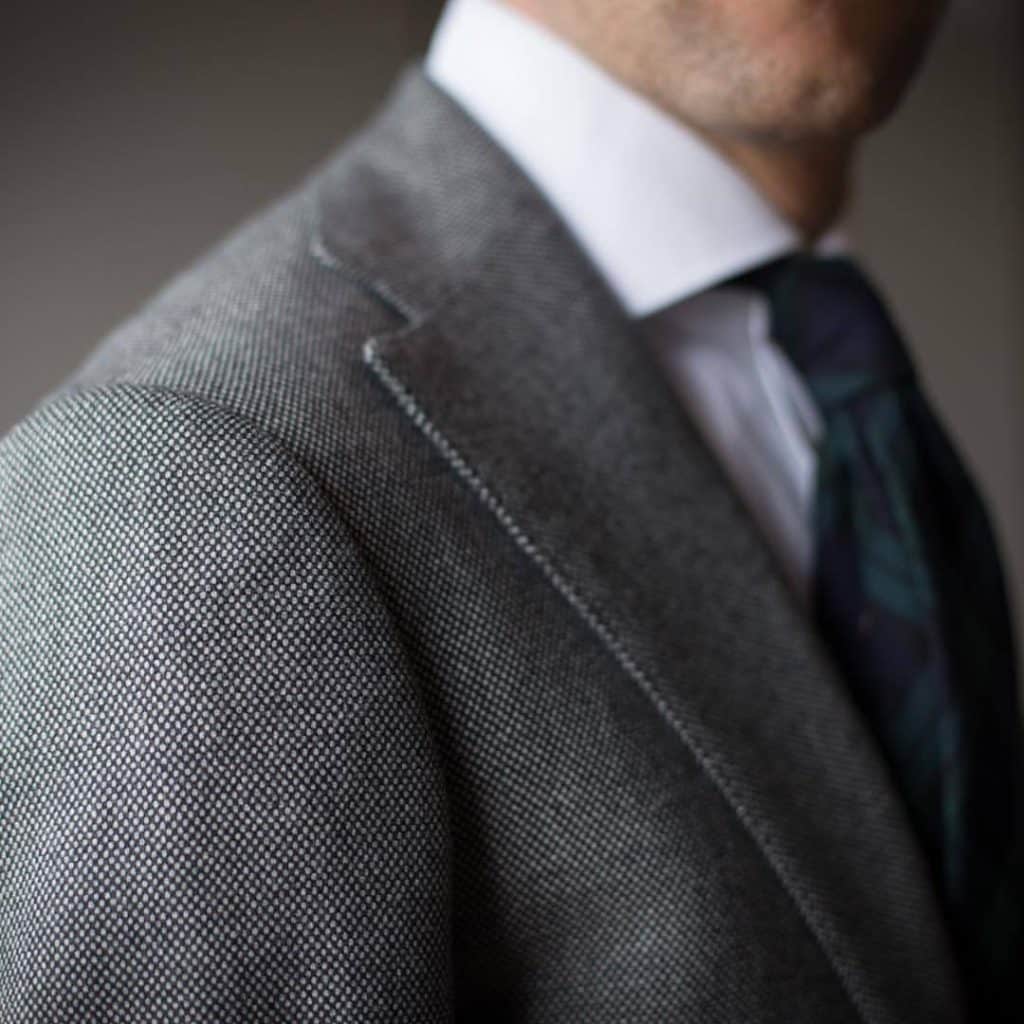 High armholes
The figure-hugging fit also includes high armholes. The shoulder design allows a wide arm to fit into a narrow and high armhole, giving the wearer a lot of freedom of movement.
High, wide and rolling strokes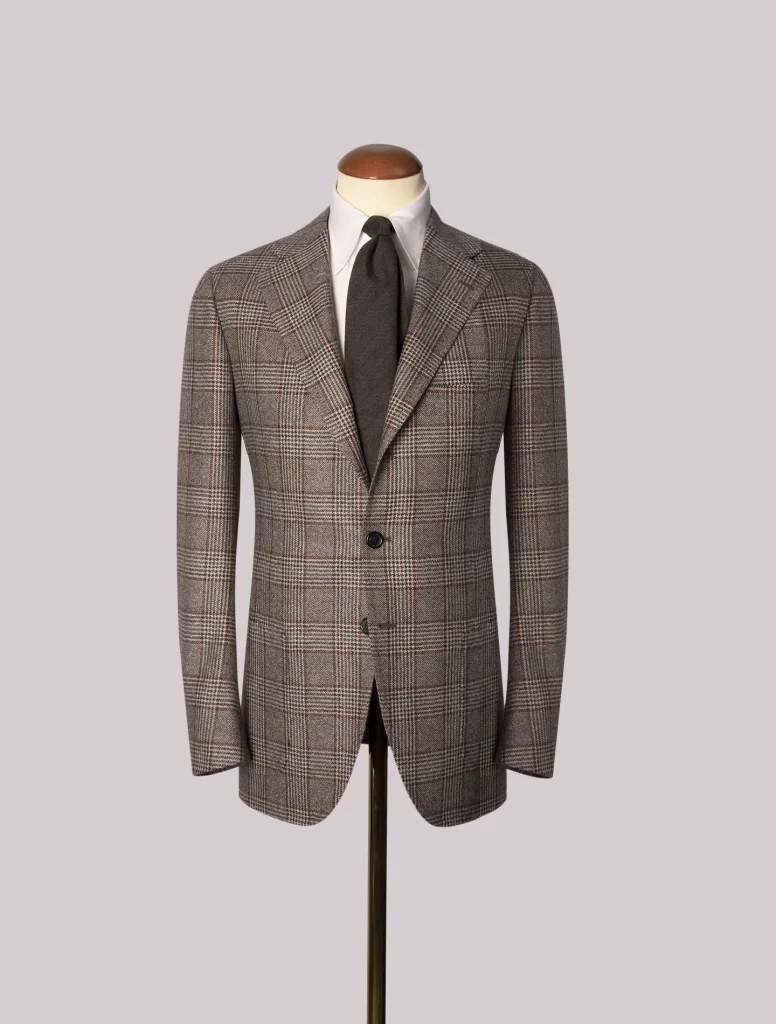 A Neapolitan jacket has a high gorget, meaning that the lapels run high on the chest before meeting the collar. They give a sweeping elegance to the garment. The lapels are also wide, with a kind of Italian confidence.
A single-breasted Neapolitan jacket is Three out of two buttons: three-button, but only the lower two buttons are visible. Instead, the beats roll elegantly from the second button, so you can't tell if there is an upper button or not. This is also called "3-roll-2" or "3/2 roll".
Maybe it's about elegance – or was it that when the fashion shifted from three buttons to two buttons, the third button was simply pushed aside? No one knows for sure.
The pockets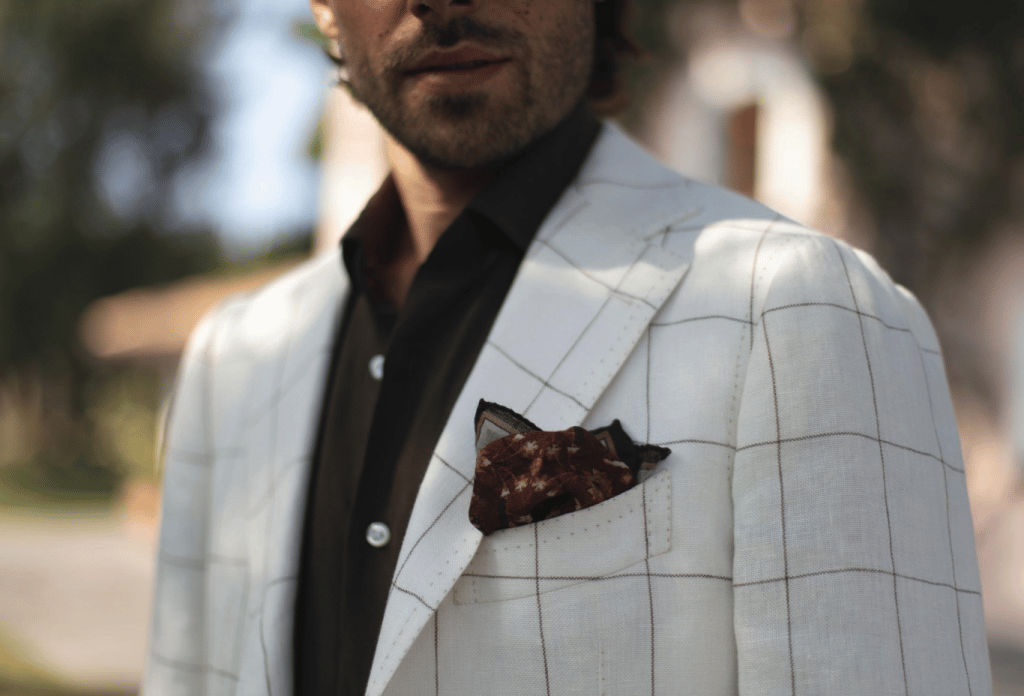 Characteristic of the Neapolitan suit are breast pockets a barchetta that the breast pocket sweeps up in a 'boat shape'. A Barchetta is difficult to sew by machine and speaks to the handmade nature of the construction.
If you have external pockets – patch pockets – they also have a distinctive, rounded shape called piñata after an Italian clay pot. Many also liken them to a brandy vat.
For the nerds, there are even more details – the long cuts ( darts), overlapping buttons ( kissing buttons), working buttonholes and double back seams – which, however, do not equally distinguish the style.
Classic signs – Rubinacci, Attolini, Kiton
Rubinacci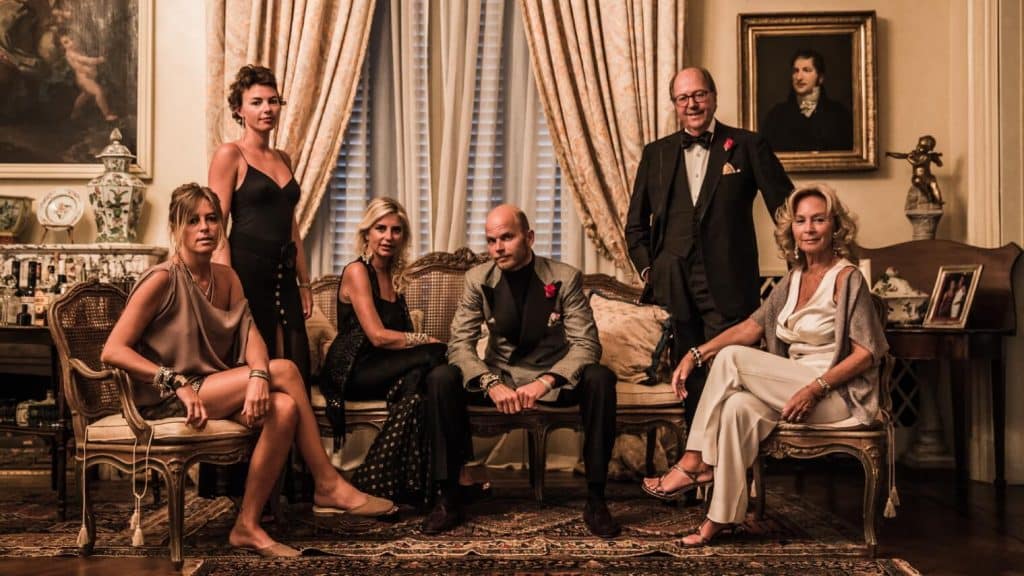 Gennaro Rubinacci was the Naples art dealer who opened his 'London House' in 1932. There, Vincenzo Attolini created the first Neapolitan jacket. Today, the business is run by the third generation, headed by Luca Rubinacci. Rubinacci's labels still bear the letters LH for London House, and a crown to mark the link with the Duke of Windsor, one of the first to discover the Neapolitan style of London House.
Luca Rubinacci combines a keen sense of color and tailoring with a hefty dose of Italian charm. sprezzatura which has earned him over 300,000 followers on Instagram.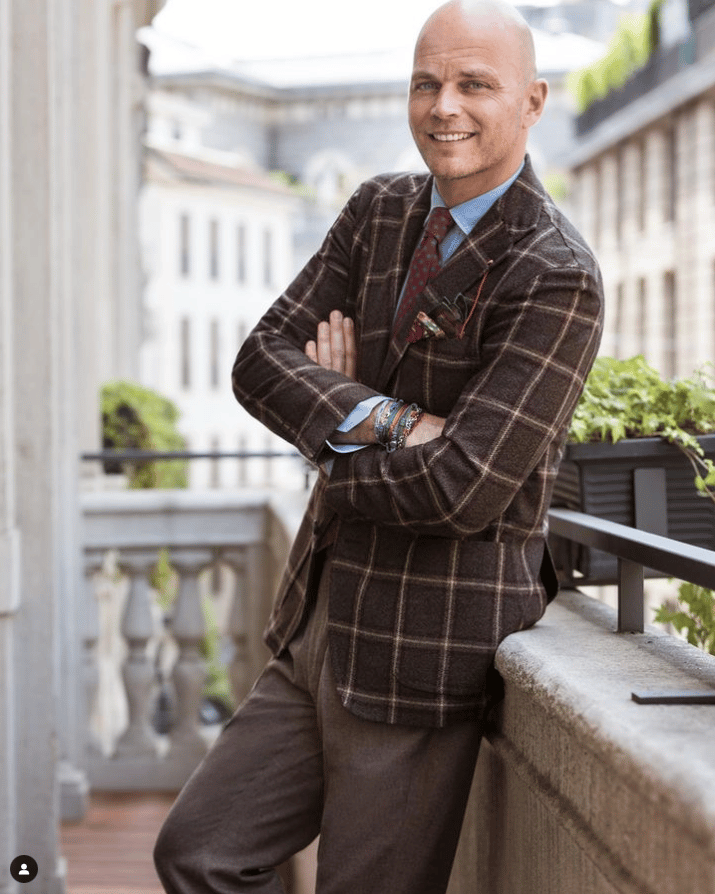 One of Rubinacci's great assets is their archive of old fabrics – over 60km of fabric of varieties that may no longer be woven. Prices are also significantly lower for ready-to-wear, half the price or less for a jacket compared to Attolini and Kiton.
Caesar Attolini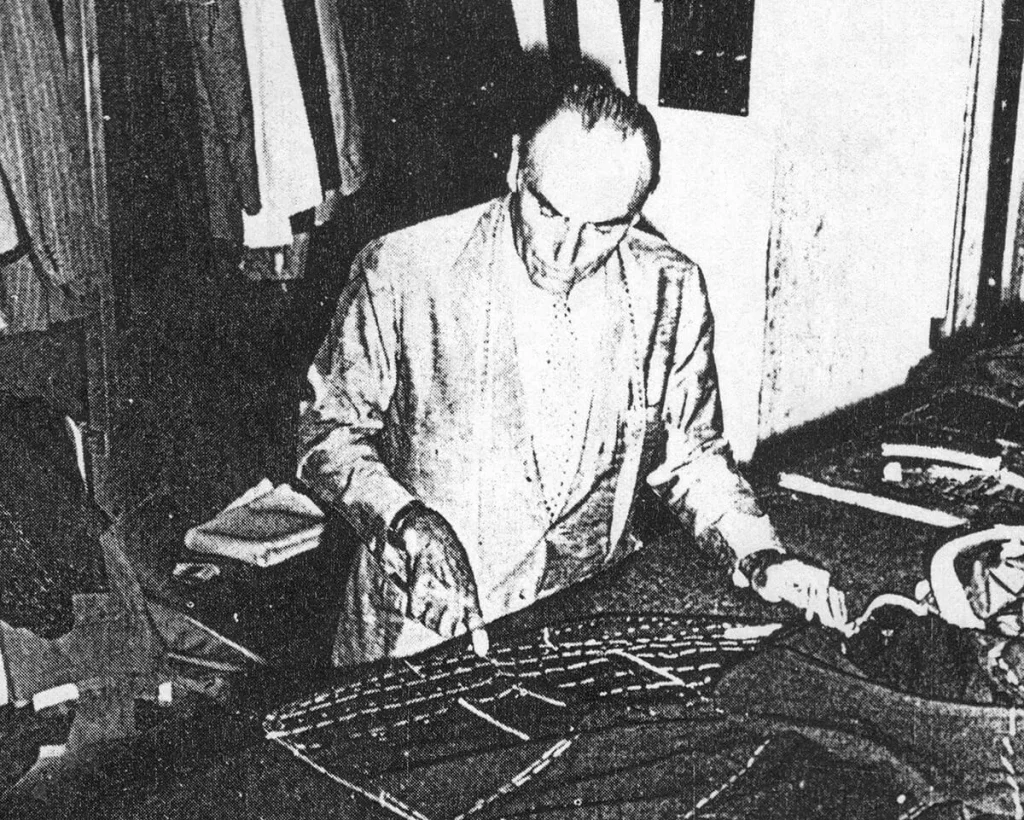 Cesare Attolini's father, Vincenzo, was thus master cutter at Rubinacci's London House, and who actually created the Neapolitan jacket. He later created his own house, which came to be called Cesare Attolini.
Compared to Rubinacci, Cesare is more expensive and more traditional. In the ready-to-wear collections there are a lot of classic designs and patterns, but at a stable price tag – we are talking 40,000-50,000 SEK. One of Vincenzo's grandsons also runs Style Latino, which is a more modern, and cheaper, version of Attolini.
Read more about the Cesare Attolini house here.
Kiton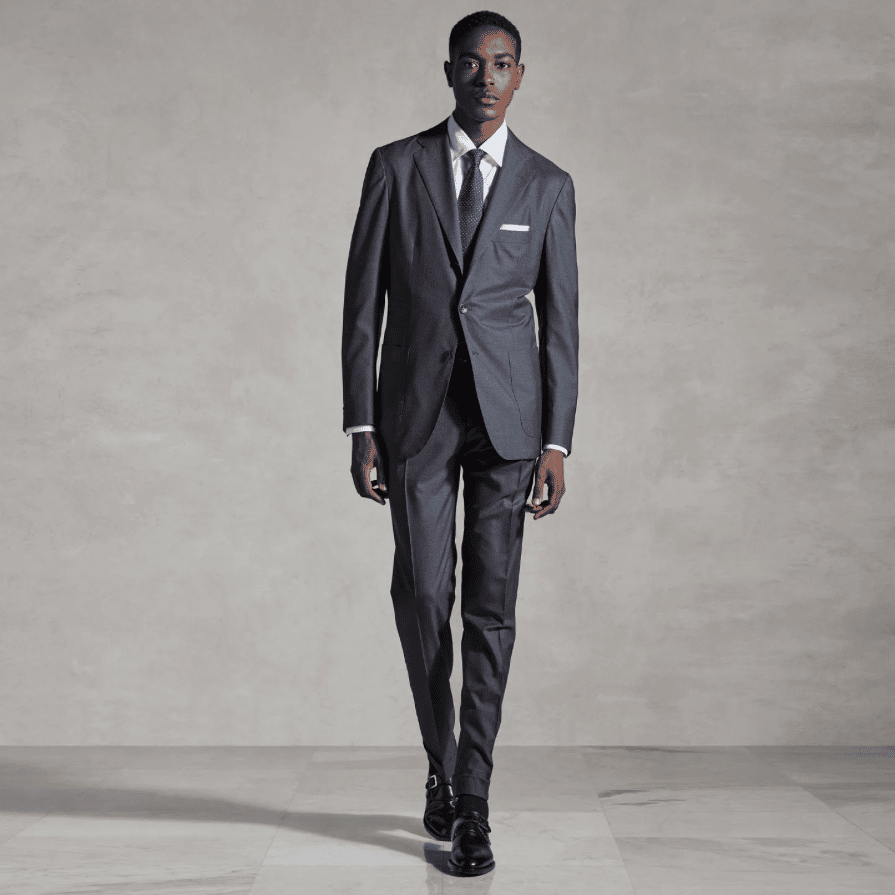 Kiton is the newcomer, compared to Rubinacci and Attolini, which were founded in 1968. While taking much from Rubinacci and Attolini, it has also been much more financially successful. Today it employs over 800 people, including 400 tailors, with its own tailoring school and weaving mill in Biella.
Compared to Attolini and Rubinacci, Kiton has more fashion elements, both in the garments and the marketing. Prices are also even higher. Kiton has a complete range, including sunglasses and lounge wear, men's and women's clothing and a separate streetwear brand.
Shop for Neapolitan jackets in Sweden
It is not easy to find genuine Neapolitan jackets in Sweden. The best selection can be found at Gabucci in Stockholm and online. Here you can find Cesare Attolini, Stile Latino and Orazio Luciano. Kiton is available at MrPorter and Rubinacci is sometimes sold through The Rake.
If you want an unconstructed jacket with many similarities to the Neapolitan style, look at Boglioli at CareOfCarl, specifically their K Jacket: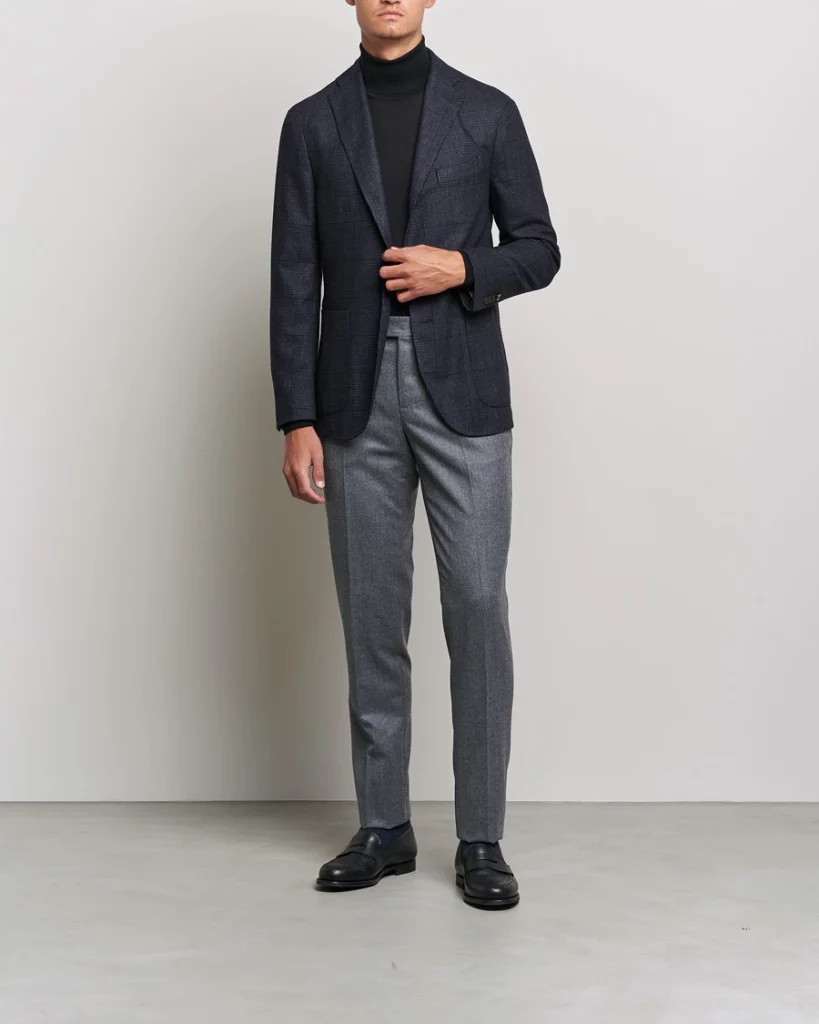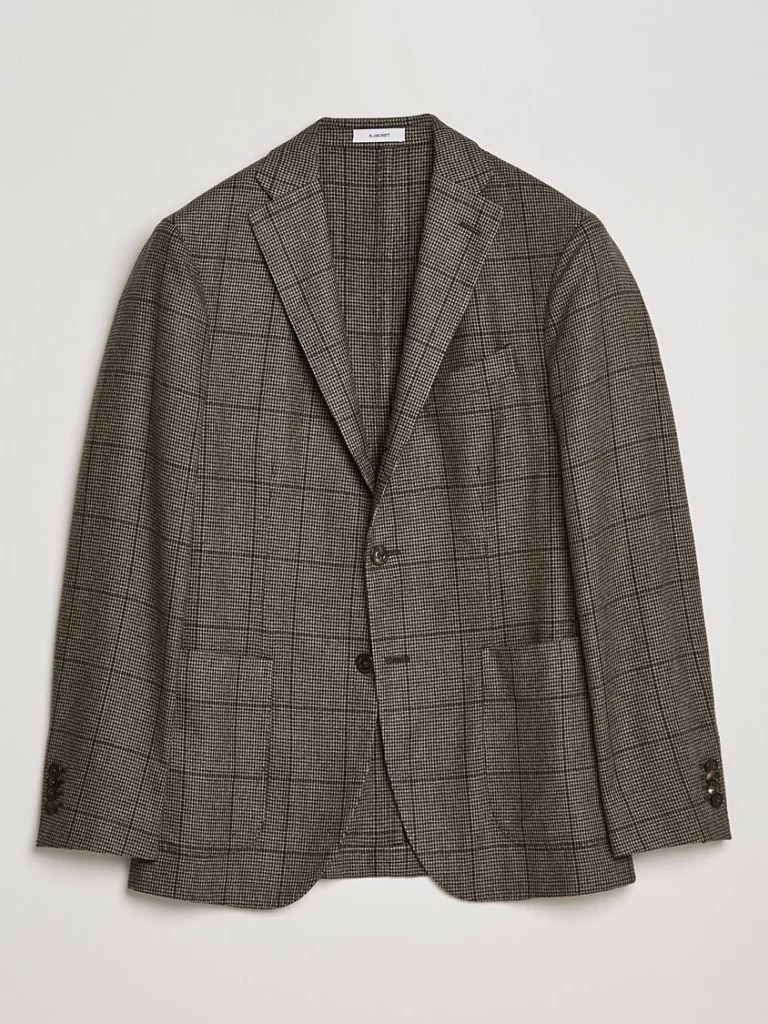 Oscar Jacobsson also has unconstructed jackets, such as the Egel model: