When Run-D.M.C. rapped about "My Adidas" in 1986, it was probably the first time in music history that a shoe brand had its own song. Despite endless sibling conflicts and shady dealings during World War II, Adidas has thrived against all odds and grown to become one of the legendary brands in the sneaker world.
In this article, we take you through the history of Adidas, with four stylish Adidas sneakers that still live on today from the brand's long and amazing history.
Prehistory
The history of Adidas began very modestly. After the First World War devastated Germany economically, Adolf (Adi) Dassler started making shoes in the family kitchen. With money from his brother Rudolf, the Dassler brothers were able to start their shoe factory together in 1924.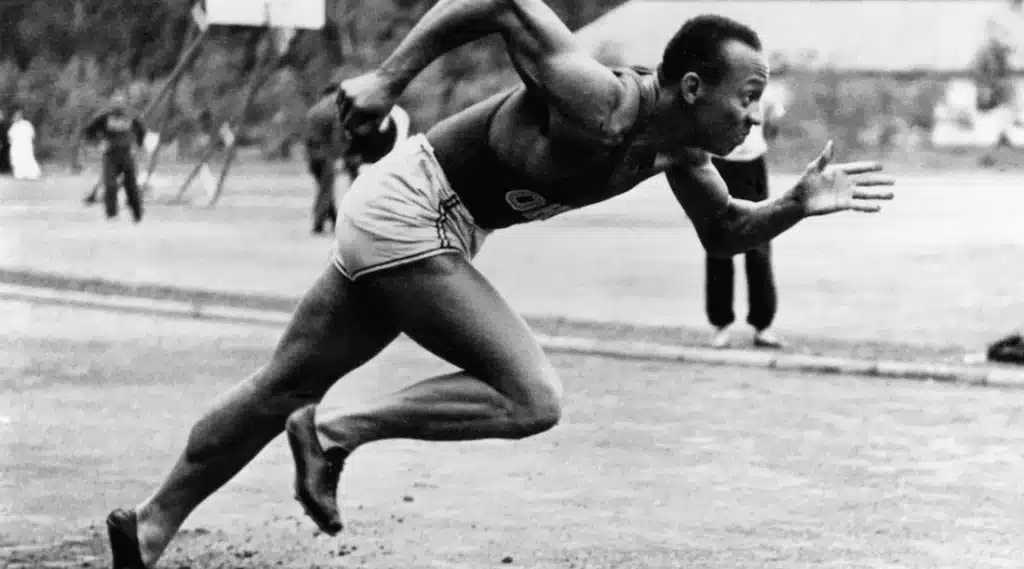 Initially making spiked shoes for athletes, the breakthrough came when Adolf Dassler got Jesse Owens to wear his shoes at the Berlin Olympics. Owens' historic 4 Olympic golds were a rocket start for Adidas.
But Nazism was also the beginning of a very dark period – the Dassler brothers were both members of the Nazi party and took an active role during the war, including manufacturing weapons in the shoe factory. Business and intrigue during the war would also create a lifelong rift that saw Adi and Rudolf Dassler split their shoe factory into two companies – Adidas (from Adi Dassler) and Puma.
Adidas Samba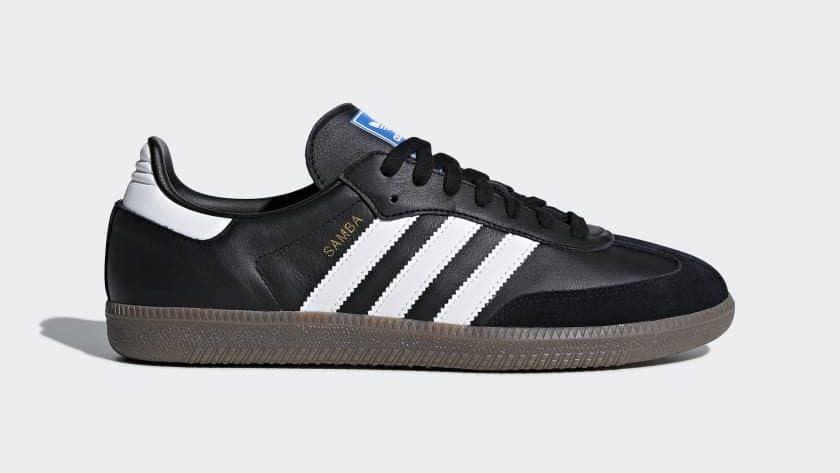 Adidas was founded in 1949 after Adi Dassler was acquitted of his wartime activities. Germany was again devastated. Sport was one of the highlights for the shattered country, and football became a way to find a new identity.
Adidas' first football shoe was originally designed for playing football in cold weather. The rubber sole would provide better grip in slippery conditions. The shoe was also reinforced with three parallel strips of leather on each side – a detail that became synonymous with Adidas. (Adidas is said to have bought the copyright for its three stripes from Finnish Karhu for a small amount of money and two bottles of whiskey – a story far too good for fact-checking).
But the 1950 World Cup was to be played in Brazil. In a stroke of genius, Adidas named the shoe the Samba, and against all odds managed to make it part of the event. In 1950, Germany was banned from playing, but in 1954 the German national team got their chance and won a historic 3-2 victory against Hungary in the World Cup final. A key reason is said to have been their Adidas football boots, which featured the innovative screw-in studs instead of spikes.
The Adidas Samba went on to become popular in indoor football and skateboarding, with its low profile, rubber sole and suede details. The original Samba is black with gold detailing.
Köp online
Adidas Gazelle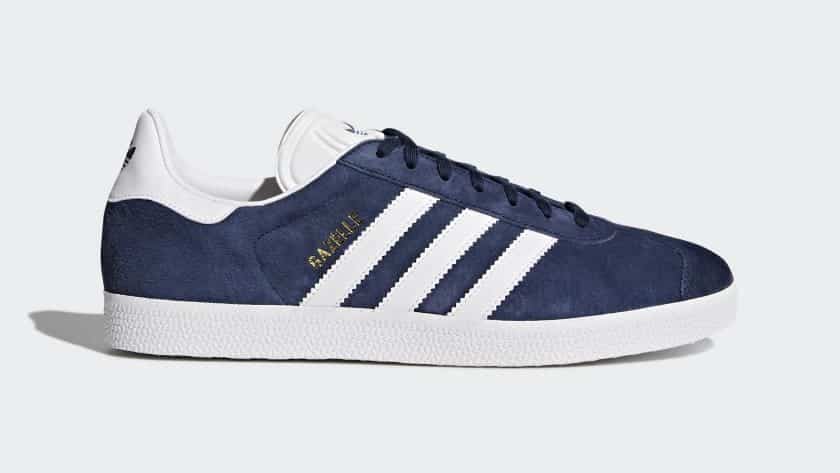 1966 saw the introduction of the Adidas Gazelle, a training shoe that was used in handball, among other sports. The Gazelle featured a suede upper that made it lighter and softer than the leather alternatives, but more supportive of the foot than canvas.
The suede could also easily be dyed in bright colors, which Adidas used to make two different models where the color indicated the shoe's target audience.
But more than anything, it opened nya target groups for the sneaker and turn it into a cultural phenomenon. The moccasins made training shoes something that could be worn outside the training arena as well. In the 1980s, the casuals , English hooligans, to make the Adidas Gazelle their uniform along with clothing from other status brands such as C.P. Company, Stone Island, Lacoste and Fred Perry. In the 90s they appeared in movies like Trainspotting and on the feet of bands like Oasis, Blur, Stone Roses and Supergrass.
Köp online
Adidas Stan Smith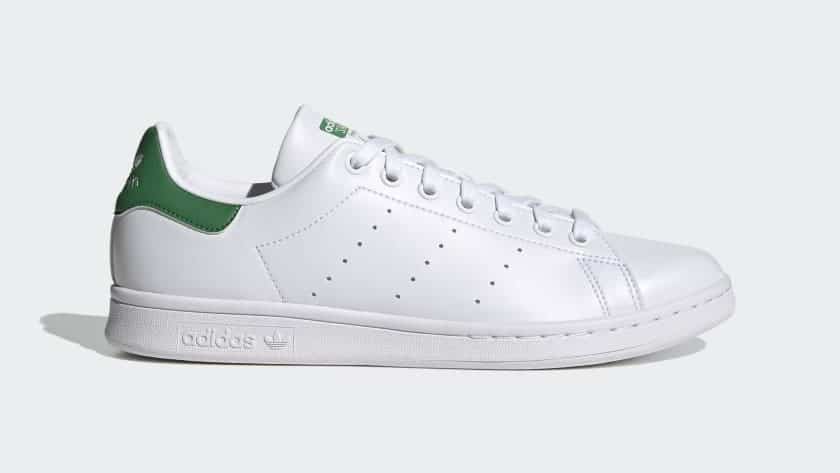 Adidas wasn't just about athletics and running – they saw the potential in tennis too. In 1963, Adi Dassler's son Horst created Adidas' first tennis shoe, choosing leather instead of canvas. To raise awareness of the shoe, they partnered with French tennis pro Robert Haillet and named the model after him.
When Haillet ended his career, Adidas had to find a new star, and settled on the American Stan Smith. Stan is said to have contributed the desire for heel support, which led to the green leather patch that became a hallmark of the model. For a long time, the shoe continued to be called Adidas Haillet, until it was finally named Adidas Stan Smith in 1978. The clean design and green details have made the Stan Smith some of the most famous models in the world, and nowadays these stylish sneakers are more often seen off the tennis court than on it.
In 2018, Stan Smith released his biography aptly titled " Stan Smith: Some people think I'm just a shoe ".
Köp online
Adidas superstar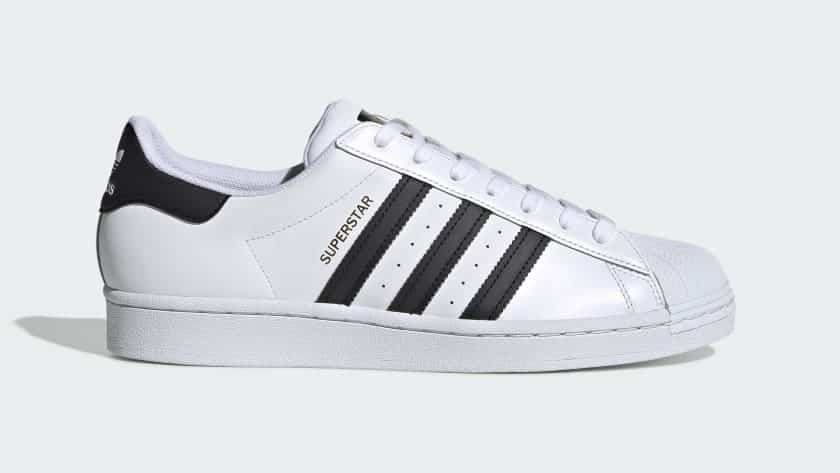 "My Adidas, only bring good news
And they are not used as felon shoes
They're black and white, white with black stripe
The ones I like to wear when I rock the mic
On the strength of our famous university
We took the beat from the street and put it on TV
My Adidas are seen on the movie screen
Hollywood knows we're good if you know what I mean
We started in the alley, now we chill in Cali
And I won't trade my Adidas for no beat up Bally's
My Adidas"
Run-D.M.C. "My Adidas" (1986)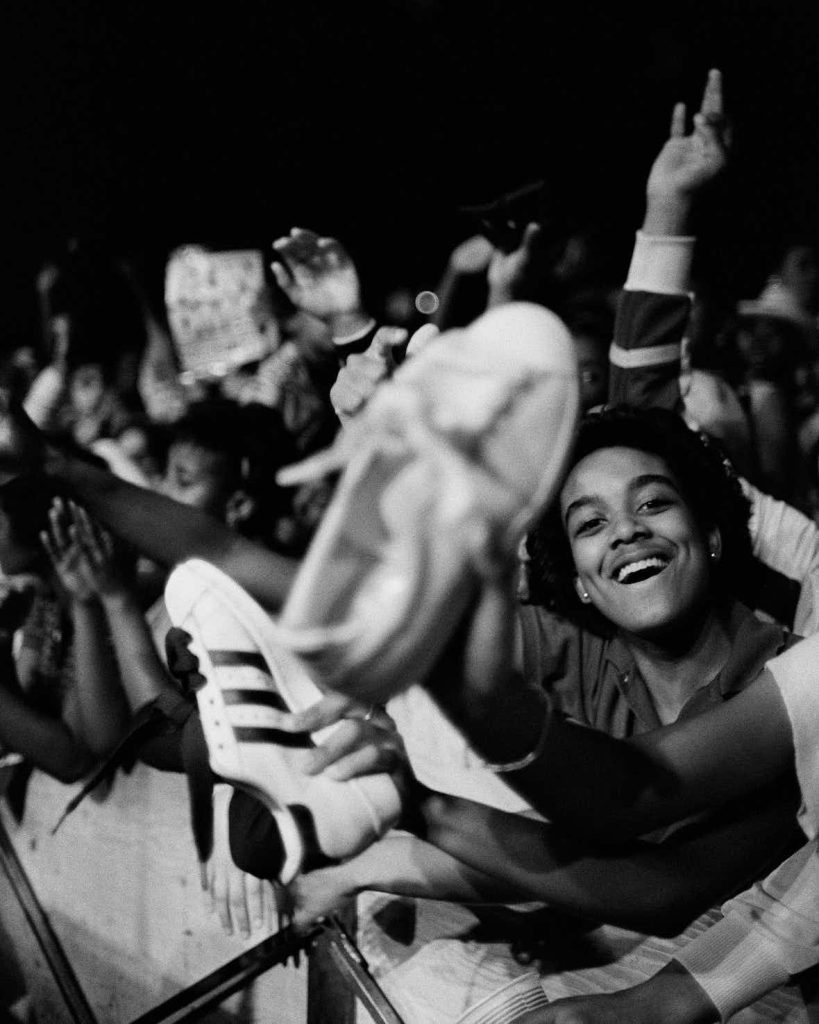 The Adidas Superstar began as Adidas' attempt to enter the US market by starting to make basketball shoes. An American advisor had advised that American basketball shoes, from brands like Converse and PF Flyers, were made of thin canvas, which increased the risk of injury.
Adidas designed the Superstar with a leather upper and hard toe protection for the foot. The shoe was a success and led to a whole new market for basketball shoes. When Nike introduced its first basketball shoe – the Nike Blazer – it was imitating Adidas. When Michael Jordan was looking for sponsors, it was Adidas, not Nike, that he wanted to sign with.
But while the Adidas Superstar faced competition on the basketball courts from other manufacturers, it found a new home on the streets, among hip hop and break dance, as a status shoe. The climax came when Run-D.M.C. wore them on stage as they were worn on the streets – white sneakers with black stripes, without laces, paired with Adidas tracksuits. Wearing sneakers without laces came from prison, where it was feared that prisoners would hurt themselves or others with the laces.
Although Adidas continued to have a strong position in many sports, the Superstar turned Adidas into a lifestyle brand. 21st century design collaborations with the likes of Yohji Yamamoto, BAPE and Stella McCartney eventually brought Adidas to the catwalk – something Adi Dassler could never have imagined as he sewed his first shoes in the family kitchen.
Köp online