A pair of stylish Chelsea boots is the Swiss army knife of your shoe wardrobe.
With their simple yet elegant features, they can be worn in a multitude of combinations. The functional construction has also given everyone from shoemakers to fashion brands the chance to put their own stamp on the model, to be worn with everything from a tailored suit in London to the catwalk at a fashion show in Milan.
In this guide, we take a look at Chelsea boots and give you buying advice, tips on good brands and practical style tips on how to wear them best.
Buying advice
What is a Chelsea boot?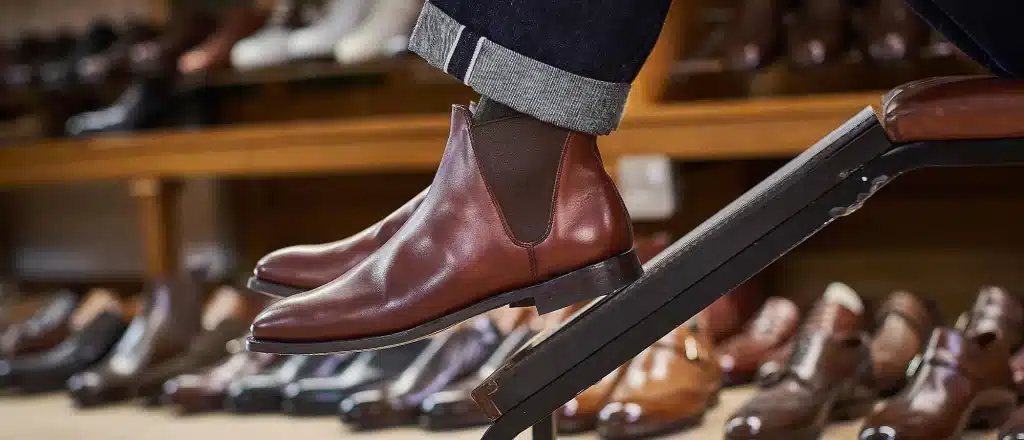 A Chelsea boot is characterized above all by two things:
1) it is an ankle-high boot, i.e. it ends above the ankle but below the calf.
2) it has an elastic side that replaces lacing or buttoning.
A Chelsea boot is made to be pulled on, and is therefore often equipped with loops ( pull tabs).
There are some other models of men's shoes that share features with Chelsea boots. Lazyman shoes are low shoes with elastic sections, which, like a Chelsea boot, are designed to be pulled on. They were worn in several early Bond films. Chukka boots and desert boots are also ankle-high boots but with laces.
Most chelsea boots have a rounded toe – a legacy of the boot's casual origins – but this is not a requirement, and more sculpted toes are not uncommon on dressy chelsea boots designed to be worn with a suit. Often two models are offered by the same shoe brand: one more dressy, with a leather or discreet rubber sole and a longer toe, and a second model with a distinctly rounded toe and rougher sole.
A Chelsea boot often has a smooth toe, but it doesn't have to. There are both brogues , with decorative hole patterns, and cap toes with a seam over the toe. Such styles are perhaps best suited to classic British casual wear, such as a tweed suit.
Materialval
Choosing the right material for a Chelsea boot is about two things: the upper and the outsole.
Chelsea boots come in both leather and suede. It is mainly a matter of taste and is mostly about what you want to combine the shoe with, where leather can give both a more elegant or a more functional character depending on how the boot is designed. Both leather and suede can also be treated with wax ( wax leather / wax suede ) to enhance rain protection, giving a slightly more functional and casual feel to the shoe.
When it comes to the sole, good Chelsea boots are normally edge stitched. There are some exceptions with a so-called satin stitch (Blake), but for a shoe that you'll use a lot, welted is the most durable and therefore often the best choice. Expect to pay at least SEK 2,000 for a welted model.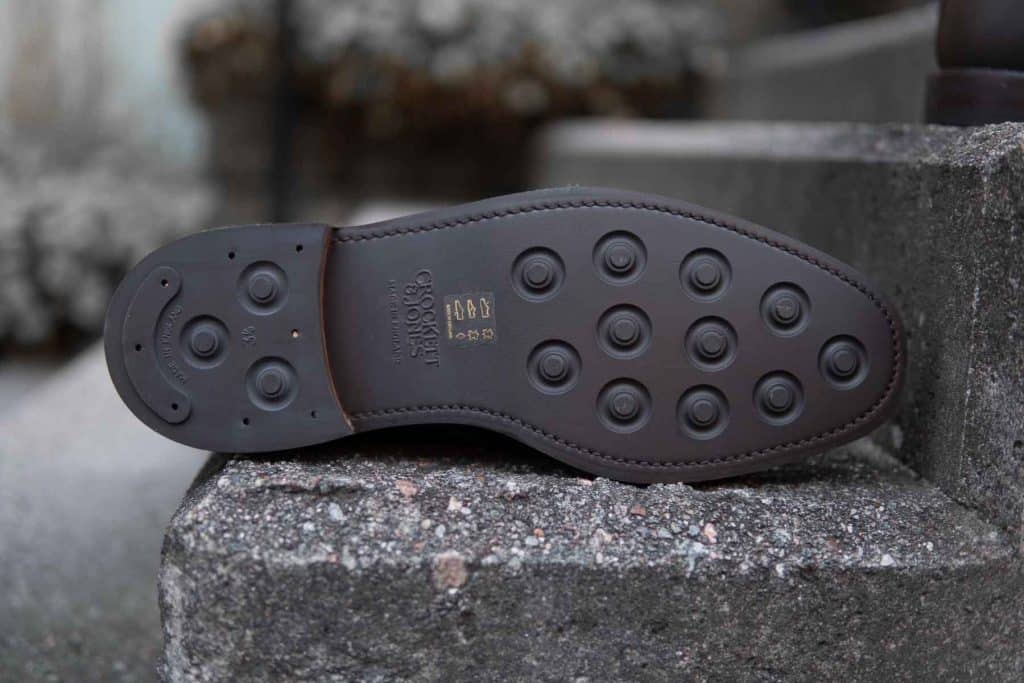 There are variants with both leather and rubber soles. The leather sole is the more dressy option, and won't do well on stone and gravel unless you put on a tread sole. The rubber sole – often called Dainite sole after the brand name – increases the shoe's resistance to wetness and also provides a better grip with its round rubber studs.
Coarser soles than this are not normally recommended as it goes against the purpose of the shoe, although coarse Vibram soles on men's shoes have become popular in fashion in recent years. If you are going out in snow and slush, it is better to choose a durable lace-up boot, such as a hiking boot or military boot.
Good brands for chelsea boots
R.M. Williams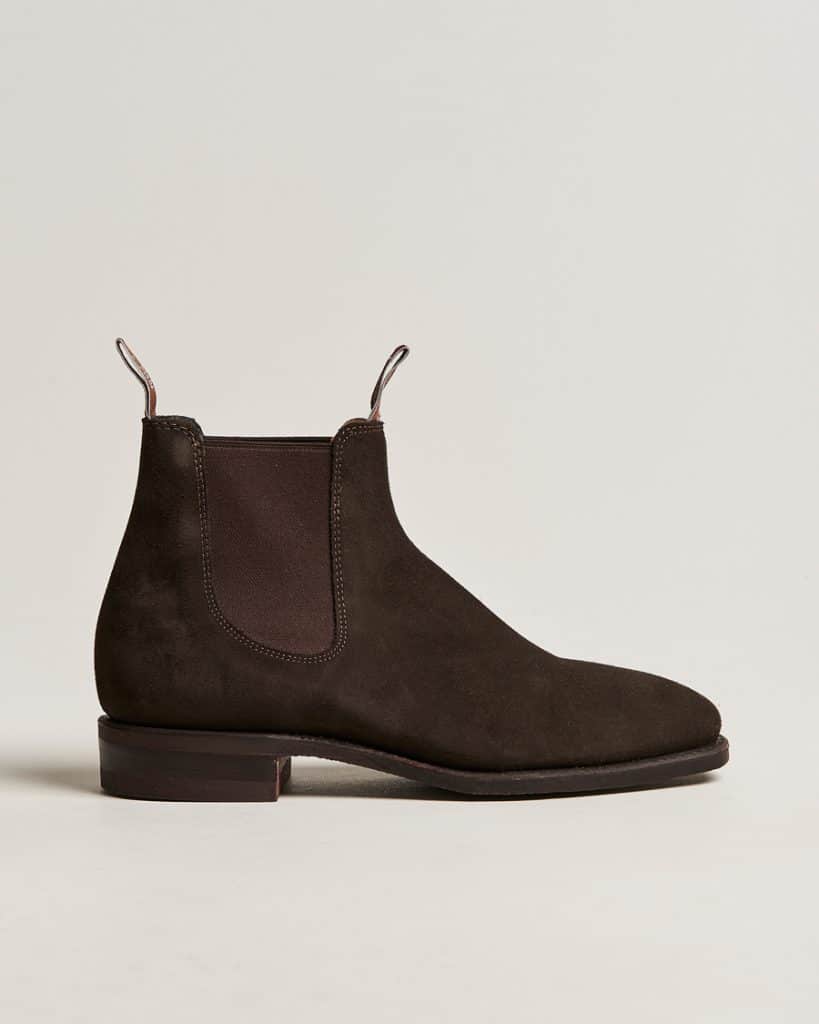 If there is one shoe brand that can be directly linked to Chelsea boots, it is the Australian brand R.M. Williams. That founder Reginald Murray Williams started out as a camel driver in Australia at the age of 18 and learned the craft from an Aboriginal stockman (cowboy) called Dollar Mick is enough to establish that these are shoes made to be worn. After a brief stint with luxury conglomerate LVMH, R.M. Williams is now in Australian hands again.
R.M. Williams' basic principle was to make his boots from a single piece of leather, joined by a seam at the back, for maximum durability. Craftsman is the brand's most classic model, with a sculpted toe, and is available with leather and rubber soles. Blaxland is a variant of the same shoe but with a sole designed to provide better grip on slippery surfaces, and Wentworth another variant with a more rounded toe. Sp, a coarser model is offered e.g. Gardener .
Crockett & Jones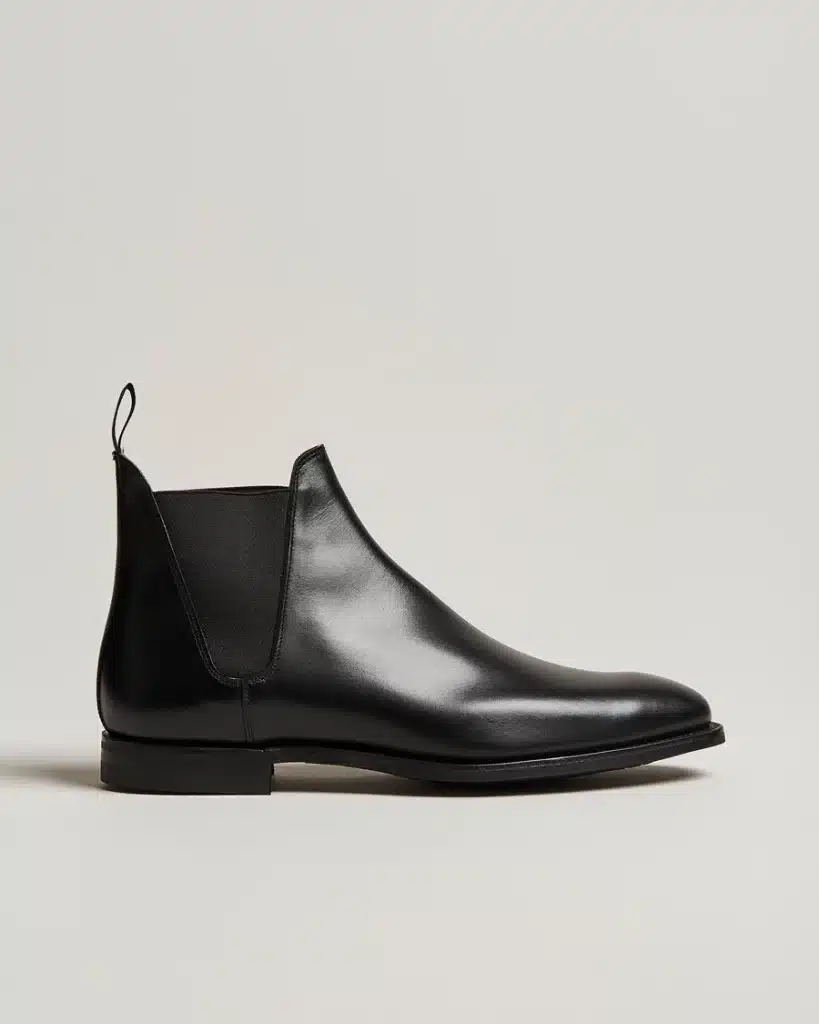 Classic British premium brand Crockett & Jones makes some of the world's best shoes in its Northampton factory. Their Chelsea boots are no exception.
Chelsea 8 is a classic Chelsea boot with a balance between a rounded toe and a fairly tapered profile. Chelsea 5 och Chelsea 11 are two larger models, with Dainite and Vibram soles respectively.
Loake 1880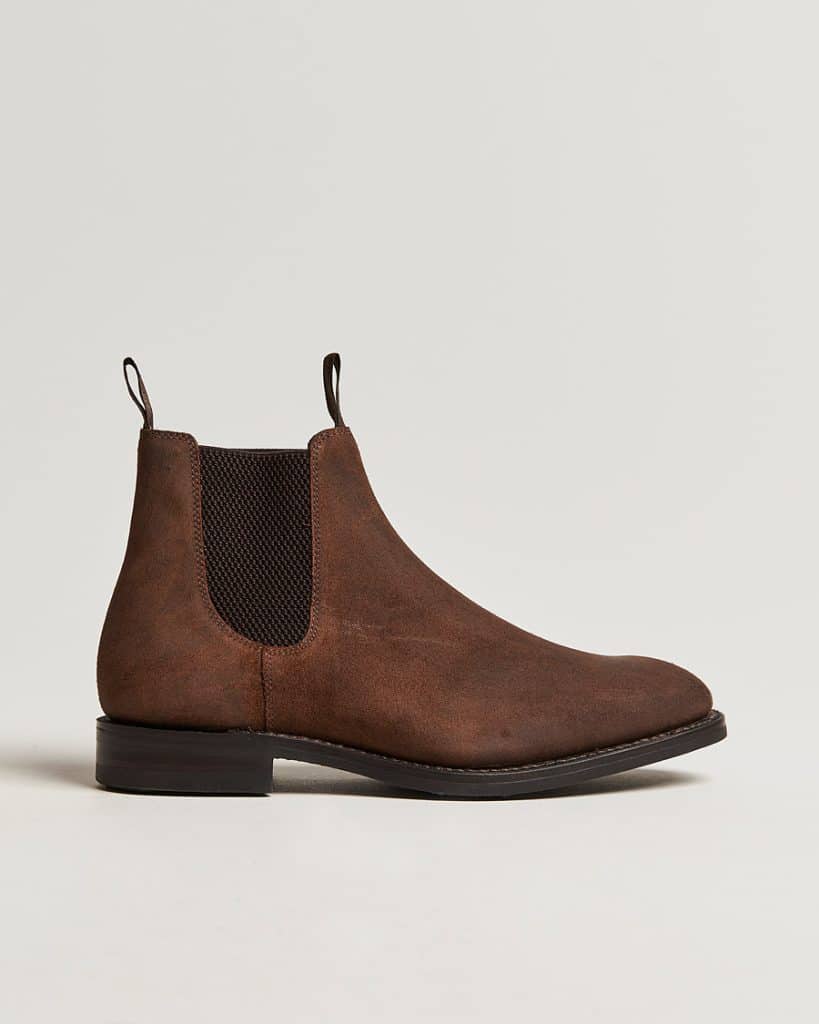 Loake's finer line, Loake 1880, is also made in the Northampton area of England. In general, Loake is considerably cheaper, almost half the price of Crockett & Jones, making the shoes affordable.
Modellen Chatsworth is a classic Chelsea boot that comes in several variations of leather and suede. For a rougher boot, it is McCauley that apply.
Oscar Jacobson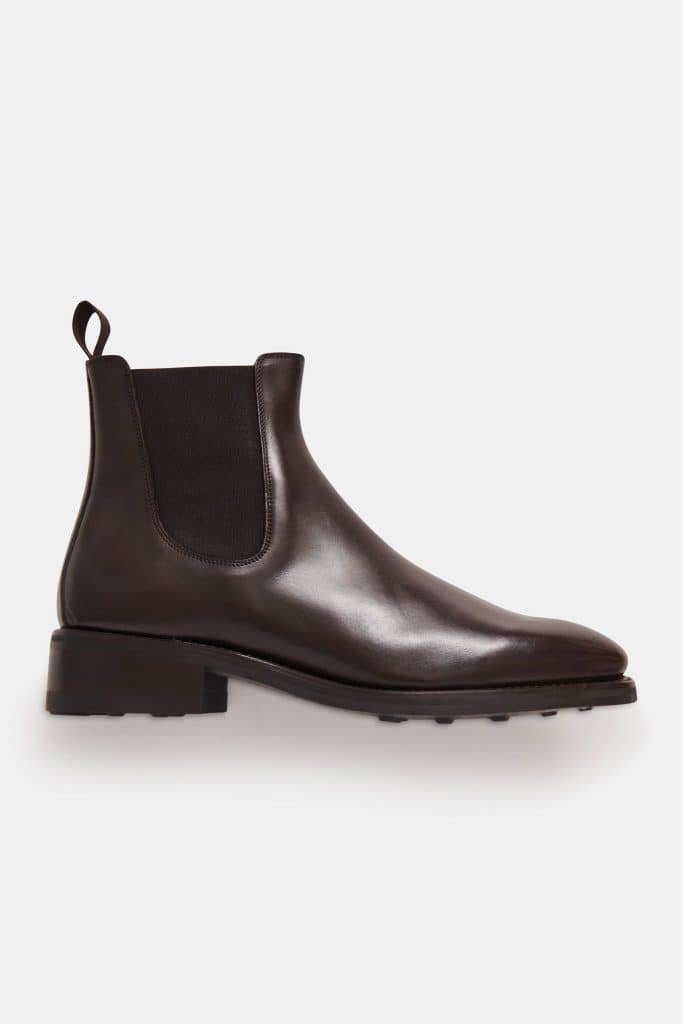 Recently, Oscar Jacobson has continued to expand its shoe line with affordable striped shoes made in Spain. Their Chelsea boot is available in black and brown box calf leather, and features a Dainite-style studded rubber sole. As a bonus, the shoe has a memory foam insole that molds to your foot.
Style tips: How to wear Chelsea boots
Well-dressed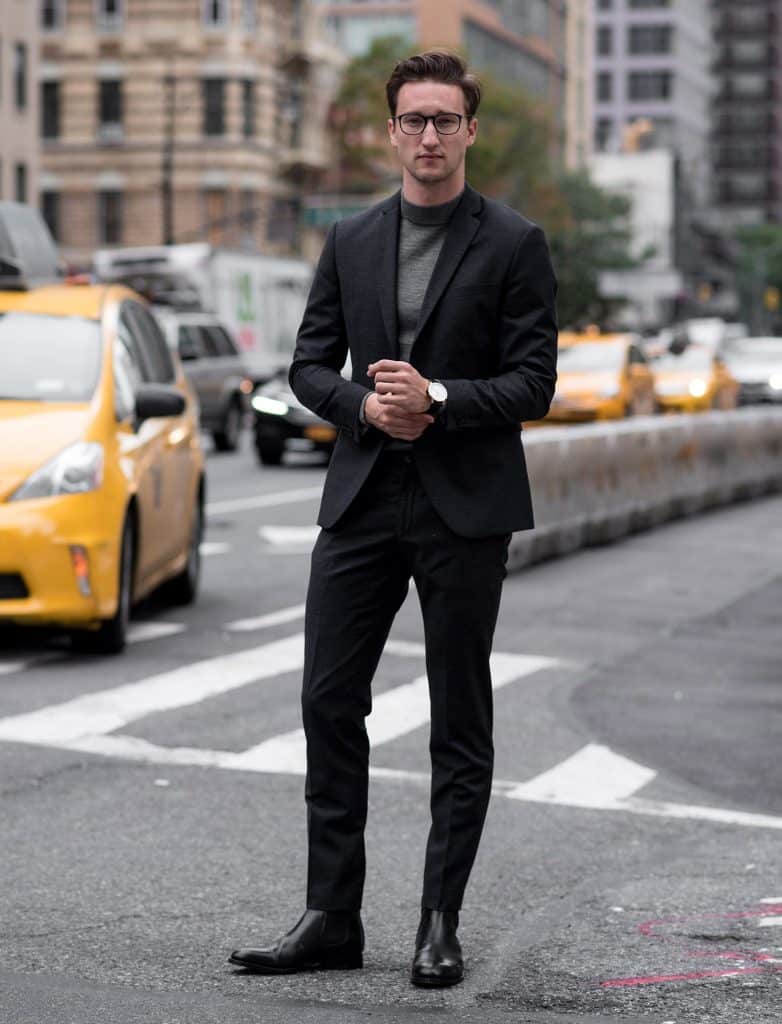 Although the Chelsea boot was once developed as a leisure shoe for royalty (see below), it's perfectly suited to a calfskin suit with a slightly more sculpted toe. It will never be as formal as a lace-up shoe, so avoid overly formal combinations.
A black leather Chelsea boot with a gray suit or a dark brown leather with a navy blue suit will lighten up the formality a bit. Another trick is to swap your shirt for a fine knit sweater. Match the shoe to the trouser silhouette – narrower silhouette for a narrower Chelsea boot, and vice versa, a wider trouser requires a slightly more rounded shoe as below.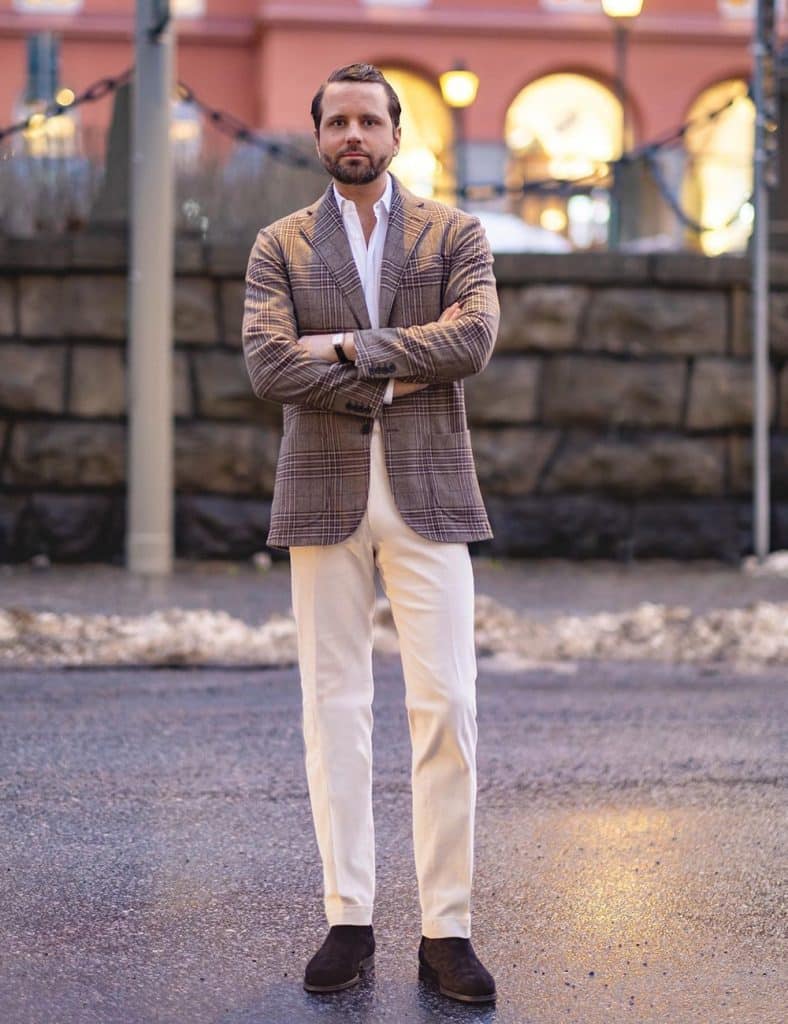 Otherwise, a Chelsea boot can be worn with an outdoor jacket. The elegant shoe will help elevate a slightly chunky jacket into a well-dressed ensemble.
Relaxed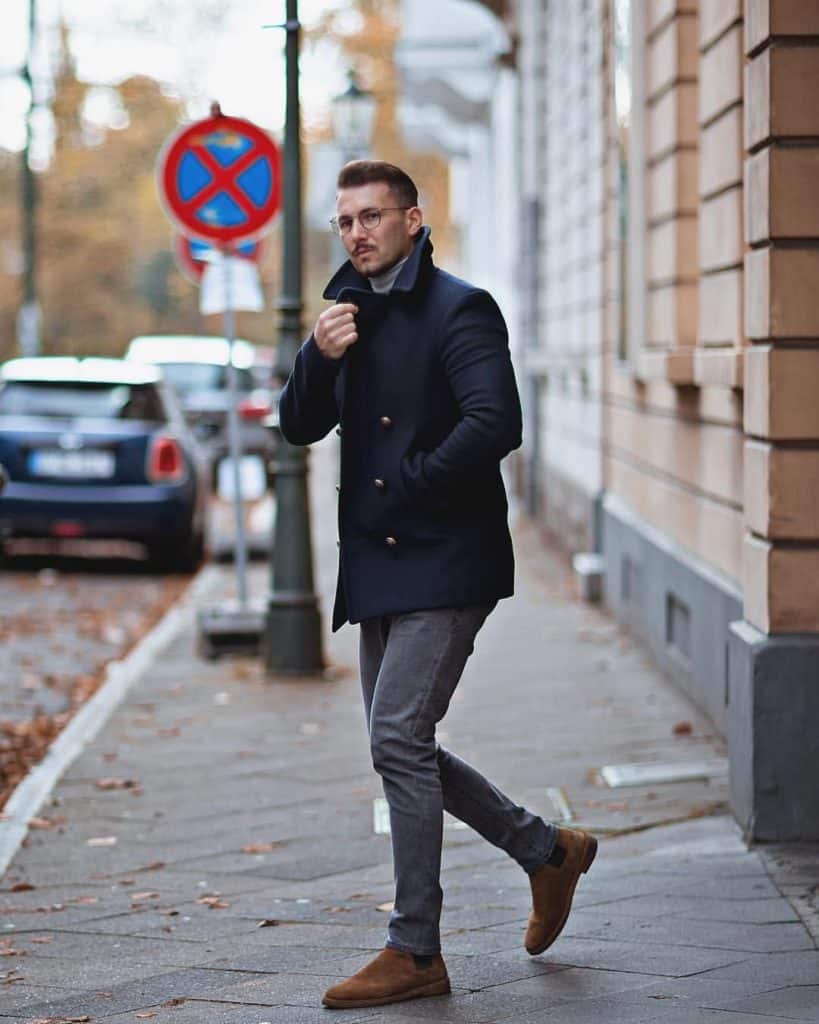 For casual wear, a Chelsea boot is perfect. Simple and durable in a slightly chunkier model with a rounded toe, it goes well with jeans and a knitted sweater or shirt.
If you choose waxed leather or waxed suede, you get a very durable shoe that can be worn even in snow and rain, and still look dressy when you come indoors.
The history of chelsea boots: from paddock to rock
If the pun in the title hasn't already scared you off, it's time to round off with some history.
From the Queen of England …
Chelsea boots are actually based on a technical innovation: vulcanized rubber. The shoe was developed by Joseph Sparkles-Hall, a shoemaker for the British royal family. In 1837, he designed a low boot with an elastic side for Queen Victoria to wear in the stables.
Initially, it was difficult to create a good and durable elastic material, but when Charles Goodyear discovered the vulcanization of rubber, it was finally possible to weave a sufficiently strong elastic fabric. In 1851, Sparkles-Hall patented, and in the patent he stated, among other things, that " She (Queen Victoria) walks in them daily and thus gives the strongast proof of the value she attaches to the invention ".
Sparkles-Hall's innovation also spread to America, where the shoes became known as congress boots or congress gaiters.
Through the British Empire, the popular shoe model spread around the world. In Australia, cattleman and missionary Reginald Murray (R.M.) Williams started making shoes in the 1930s to support his large family. Together with Aboriginal "Dollar Mick" Smith and the villagers at the mission, he began making Chelsea boots from a single piece of leather, and selling them by mail order. R.M. Williams' shoe business grew and became the brand perhaps most associated with the shoe model.
Till The Kings of Rock n Roll …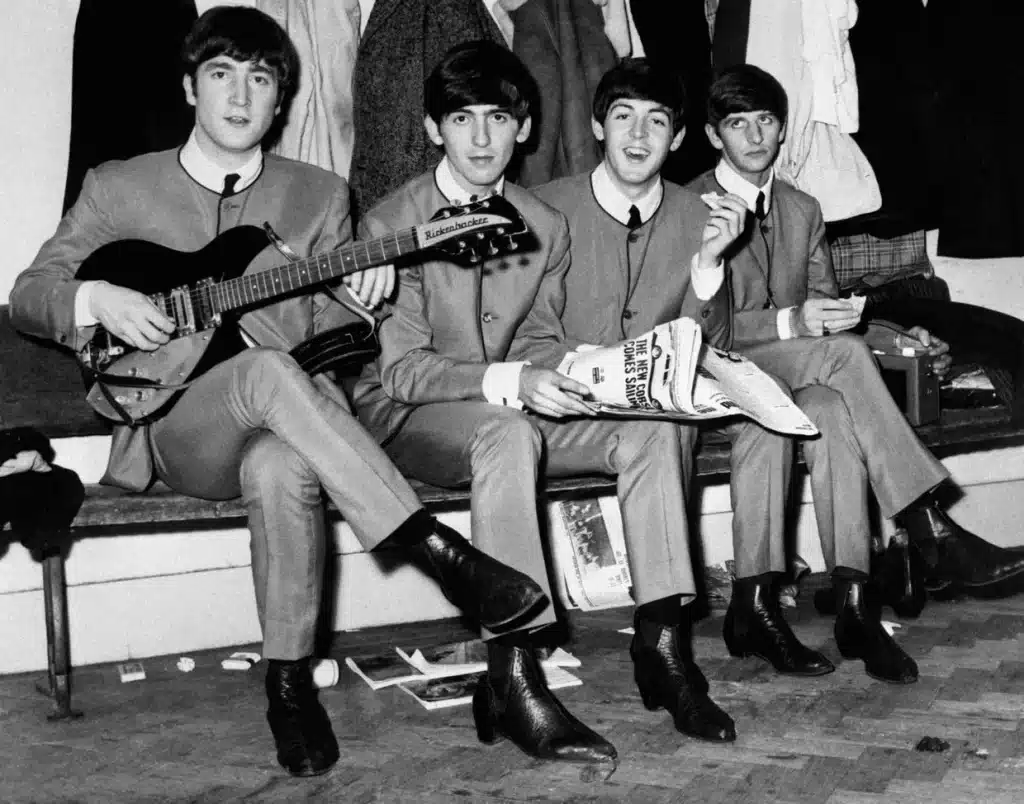 But the shoe's great popularity would not come until the 1960s and London. By this time, London had recovered from World War II, and a baby boom had meant that 40% of London's population was under 25 in the 1960s.
With more money and freedom, London's youth had begun transforming parts of the city into a center for music and fashion. One of the focal points for Swinging Sixties in London was the King's Road. Bands like The Beatles, The Rolling Stones, The Kinks and The Who, models like Twiggy and Jean Shrimpton and designers like Mary Quant were all part of the clique known as 'The Chelsea Set'.
John Lennon and Paul McCartney are said to have bought their boots with high heels … baba boots – in Annello's at 96 Charing Cross Road in 1961. When George Harrison and Ringo Starr also picked up their pairs, the shoe model became part of the Beatles' identity. Popularity exploded and the model became known as the 'Chelsea boot' after its popularity around the King's Road.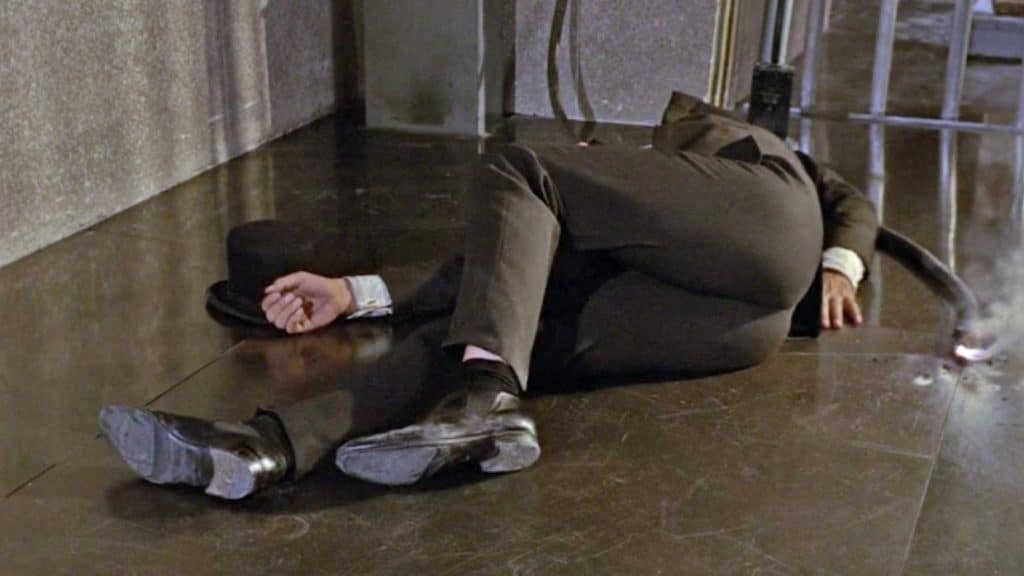 Through James Bond, who according to Ian Fleming's books is said to have hated shoelaces (wise choice for a secret agent), a low-cut version of the Chelsea boot often referred to as the "chelsea boot". lazyman also a lot of attention on the screen in the films Goldfinger och Thunderball .
Since its heyday, the Chelsea boot has become more of a staple in the men's shoe wardrobe. The shoe's blend of function and elegance has taken it through generation after generation, and it feels just as relevant today.