A hundred years ago, shorts were reserved for boys and soldiers. Grown men wore pants. Today we are freer. Freer to choose shorts, and freer to choose the wrong shorts.
For a well-dressed style, there is only one model. With their clean shapes, correct proportions and classic materials, chino shorts are a summer wardrobe staple. They glide casually from the beach to the patio and even into the summer party, and match easily with everything from T-shirts to shirts.
In this guide, we have picked out five stylish chino shorts for men, and also give you some tips and ideas on how to combine them in the best way. If you want to learn more about shorts and how to wear them properly, don't miss our big guide to shorts for men!
Five stylish chinos
Polo Ralph Lauren
It doesn't get much more classic than this. Since 1967, Ralph Lauren has been making clothes inspired by America – from jeans to Ivy League and military-inspired pieces like these chinos. Flat front and 23 cm inseam for a classic look.
Bridle 1949
For a more continental, Mediterranean style, Italian trouser specialist Brigilia 1949 is a great choice. These blue chinos have front pleats and are straighter and longer. The blue tone goes perfectly with various natural color schemes such as beige, cream, grey or olive green.
J. Lindeberg
A pair of classic length shorts in one of summer's hottest colors – brown. Perfect with a navy blue button down shirt or vintage-style polo shirt.
Gant
Gant, our Swedish-American preppy brand, also makes excellent shorts with a marine feel. Available in several different sun-bleached shades to match with a polo shirt.
Orlebar Brown
Men's fashion 2023 is moving towards longer lengths and more generous fits. If you prefer shorter shorts, it might be worth looking at the Orlebar Brown. With a short leg length and side adjusters it's very 60s – think Tom Ripley and Dickie Greenleaf, or Sean Connery's Bond.
Some quick style tips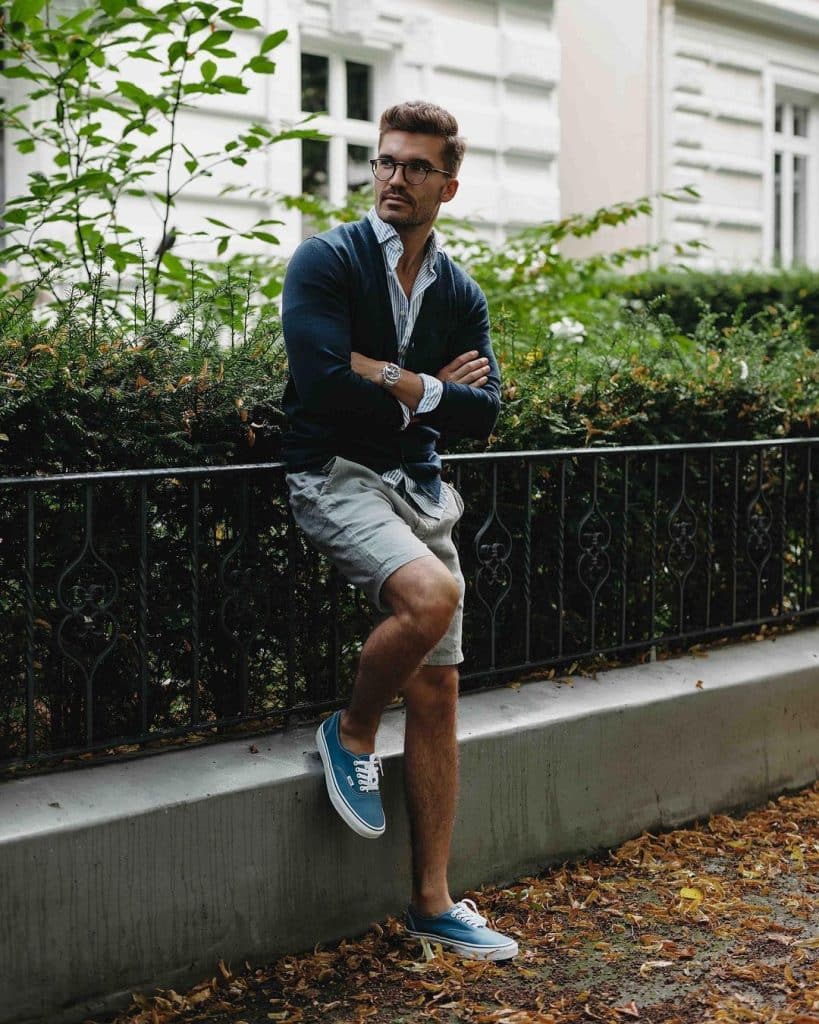 What are chinos shorts?
Chinos shorts are simply the shorts version of chinos, cotton trousers. They are normally made from a fairly light but durable cotton fabric. Originally, chinos were made without front pleats, so if you were to talk about a traditional style, it would be flat fronts but in practice it is common for shorts of this type to have both front and back pleats.
Chinos or Bermuda shorts – what's the difference?
Bermuda shorts were the original variety, first popularized by the British navy in Bermuda during the First World War. The boundaries are now fairly fluid, but traditional Bermuda shorts end an inch from the knee and are relatively straight in shape. Chinos shorts are made of thinner fabric, often have a more flat front (no front folds), and the shape can vary more.
How long should my chinos be?
Never above the knee, never above mid-thigh – that's a starting point. In practice, it's usually best to draw the line somewhere between 5-10 cm above the center of the knee, although as we've mentioned, traditional Bermuda shorts end just an inch above the knee.
What goes with shorts?
Shirts and polo shirts are stylish combinations with shorts. A linen or thin cotton button-down shirt, a polo shirt with or without a button placket, or a fitted T-shirt are good options.
If it gets cold, you can wear an overshirt or cardigan over it. If you have to wear a jacket, choose one in a casual material. Few men – if any – actually look good in shorts with a formal jacket.
For a well-dressed style, loafers are a perfect option on your feet. If you want to go more casual, classic casual shoes like mocs, car shoes, sailing shoes or stylish sneakers are good choices. For the beach, stylish sandals can be an option.
In Bermuda, people wear shorts with long socks. In the rest of the world no show -socks would be a better choice so as not to cut off and visually shorten your legs.